Join Us On Everest, In the Alps and Patagonia
We've partnered with travel outfitter Modern Adventure to create four epic trips for Outside+ members at discounted rates. Better yet, an Outside editor will join you on each inaugural journey.
Heading out the door? Read this article on the new Outside+ app available now on iOS devices for members! Download the app.
There's a reason Alaska, Patagonia, Everest Base Camp, and the French Alps are at the top of every traveler's bucket list: the stunning terrain and adventure history are so iconic that there's simply no substitute. We partnered with the outfitter Modern Adventure to create four custom trips to our favorite destinations, experienced the best way we know how: by getting into the landscape and heading for the wildest, most remote corners. Better yet, on each inaugural journey an Outside editor will join you to share campfire stories and give you the lowdown on gear, fitness, and travel trends. You'll be in good hands with Modern Adventure, a company run by active-travel experts who provide off-the-beaten-path itineraries and guides with deep knowledge and local connections. What's better than an epic journey with a small group of people who love the outdoors?
Secure your spot soon; we expect the trips with editors to fill up quickly. Bonus: become an Outside+ member and you'll receive a $200 discount off the trip price. And don't worry if you miss out on traveling with an editor. There will be additional departure dates for the trips to Alaska, Patagonia, and Nepal in 2022 and 2023.
We can't wait to head into the wild with you.
Mount Everest Base Camp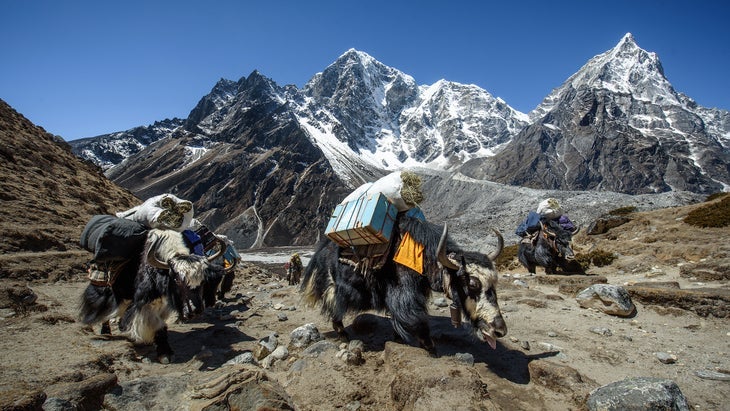 Guest Outside editor: Matt Skenazy, features editor
Inaugural Trip Dates (with Matt): October 4–20, 2022 | Price: $9,500 | Outside+ price: $9,300
Additional Trip Dates (without Matt): November 19–December 7, 2022 | Price: $9,000 | Outside+ price: $8,800
Huge peaks, gripping mountaineering his­tory, and a deep sense of spirituality are major draws to the Himalayas. But getting to know the Nepali people is what makes trekking here one of the greatest joys you will ever experience. Of all the mountain routes, nothing beats the journey to Everest Base Camp, at 17,600 feet. This 17-day, yak-assisted trip includes 12 days of trekking, with breathtaking views of world-famous peaks, like 27,940-foot Lhotse and 22,494-foot Ama Dablam. But it goes deep on Nepalese culture, too. You'll linger in the village of Namche with artists who create devotional paintings called thangka.
On day five, you'll get your first views of 29,035-foot Mount Everest and also meet Kancha, the last living Sherpa guide from the first successful expedition to the top of the world, in 1953. On day eight, you'll stop in Dingboche, a Sherpa settlement at 14,400 feet. The highest point on the trek is 18,209 feet, the summit of Kala Patthar, which you'll reach on day 11. Your head guide is a third-generation Sherpa climber who has led Himalayan treks for 20 years. Most nights you'll stay in tra­ditional teahouses, where limited solar power often means early bedtimes—a blessing, we promise.
Once you arrive at Base Camp, you'll get a firsthand view of where climbers begin their summit push. And you won't have to hike all the way out. From Namche Bazaar, a private helicopter will take you to Dwarika's Resort in Dhulikhel, near Kathmandu, where you'll rest up among fragrant forests. "I'm looking forward to experiencing the high peaks I've been reading and writing about for decades," says Matt Skenazy, Outside's features editor. —Tim Neville
Alaska: Deep Backcountry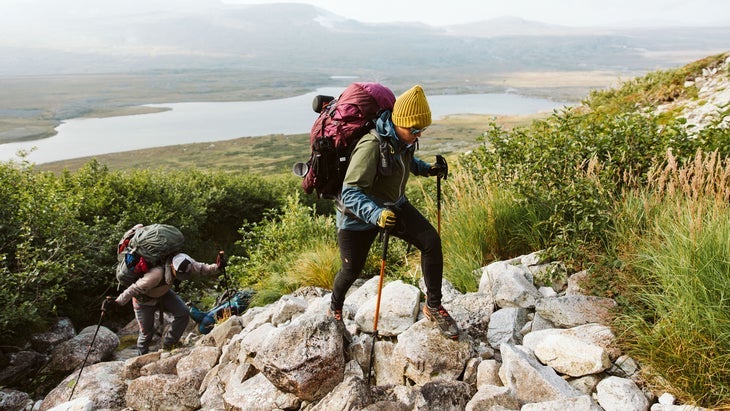 Guest Outside editor: Christopher Keyes, editor in chief
Inaugural Trip Dates (with Chris): August 15–21, 2022 | Price: $5,700 | Outside+ price: $5,500 [[SOLD OUT]]
Additional Trip Dates (without Chris): August 22–28, 2022 | Price: $5,400 | Outside+ price: $5,200
Few adventures bring you face to face with Alaska's immense beauty so viscerally as blazing your own trail through the remote wilderness of Katmai National Park and Preserve. Here you'll find volcanoes soaring above salmon-choked rivers and brown bears feasting on berries. The only way in and out is by boat or plane; what happens in between is trekking at its best. This seven-day, ten-person trip for experienced backpackers will show a side of the state that few have seen. It begins with a floatplane that departs from the hamlet of Port Alsworth and drops you deep inside Katmai, landing wherever the pilot can safely touch down. You'll set a pick-up spot about 30 miles away, shoulder a pack full of food and survival gear, and set out across the treeless tundra. No two trips are ever alike.
Typically, groups begin near Kukaklek Lake, at the headwaters of the Alagnak River, and walk six to eight miles per day, with up to 2,000 feet of elevation gain, to reach Mirror Lake, an area rich in wildlife. There are no trails, so exactly how you get there depends on weather, visibility, and how rugged your group is. Do you circumnavigate that 3,000-foot peak or head right over it? At night you'll camp wherever you get tired and share in the ­cooking duties. The rewards for working this hard include a look at some of the densest populations of brown bears on the planet—­multiple sightings are nearly guaranteed—and herds of curious caribou that thunder across meadows to check you out.
"I've visited every state except Alaska, and backpacking in Katmai represents a life-list opportunity," says editor in chief Chris Keyes, who'll be joining you. "I cannot wait to share my passion for the outdoors—and Outside—with readers participating on this amazing trip." Be forewarned, however: the sound of the plane coming to fetch you at journey's end will be distinctly jarring to the wild person you've become.
French Alps Grand Traverse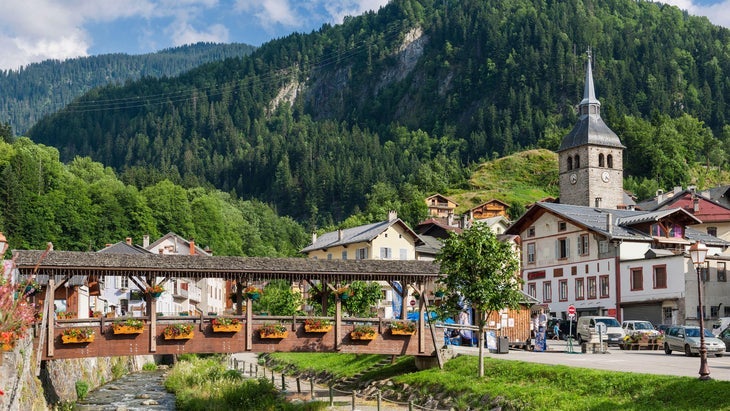 Guest Outside editor: Jeremy-Miles Rellosa, gear review editor
Inaugural Trip Dates (with Jeremy): September 11–22, 2022 | Price: $7,400 | Outside+ price: $7,200 [[SOLD OUT]]
Additional Trip Dates (without Jeremy): August 7–18, 2022 | Price: $7,200 | Outside+ price: $7,000
In 1786, a doctor in Cha­­m­onix named Michel-­Gabriel ­Paccard and a local crystal hunter, Jacques Balmat, teamed up to become the first two people ever recorded to stand atop 15,770-foot Mont Blanc, a feat that inspired cen­turies of exploration in the French Alps. But there is an even better way to see these beautiful mountains that doesn't involve risking your life.
Start at Megève, near Chamonix, and amble and eat your way 100 miles down to Sospel, a hillside village near Monaco. It takes ten days to complete the trek; on most of them you will log up to eight hours of hiking, with 1,500- to 4,000-foot climbs on dirt footpaths that have served shepherds, tradesmen, and armies for centuries. Come evening, you'll arrive in picturesque villages where a hot meal and a warm bed await. If your legs get too tired—or your belly too full—a few cable car rides along the way will lessen the pain.
"I am excited to experience the beauty of the French Alps with our readers, though secretly I'm coming along just for the food," says Jeremy-Miles Rellosa, the Outside editor joining this trip. Yes, the gooey raclette cheese, delicious local red wine, and stunning mountain views will undoubtedly leave you in awe, but this trip is also designed to hit the nooks and crannies of the French Alps that remain unknown to many North Americans, like the 12,650-foot Grande Casse massif of Vanoise, the nation's first national park. By the time you arrive at the coast, you may want to turn north and walk back to where it all began. Or stay put and soak in the Mediterranean Sea.
Chile: Northern Patagonia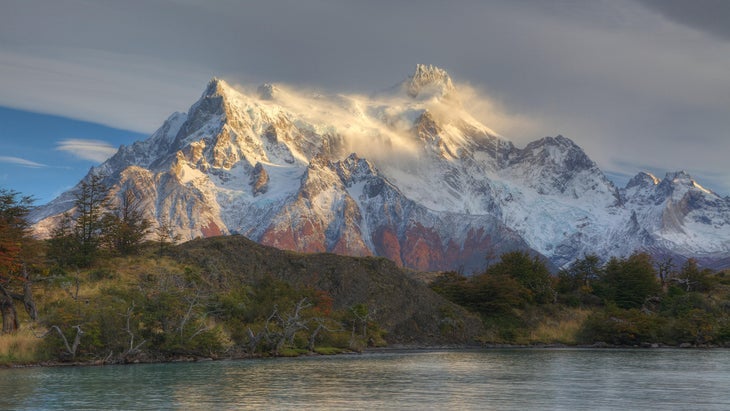 Guest Outside editor: Erin Riley, senior travel editor
Inaugural Trip Dates (with Erin): November 11–23, 2022 | Price: $6,600 | Outside+ price: $6,400
Additional Trip Dates (without Erin): February 4–16, 2023 | Price: $6,200 | Outside+ price: $6,000
On the list of time-­honored destinations, Patagonia, with its glacial peaks whittled into fantastical spires, ranks at the top. "I count Chilean Patagonia as a dream-list trip and can't wait to share trekking days with the group on this all-time classic," says Erin Riley, who oversees Outside's travel coverage. Deciding which corner of the 400,000-square-mile region to see can be challenging, so Modern Adventure sorted that out for you.
You'll start in Aysén, in northern Patagonia, where towering peaks, raging rivers, and national parks spread out across one of the country's least populated areas. This 11-day itinerary samples the dramatic landscapes of two of Chile's lesser known parks, with a day of rafting the Baker River to round it out. You'll hike anywhere from three to ten miles per day and sleep in guesthouses, panoramic domes, and backcountry base camps. The adventure begins near the town of Coyhaique, about a thousand miles south of Santiago, with a 10.5-mile trek into 554-square-mile Cerro Castillo National Park. You'll then cross over 4,265-foot Piñón Pass and ascend through forests to camp under the hulking basalt walls of 7,605-foot Cerro Castillo. Ditch your pack for a quick jaunt up to New Zealander Camp, a base for climbing expeditions, before heading down to a hot meal and a cozy room in Villa Cerro Castillo.
Be on the lookout for old gaucho camps as you make your way to General Carrera Lake, which at 1,923 feet is the 11th deepest in the world. After crossing it by ferry, you'll trek into the new ten-million-acre Patagonia National Park, created by Kristine and Doug Tompkins. (Doug cofounded the North Face in the 1960s and adventured throughout Patagonia with his friend Yvon Chouinard.) At the end of the trip, celebrate in the town of Chile Chico and feast on endless barbecue. Oh, and that dark spot you saw in the grass on day six? That really was a puma.