Did Jonathan Siegrist Just Establish America's Hardest Sport Climb?
In between trips to Spain and France, Jonathan Siegrist found time to finish off his local project, now called "Event Horizon." Rumors have called it the hardest route in the United States. We asked Siegrist about it.
Heading out the door? Read this article on the new Outside+ app available now on iOS devices for members! Download the app.
Jonathan Siegrist has had an impressive 2022 so far. In February, he established a new 5.15a, a new 5.14c/d, and a new 5.14b—all near his home in Las Vegas. In March and April, in Santa Linya, Spain, he had his best climbing trip to date, sending five 9th grade routes (three 5.15a's and two 5.14d's) and multiple easier 5.14s. Then, in mid-May, shortly before leaving for France, he finished off another project near Las Vegas: the direct finish to Nu World, a 5.15a/b he FA'd in 2020.
The route, now called Event Horizon, shares Nu World's long V13 lower section, then adds a technical V10/11 on small holds and a long, pumpy finish. After first hesitating to grade the route, Siegrist ultimately opted to call it 5.15b, adding that it is, "Without question, for my height, and my methods, …one of my hardest."
Siegrist is now in Céüse—which is where we caught up with him by email.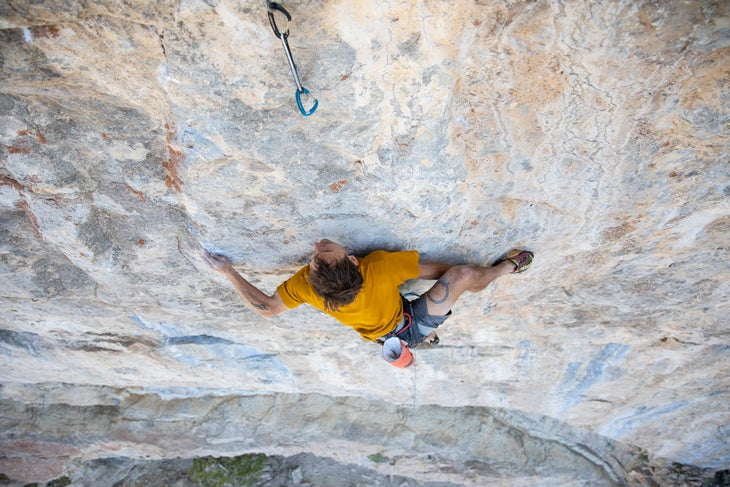 *
Climbing: Walk me through the route: How does it break down?
Siegrist: The route [has] three parts: The first is the hardest section for me—a super consistent ~23 move boulder problem with very hard clipping positions. The next part is quite technical and near vertical with huge reaches and some really small holds. The last 1/3 of the route is just super pumpy, continuous and also technical… also with some really bad holds. 
Climbing: Nu World has a pretty savage opening section—hard enough that you sent the route the first time you made it through. How did this opening section feel by the time you sent Event Horizon?
Siegrist: It felt better than when I did Nu World pretty much right away which was a major motivator in me trying to finish the project in the relatively small window that I had between Euro trips. For me, my size, and my methods, this part is no easier than solid V13. With Nu World I had the finish (maybe around 5.14b after the boulder problem) wired. [I could do it] more or less on command. With Event Horizon the parts after the opening boulder problem felt much more serious so I knew I would have to feel really good on the bottom.  
Climbing: More generally, what was your process on the climb like?
Siegrist: When I felt good in the bottom, I knew I wanted to give it hell! The upper two cruxes took me some work to decipher, but in the end I loved the way they climbed for me. After some days I could reliably climb the route with one fall in each section (three falls). But it took some more practice on the different pieces to get that down to two falls, and eventually one fall, and so on. I made it through the bottom boulder problem once feeling really good about a week before I sent, but I had to let go because I was recovering my skin and the second boulder problem has one hold in particular that just destroyed my index finger. I was never sure if I would send the route before leaving for France, but everything came together perfectly, and I clipped the chains with an awesome fight until the bitter end.  
Climbing: Do you have any pre-climb rituals—things that help you release the pressure and get into a try-hard place?
Siegrist: With this route especially I liked to have a bolt-to-bolt try on the bottom just to feel holds and get ready. It's so hard for me right away that it's kind of nice to have a specific warm up on the route. I rarely do this otherwise, but I really liked it in this case. 
Watch Jonathan Siegrist on the First Ascent of Nu World (5.15a/b)
Climbing: The rumor-mill has it that this might be the hardest route in the U.S. How does it compare to the 9b's [5.15b's] you've done?
Siegrist: Oh man. Honestly, I have such a hard time with questions like this; I swear the more I climb the less I know about grades… and FA's are so hard because all I can speak to is my personal experience. For me it was every bit in line with other 9b's I have tried or done, and certainly a step up from the 9a+'s [5.15a's] I have repeated or tried recently. But, as always, perhaps I had terrible beta, or I am not tall enough to reach through a certain part, or someone will find tricky knee bars to break up the difficulty. I really didn't even want to grade it, but in the end I chose 9b to signify and honor how hard the route felt for me.
Climbing: Tell me about the state of development in Southern Nevada. You've said that there are many more projects near Event Horizon and beyond. Is there a ton more potential in and around Vegas? 
Siegrist: Yes, for sure! I have three more hard ones next to Event Horizon. Two of which I expect will be at least as hard (one maybe harder…) and another maybe around 9a. I have a handful of other random 9th grade projects of my own spread about the areas. Southern Nevada is nuts at the moment because with Joe Kinder now living in town, and Andy Raether still here, essentially all of the bolters developing 14+ routes in the U.S. all live in the same zone and we are all hungry for more. (We just need BJ Tilden to move down.)
Climbing: You were working on Event Horizon between trips abroad—what does your weekly load look like in this case. Are you working on the route while also training indoors? Or are you supplementing climbing with off-the-wall exercises?
Jonathan Siegrist: How to Get Stronger? Turn Climbing into Training
Siegrist: Yes, this was interesting for me. I came back from Santa Linya with a ton of confidence and a butt load of stamina, but I could feel my power was a bit low. So it was crucial for me to mix climbing on EH and training hard on my garage wall. The hike to EH is about 90 minutes, so it made back-to-back days up there out of the question for me. Thus I had more time to train in between, and I just tried to pick the really good weather days. Near the end of the process the weather dipped like 20 degrees, so I was forced to just train for a week. I was super anxious at first, but I think it worked out really well for me to have that focused training time and then get back to the rock for a few last-ditch efforts. 
Climbing: How's Céüse going? Any favorite sends (or warmups) so far? 
Siegrist: Man it is so good to be back here! It has been around seven years since the last time. And it is every bit as good as I remember. Just over jet lag now and starting to try hard. Favorite thing no doubt is Patrick Edlinger's perfect route Blocage Violent, 5.12c… still the best after all these years.