Jorgeson Sends Insane 45-foot Highball
Heading out the door? Read this article on the new Outside+ app available now on iOS devices for members! Download the app.
Jorgeson sending Ambrosia (V??). Photo courtesy of Josh Lowell / BigUp Productions.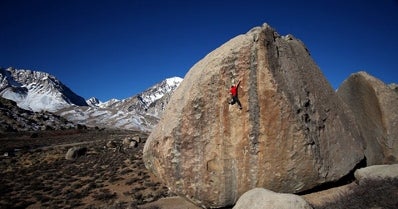 Fueled by the drink of the gods, Kevin Jorgeson has made the first ascent of a bold, 45-foot tall face on the Grandpa Peabody boulder at the Buttermilks, near Bishop, California. Jorgeson named his new, daring problem (or free solo route?) Ambrosia and has yet to grade it because he believes it is too tall for a V-grade. The climb begins with a "V11" (that reportedly took him days to send) followed by 5.13 climbing that he rehearsed on toprope. Jorgeson has dreamed of climbing Ambrosia for four years, but only now, after a very successful trip to the UK (See Americans Rampage on British Grit), did he feel prepared enough to work and send the line.
According to a post on UKClimbing.comAmbrosia had been tried (and definitely eyed) by many climbers over the years and the upper face had been soloed by George Ullrich, a visiting Brit, who bypassed the lower boulder problem with a ladder.
And, if that wasn't enough: a few hours after sending Ambrosia, Jorgeson walked over to Luminance (a V11 that Shawn Diamond made the first ascent of a few weeks earlier) and sent the dangerous line second try after flashing it on toprope.
Read Josh Lowell's Big Up blog report for more about Jorgeson's rampage at the Buttermilks.
Date of Ascent: January 9, 2009
Source: Josh Lowell / BigUp Productions, UKClimbing.com