Josune Bereziartu – Pro Blog 1
Heading out the door? Read this article on the new Outside+ app available now on iOS devices for members! Download the app.
Photo by Rikar Otegi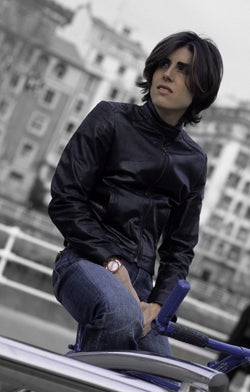 EXCHANGE COIN
It is August and right now I am training on my wall for a successful fall. I'm In front of the ventilation machine I have the hope that the removed air will also refresh my pumped forearms in order to keep on going in my series. But instead and by the moment, the only thing that I get with the fresh air machine is a messed up mind! And many reflections about a pair of articles that I had read before in a renovated international mountain magazine are coming to my mind like a waterfall. In both these articles, not only the idea of the recovery of the lost mountain and climbing ethic are revindicated, but also the pleasure of climbing just for climbing.
I won't refuse that nowadays I am feeling very sensible to these questions. Climbing, and especially sport climbing as an individualist sport makes the athlete become a very selfish person. The climber tends to create a new world that turns around him. Even me, when I'm working a route, I confess that to have success, I isolate my mind even from myself!
Recently, while I visited some cliffs with my friends, a few climbers that we came across shocked us. Forgetting all politeness the first sentence that the these climbers said was: "I climb 8c and you, how hard do you climb?" Even if my friends started welcoming him they insisted on those terms. I know that it seems incredible, but I swear that I have seen it with my own eyes and heard it with my own ears and not only one time!
Photo by Rikar Otegi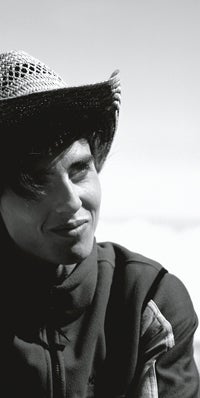 The information about all the new hard climbs are Hot Flashes that the Internet shows us — even at the same time that they happen. It's like the stock quotes on the luminous screens of Wall Street. We almost don't have enough time to know nothing about these sends. It just reminds me of simple, cold, empty data. The difficulty and the high grades have become an exchange coin for some new climbers. The slogan would be how hard you climb, how famous you will be, how much happiness you'll have.
Well, I know that is pretty exaggerated but I think day-by-day it can become more and more real. I recognize that probably I have contributed to this with my news … but I really do not identify myself with this. I really prefer the sport climbing that is climbing with friends, enjoying the act of climbing and what this action involves even more than the short successes — with a long road to walk and having fun just walking this road. Graduations, short success, fame … is the sparkling of the Champagne, and the important essence that still will exist in time will be the Champagne and the sediment that it will leave in our life.
Piiiiii, suddenly the alarm of the chronometer sounds. I snap back and start my next round.
—Josune Bereziartu