Josune Bereziartu – Pro Blog 11
Heading out the door? Read this article on the new Outside+ app available now on iOS devices for members! Download the app.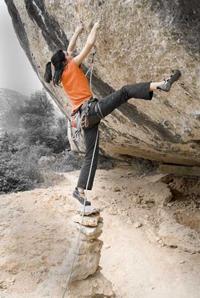 Beans, a Falling Star, and VIMFF
Beans I stopped in a supermarket, with the intention of buying a bunch of food for the next two weeks; this was at the beginning of the month, so this text is about what I did in the beginning of March and the last week of February. After that, I was driving to the west of Spain to Catalonia.
Bip, bip, bip the cellular chimes. A phone call: "Hey Josune! You should come to Rodellar. It's unusually dry and perfect conditions for every route you wanna try."
Wow! The magnetic news made me change my plans immediately. Soon, I turned left to the curved road to Rodellar. In the first curve I heard behind me a loud sound. I stopped my van, finding all my food on the floor. One of the brand new bean bottles had splashed onto the floor. The view of the beans all over the van inspired me to exclaim some laud and energetic words:
"Puta Mierda… Mierda Jodida… Putas Alubias!" (Sorry for my limited English!) Better if you don't know'em translated, really.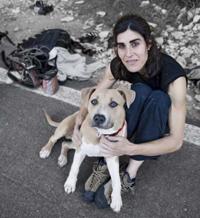 The nasty episode guided me to some happy climbing days, though. Yes, I went directly to Geminis (8c), in the most overhanging center side of the Gran Boveda wall in the famous Rodellar. On my third day of effort, I climbed this athletic and overhanging piece of rock. This route has become a first 8c route for many climbers. It's an incredibly nice route and after the middle part's bouldery section, the upper headwall is — according to my friend Carlos, "Citro" for friends — the best quality and most beautiful piece of rock in the area. I agree with him.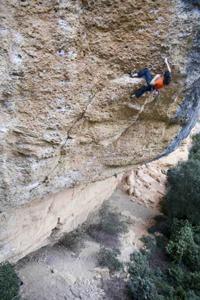 Now I am driving from Rodellar, the kingdom of XL-size overhanging routes and medium-size holds, to Margalef the kingdom of all kinds holds.
This emerging rock paradise, especially for those that are looking for a winter climbing location, is in the west part of the Sierra de Montsant, so obviously very close to Montsant climbing area and even to Siurana. Jordi the owner of the refuge sighted in the Margalef little town, will show up and give advice on whatever you need to know about the area. You can combine sunny or shadey cliffs, long or short, bouldery overhangs or stamina ones, roofs or delicate face routes, all of these in an area that will amaze you — unless you get impressed by the gigas of rocks that mother nature leaves us to catch our climbing illusions. I tried to enjoy climbing in onsight style and I think I did it, and as a resume of updates…
I onsighted in one single day:Twist as Lola (8a)Pollastre de Granja (8a)Sativa Patatica (8a) The next days I flashed Dr.Feelgood (8a).
I onsighted these too:Laura (8a) right of Esaú (8a+)El Vuité Art (8a+)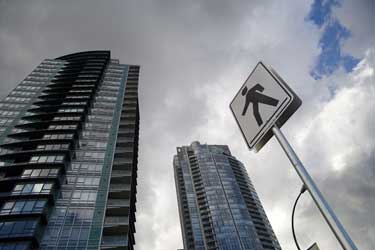 Falling Star (flash back):A falling star! A falling star from the sky!!!
I raise my head to the sky and some noisy seagulls were flying around fighting each other. Unfortunately for them its treasure was in the ground in front of Cynthia, Rikar, and me: a sea star. That day, after returning the sea star to its natural habitat, the seashore of the Stanley Park in North Vancouver, I secretly made a wish… ah, but it's a secret.
VIMFF: This afternoon I was a speaker in the Vancouver Mountain Film Festival. My fears of my limited English were beaten with the support and patience of all kind, friendly, and warm people. Thanks to everybody who came that afternoon to the Centennial Theater with interest in my climbing and share my experiences and feelings. The best regard from Vancouver to all of you!
—Josune Bereziartu
Photo by Rikar Otegi