Josune Bereziartu – Pro Blog 6
Heading out the door? Read this article on the new Outside+ app available now on iOS devices for members! Download the app.
Photo by Rikar Otegi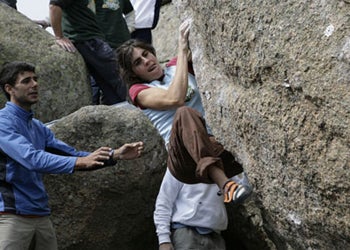 I am climbing again, back at home, in the Basque Country. The weather is definitely changing. It's a kind of "tropical" weather that we are having. This Basque Country (it should be pretty cold and rainy) is under a weather situation. It gives climbers the chance to extend the season around the nice areas. Definitely I don't have much time to climb, but my fitness (after coming from the Smith Rock in the United States) is slightly better, and this increases even more after giving many slideshows nearby and receiving all the hotness of all of the assistants. But the opposite side of the coin is that the good climbable weather inspires and illuminates me to maintain my climbing till the rain finally starts to wet every route.
I still have some routes I haven't climbed near my home. Some of them are really hard ones and will always be waiting for me … I had a very mythical one called Mafias 8C [5.14b]. I have tried it in the past, not putting too much time on it, but Oh yes! demanding my interest regularly. It is one of the very first [5.14b] routes in the area — a very powerful route, and very resistance style, too. Pretty short instead. Around 20 moves. Some pinches at the beginning and some small but positive two finger pockets at the end. This magnificent line goes through a very overhanging wall.
[Entered the next day … ]
Photo by Rikar Otegi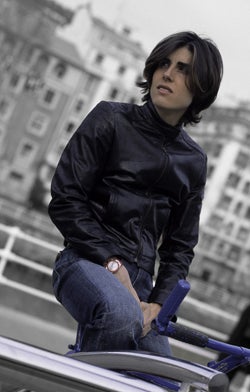 Mmmm! I am happy. I have finally climbed this exigent and hard 8C [5.14b]! For me it is very important. It is like having a double value! A prestigious one! This route hasn't been repeated often. Again Sta. Cruz de Campezo (known as El Convento) gives me good feelings! It is the place where I did Fettuccini, my very first 8b+!
About the other routes; well interesting; Oñate this time is the playground. New winds are blowing in Oñate. Some interesting new routes have been opened. Some short ones (very resistance style), but some really vertical ones, too, on the left side near the route Honky Tonky. My friend Lorea Madina is one of the setters. This little girl has set the most interesting ones, wonderful vertical lines among a near 40 meters. 8a, 8a+, 7c+ … magnifico! I can climb onsight at home!!!! Incredible! MMMMMMH!
In the meantime I was able to send a bouldery route of 8b+, called Aurrera Bolie. It's a pinch-fest — about fifteen meters on a very overhanging wall, a surprising finish on very rounded, open pinches absolutely give the 5.14a grade to this nice line.
At the end of fall, if the weather keeps on like nowadays, I will have more possibilities to take my turn on a new open project that I started to try last climbing day.
Stay tuned …
—Josune Bereziartu