Remote Karakoram Tower Sees First Ascent Thanks to Bold Paragliding Tactics
Teams have attempted the 5,800-meter peak for over thirty years. Will Sim and Fabi Buhl skipped the normally treacherous approach, paragliding to access the mountain.
Heading out the door? Read this article on the new Outside+ app available now on iOS devices for members! Download the app.
"If you want to stretch your mind, go alpine climbing. If you want to blow your mind, go alpine climbing with a paraglider," Will Sim said while cramming ice axes, ropes, and bivy gear into an already bulging paragliding harness. Fabi Buhl laughed in agreement as he fixed a pair of skis to his own flying harness.
They were preparing to attempt the first ascent of Gulmit Tower, a 5,800-meter granite monolith, deep in the Karakoram. And they were going to paraglide to access it. 
Standing at the end of the Ultar Sar massif of Hunza, Pakistan, Glumit Tower has seen several attempts from accomplished teams over the last three decades. In 1988, Frenchmen Emmanuel Schmutz and Gerard Decorps approached the tower from the northeast via Gulmit village and the Bulkish Yaz Glacier. They encountered avalanche-prone slopes, seracs, and blank faces, as did subsequent parties. Teams who attempted from Hunza via the Gurpi Glacier encountered similar dangers: high rockfall potential and steep slopes. Because porters cannot carry loads in the final stretch, it takes four to five days to establish a basecamp at the mountain's side. All attempts were unsuccessful, primarily because accessing the climb was so challenging.
Buhl, from Germany, is an alpinist, having racked up hard ascents throughout Europe and South America. Sim is a British mountain guide who calls Chamonix his home. He has made numerous first ascents and speed records of hard alpine climbs throughout the Alps, Alaska, Patagonia, the Rockies, and Pakistan. They both began paragliding a few years ago, and in 2020 Buhl became the first climber to paraglide from Cerro Torre's summit. 
"We were really keen to do a lot of cool flying on this trip [the Karakoram], but we also figured it would be great to climb something," said Sim. "It was in the first week of our trip to the Hunza Valley that Fabi and myself had a 'light bulb' moment when we realized that we could probably fly into the south side of Gulmit Tower."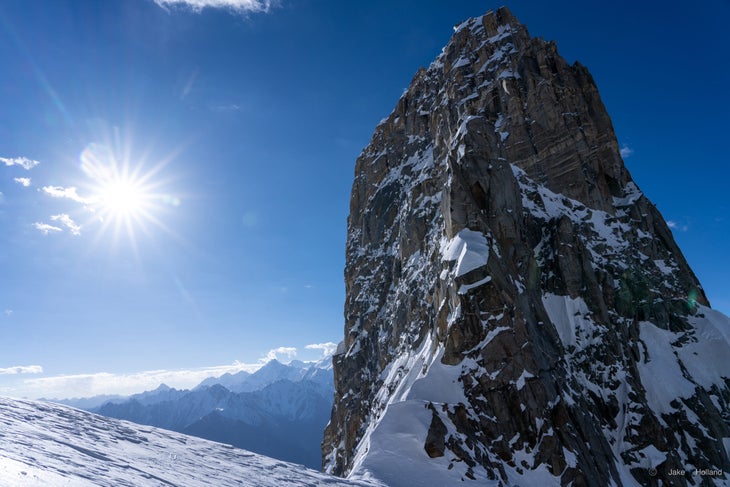 Finding the Line
Sim, Buhl, and I began paragliding in Karakoram in late May. The weather wasn't good, with huge cumulus clouds often building by 11 a.m., followed by large, unpredictable gusts detonating through the valleys: Not ideal for flying. Over the course of a month, we made a series of short trips out into the mountains, camping at 4,000 to 4,500 meters. This was an important step, as we knew it was going to be vital to get some acclimatization in the bag and better understand the weather patterns.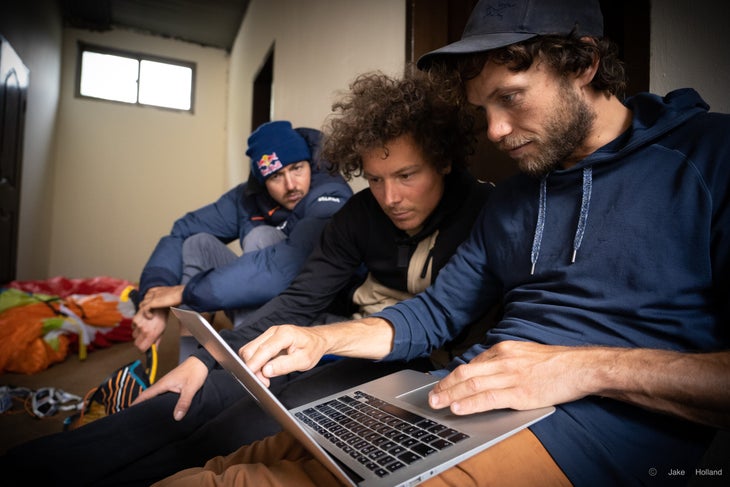 As our time in the country progressed, so gradually did the weather, giving us windows of opportunity to make longer and more technical flights. As paraglider pilots, we heavily rely on the thermal breezes to be able to gain altitude. In Pakistan the thermals can be very strong, it's common to be able to climb at rates of 8 meters a second (23 feet per second), soaring just feet away from golden granite! Once we have flown up to the base of the clouds, it's then possible to glide to the next thermal source, then climb again, and continue the cycle. Being able to move in this way is highly efficient, and given that the modern paraglider pack and harness weigh very little, combining the sport with other mountain activities is a paradigm-shifting development. 
Strapping our skis to our harnesses, we spent several days thermalling high into the mountains, crossing valleys, landing at 5,500 meters, quickly packing the glider, and enjoying some beautiful skiing down a thousand meters before taking off again to repeat the process. Not being restricted to a base camp meant we were able to live a comfortable life by spending the bulk of our nights in the beautiful green town of Karimabad, binging on curries and cherry smoothies. The people in the Hunza region are warm, open minded, healthy people that always welcomed us with friendly smiles.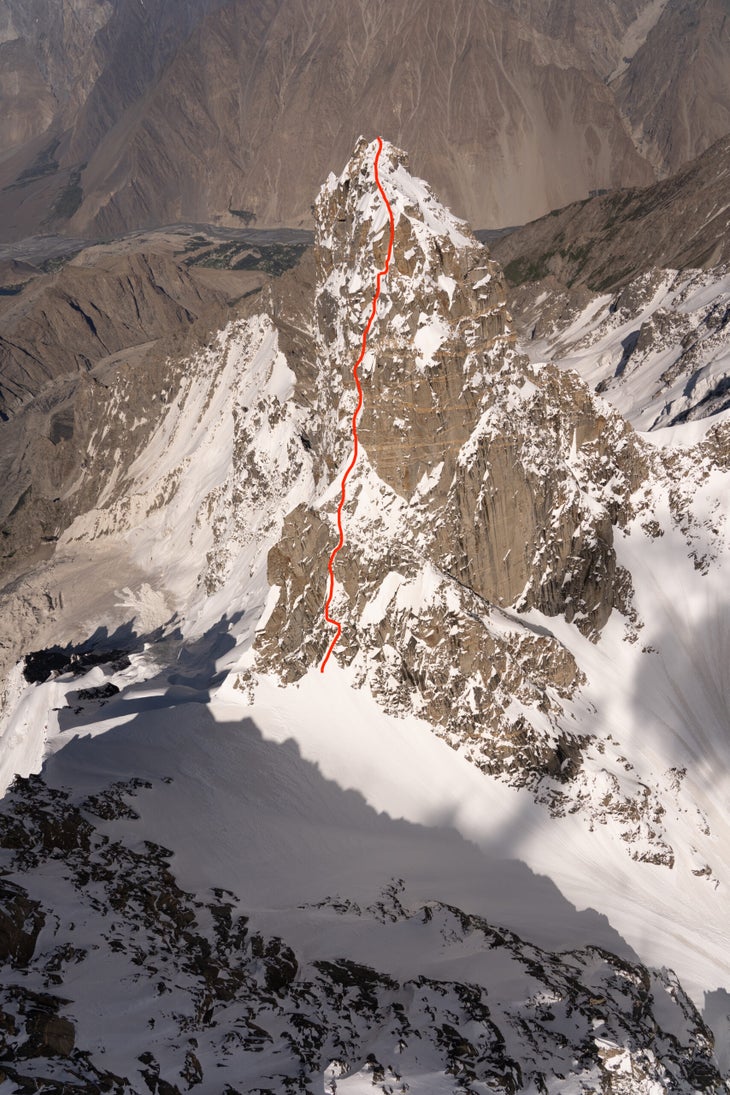 On one of our better flying days, Buhl and myself visited the Gulmit basin and flew over the top of the tower. Sim and Buhl started to plot the route they'd take using the photos I snapped mid-flight.  "Photos are really useful," Sim explained to me. "But until we are at the bottom of the route, you really can't tell how it's going to be."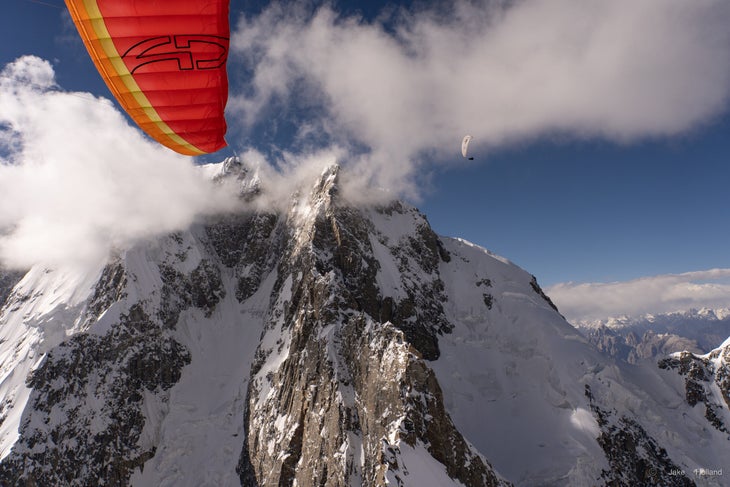 The concept of flying to the base of a technical Himalayan route is a new one as far as we are aware. It was fascinating to watch Buhl and Sim's experience shine through as they whittled down their gear rack to the bare minimum. Flying in to the route would be really fast. But our gliders have an upper weight limit and adding bivy gear, food, ropes, rack, axes, and whatever else they would need was going to surpass that limit and then some. Along with my camera and drone, I helped carry some of their load. Aaron Duragati, another pilot on the trip, also agreed to fly in carrying some of their gear. 
A Record-Setting Ascent
On the 26 of June, the forecast was promising. After a lazy breakfast with omelets, naan, and chai in our favorite café in Karimabad, Sim joked to Buhl, "This is better than any base camp." The food and jokes helped offset our nerves. Since we would be almost comically overloaded at takeoff, it was unclear what the next couple of hours might entail. 
Climbing out on thermals is not always a guaranteed outcome. "Bombing out," or being forced to land in the valley floor, wastes precious time. And bombing out when you have the stove, gas and tent for your friends who are flying into a remote basin is really not good!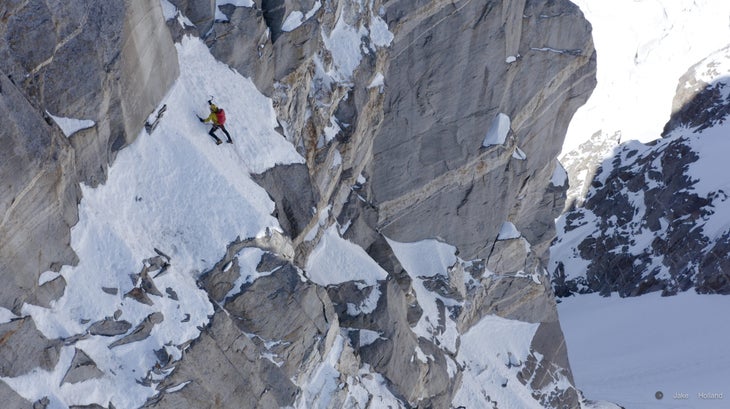 Sim took off first and caught a great thermal cycle, getting catapulted from 2,800 meters to 6,000 meters in just 10 minutes. But when Buhl and I took off just 10 minutes later, the thermals had shifted and it proved to be an hour-long battle to just maintain our takeoff height. 
"From takeoff, it wasn't looking like we were going to all get to Gulmit Tower, let alone climb it!" Buhl said. But we finally found a good thermal and clawed our way to the basin. On our way, we flew past Ultar Sar's Southeast (or Hidden) Pillar. "It's crazy to fly past this route," Sim later told me. "There's so little information or photos about this mythical line and we just flew straight past it!" 
The upper Gurpi Glacier is a wild place to land: With giant seracs, an endless maze of crevasses, and steep slopes sloughing debris in the summer sun, there are few safe places to touch down. Sim landed next to the Bergschrund, away from most open crevasses. When I finally joined Sim and Buhl, we celebrated, laughing nervously at having completed part one of the journey. Then we set up camp.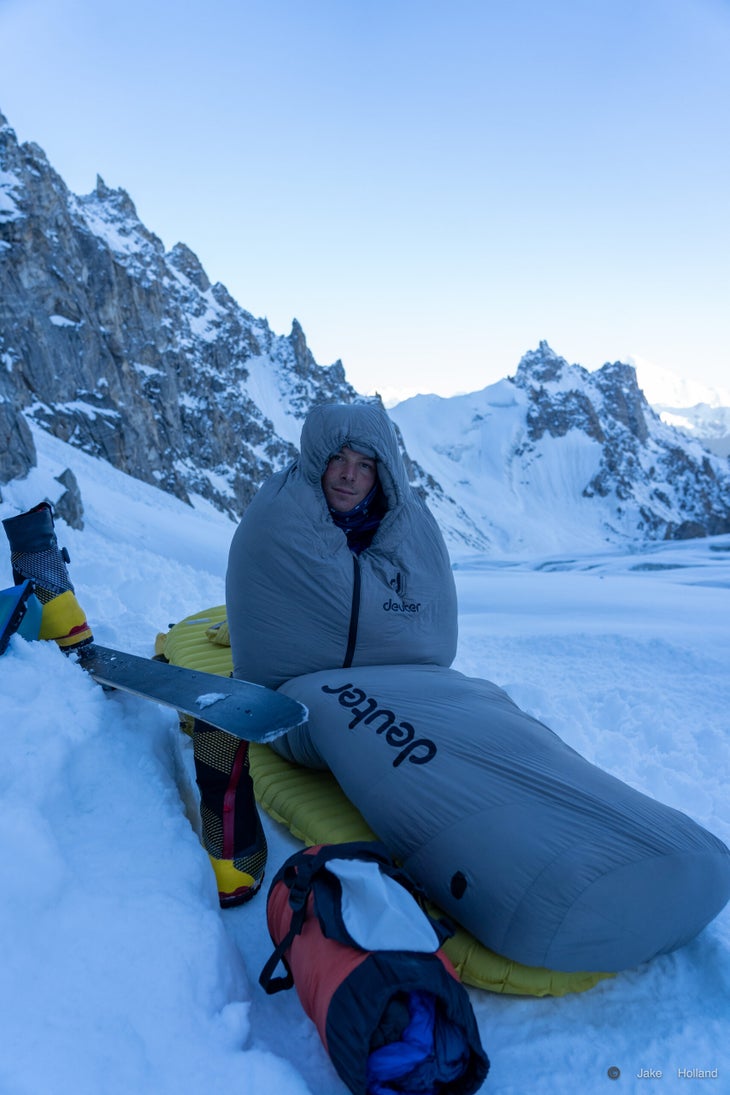 ***
At 2 a.m. the next morning, with head torches on, we tried to convince our stomachs that they wanted to eat something. Crampons on, we left the tent, set off towards a 500-meter-long couloir. With a brewing chest infection and dramatically less climbing skill than the others, I planned to stop at the base of the col and film their ascent from there. 
Arriving at the col at first light, Buhl and Sim set about working out a way up. "The top half of the mountain is composed of compact, yet high-quality granite, with chimneys and icey corners. It looked awesome, although not easy, but we were psyched!" said Buhl.
By the time I arrived coughing and puffing at the Col, they had already started to make good progress up the route. "We decided to climb the southwest-facing side of the col. We initially wanted to climb it roped, but we found [ourselves feeling confident], so we climbed the first 130-meter unroped to a good belay," Buhl later told me. "Will led one nice pitch further to a snowy ridge, which hides behind a big gendarme, and from there onwards we climbed on the path of least resistance on a kind of dihedral system."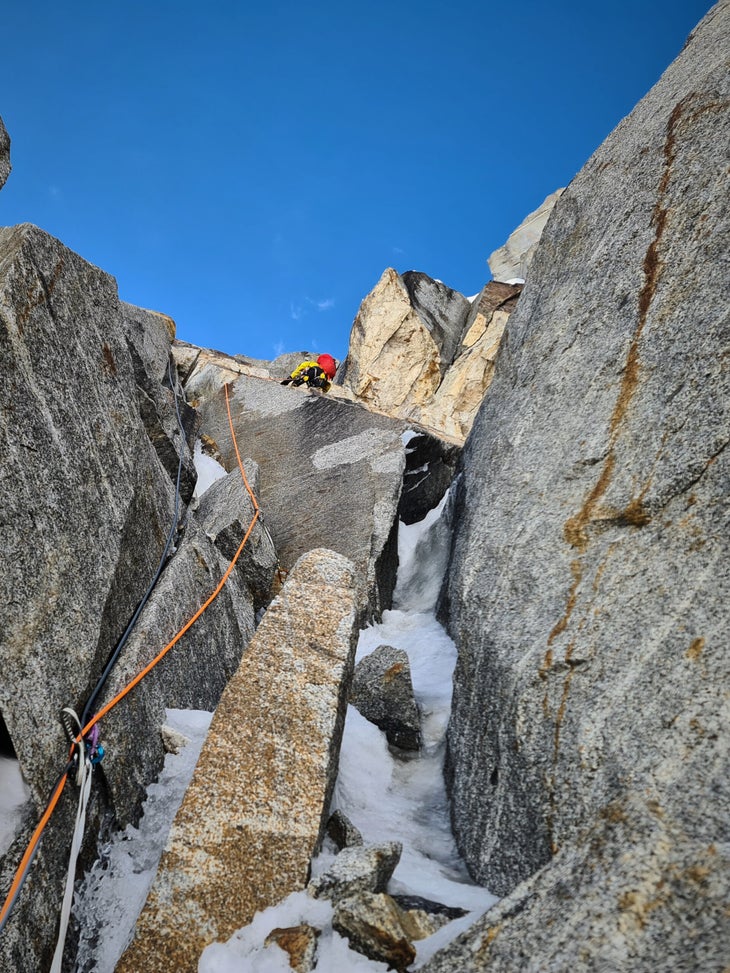 I watched a small piece of Himalayan history unfold before my eyes, as they swung leads up beautiful striped granite through a series of corners.
Not wanting to downclimb outside of a safe window, I headed back down to the tent and prepared to fly out of the basin. With some difficulties I managed to  take off, hoping the boys would return to the tent safely. With me gone, there was enough gas and food for one more night, but no more. 
A few hours after I had made it to the hotel, Sim turned up with a huge grin on his face. He described the route, saying "About ten pitches of mixed climbing and the odd bit of aid climbing got us to the top. We were both really impressed by the quality of climbing, pitch after pitch of brilliant technical mixed ground."
We laughed about how mad it was to have arrived back at the hotel on the same day of the climb.
A game of Rock, Paper, Scissors had decided who would take off first, and who would take off second but carry the stove and gas (in case they got stuck up there on their own). Sim got lucky and it took just 45 minutes for him to get from the imposing, isolated cirque of the upper Gurpi Glacier to the side of the Karakoram Highway in a mess of paragliding lines, bushes, and climbing equipment, his heavy clothes flung off in the 95-degree heat. "By [standard approaches], it should have been another three days to walk to where I touched down. I pinched myself, not quite believing we'd pulled it off…" he said.
An hour later, Buhl landed as well. "The summit ridge was pure pleasure and we both definitely cannot believe that this crazy style of climbing and approaching a summit of this magnitude has actually worked!" he said.
The curry in town tasted especially good that night. With a sparkle in their eyes, Sim and Buhl talk animatedly about the future possibilities of combining cross-country paragliding and technical climbing in the Himalaya. In this case the two things worked perfectly together in an entirely logical way, to result in climbing a new route on a previously unclimbed mountain. "What does the future hold!?" they asked.
15 Years Ago One of America's Greatest Free Soloists Was Taken by the Sea