Madaleine Sorkin and the AAC Launch the Climbing Grief Fund
After a slew of climbing tragedies last fall, big wall climber Madaleine Sorkin partners with the American Alpine Club to provide resources for climbers affected by death.
Heading out the door? Read this article on the new Outside+ app available now on iOS devices for members! Download the app.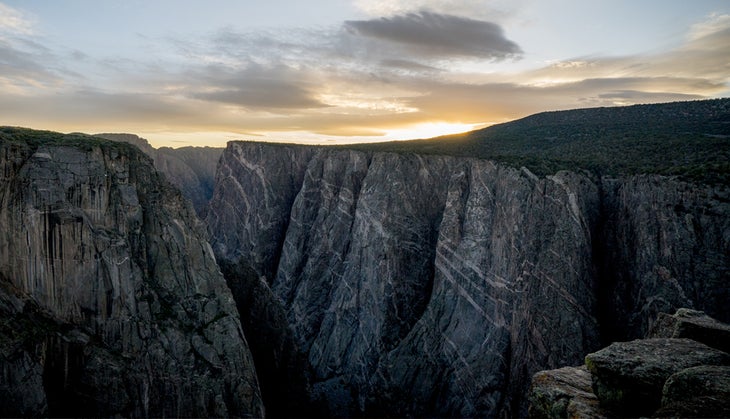 Tragedy seemed to follow professional climber Madaleine Sorkin for the second half of 2017. In August, Sorkin and partner Kate Rutherford helped a woman hike out from Wyoming's Wind River Range after she witnessed her climbing partner fall 600 feet to his death. In October, Sorkin's friend and climber Hayden Kennedy committed suicide after he lost his girlfriend, Inge Perkins, to an avalanche. A few days after that, Sorkin's longtime climbing partner Quinn Brett fell 100 feet on El Capitan in Yosemite, resulting in her being paralyzed from the waist down. Sorkin experienced intense, raw grief from these events, and she didn't know how to process the pain. When she looked at the climbing community, she found very little guidance and no resources on how to process the grief.
"I turned elsewhere," Sorkin says. "I Intentionally stopped climbing for much of the winter. I turned to soul- and nature-based work as support for experiencing grief. I tried a vision fast. I felt ready for my heart to be broken open." When she came out the other side of this dark period, Sorkin realized she wanted to help build a climbing community that turned toward the mystery of death, instead of trying to hide from it. "With death such an obvious part of climbing, we have an opportunity to lead a movement back toward our deaths, and [because of that, we can] lead more fulfilling lives," she says.
This led her to the idea of creating the Climbing Grief Fund, where climbers can find support to deal with death, loss, and grief as a part of climbing. Launched in partnership with the American Alpine Club, the Grief Fund will start as a comprehensive online resource for coping with trauma, and eventually expand into individual and group therapy sessions, held in private and at events like the AAC Cragging Classics. Funding for the Climbing Grief Fund will come from private donations, funding from brands, and other grants.
As part of fundraising efforts, Sorkin will attempt 24 Hours Into the Black on May 25, a link-up of three major routes in Colorado's Black Canyon in 24 hours. Along with Colorado climber Mary Harlan, Sorkin will attempt Astro Dog (5.11+, 14 pitches), Scenic Cruise (5.10+, 13 pitches), and Great White Wall (5.10+, 13 pitches) or Russian Arête (5.9+, 7 pitches).
We spoke with Sorkin about her expectations for the link-up, why she chose the Black Canyon, and what she hopes to accomplish with the Grief Fund.
What do you hope to achieve with the Grief Fund, both on an individual level and with the entire climbing community? 
Madaleine Sorkin: I hope this fund supports climbers to experience their grief as something that is part of climbing, something that's folded into the fabric of our community with respect and compassion. Big picture, I want the fund to support not only trauma due to loss and accident, but also any darker side of our psyches, such as depression or addiction. I hope it becomes a movement of inclusion of our shadow sides.
In American culture, death is typically something at best turned away from and at worst feared and denied throughout a person's life. We are all going to die and experience pain and loss, so it seems ridiculous to me that we are conditioned to turn away from it. Climbers are a passionate group of people, stoked to live fully. In dialoguing more about death, I believe we can lead more loving lives.
Why did you choose the Black Canyon for this link-up?
The Black is absolutely the best place that I could think of for a climb so closely associated to grief. I am drawn to the power of this ancient and mysterious 2,000-foot chasm—and I'm scared of it. There is nothing I can't express here: joy, sadness, rage, ease. It's all here, the abundant poison ivy, loose rock, solid rock, epic views, psychedelic walls, a constant echoing river, exposure, the gliding birds, the sunlight moving through the canyon, the darkness settling in. There is so much nourishment to experience!
My partner, Mary Harlan, and I have each spent a lot of time climbing in the Black and we wanted to choose routes for the link-up that were physical and would break our bodies down, but not so technically difficult that we couldn't move efficiently as a team. We plan to link Astro Dog on the South Chasm View Wall (5.11+, 14 pitches) to Scenic Cruise on the North Chasm View Wall (5.10+, 13 pitches) to the Great White Wall (5.10+, 13 pitches) or Russian Arête (5.9+, 7 pitches).
What do you hope this big linkup does for you on a personal level?
First and foremost, I hope that Mary and I stay physically healthy and that we are able to assess risk from an embodied, sane place throughout the 24 hours. I hope for many things, for the climb to be an embodied expression of joy, gratitude, and sorrow, and for the long day to include movement with grief, not escape from it. I've returned to climbing as a place for renewal and vitality. I've also come with questions: What I am doing with climbing these days? What does it look like to make room for grief when climbing? I imagine the summits of each climb as meaningful moments. I hope to take time then to acknowledge the intention of the climb. I hope for moments to experience myself as an animal moving over rock, and to appreciate the intention of what we are doing. I hope I communicate with friends who have died throughout the years. And I hope that my heart will be broken open in unpredictable ways so I can express my vulnerability openly during this challenge.
Learn more about 24 Hours Into the Black, or donate to the Grief Fund. Follow along with 24 Hours Into the Black, or share your own story about trauma or death in climbing, with the tags #24HoursIntoTheBlack and #ClimbingGriefFund.