Mike Foley on the First Ascent of Spirit Quest (5.14d)—One of Squamish's hardest
Foley, a designer at Arc'teryx, has done the first ascent of Squamish's new power-endurance test-piece
Heading out the door? Read this article on the new Outside+ app available now on iOS devices for members! Download the app.
Mike Foley has done the first ascent of Spirit Quest in Squamish, for which he has proposed a grade of hard 5.14d. The route is a nine-bolt direct start to an existing 5.14a called Spirit of the West.
A native of Lincoln, Massachusetts, Foley spent most of his early career climbing in Rumney, NH, where he sent China Glide (5.14d), The Fly (5.14d), and Jaws II (5.14d/5.15a), before essentially running out of established routes. He attended college in Vancouver and, after pursuing a post-graduate program in technical apparel design at the Wilson School of Design, got a job at Arc'teryx, where he now designs harnesses and climbing-specific hard goods. 
A full-time work schedule hasn't hurt Foley's performance on the rock, however. He's put down most of Squamish's hardest sport climbs and boulders, including Chris Sharma's iconic Dreamcatcher (5.14d) and Tim Doyle's illusive benchmark The Reckoning (V14). Earlier this summer, on a brief trip to Canmore, he sent multiple 5.14s, including Prime Time (5.14c) and Bunda De Fora (5.14d)—each in just a handful of tries.
Climbing caught up with Foley to talk about the route and about his training.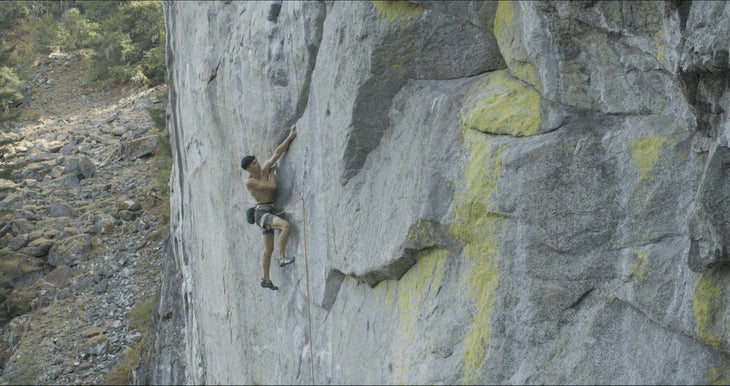 Tell me about the route.
Spirit Quest is on the Paradise Wall in Paradise Valley, just north of Squamish, and it was equipped by Tom Wright—a local who's established and sent a lot of the hard lines in that sector. He did the first ascent of Spirit of the West (5.14a) several years ago—and Spirit Quest is kind of a direct start to Spirit of the West since they join each other at the very top of the wall. Tom bolted it several years ago but kept it as a closed project for four or five years. He was trying it a lot and was getting really close, but me and a few other Squamish climbers were definitely twiddling our thumbs and waiting for it to open up. He let us start climbing on it this summer and a few of us immediately jumped on it. There isn't much hard sport climbing in Squamish that I haven't done, so it was really motivating to get to climb on a five star line that's really hard for me.
So was there a bit of a competition vibe?
It wasn't a competition, but it was competitive. Ben Harnden, who's this really strong local climber—he's done Dreamcatcher, he's done Cobra Crack, he's done V14, he's one of the best climbers in Canada for sure—he was going full project mode on the route. I was definitely worried that he'd do it before me. So yeah, there was friendly competition, but it was pretty fun to have someone else to try it with. It's also interesting, since [Harnden] is way shorter than me, the way we climb the route is totally different. He probably does 30 more moves than I do. But it was fun to have someone to egg me on and the competitive pressure helped motivate me to get out there as much as possible. Ben was super close when I did it, and he sent about a week after me.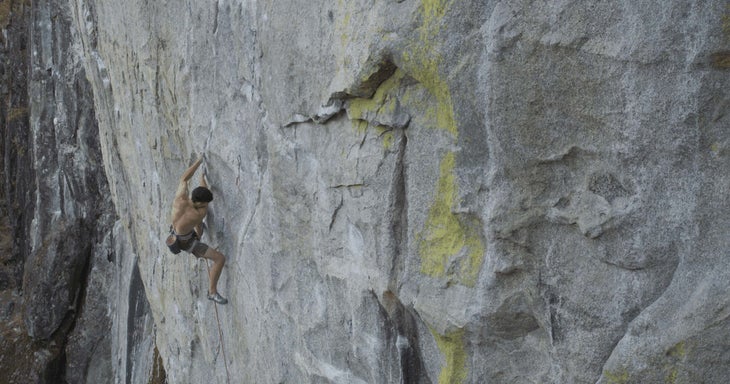 What's the route like?
Spirit Quest is kind of unique for Squamish. It's a resistance climb and it's not actually that steep, like 20 degrees overhanging, maybe less, but very tall: a full 70-meter barely lowers you to the ground. There are four bolts of easy 5.12 climbing to a good rest. Then the route really starts. From there to the next rest is like forty moves of closed-hand crimping. You can't stop really, except in one spot where you can chalk up. The whole upper section I clip every other draw, kind of running it out, because the clipping positions are quite strenuous. When Ben and I started trying it, we didn't think it was that bad. We thought we'd do it pretty quickly. I remember after my first day working it, I thought it would go in three more sessions—like five more tries. But then, weeks later, we were both still falling on it. None of the individual moves are crazy but it just builds. There are a couple of sections, toward the end, that we thought would be totally fine. But we got there on link and were falling.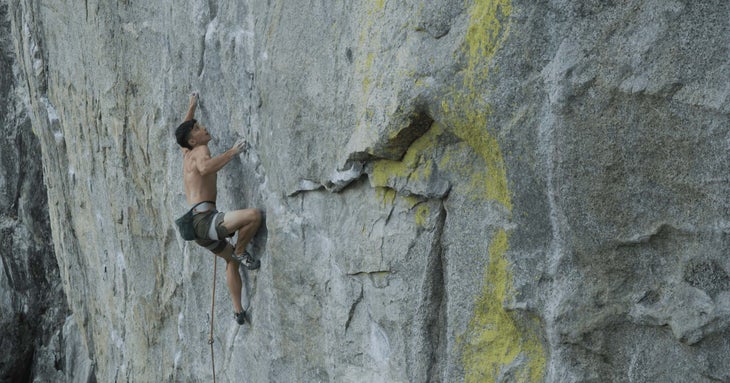 So is this the hardest route in Squamish now?
Earlier this spring Ben Harnden put up a new climb called Dark Matter that he graded 5.14d/5.15a—so that's the hardest. But it's also a totally different style: it's super bouldery to a much easier topout. I haven't had a chance to try that one yet, but I will now that it's getting a bit colder. I would say that Spirit Quest is comparable to Dreamcatcher. But it's also not a style that I'm super good at: I tend to do a lot better on steeper bouldery routes, Rumney-style routes with good rests—whereas Dreamcatcher is more in my style.
What was your process like on it?
I spent three or four weekends trying Spirit Quest, maybe more, then went on a two-week vacation to Canmore and did a bunch of 5.14s, including a 5.14d in five or six tries. That was when I was like, okay, either things are soft here, or there's a big style difference, or maybe Spirit Quest is just really, really hard.
And then you came back and sent?
Well, I came back in really good shape, and I had my head in sport climbing, so I did Spirit Quest fairly soon after returning from that trip. 
Can you walk me through the send day?
It was actually on a work day. It gets really hot in Squamish and there's very little wind at the Paradise Wall. I tried to climb in the early mornings on weekends, but I live in Vancouver and didn't have time to climb before work during the week. I tried an evening session once, but after the wall goes into the shade at like 7:30 you only have time for a warmup and one try before it gets dark. I actually sent during the Arc'teryx Academy; all the athletes were in Squamish doing clinics and I went up to participate in the team hike, but I ducked out after the hike and instead of going to the team dinner I went and did the route. I think the fact that I was off routine was important. If you're falling a lot in the same place and climbing on the same schedule it's nice to mix it up a bit.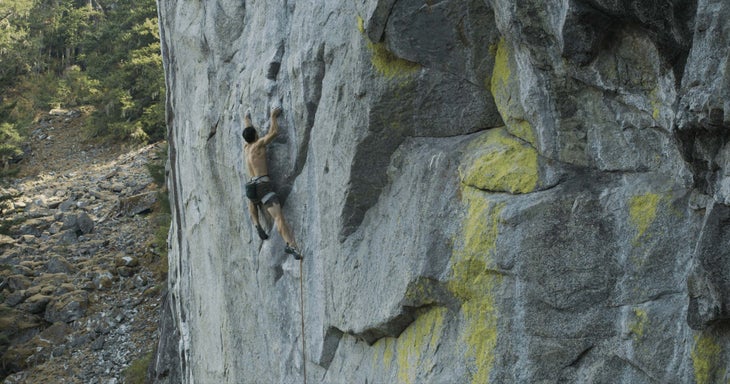 What do you do for training and how do you balance climbing with the day job?
I find having a distraction from climbing—even though my job does involve thinking about climbing in some respect—is really helpful. You're not just always in climbing mode; and when you're resting you're not thinking about recovering, you're doing your work. Then when you do get out, you have this desire to make the most of your time. But with COVID, it has been hard to climb. There aren't many gyms in Vancouver, and all of them are on a booking schedule. When they open up for reservations, the slots fill up in like 20 seconds. So I haven't been climbing in the gym that much. I've been trying to get outside a lot. 
When I do go to the gym, though, I focus almost entirely on bouldering: I basically just Moonboard. But if you're just climbing in the gym on hard boulders, you get less comfortable or relaxed on a rope. So for me it's important to sport climb outside, too. I need to be comfortable skipping draws and being on a wall for a long time—and the importance of having that comfort is something I forget every season. So yeah, I build power in the gym and then sport climb a lot.
What's next aside from Dark Matter? Are there other potential hard lines waiting for you in Squamish?
For sure. A lot of the climbing that has been developed so far in Squamish is really close to the road, so people have traditionally not wanted to hike to climb. But there has been more exploration recently and more crags are popping up. Even on the Paradise Valley wall there's a variation that's still available. You can split off Spirit Quest halfway, do another hard boulder problem, then another hard boulder problem. It will be quite difficult. You pretty much climb most of Spirit Quest before adding two more cruxes. I'll investigate the route at some point, but first I want to take a break from that wall and try some different styles.
Below: footage of the route's equipper, Tom Wright, working the route earlier this year: