Heading out the door? Read this article on the new Outside+ app available now on iOS devices for members! Download the app.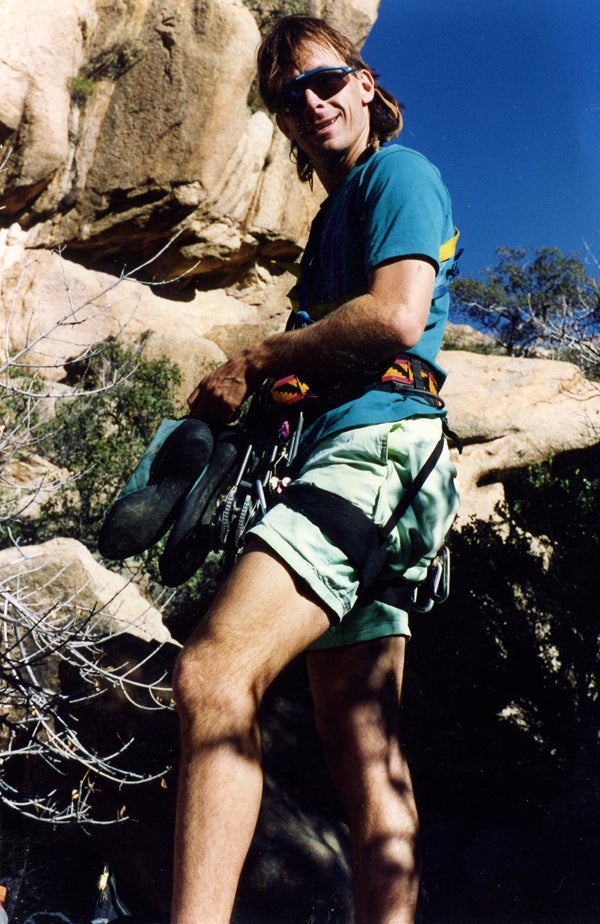 Baboquivari 1980: My most memorable climb with Mike Strassman was my first time up Baboquivari Peak, southwest of Tucson, Arizona. The plan was to climb the southeast arête under the light of the full moon. No better way to spend a Friday night, we thought.
We stopped for supplies—our usual gorp, string cheese, and canned sardines. Mike called any fish-in-a-can "kipper thnapths." He used to love to say, "Kipper thnapths." We threw in a couple bottles of Beaujolais for the summit celebration.
We arrived at the parking spot, the sun setting early behind "Babo" to the west. The hike was beautiful as the pink, orange, and purple hues bathed the trail in the changing light. Our confidence grew with each step, convincing us what a great idea this full-moon ascent was. We hadn't been climbing very long, but how hard could a six-pitch 5.6 be? We had headlamps, no big deal. We humped our gear to the saddle and then thrashed our way to Lion's Ledge.
We gathered wood, started a campfire, and sat down to enjoy the "kipper thnapths" and string cheese. Every time Mike peeled a piece of string cheese, he would say, "You've got to eat it like thtringgg." Mike incorporated various foreign accents into his comical manner of speech, and whatever came out of his mouth always drew laughs.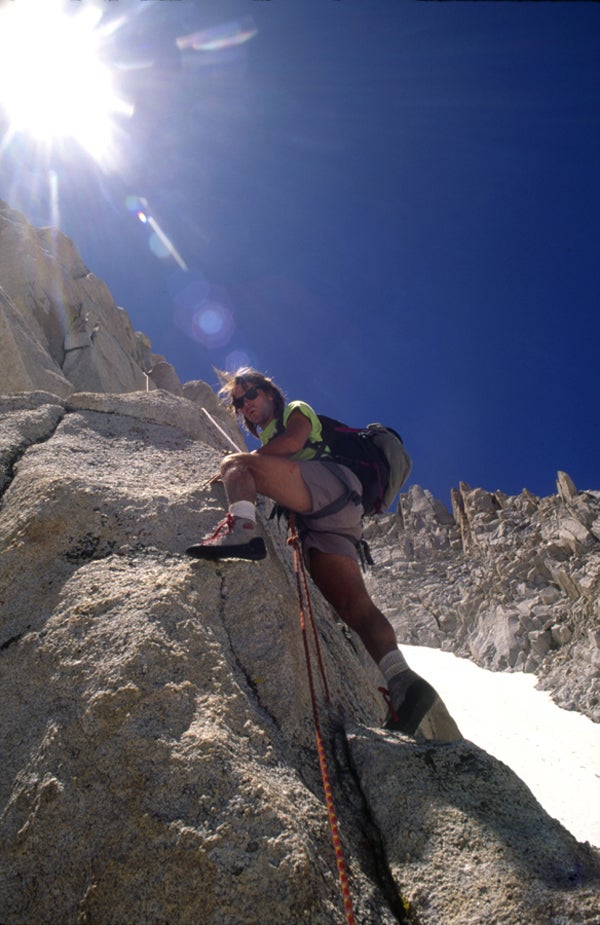 Our two celebratory bottles of wine were not to be uncorked until we had achieved the summit. However, we discussed that we shouldn't carry two since we might break one. So to lighten our load, we ought to drink one. We sipped and talked about I'Toi, the hallowed spirit of the Thono O'Odham tribe that resides on Baboquivari. He is supposed to be more mischievous than malicious.
Since we were enjoying our conversation and sipping our last sips, it was a forgone conclusion that me might as well enjoy the other bottle. We were now in no condition to make that full-moon ascent. We decided that trundling a few boulders off the ledge, 300 feet off the deck, would entertain us. To hear the crashing sound of each boulder launched was as intoxicating to us as each sip of wine we took. We shamelessly cleaned that ledge, unconcerned by any retribution I'Toi might have in store for us.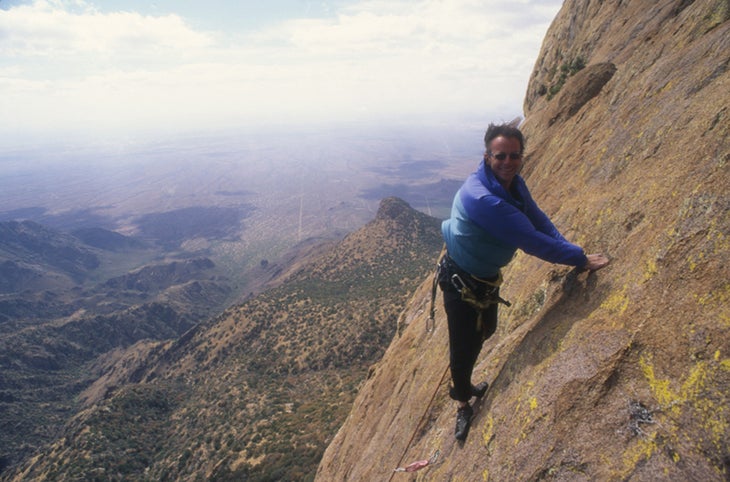 We stoked our fire, making a huge blaze to ward off the cold air. We settled in our bags for the night, close to the crackling fire. I abruptly woke up to the sound of Mike stomping his feet. Bad idea to leave his pants next to the fire! The only thing left of them was a few burnt shreds. The $10 bill in his pocket was all but gone, save for a corner. That was our beer money for the ride back to town. Ouch!
Fortunately, Mike still had his underpants to climb in. Unfortunately, they were very loose-fitting. Watching him take the first lead, first thing in the morning was not a pretty sight. We sumitted uneventfully and early. We then spent the rest of the day until dark bushwhacking, rappelling twice down the wrong gully, trying to find the Forbes route exit.
The sight of Mike clad in his tattered underwear, legs completely covered in bloody slash marks from the manzanita and acacia, was an unforgettable sight. We laughed so hard all the way back to town. I'Toi had gotten us back for the disrespectful trundlings.
I'll be looking for you up on Babo, Mike, hanging out with I'Toi!
I love you Mike,
Alex