Moab Climber Nearly Loses Hand in 45-Foot Whipper
29-year-old Dalton Snow was hospitalized after a trad fall while climbing on April 12, near Kings Bottom, Moab.
Heading out the door? Read this article on the new Outside+ app available now on iOS devices for members! Download the app.
A Moab climber is recovering in the hospital after a grisly fall earlier this month. Dalton Snow, 29, was climbing to rig a highline with two friends, James Xu and Lorenzo DeMuro, when he pulled rock loose and fell somewhere between 40 and 50 feet onto low-angle slab near the base of the route. 
Snow was leading a rarely-climbed, unnamed single pitch route put up by Andy Lewis, originally established solely to access a BASE jump exit. The route begins near Kings Bottom trailhead along the Colorado River just southwest of Moab, and ascends from inside a ravine between two rock fins. The first half of the route is extremely chossy, DeMuro told Climbing, but the second portion (which Snow almost reached) involves ascending a clean crack.
Snow had clipped into the route's sole bolt (approximately 10 feet off the deck), "then he got a #2 cam, a real solid placement, about 10 feet above that," DeMuro said. 
At approximately 5:00 p.m., while he was mantling over a fridge-sized block higher on the route, the block pulled loose from the wall and Snow whipped. His cam held, but Snow impacted on the slab approximately five feet from the base of the line.
The impact broke his pelvis, five ribs, collar bone, and scapula. At some point during the fall his right arm was also torn almost entirely off, "hanging by a bit of soft tissue," DeMuro said. "I'm not sure if his hand met the business end of that boulder, it looked like it did. But maybe his hand just broke his fall… It all happened really fast, but it was brutal. It was gruesome." The boulder that pulled loose exploded into multiple fragments upon hitting the slab where Snow landed.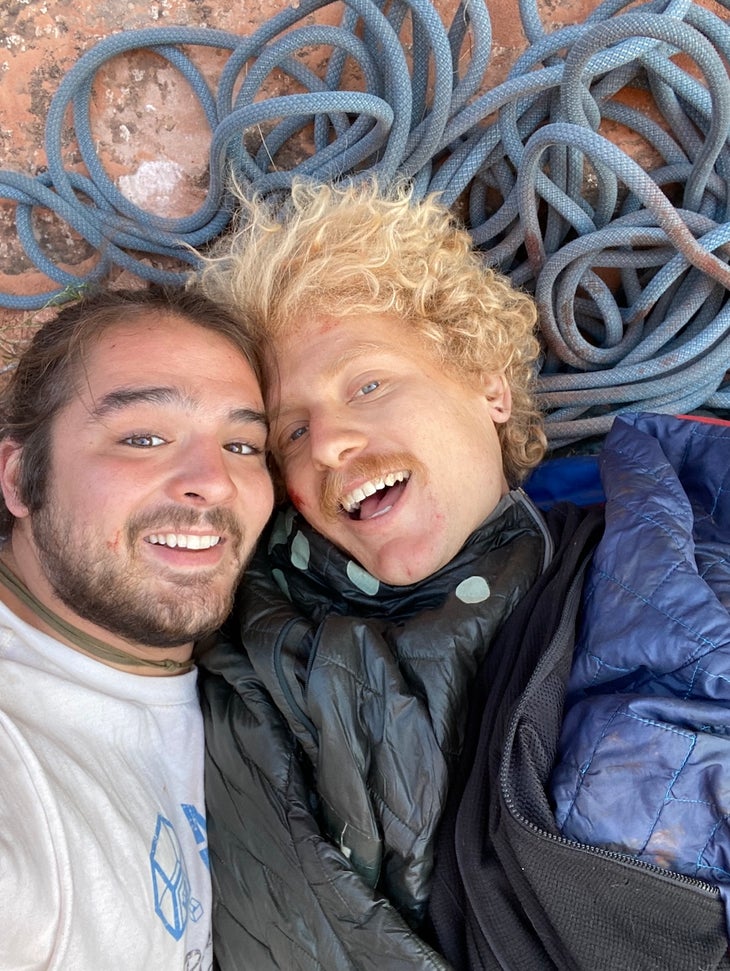 Luckily, both Xu and DeMuro are Wilderness First Responder-certified. In addition, the latter is a former NOLS instructor and the former has undergone Emergency Medical Technician (EMT) training.
Xu, the belayer, immediately used cordelette to create a tourniquet just below the elbow, using the stock of an arborist's throw line gun as a torsion device, twisting to tighten the tourniquet. (The group had planned to use the throw line gun to rig their highline.) Then Xu scrambled approximately 170 feet up to the top of the slab behind them to call for rescue using his Garmin inReach. 
DeMuro stayed behind to provide further care. "It was mostly just comfort at that point," he said. "Monitoring vitals, keeping a record, keeping him in high spirits." The near-severed arm was placed into a beanie and wrapped in a windbreaker. "We just tried to keep it as dry and sterile as we could," DeMuro said. "It was beyond a splint."
Although Snow was not wearing a helmet, his only head injury was a minor gash, nor did he suffer any spinal injury. He was fully conscious throughout the entire ordeal, and he remained in high spirits, laughing and making jokes. 
By approximately 6:45 p.m., rescue was onsite, but it took several hours to haul Snow up to the apex of the fin behind them where a helicopter was waiting. "We helped the rescuers plug in some cams on one side of the fin," DeMuro said, "so as they hauled him up on the litter, they could undo the cams to keep him from penduluming off the side."
Snow is currently recovering at Denver Health Medical Center and underwent his fifth surgery Tuesday. Miraculously, surgeons have been able to reattach his hand. "Unfortunately the rock took some bone and tissue and muscle with it," said his close friend Kiley Hartigan. "So they've had to take skin and muscle and blood vessel grafts out of his right thigh [to reconstruct his hand]. So that's an additional wound he has to manage. It's pretty gnarly, sealed with a vacuum pump." 
Snow is missing several bones in his wrist, so the surgeons have permanently fused his wrist, but he is expected to have limited mobility in all five fingers. "He won't have full function of the hand ever again," Hartigan said.
Snow, originally from Florida, is well known in the Moab climbing scene. He worked in the restaurant industry and also as a zipline tour operator, and was an avid highliner and BASE jumper among other hobbies, like fire spinning and aerial silks. DeMuro and Snow had BASE jumped in the same area in which the accident occurred only earlier that morning. "Dalton's a massively experienced and accomplished climber," DeMuro said. "He's done his time in Yosemite, Indian Creek, Red Rock. He's mostly a trad, desert boy. He's a very talented and capable person." The route was approximately 5.11, and well within his ability, DeMuro added. "His eyes weren't bigger than his stomach on this one. It was a freak accident."

The relatively untrafficked nature of the route meant that loose rock was a reasonable expectation. Even though Hartigan reported Snow believes he could've placed more pieces in hindsight, DeMuro, who returned to the route post-accident to clean up, said viable placement points were fairly slim. "It was pretty sparse. He fell right before he got to the crack where the placements would've been good." After the fall, Snow told DeMuro he'd tested the block as much as he could, and ultimately made a call to trust it. 
DeMuro said the accident was a perfect example of the importance of emergency preparedness and medical training. "Our training kicked in, it was all muscle memory, and we were able to help," he said. "Medical training is the lightest form of gear." 
"Taking a Wilderness First Responder course, buying a satellite device, that'll put you back $1,000, but it's worth it," Hartigan added. "[Snow] would've died, he would've bled out [without the medical treatment Xu and DeMuro were able to provide]." 
She also noted the importance of medical insurance (which Snow does not have). "It amazes me how many climbers, how many people I love very dearly, don't have insurance," she said. "Dalton's been in the hospital for over two weeks, in surgery number five, and his bills are going to be close to the $1,000,000 range, at least." Hartigan and Snow's family are hoping to retroactively apply him for Medicaid, but it's unclear if they'll be successful.
Hartigan has also set up a GoFundMe to raise funds for Dalton's treatments and recovery. Readers can donate here.