Natalia Grossman Wins at Salt Lake City World Cup—Results and Recap
The Boulder and Speed Salt Lake City World Cup took place over the weekend. Here's what you missed.
Heading out the door? Read this article on the new Outside+ app available now on iOS devices for members! Download the app.
In the few years since USA Climbing relocated its headquarters to Salt Lake City, the city has become the veritable epicenter of all-things American comp climbing. Many of the most well-known American stars—such as Natalia Grossman, Kyra Condie, and Zach Galla—have moved to Salt Lake City; a multi-discipline Training Center has become a resource for members of the U.S. National Team; and the city has hosted a National Championship. But the marquee event, ever since Salt Lake City became a comp-climbing hotbed, has been the annual World Cup, often featuring Boulder and Speed disciplines. 
This year was no different—and like previous year's World Cups in Salt Lake City, this one proved that the Americans are capable of harnessing "home turf" advantage arguably better than any other national squad. Here's the rundown of all the action…
Grossman Rules Once Again
Nobody on the roster had more intrigue than Natalia Grossman. While Salt Lake City had been the site of four previous—consecutive—gold medals for Grossman heading into the weekend's Boulder World Cup, her preceding World Cups of 2023 had resulted in lower-than-expected places (a tie for eighth place in the season opener in Hachioji, and 11th place at the rain-soaked competition in Seoul in April). Questions abounded as to whether Grossman would continue struggling to eek into the top 10, or whether Salt Lake City would be magical—er, golden—for Grossman once again. 
As it turned out, Grossman made an emphatic statement early by romping through all of the qualification boulders in Salt Lake City—five tops, all of which were flashes. Japan's Miho Nonaka, France's Fanny Gibert, and several other competitors also topped all five qualification boulders, but without Grossman's perfect efficiency. 
In the semifinal round the following day, Grossman remained in near-perfect form, again reaching the top of all the boulders. One of the highlights was Grossman opting for feet-first beta at the bottom of a burly, overhanging third boulder—and managing to land that boulder's double-clutch crux without hesitation. The flash of that particular boulder helped Grossman pull away on the scorecards from several other semifinalists—including France's Oriane Bertone and Fanny Gibert—and coast into the finals. There, Grossman continued her dominant form by being the only finalist to ascend the inaugural boulder of the round, a slab traverse with large dish-pockets. 
France's Bertone did keep some pressure on Grossman by reaching the top of the next two boulders; but by impressively flashing the third boulder (including motoring through the boulder's full-commitment sideways lean) Grossman became untouchable on the scorecards—nobody could overtake her. Another flash by Grossman, on the fourth boulder, was icing on the cake, and it confirmed that she was the gold medal winner. France's Bertone, with a total of two tops and two zones in the final round, was the silver medalist. And Grossman's American teammate, Brooke Raboutou, continued her best bouldering season ever by becoming the bronze medalist. 
Japan's Teammates Battle for Gold 
The men's Boulder division was highlighted by early standout performances from Belgium's Hannes Van Duysen and Japan's Tomoa Narasaki in the qualification portion. In fact, Van Duysen flashed every qualification boulder—by far his best performance in any World Cup round. 
While Van Duysen continued to impress in the semifinals and ultimately topped two of the boulders, the round belonged to Japan's Sorato Anraku. He topped all semifinal blocs, including a dazzling flash of the round's second boulder—an overhanging puzzle of heel-hooks and pinches that stymied all other competitors. In the process, 16-year-old Anraku surpassed everyone else on the scorecards and led the men's field heading into the final round.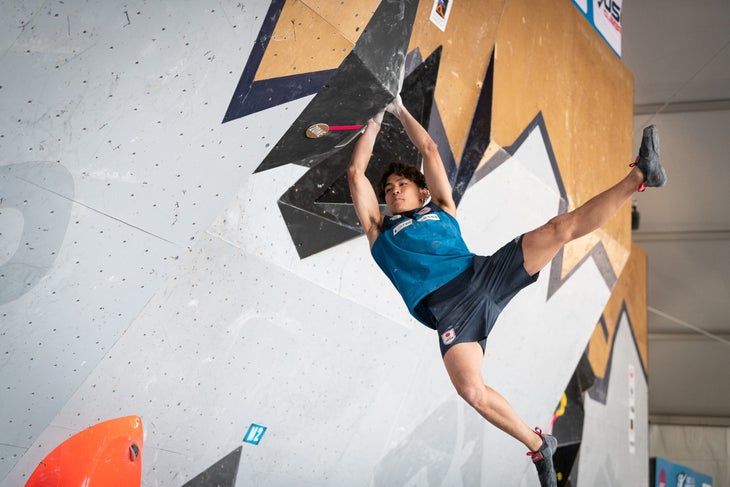 Anraku continued to deliver some show-stopping moments in the finals, including a re-send of the round's opening slab boulder after a previous send was appealed (due to an illegal start). But as the round progressed, it was Anraku's teammate Narasaki who pulled away. Narasaki took less attempts than Anraku to reach the top of the third boulder, and then cruised up the crimps on the steep fourth boulder for a decisive flash. Both Narasaki and Anraku topped all the boulders in the finals, but Narasaki won the gold medal based on attempts; Anraku was awarded the silver, and Great Britain's Toby Roberts continued his impressive transition from lead specialization to bouldering by earning the bronze. (The social media of Great Britain's climbing team promptly pointed out that Roberts is the first competitor in British history to have earned a medal in a lead and a boulder World Cup, as he also earned bronze at last year's Lead World Cup in Edinburgh.)
Speed Favorites Can't Be Stopped
The early standout in the women's Speed discipline at Salt Lake City was Poland's Aleksandra Miroslaw, who bobbled an early qualification run but managed to finish the round in the lead with a blazing second run of 6.42 seconds—only 0.17-seconds shy of her own world record. This was a prelude of things to come in the final round, where Miroslaw breezed past Germany's Franziska Ritter and Indonesia's Nurul Iqamah to advance deep into the elimination bracket. In fact, Miroslaw's first real challenge—at least in terms of a close time—did not come until the semifinal portion of the bracket, when China's Lijuan Deng put some heat on Miroslaw's heels. Ultimately, Deng (with a time of 6.74 seconds) could not catch Miroslaw (with a winning time of 6.39 seconds). But Deng was able to parlay that close race into a victorious Small Final, eventually beating Indonesia's Rajiah Sallsabillah for the bronze medal.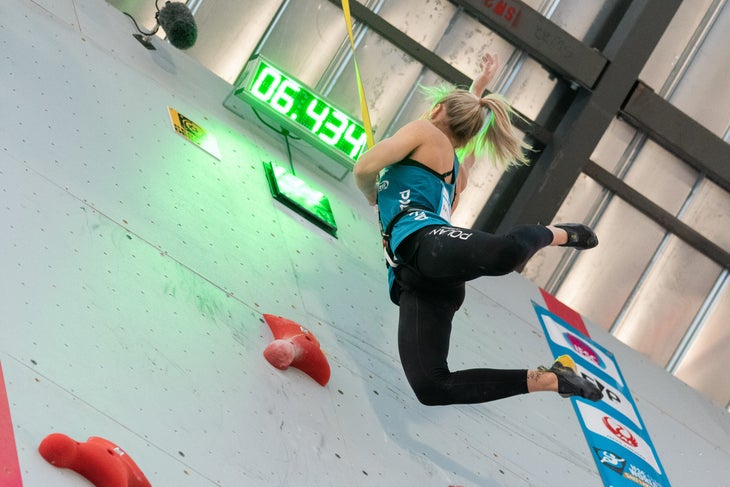 The women's Big Final featured Miroslaw sprinting against Indonesia's Desak Made Rita Kusuma Dewi (increasingly referred to with the truncated moniker "DMRKD" by comp fans). While DMRKD had not had the dominant performances that Miroslaw had up to that point, a razor-close race against Poland's Natalia Kalucka (in which DMRKD won on the finishing dyno) had reminded fans that anything could happen. Still, when the Big Final race kicked off, it was clear that Miroslaw could not be stopped on this particular evening; she launched off the starting pad and stayed ahead of DMRKD for the entire race, eventually winning by 0.39 seconds. It was Miroslaw's third World Cup win in 2023 (and eight in a row dating back to previous seasons), adding credence to the growing opinion that she is the greatest competitive speed climber of all time. 
In the men's Speed portion, Indonesia's Veddriq Leonardo posted the fastest qualification time with a 5.08-second run. A runaway favorite to win the entire event, Leonardo trudged through the dramatic opening brackets of the final round—first by overtaking American John Brosler in the inaugural race, and then by out-sprinting France's Bassa Mawem (who set a new personal best time of 5.30 seconds, despite the loss).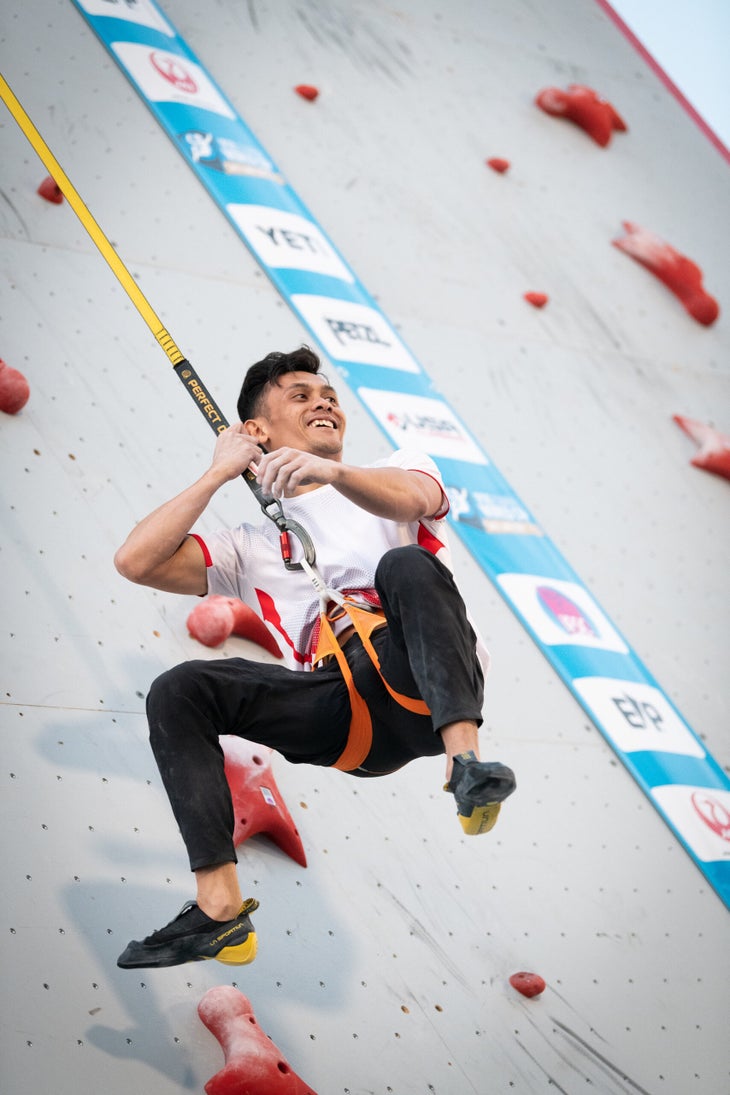 Leonardo's closest competition, at least based on time, came from his Indonesian teammate Kiromal Katibin, who also motored through the early brackets. When Leonardo and Katibin finally met head-to-head in a race, Leonardo won with a frenetic time of 4.98 seconds, whereas Katibin slipped and unfortunately injured a toe in the process. Despite the injury, Katibin managed to earn a bronze medal by beating American Sam Watson in the Small Final. Leonardo continued living up to everyone's expectations by beating China's Peng Wu in the Big Final—aided largely by a costly slip from Wu—to win the gold medal. 
Random Thoughts
There is so much more that could be said about Natalia Grossman's Boulder victory. As commentator Matt Groom proclaimed on the livestream, "She's back in a big, big way—[but] she never really left, let's be honest." And it's true, Grossman had been on the World Cup circuit this entire season, but it felt like this win in Salt Lake City was something of a return to form for her. She was honest about ongoing struggles with stomach issues. And she acknowledged that a big whiplash fall during the qualification portion of the World Cup in Seoul a few weeks ago was just as nasty as you'd expect a whiplash bouldering fall to be. Grossman deserves to relish this gold medal (officially her fifth in a row in Salt Lake City), while fans can turn their intrigue toward the upcoming Prague World Cup—where Slovenia's Janja Garnbret is scheduled to return and potentially restart the

Garnbret vs Grossman

battle, among the most interesting storylines in all of climbing these past few years.

Let's acknowledge that Grossman was not the only American who shined—far from it. As mentioned, Brooke Raboutou won the bronze medal in the women's Boulder division. And what was really exciting was seeing Raboutou's apparent off-season training of dynamic movement paying off. This was most evident when Raboutou was able to land the pseudo double-clutch of the second boulder in the women's final round. Additionally, Sean Bailey narrowly missed out on a Boulder podium in the men's division. Emma Hunt placed sixth in women's Speed and Sam Watson placed fourth in men's Speed. And Annie Sanders, the 15-year-old American phenom, advanced to her first-ever World Cup final round and finished in fourth place, almost earning a spot on the women's Boulder podium!

More thoughts on Annie Sanders: Her buzzer-beater top of the third boulder in the final round was one of the most exciting moments of the entire event. The best part, it required a dynamic, full-commitment move… something not necessarily known to be Sanders' specialty. 

There were a lot of big-name absences at this competition, including Germany's Hannah Meul, Serbia's Staša Gejo, Austria's Jessica Pilz, and the aforementioned Garnbret. But most notable was the absence of France's Mejdi Schalck in the men's division, as he was the winner of the first two Boulder World Cups of the 2023 season. Schalck is only 19 years old, but he's a charismatic presence, undoubtedly one of the most talented competitors on the circuit, and already it feels strange when he is absent from a competition. Hopefully he returns soon. 

I'm all for hyping up the well-known competitors—especially those who have been on the circuit for a long time. But I also wonder about being a bit too generous with designations of

legendary

status. In various phases of this competition, France's Fanny Gibert was labeled a "legend," Miho Nonaka was labeled a "legend," Tomoa Narasaki was labeled a "legend," and Bassa Mawem was labeled a "legend." I'm not sure I agree with all those anointments, at least not yet. Maybe it's just me—a writer being too nerdy about semantics—but what makes an athlete a legend? Years on the circuit? Medals acquired? Something else?… and if so, what? Let this all be part of a spirited discussion on the topic when resting with your friends on the gym mats this week. 

The biggest shakeup in the entire Speed discipline was probably Di Niu's slip midway up the route at the beginning of the women's final. It allowed Nurul Iqamah to overtake Niu, win the race (a big upset), and battle Miroslaw in the ensuing portion of the elimination bracket. Niu's slip exemplified how the smallest stumble can have massive repercussions in Speed. And in a way that makes Miroslaw's year-after-year consistency at the top of the women's division even more impressive. 

I'm still undecided about whether it was fun having the men's Boulder final round be so jam-packed with ascents, or whether the boulders were a bit undercooked. It seemed like

a lot

of the boulders were getting topped, but there were also singular cruxy moves—like the opening dyno that stymied Sean Bailey on the second boulder—which kept me on the edge of my seat. All in all, I'd say this weekend featured a pretty darn good batch of boulders from the routesetters throughout all rounds.   

Not much was known about the severity of Kiromal Katibin's toe injury, but he was clearly grimacing in pain after winning the Small Final race. It would be a massive loss if he had to miss some competitions, as he owned the men's world record last season and seems on pace to possibly reclaim it this year. The next Speed World Cup is not until late June, which will hopefully allow plenty of time for Katibin to heal.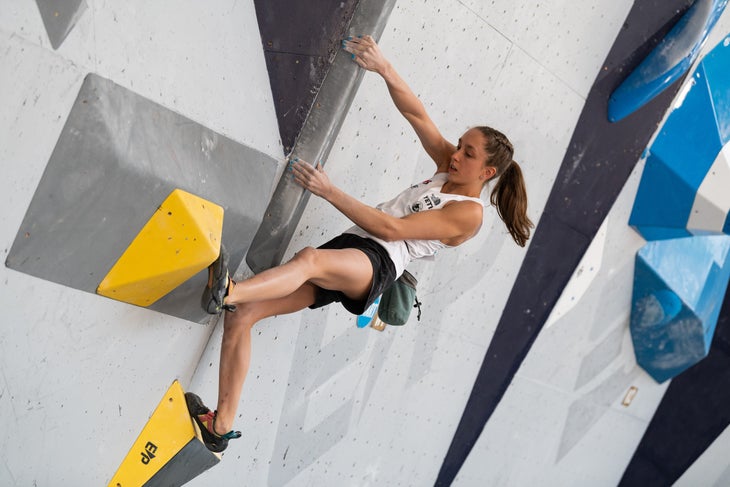 Results 
Boulder
Women
Natalia Grossman (USA)

Oriane Bertone

Brooke Raboutou (USA)

Annie Sanders (USA)

Zhilu Luo (CHN)

Fanny Gibert (FRA)
Men
Tomoa Narasaki (JPN)

Sorato Anraku (JPN)

Toby Roberts (GBR)

Sean Bailey (USA)

Daiki Sano (JPN)

Hannes Van Duysen (BEL)
Speed 
Women
Aleksandra Miroslaw (POL)

Desak Made Rita Kusuma Dewi (INA)

Lijuan Deng (CHN)
Men
Veddriq Leonardo (INA)

Peng Wu (CHN)

Kiromal Katibin (INA)
Also Read