Patagonia's Best Rock To Its Worst, And Back Again. Two New Routes
An international team and a spell of good weather yields two new big-wall routes in Chile, one of which led to a virgin summit.
Photo: SEBASTIAN PELLETTI
Heading out the door? Read this article on the new Outside+ app available now on iOS devices for members! Download the app.
On January 21, the climbing guides Romano Marcotti (Chile), Pepo Jurado (Ecuador), and Sebastian Pelletti (Australia) made the first ascent of one of Patagonia's most photographed summits: Cuerno Este, in the Torres del Paine massif.
Though its summit is clearly visible from the popular Lake Pehoé hike, those with an understanding of mountain geology will understand why Cuerno Este's apex has remained untrodden until now; it looks terrible. Beautiful, sure, but loose and sustained and with few opportunities for protection on its final pitches.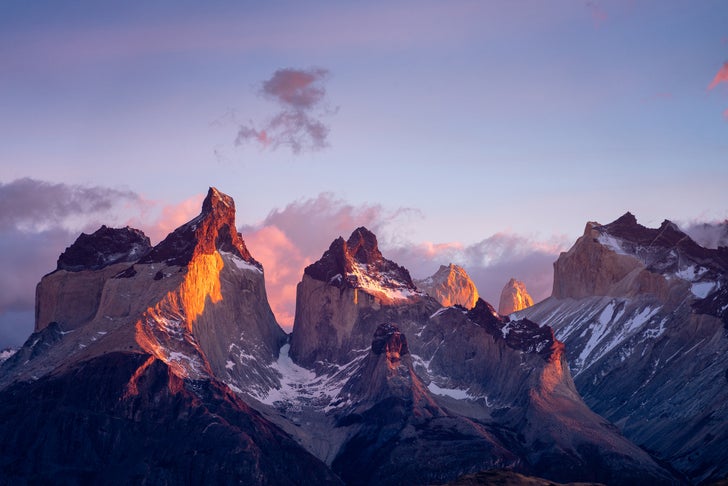 The trio initially hiked into the Bader Valley with their sights set on a steeper, cleaner wall, but found it too wet to climb. They pivoted to Cuerno Este, a peak with pristine rock on its lowest pitches, "where the sun gave away a plum line on golden granite," Pelletti told Climbing over Zoom, before leading to a rotten summit cap.
This article is free. Please support us with a membership and you'll receive Climbing in print, plus our annual special edition of Ascent and unlimited online access to thousands of ad-free stories.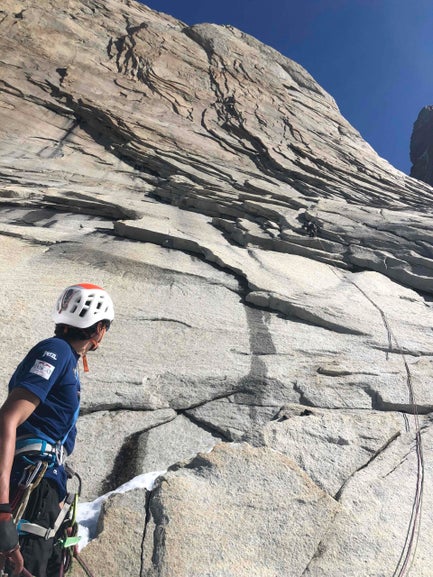 They climbed six pitches that day, to the top of the solid rock, and found remnants of a previous party's anchor. The climbers understood Cuerno Este's historical and visual prominence, and had no question they were repeating some unnamed, pre-established route. They rappelled.
Back in town, Pelletti spoke with the regional climbing historian Rolando Garibotti, who told him Cuerno Este's true summit had not yet been reached; a French party held the highest-known attempt, but ended well below the peak's shattered cap. The climbers' weather window ended and a new one began; they hiked back into the Bader Valley with the intent to "follow the most direct line we could." 
They returned to their highpoint, having climbed up to 5.11a/b, and began a 200-meter simul-climbing block as the angle eased off. Higher still, the rock reared back and the chocolate-dipped summits of the Cuernos del Paine were in reach. They looked at the north ridge, then the west, but found only portable holds and little gear. "They were very heady leads," Pelletti said. "Lots of crumbly holds; we were pushing on them more than pulling." Indeed, when Jurado fell off while seconding a 5.11a section, the tension in his rope ripped out half of the pitch's protection.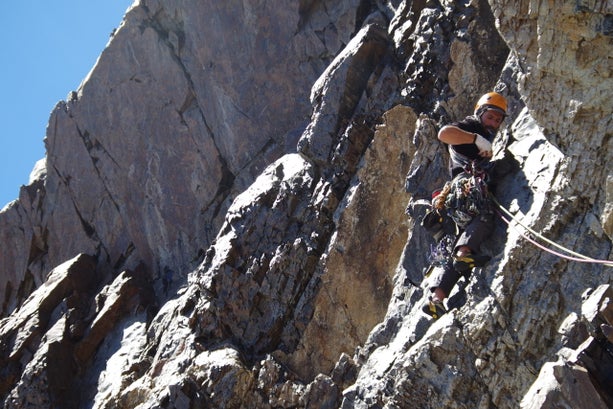 Over the course of six pitches, they wound their way through the headwall, following the path of least resistance and most solid rock, usually surmounting short-lived overhangs into less steep terrain. The trio summited in the late afternoon and began their careful descent down the north ridge, leaving a piton, a nut, and tat around natural anchors as they rappelled. They named their route Vacaciones Metamórficas (5.11-; 600 meters).
*
Just three days after climbing Cuerno Este, Pelletti and Jurado returned to the Bader Valley with hopes of climbing their now-dry main objective: the 700-meter east face of La Hoja. They split the 17-kilometer approach up over two days: the first took them to the head of the valley, to an impromptu base camp of sorts; the second along a steep and loose glacial moraine that Pelletti called the sketchiest part of the entire outing. "We were still pretty knackered from the [first climb,] to be honest, but we were just keen to get on the wall again," he said.
The next day they began climbing on the first two pitches of Anduril, one of the two other routes on the East Face, and branched out right, gunning for a prominent crack system on the northern end of the wall. Jurado took the first lead block up new terrain, finding runout, sealed-up seams that never quite joined in with their intended system. They made do, following adjacent cracks, but Pelletti said it added to the stress of the route: to be on-edge all day, unsure of where to go or where their features would lead.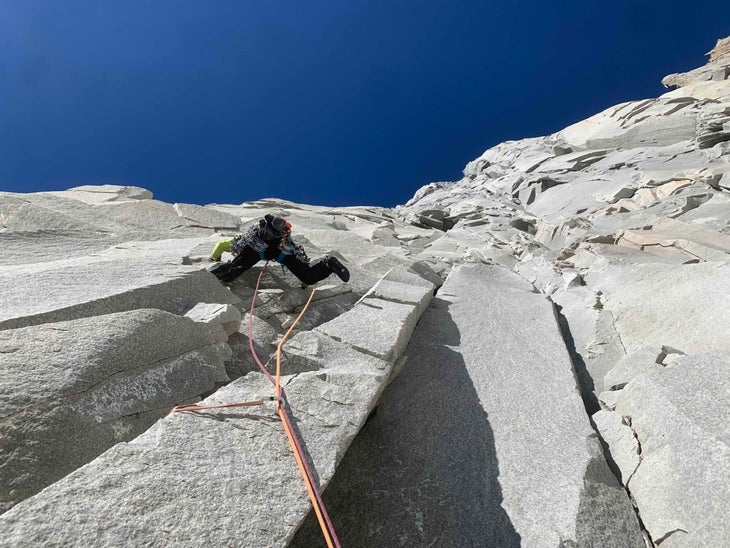 They soon arrived at the base of an overhanging finger crack. It began with a comfortable 0.4-cam size but quickly shrunk in width. "I think [Jurado] was kind of knackered after his first three leads…. He handed over the rack and sent me into the unknown, which was kind and cruel of him," Pelletti joked. Free climbing gave way to aid and Pelletti placed smaller and smaller pieces—from micro cams down to micro wires—until they too didn't fit. He came prepared with two Bird Beaks and placed them in succession, eyeing "this magical ledge that appeared" above the seam. He lunged to it, relieved to latch the crisp edge and find more gear placements soon after. 
More pitches came and went and by evening Jurado and Pelletti were still on the wall, some 200 meters from the top. Aside from wanting to complete their route, Pelletti said topping out the wall and rappelling the established Anduril was in their best interest: Anduril follows a broad prow feature and would be a much safer line to descend than their new route—minimizing chances for rockfall and stuck ropes. "So we arrived at this sad excuse for a ledge," Pelletti said, and the climbers tucked in for a windy, 30°F night. A brilliant sunrise mocked them in the morning, shining through clouds and turning the sky gold, but somehow lacked any warmth at all. "It was a joke," Pelletti remembered, as they realized they would have to resume climbing to warm up.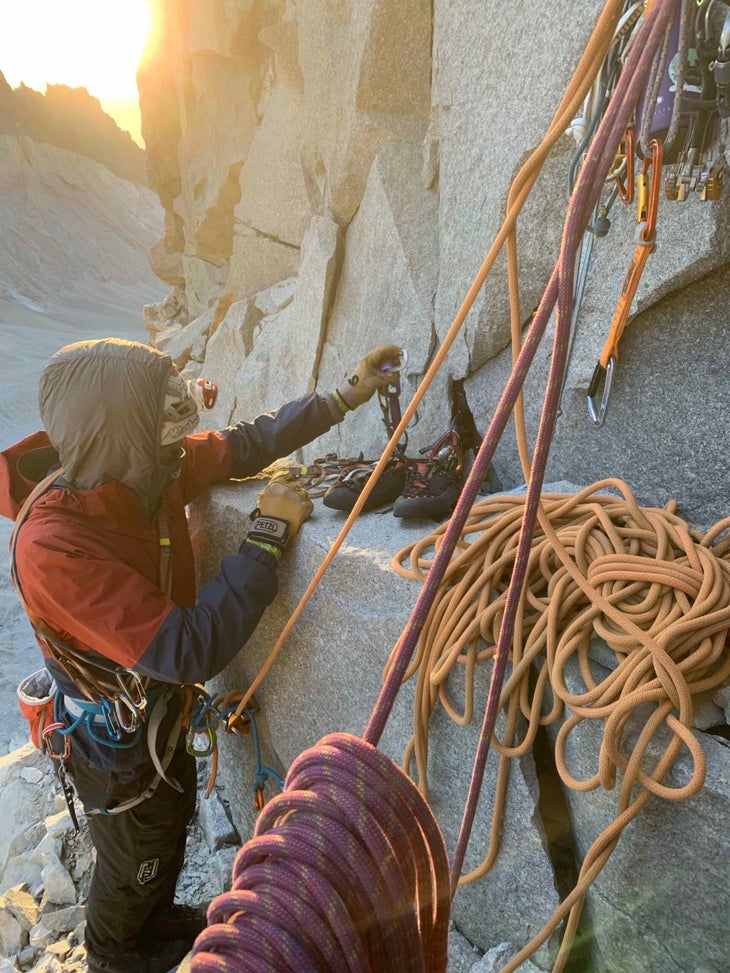 Four more pitches brought them to the summit ridge and Pelletti thought it was in the bag—just a bit of scrambling to the top and the Anduril rap line. Instead, he realized the true meaning of "La Hoja." The Blade. The east and west faces dropped steeply on either side of him and provided a moment of trepidation: Was a traverse even possible? Would they have to try to rappel their traversing line of ascent? He brought up Jurado, who provided a needed dose of optimism and set off along the west face in search of a weakness. 
Just like the ledge that capped Pelletti's Bird-Beak-dyno sequence, La Hoja once again provided for the climbers. "This magical path appeared at the very last dire minute," he said. They downclimbed part of the West Face and landed on a perfect ledge system that they could walk across until directly below the summit, and followed a final easy pitch to the top. 
"That's what I was really left with from this ascent," Pelletti said. "This sense of you've got to really go for it, you know? And things will start appearing." 
They named their route Cuarzo Menguante (5.11+ A2; 700 meters).