North America's Longest Bolted Route Was Just Established in Canada
The 3,500-foot 5.10d, Guaranteed Rugged, was a multi-year undertaking for Brent Nixon, Lisa Newhook, Sean Draper, and Kate Naus.
Heading out the door? Read this article on the new Outside+ app available now on iOS devices for members! Download the app.
Four Canadian climbers have put up a monstrous 3,500-foot route at Marble Canyon in British Columbia—and it's completely bolt-protected. Brent Nixon and his fianceé Lisa Newhook, along with friends Sean Draper and Kate Naus, finished the project on May 22, clipping the chains on nearly three years of work. Their 33-pitch limestone line, Guaranteed Rugged (5.10d), is now the longest bolted route on the continent, and by a significant margin. 
The tallest bolted route in the United States is likely Flyboys, an 18-pitch 5.9 in Washington that clocks in at 1,800 feet. (Of note is Infinite Bliss [5.10c R; 2,600 feet], which, as the grade suggests, is very runout at times, though only on pitches easier than 5.6.) Even so, Guaranteed Rugged blasts these routes away by nearly 1,000 feet. Lengthwise, this Grade V route is even longer than most Yosemite big-wall classics, including the Nose (VI 5.9 C2 3,000 feet).
While Marble Canyon is a well-known ice climbing area, there aren't many established rock routes in the park, Nixon told Climbing. "It's limestone, so it's a lot more conducive for bolts, there aren't many trad routes there either," he added.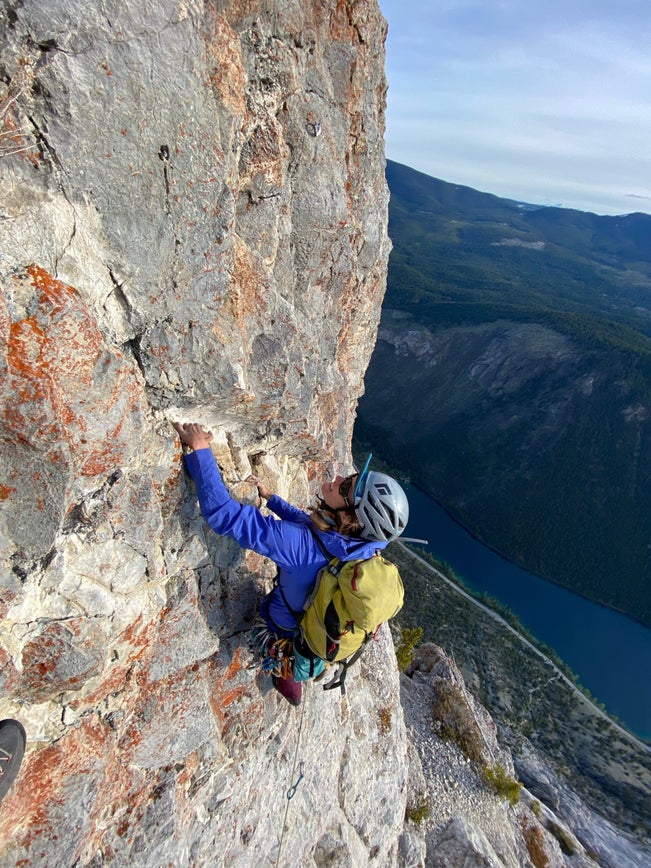 While there have been a handful of routes tackling portions of the monolithic face that dominates the canyon, such as The Yellow Brick Road (5.11c), Guaranteed Rugged is potentially the first route to fully chart a course from the bottom to the top of the 3,500-foot face. The route tracks through three distinct sections: a slabby lower apron, an intimidating, exposed headwall, and a final summit ridge, culminating in a spectacular 5.9 pitch thousands of feet over the valley floor.
Nixon, who is based in Vancouver, said that the team went up to Marble Canyon at least six or seven times a year for the weekend to work on the route, bolting the entire line on lead. The project didn't just take time and effort, it was a financial sink, too. Between the 300 bolts, drill bits, spent ropes, and other gear, not to mention gas, food, lodging, and other travel costs, Nixon estimated the team easily spent over $3,000 (CAD) establishing Guaranteed Rugged.
They also invested a significant amount of time putting together a holistic Mountain Project page for the route, with in-depth descriptions for each pitch, potential bivvy spots, the approach and descent, and possible hazards, among other factors, along with a detailed topo. "This route is going to have enough adventure," Nixon said. "You don't want people guessing too much. It's going to be a long day, no matter how much info you have. It's a serious endeavor."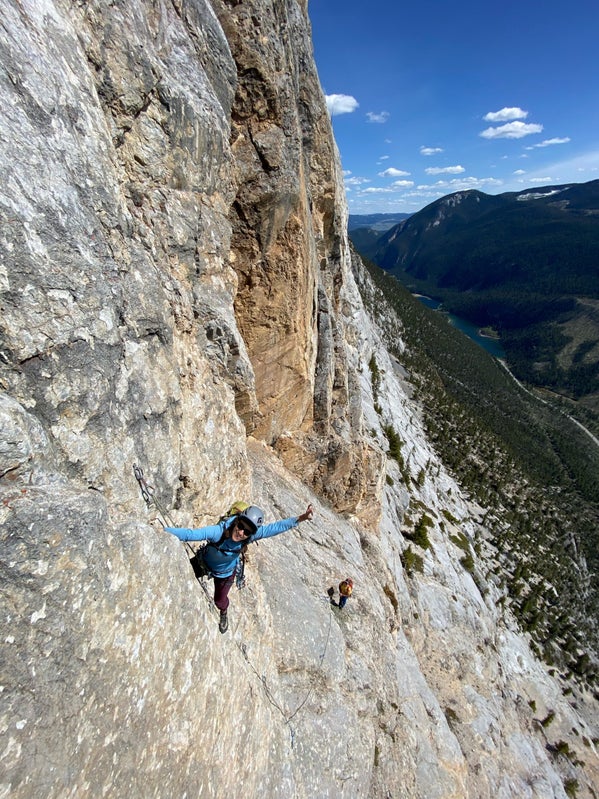 Nixon stressed that, although fully bolted, the route was much more of an alpine climb than a sport climb. "People look at it and see some easy climbing and dismiss it as a bunch of easy rambling but I would say that's not the case at all," Nixon said. The crux headwall features three 5.10d pitches in a row (Pitch 22 to 24), and the route overall is fairly sustained, with nearly ⅓ of the 33 pitches rated 5.10 (though Nixon added that the pitches still need to be consensus-graded).
"The first 19 pitches are slightly lower angle, but there are these beautiful gray, flowstone-y, stucco, limestone slab pitches interspersed with steep walls, going up 'snakes & ladders'-style," he said. "Then you hit this big headwall at pitch 19, and all of the sudden you're looking at five pitches of steep 5.10. Now you're really pulling on your arms. Some parts are maybe even slightly overhanging, and this is after you've already climbed 19 pitches."
Climbers then come out onto a lower angle upper ridge, with a variety of easy rambling interspersed with a couple of 5.9 sections, culminating in the last pitch, 'The Crown.' "It's this incredible 5.9 way above the valley, just perfect vertical-limestone jug pulling to the top," Nixon said.
The route's name came from a billboard outside the small town of Lillooet, near the crag. The team would stay in Lillooet while working on the line during colder months. "It's a railway town, logging town, maybe 1,000 people," said Nixon. "There's a big sign when you drive into town that says 'Welcome to Lillooet! Guaranteed Rugged!' and we all just saw that… and knew we had the route name."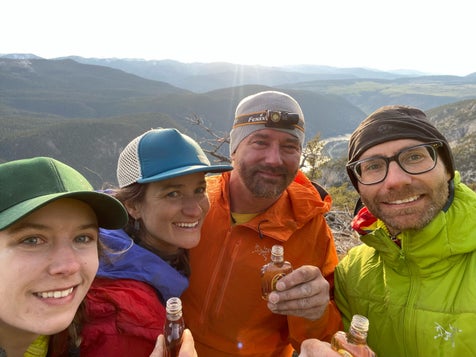 Nixon said he's well aware that bolted multi-pitches are notorious for attracting inexperienced sport climbers, who may get in way over their heads. "That was one of our huge fears," he added, "is that you get beginners who see bolts and say 'Sport climb!' and they start up it." 
To avoid making the route home to a SAR effort every weekend, Nixon and his friends kept the pitch lengths short, allowing for a rappel using a 70-meter rope at any point on the route. He also used single-ring, equalized anchors at every belay station. "You don't even have to build an anchor, it's an equalized chain station with a master point already built-in," he said.
But despite these conveniences, Nixon was adamant that the line is no cakewalk. "On a scale this big, there is no way to sterilize this route," he said. "It's limestone. We spent a lot of time removing rock, but there's still a ton of loose rock around. Holds can break. Also, when you're on the valley floor, you might be in shorts and a t-shirt, but the top pitch is 1,000 meters above you. It's a totally different climate. It could be freezing up there. You don't want to underestimate this route."
In short, Guaranteed Rugged is exactly that. Rugged.
---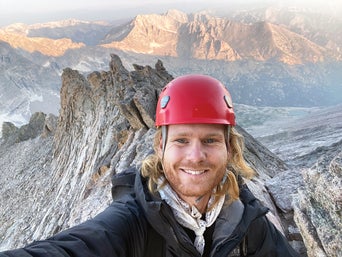 Owen Clarke is a freelance writer living on the road. In addition to spending time in the mountains, he enjoys motorcycles, heavy metal, video games, and key lime pie.