Nathan Hadley Establishes 'The Rubbernecker': Steep 5.14- in Washington Alpine
The seven-pitch route weaves a labyrinthian line, connecting corners with flaring cracks, seams, and pockets.
Heading out the door? Read this article on the new Outside+ app available now on iOS devices for members! Download the app.
If you've ever motored through the hairpin turns of Washington Pass and craned your neck at the soaring east face of Liberty Bell through the passenger window, you're not alone. The jagged skyline extends to the south, five serrated peaks holding premium alpine granite. Now there's a newly established line, aptly named The Rubbernecker (5.14-; 7 pitches) on the South Early Winter Spire (SEWS), to catch your already overwhelmed eye.
Seattle local Nathan Hadley spent nine days establishing the line from the top down, developing—not just "putting up"—a tick-list worthy route for any granite aficionado. The climbing on The Rubbernecker is stacked and unique: a 5.14- crux and three 5.13s, with the final pitch holding 50 continuous feet of pure pocket pulling—a rarity for an otherwise-techy granite wall. "The rest of the climbing is super rad, too," Hadley tells me, "because each corner system is sloping and closed down to a seam. … You can't just fingerlock or handjam, it's much more difficult." Other times, the many corner systems of The Rubbernecker are within reach of one another—or they merge like a railway switch—"so you're interacting with a couple of features at a time."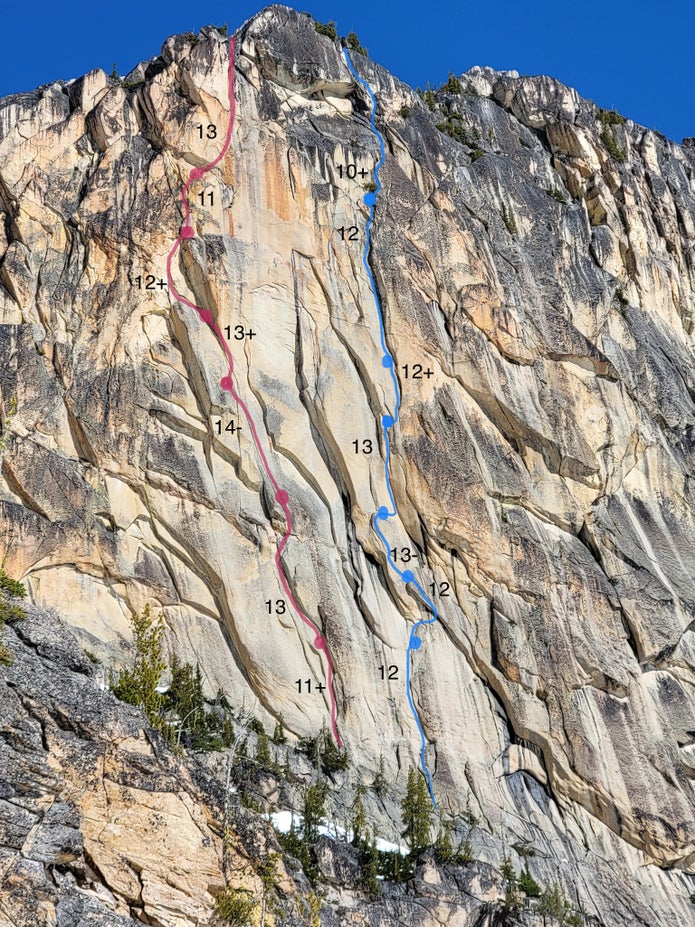 The crux pitch of The Rubbernecker is an off-vertical closed-down splitter. Seeing a lack of meaningful gear placements, and wanting his new route to actually receive repeats, Hadley chose to bolt this pitch—the only sport pitch on the route. The hardest moves are a vicious crack transfer, with open-handed slopers and smearing feet. "You have to figure out how to dance your way up it," he says. "That section of that wall backs off in steepness a bit, so … it's a rare combination of powerful, endurance-y slab climbing." Hadley pauses to think about that odd combination of words, then laughs. The climbing is complicated and tenuous and he can't get enough of it.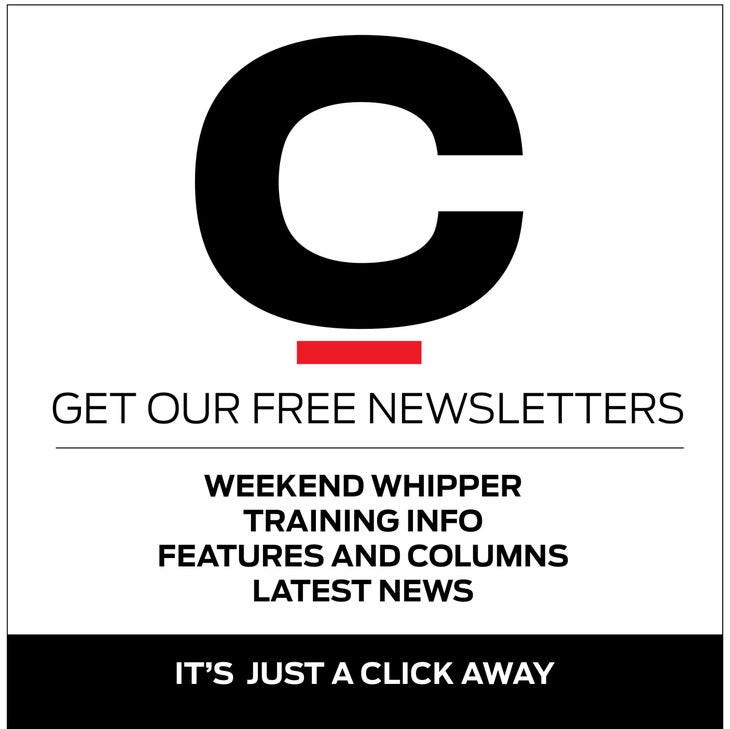 After establishing Backseat Driver (5.13; 7 pitches) on the SEWS's south face last summer, and seeing the potential for hard multi-pitch routes with "minimal" approaching ("only an hour and a half if you're mountain fit"), Hadley dropped fixed lines on what would become The Rubbernecker last June and got to work. "I know it's kind of an ethics thing—and I think it's cool when people go ground up—but I personally love to go top down because I feel like I can have more creative control over how the route develops," Hadley says. "I can swing around to figure out where the best climbing is, and if bolts need to be added to cruxes that can't be protected by natural gear I can make sure those are in the right spot—not just placing a bolt when I get scared while going ground up."
The resultant route is one of logic and labyrinthian climbing, connecting corners with flaring cracks and seams and dyke traverses. There are bolts where you need them and unadulterated trad climbing where you want it, including a spicy bit of 5.13+. On Hadley's redpoint day he'd fallen twice from the top of the previous pitch, the crux, and used up precious energy climbing the 5.14- three times. "When I finally made it to the 13+ pitch, which has some pretty hard gear climbing, I was tired and nervous. … I was climbing poorly," he says. High on the pitch he reached a gentle bulge, pulled half of it, and stuffed in a blind 0.2 cam at his waist. He greased off and ripped the piece, and the cam below it, taking a 50 footer nearly all the way back to the belay. Hadley was fine, physically, but had a worrisome realization: the pitch's crucial piece, that 0.2, had somehow unclipped itself from the rope and plummeted to the base. "And that became a big question mark," he says, "because I didn't know if I had the gear to replace [it]." Luckily, Hadley remembered he had left an ancient cam nearby to organize his fixed lines (think 2000s-era BD C4 cams: no thumb loop, rigid metal stem) and he warily added it to his rack. He re-climbed to his highpoint and fiddled in the stiff relic—"It probably took me 30 seconds to actually get it in"—before sending the pitch.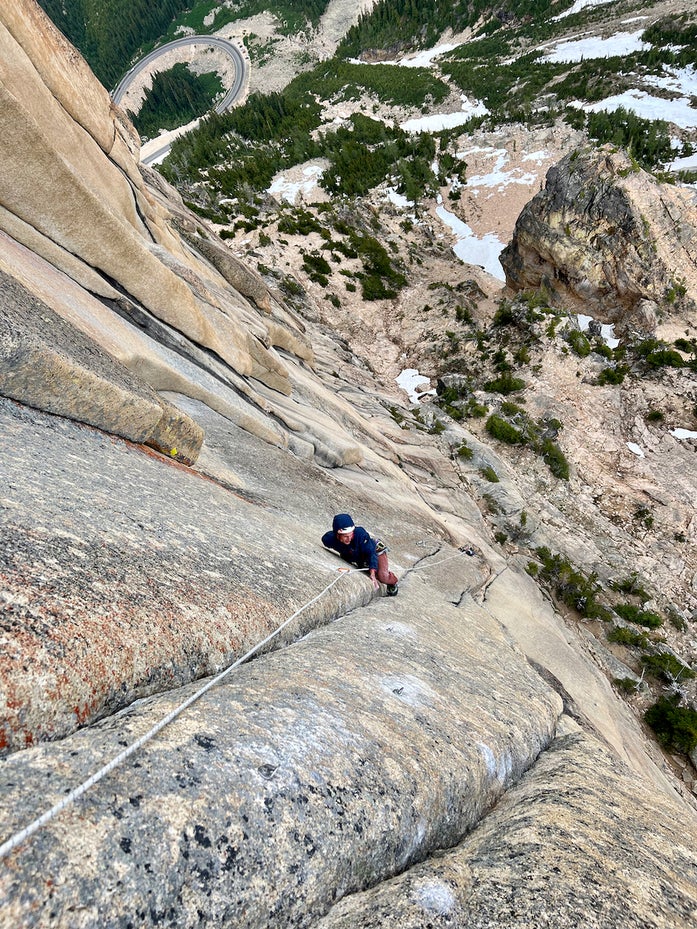 All told, Hadley calls The Rubbernecker the hardest multi-pitch route he's ever done, a big statement from someone who's ticked Liberty Bell's The Dark Side of Liberty and the Canadian Alpine Trilogy. "When I've gone for a hard multi-pitch [in the past], I don't think I've ever fallen more than once," he says. Compared to The Rubbernecker's five falls on three different pitches, he admits "It might've been good to have more practice on it … but I got it done."
Also Read:
---
Anthony Walsh is a digital editor at Climbing.