Not Busted: Free Climbing Half Dome's Regular NW Face
Heading out the door? Read this article on the new Outside+ app available now on iOS devices for members! Download the app.
Half Dome as seen from Curry Village.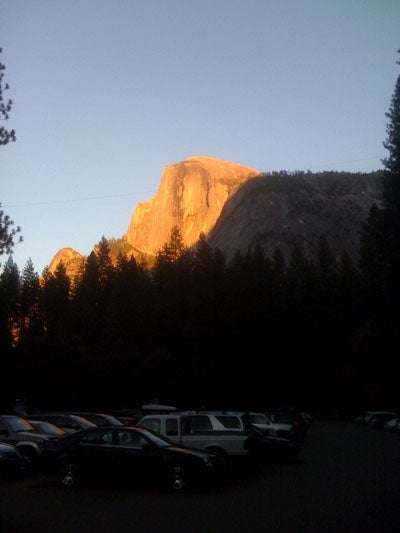 It didn't matter how hard I bared down on the chickenhead, the hold was not positive enough to support body weight. There was just enough friction on Half Dome's featureless, grainy granite to smear my feet against and stand in place, but not enough to not advance on. Foot chips are out of reach to my left, a licheny face is out right, and looking down: 5,000 feet of vertical and slabby rock leads to the Valley floor. The moves ahead, though only a body length or two of cruxes, are the last of the hard free climbing on this 5.12 big wall free climb. Minutes passed as I stood on the smears, trying half a dozen different options before squaring my body directly to the rock. If I couldn't find holds, I would pretend they were there, and take the section head on.
I had attempted Half Dome free once before. It was fall 2004 with Heidi 'Almighty' Wirtz. Before encountering the final crux pitches — the Zig Zags and final slab — we were driven down the wall by a horrendous Sierra thundershower. We were sixteen pitches up and equipped with one rope. Lightning struck dangerously close to the wall — again and again — and thunder echoed around us. Hail and rain beat us severely as we rapped the mammoth face. Countless single-point anchors later we made it to the ground severely rattled and slightly hypothermic.
Doug Englekirk rackin' up.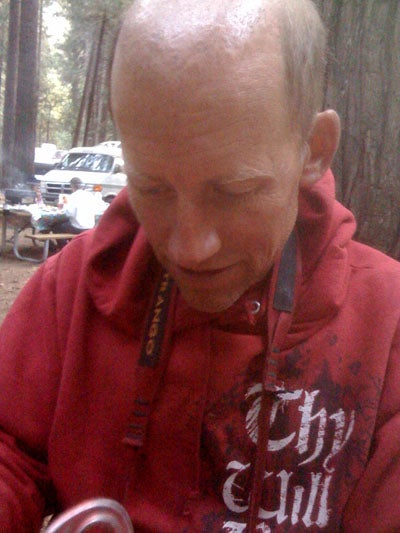 Fast-forward four years. It's now spring in Indian Creek. I'm scrambling around Battle of the Bulge Buttress taking a rest day and looking for a partner for Ocean Negro, a three pitch 5.12+ located nearby. I come upon Doug Englekirk leading Ruby's Café (5.13-) in the direct sunlight. I'd known who Doug was due to his reputation in the climbing mags and hearing about him through the Yosemite grapevine: World ranked sport climber, second ascent of Book of Hate (13d trad), big wall climber/free climber. Once he comes down we make conversation and I — direct as always — ask him if he's keen to head up Ocean at 7am the next morning. Without hesitation he agrees.
Our objective goes well enough — we both fell, but had a great time trying for the onsight — and on the way back to the parking lot we discuss future climbing goals. Convinced I've found my next El Cap free climbing partner, I barrage Doug with a wish list. He says running his business and raising his family keeps him away from climbing for months on end, and that he doesn't make plans far out in advance. I explain that I grind out 40+ hours a week in an office cube and get two weeks of vacation a year: I was more than happy to take a week off in the fall and climb with him. We tentatively agree to meet up in October.
Four months later I send Doug an email asking if he's available to climb. He responds: "I thought you had forgotten…yes." I ask him his preferred objective. He says Half Dome and we agree to meet in the Park a few weeks later. We're to do the Regular route ground up in-a-day, and if we fail we'll just try again, and again until we succeed.
Doug Englekirk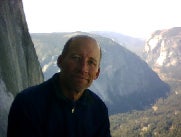 Chris Van Leuven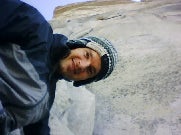 A few weeks later I'm on a plane from Aspen, Colorado headed to Yosemite, California. At the same time, Doug is packing his family into his truck and headed out from Tahoe, California. We literally haven't spoken a word until he calls me with his campsite reservation number. Late in the afternoon we meet, hurriedly rack up, and prepare for our first attempt.
I barf on the approach. This is either from over-exerting myself up the Death Slabs, something I ate, or worse. Next, we're only midway up the wall when our sole camelback runs dry. A few hours later we find ourselves climbing into the sunset, still five complicated pitches from the top and with only one headlamp. We resort to pulling on gear for speed, but still end up spending hours climbing in the dark. After finally summiting, we burn our bare hands on the Half Dome cables route (the cables were down for the season), pound our toes and feet by hiking in climbing shoes and thrash through sharp Manzanita bushes back at the base of the route. The base is where we stashed our approach shoes, extra headlamp, food and water. Doug asks if I'm keen for another go. Anticipating this question, I had already planned out all the different ways to say no, citing my extreme soreness, overwhelming fatigue, etc., but still answer yes — but iterate after TWO rest days. We came to Yosemite with this objective and I have to give it my best shot before going home. We stash the rope and hardware before thrashing our way down the Death Slabs and back to our campsite.
Days later I still feel like I've been hit by a truck. I tell Doug that I'm seriously concerned about how bad I feel and that I can't go back without an additional rest day. "I thought two rest days was too much to begin with," he says. Then he asks where I'm sore I point to the top of my head saying "from about here down. And I have the flu." A short discussion ensues, and we agree to essentially stay on schedule.
Attempt two. This time we're more prepared. Worse for the wear maybe, but we've got our recent experience on the wall on our side. We pack extra water this time, put fresh batteries in our headlamps and wake up several hours earlier than before. We also take bikes. Two minutes outside of our campsite my headlamp shuts off; inadvertently I had not shut the cover all the way when replacing the batteries. This leads me to throw the brakes, sending me airborne and crashing on the pavement. My headlamp explodes open and the batteries fly out. Doug hears the crash, doubles back and we locate the batteries. Commencing back on the ride, I nervously laugh off the incident, focusing on the objective ahead.
Two hours pass and we're at the base of the route. The sun is still not up, and we're already ahead of schedule. A few more hours pass and we're passed the first cruxes of the route: a boulder problem, spicy OW, dyno and a sustained tips and finger crack. We begin simul climbing the next several hundred feet, with Doug wearing the camelback and taking the rear. We pass belay station after station, running it out to conserve gear and make even better time. "Are you solid?" calls out Doug from below. 'Not really,' I think to myself. I'm 40 feet runout and on a slab, that, though technically easy offers no protection options. I feel around desperately for incut holds to grip tightly. Finding a slightly more secure stance, I respond with a strong "yes" and wait.
Another sunset from the top of Half Dome.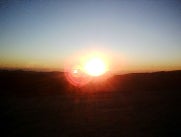 Sunset from the top of Half Dome.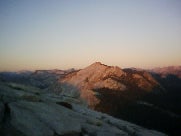 "The camelback got in my way and I ended up falling out of chimney," yells Doug "but I caught myself on the ledge below. I'm ok now." We continue climbing together for next few hundred feet, stopping once to switch leaders and re-rack. We simul climb through loose rock and even through a large tree. I ask a few times for a belay, but Doug assures me that I'm on toprope, as he already reached the downclimbing section. I grumble and move on.
Mid-afternoon. We're once again five pitches from the top of the wall. Doug leads the first Zig Zag, a tips 12a corner. I watch as he instinctively positions his body into the perfect sequences. I follow, doing my best to impersonate his flawless style, and fighting off the fatigue of climbing 2,000 feet up to this point. I lead the next, easier pitch, and he offers me the following, crux pitch. I confidently offer to lead the final slab instead, and he takes off on the lead, keeping his gear greatly spaced and punching it between placements. I follow, and one easier pitch later we're at the base of the slab.
The handholds of the 5.12 slab pitch are all caked in chalk. Ticked feet are everywhere. Creeping up the wall, I soon realize that many of the ticks and chalked holds are not marking the best holds, or even any usable holds for that matter. During a particularly runout section, I cast off into the unknown relieved by the sight of giant poofs of chalk, indicating big, positive holds. In actuality, none of the holds are positive, and I'm relying 90% of my weight on smeary feet. I clip the next bolt and feel a great sigh of relief. At the chickenhead, I see chalk leading up and left. I follow the path, death-gripping the hold and fighting to gain purchase with my feet before falling back onto the slab below. Bursting out a slew of obscenities, I scream and curse until my throat (which is already swollen from the flu) is completely raw.
"Lower me," I bark. "Not until you work out the sequence," says Doug. Getting back in position, I get my right hand on the chickenhead, turn my palm out and mantle the hold before getting my feet on adequate holds. I lower, pull the rope and lead again, this time paying close attention to the sequence. I arrive at the next anchor hooting and hollering. From the stance at the next belay, I watch Doug follow the lead, the sun basking the wall around us in a golden light. One easy pitch later we're on the summit, the sun quickly fading. After shooting pics with Doug's camera phone, we sprint down the cables, and dart back to the base of the wall without needing our headlamps. An hour or so later we're back on the Valley floor.
CVL barely alive (and with the flu) heading home after the climb.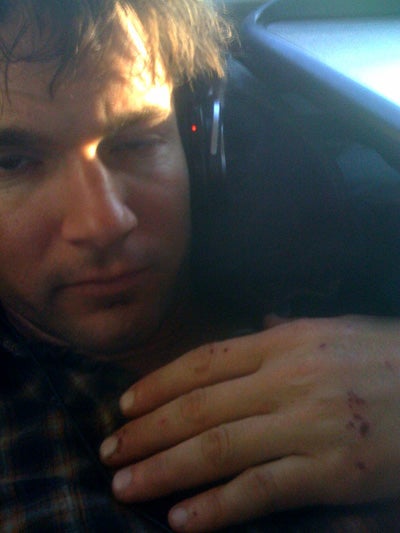 Within minutes of reaching our campsite I crack a well-deserved beer. Next stop is the pizza deck, and more (tall) beer (for me, Doug doesn't drink). Riding Doug's bike back to the campsite in the dark, I hear "hey you," and stop. It's the rangers, and they have stopped me for riding my bike without a light. I'm given a roadside sobriety test. Focusing all my attention on the task at hand, I imagine I'm back on the slab lead on Half Dome. Knowing the seriousness of the situation — a BUI is nearly the equivalent charge as a DUI — I listen very carefully to the instructions and tap into my focus and balance.
The tests go on and on, one after another until I'm finally led to the ranger's vehicle. He pulls out a gray box from the car. "What is that?" I ask shaking. He hands me tube attached to a sensor. "Blow in here…How many beers have you had again…You can go… Just don't ride your bike." I walk back to the campground, get in my sleeping bag and stare at the stars until sunrise. I'm processing two things: the great feeling of succeeding on a big climbing goal, and being grateful to be sleeping under the stars instead of behind bars. Soon after sunrise I hitchhike out of the Valley and catch my flight back to Colorado.