Player Profile – Tom Adams
Heading out the door? Read this article on the new Outside+ app available now on iOS devices for members! Download the app.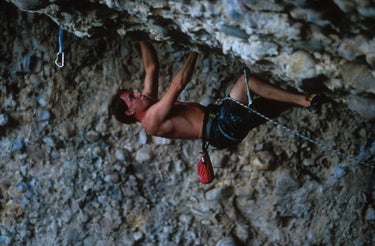 How many 5.14s have you redpointed?I guess it all depends on who you talk to or which guide you want to trust. If I had to take a poll some would say around 16 others might say 10. Either way all of them were good excuses to hang out with my family, my friends, and Gwen.
What's your favorite climbing spot?I hate to say it, but I love Joshua Tree. It is a great place to hang (when the wind's not blowing). You can belay out of your tent if you're lazy, and the sun sets are amazing!
What do you do to pay the bills?Sell my body, Ha! Until I find a bidder I will continue to be the Outside Sales Manager at Liberty Mountain.
Married? Have kids?I look forward to it but not just yet!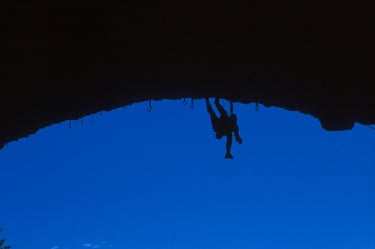 What is the best sport route in the country, in your opinion (gotta pick one!)At one point, I may have said T-Rex in Maple. Long, Steeeeeep, great holds and fairly gymnastic. Although last year a few guys found about 30 extra knee bars and scums I didn't use. I would have used them if I saw them but no luck. Now I will probably default to Perfect Child. It's long with delicate moves in a beautiful setting.
What is your opinion on manufacturing?I'm not into it! I have climbed some good manufactured routes, but I definitely haven't sculpted any!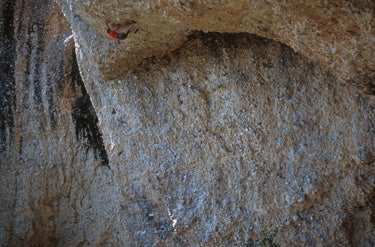 Is it possible to avoid ego as a climber? If so, how?Everyone will have days that make them feel like a super hero. You may send a hard problem, onsight a tricky route, or send the sick pink problem in the cave at your local gym. Either way there is always going to be someone better. Maybe not all the time, but every once in a while some punk kid that you've never seen at the "cool" gym will leave his recreation center and come visit your boulder, route, or taped problem. He or she will walk up send your precocious crux and politely walk away leaving you amazed asking yourself, "Who the hell was that?" If you can realize there will always be someone better, there is no need to carry an ego. Climbing is about feeling the movement, the camaraderie, and the love. It's not meant to be food for the ego! Climb for yourself, support your friends, and take care of all the areas where you climb. That should suppress the ego!
Aside from climbing and enjoying the outdoors, what do you see that we all have in common?The majority of us love something. We may not always revile our love, but it's there. For me Love is the driving force of life whether it be for my girlfriend, family, friends, or climbing!