Q&A: Access Fund Policy Director Erik Murdock Explains the Bitterroots Climbing Ban
Heading out the door? Read this article on the new Outside+ app available now on iOS devices for members! Download the app.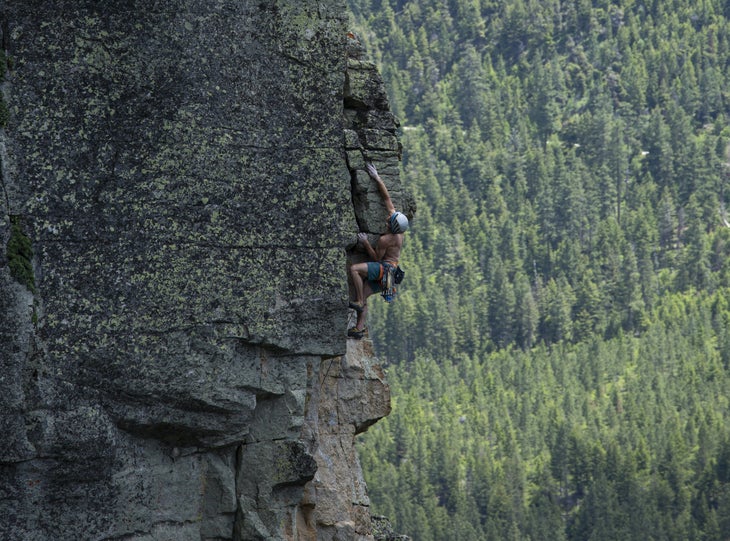 This week the Access Fund (AF) shared alarming news: Montana's Bitterroot National Forest had banned new bolts and route development, without any public process or opportunity to comment. The order is far reaching and "does not include any allowances for emergencies, fixed anchors that protect natural resources, bolt replacement, hand-drilled fixed anchors on traditional first ascents in Wilderness, or slings for descent," according to AF. We spoke to Erik Murdock, AF's policy director, to learn why this should be cause for concern for all climbers—not just those in northwest Montana.
Why should climbers outside of Montana be concerned about this?
Erik Murdock: Because this is a federal agency. When one national forest sets a precedent, that precedent is often used in other national forest lands. About 30-percent of our climbing is on national forests. That's about 10,000 discrete crags. There's more climbing on national forest land than any other land in the country. When the Forest Service issues a climbing policy that's vague and unpredictable in the nature of its language, it's really problematic for climbing on all national forests.

Take Action Now
Even if you do not live in Montana, we need your help to shut down this dangerous precedent. Take five minutes to use Access Fund's easy letter-writing tool and tell Bitterroot National Forest to work with climbers and other stakeholders in good faith, instead of implementing an unjustified ban on new routes. Take action here.
Was there any warning before the ban was announced?
The issues in the Bitterroots date back to 2012/2013. I've been working on this project since 2013. The issue is that some local neighbors to the National Forest are opposed to sport climbing in the Bitterroots. The real problem was at this place called The Tick Farm.
There's a very high attrition in the Forest Service, so there's a lot of new staff all the time, and we've been readdressing this issue for many years as new staff comes in. The most recent district ranger, whose been in his position for a couple months, and the forest supervisor are taking a different approach. They decided to implement a forest wide ban on new routes, which includes traditional first ascents that don't include any fixed hardware.
We were told the district ranger intended to do this. The AF and Western Montana Climbers Coalition (WMTCC) said that it's probably not a good idea to set up a climbing management plan by first banning climbing. They shared the order with us last week and issued it the other day.

This piece of climbing policy is vague and sets a bad precedent. Whether you are in favor of climbing or not, it's in everyone's interest to manage public lands in a way that's fair and equitable to the resources, and this policy falls short.

It's not about the outcome, it's not about bolts—It's about the process.

Why is precedent so important?
Once someone opens up an interpretation of a federal regulation, often that interpretation sets a precedent and is used everywhere. What it has to do with is climbers advocating for the best interpretations of regulations, and against interpretations that are problematic. Now that we've seen issues on a couple national forests, we don't want them to propagate. We have to make sure that we're both acting in good faith and being part of the process.

The forest service's stated end goal here is a climbing management plan, which sounds reasonable. Why is it problematic?
What we want is a climbing management plan, and when you have a situation, when there's a lot of stakeholders and some controversy, its really good to organize a public process that's designed to listen to stakeholders and accomodate public input.

If the Bitterroots want to do a climbing management plan, they need to present a timeline, a process, they need to explain how they're going to make this climbing management plan, if they're going to invoke NEPA [the National Environmental Policy Act], if they're going to make a notice of intent in the federal register. All these things are good. We definitely want a solution in the form of a climbing management plan that's developed with all of the stakeholders. If that's the goal, then banning climbing, and banning bolts, and new routes is not the way to go about setting up a successful climbing management plan.
Anyone that's saying that this supervisor's order is an appropriate first step of a climbing management plan has a really different view of the public process.
Is there anything else you'd like to add?
The Access Fund and WMTCC are busy right now gaining support from other organizations, conservation and recreation. We're reaching out to Forest Service leaders in Washington D.C., and we're trying to work with land managers to come up with a solution that gets us to a place that is where we all want to be, which is sustainable climbing management. This supervisors order knocked off the rails a little, but but were really motivated to get back on track.
Join the Access Fund to help protect our nation's climbing areas, and use this convenient form to make your voice heard about the Bitterroots ban.