Recap, Highlights, and Photo Gallery: IFSC Moscow World Cup 2018—Bouldering and Speed
Heading out the door? Read this article on the new Outside+ app available now on iOS devices for members! Download the app.
Moscow, the capital of Russia, hadn't hosted a climbing World Cup in nearly a decade. All eyes were on the event with the news that the 2018 Youth World Championships would be held at the same venue later in this year. Could the Russians pull it off and run a top flight international climbing event, or had they bitten off more than they could chew?
Having attended the 70th Anniversary of Sport Climbing event in Moscow late last year, I was already familiar with the venue and knew it was world class. When concerned climbers asked me about visiting the country, I told them all the same thing: You'll be fine, the location is perfect, the food is great, and the locals are incredibly hospitable and keen to show off their city to visitors.
For the second time in as many competitions we saw a huge field, with 109 men and 100 women competing in bouldering, and 75 men and 68 women entering the first speed climbing World Cup of the season. It made for a huge double header.
Gallery: 17 Photos From the IFSC Moscow World Cup 2018—Bouldering and Speed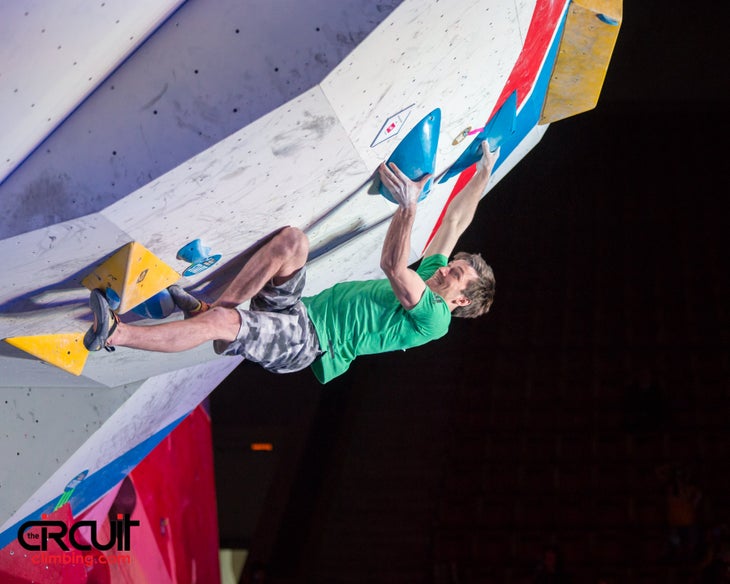 After just sneaking through Qualifier's. Gregor Vezonik stepped up his game for a third place finish overall.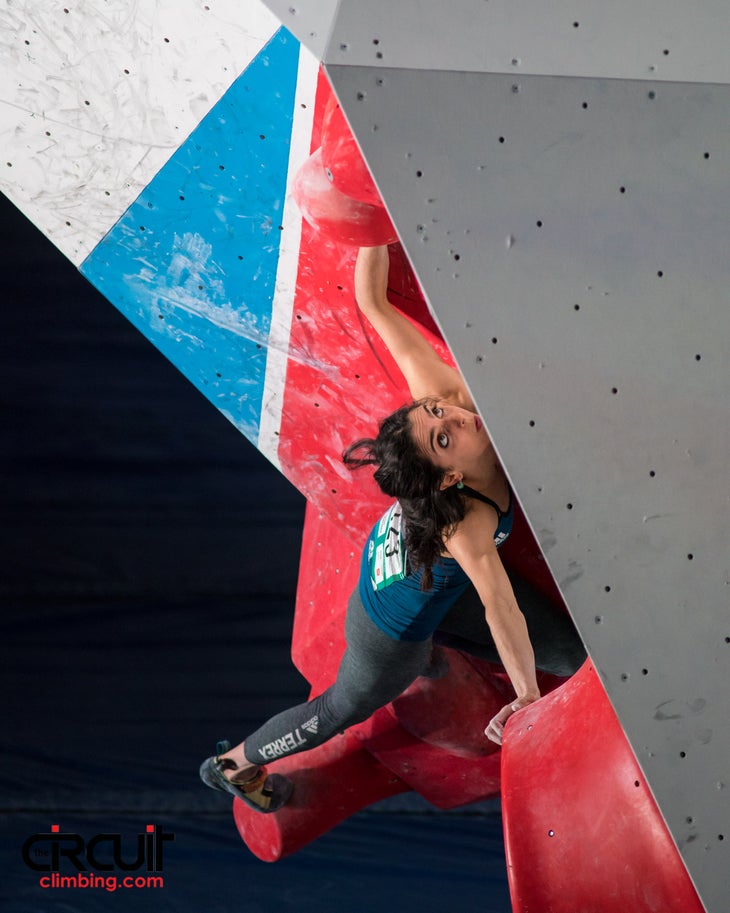 Fanny Gibert stems and pressed through the difficult start of W2.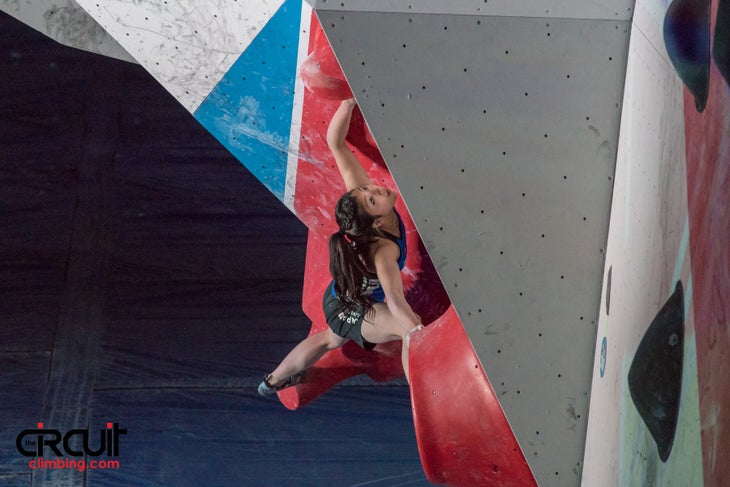 Miho Nonaka narrowly missed first place. While Nonaka tied Janja Garnbret's performance in Finals, Garnbret scored better in Semi-Finals.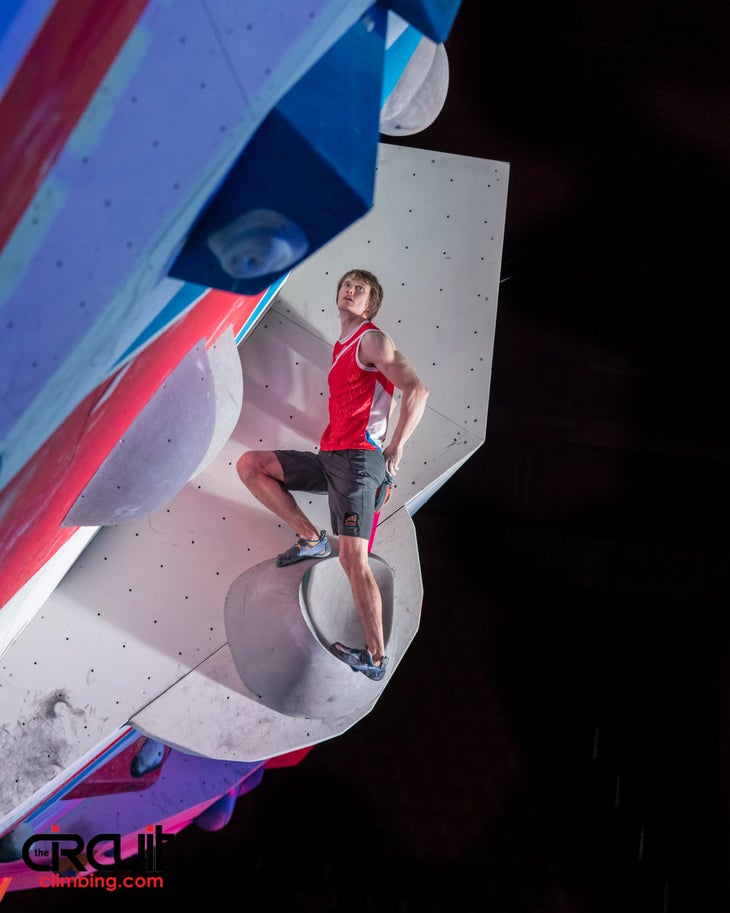 Hometown competitor Alexey Rubtsov weighs his options during a no-hands rest.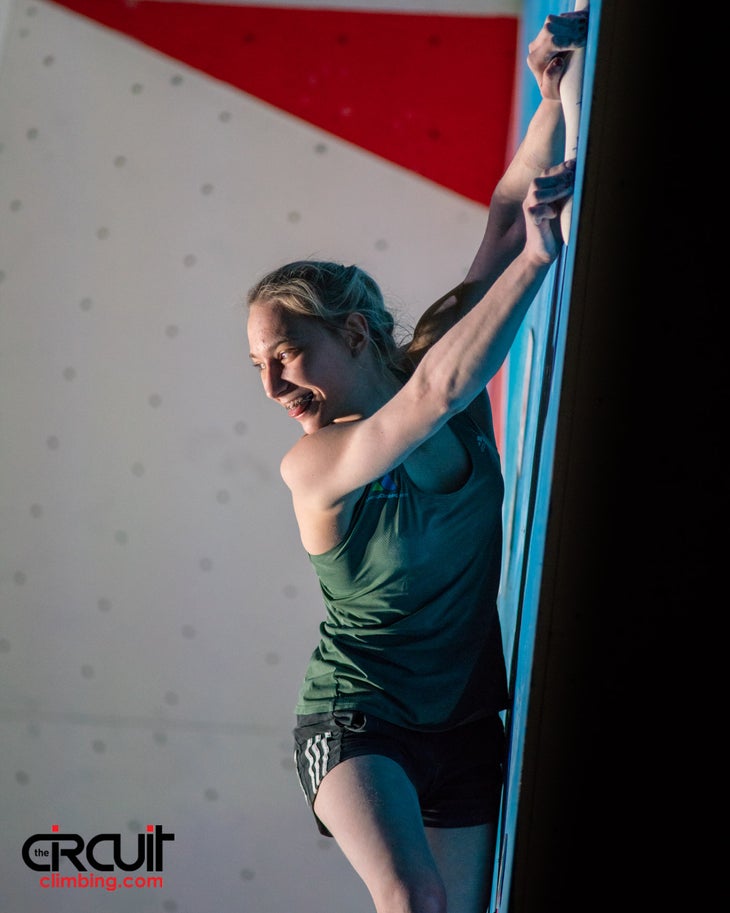 After narrowly missing the top of the podium in Meiringen, Janja Garnbret took first place in Moscow.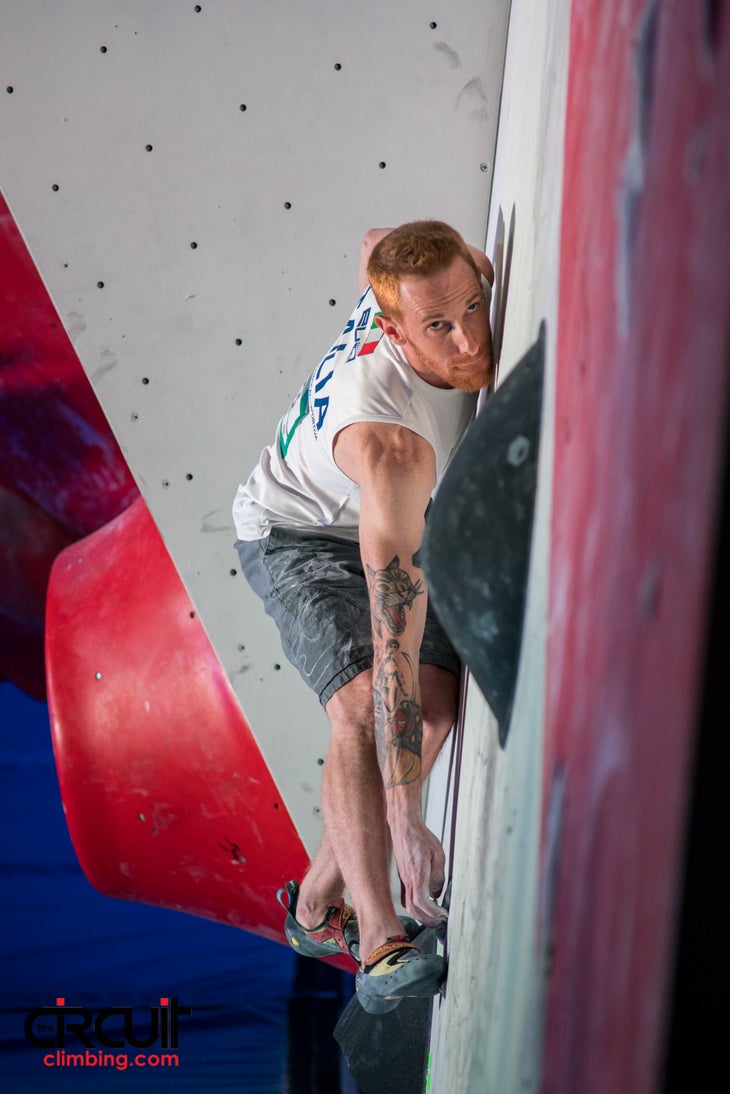 Despite strong performances in Qualifiers and Semi-Finals, Gabriele Moroni lost momentum, landing in sixth place overall.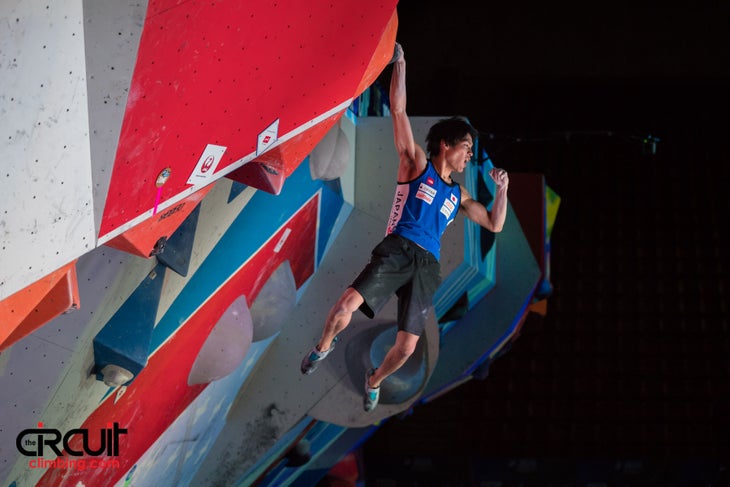 The only competitor to top all four men's Finals problems, Tomoa Narasaki took victory in Moscow.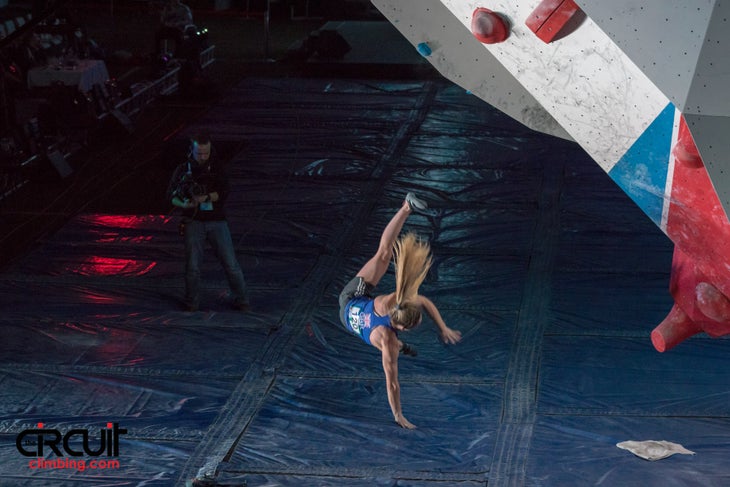 Shauna Coxsey goes down hard on W2, which ultimately shut her down. Last year's reigning champion has made it to Finals in every round so far this year, but placed sixth in both events.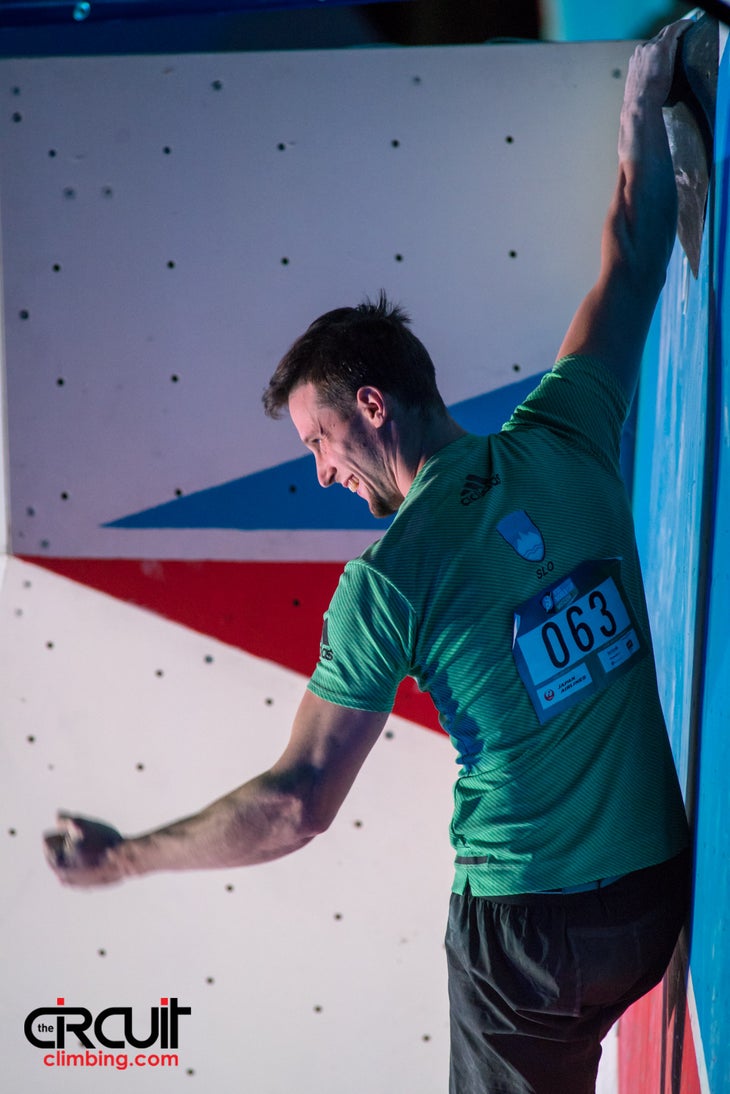 Jernej Kruder put on a strong performance, placing second after taking his first-ever World Cup win in Meiringen last week, after 10 years of competition.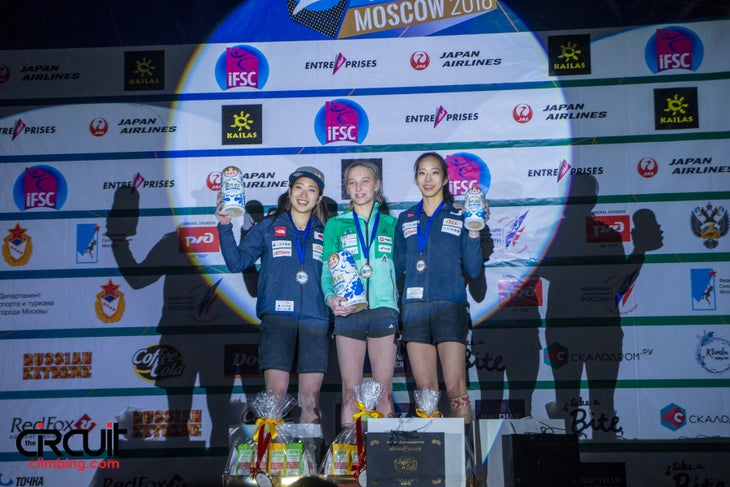 The women's bouldering podium. Slovenia's Janja Garnbret took first with Japan's Miho Nonaka and Akiyo Noguchi in second and third, respectively.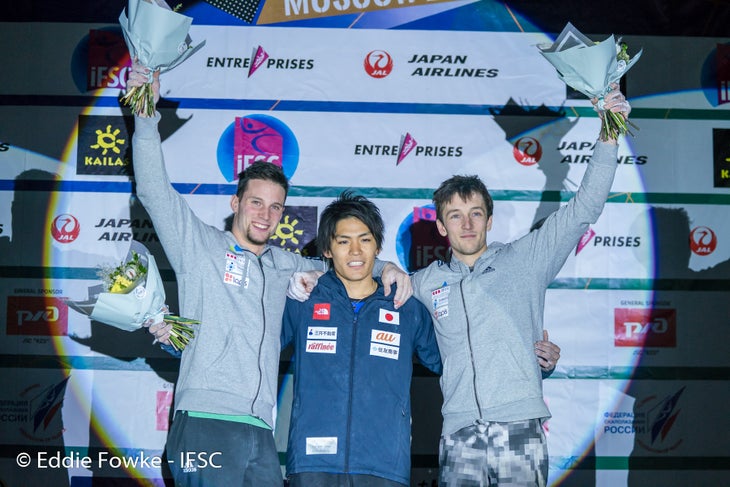 The men's bouldering podium. Japan's Tomoa Narasaki took first and Slovenia's Jernej Kruder took second, a reverse of last week's competition (as were the top two women's spots). Gregor Vezonik, also from Slovenia, took third. It's worth noting that every podium position in men's and women's bouldering was won by either a Slovenian or Japanese competitor, with each country walking away with three podiums.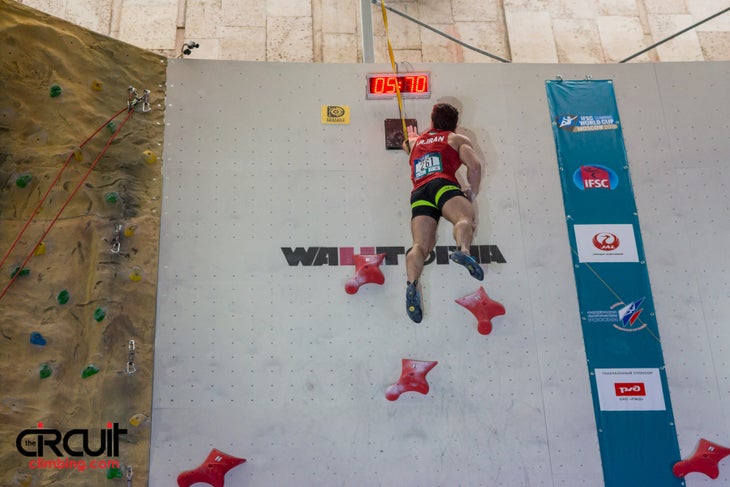 Reza Alipour jumps for the the finish to lockdown a speed climbing win with a blistering 5.71 second run.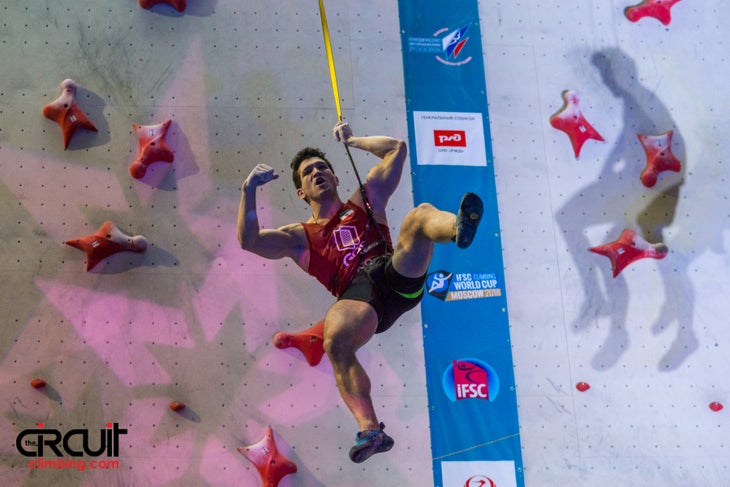 Alipour celebrates an incredible run on the way back down to the ground.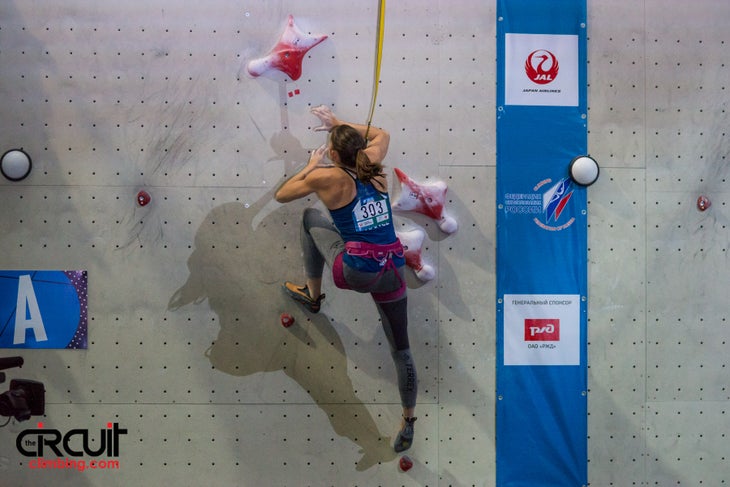 Anouck Jaubert flies up the speed wall in women's Finals.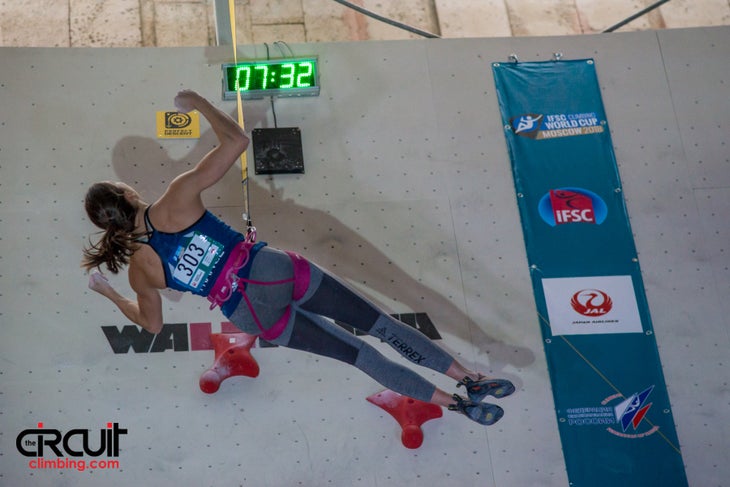 Tying Iuliia Kaplina's best time exactly, Jaubert secured a speed victory due to a false start by her opponent.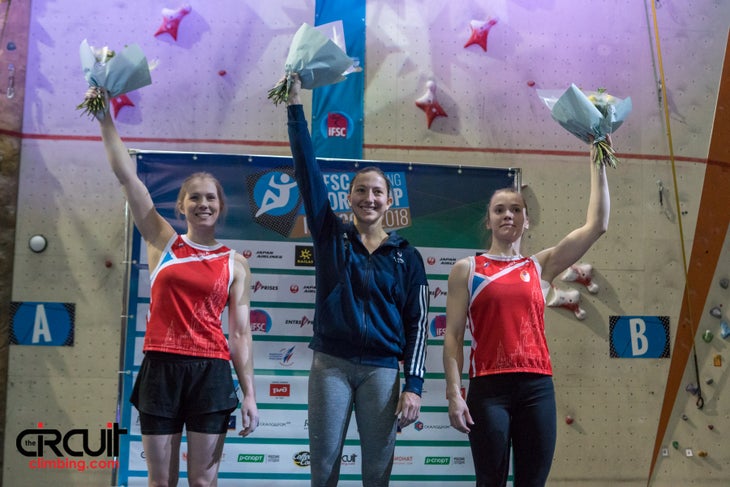 The women's speed podium: Anouck Jaubert (first), Iuliia Kaplina (second), Elena Timofeeva (third).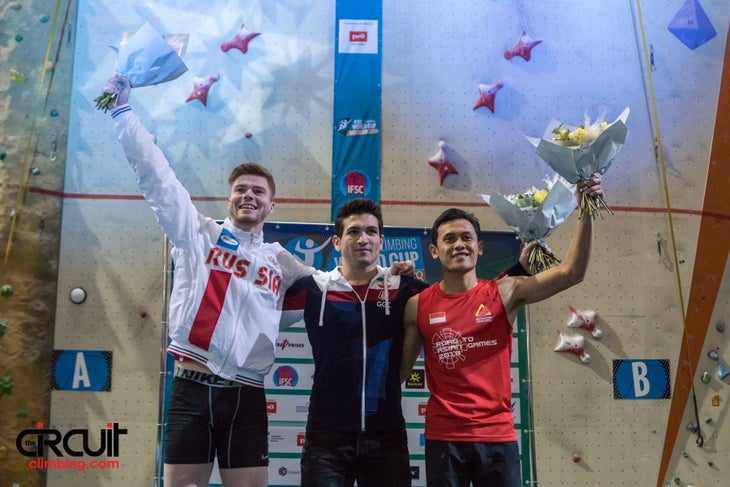 The men's speed podium: Reza Alipour (first), Vladislav Deulin (second), Veddriq Leonardo (third).
With so many athletes from around the globe, it was another early start on Saturday. The US fielded a much-reduced bouldering team, which was disappointing. Compared to the 10 athletes in Meiringen, we would only see Maya Madere, Sierra Blair Coyle, and Lisa Chulich compete in Moscow. Several other strong US athletes had applied but were blocked by USA Climbing, who are in the process of evolving their qualification criteria. The US was represented by Josh Levin and Michael Finn-Henry in Speed, as well as the mother/daughter combo of Lisa and Maggie Hammer.
Clever setting allowed for three identical Qualifiers problems for the two men's and two women's groups, avoiding an issue from last weekend, where the groups were poorly balanced in difficulty. The route setters also used predominantly PE holds, which made it much fairer for the climbers starting later in the order.
With such balanced groups and a big field, we saw fierce competition for the 20 Semi-Finals positions. In the men's division, only two climbers completed the physical Qualifiers' M4: Gabri Moroni of Italy and the climber who came out after him, Israel's Alex Khazanov. This put them first and second in their group with Korea's Jongwon Chon heading up the other. It was also great to see Canadian legend Sean McColl make it into Semi-Finals after his injury layoff last year.
Sunday morning's Semi-Finals continued the old school setting we'd seen in Qualifiers: No skate moves, nothing too gymnastic, just hard climbing.
The standout of the round was Slovenian Gregor Vezonik, who had just snuck through Qualifiers, but really stepped it up in Semi-Finals. Joining him in Finals would be his countryman and last week's winner Jernej Kruder, Italian veteran Gabri Moroni, hometown hero Alexey Rubtsov, and the two top-ranked climbers of 2017: Jongwon Chon and Tomoa Nagasaki.
In the women's Semi-Finals, it was a tight battle for Finals, with Britain's Shauna Coxsey just holding off Korean star Sol Sa, who was agonizingly close to making her first Final in two seasons. Fanny Gibert continued a fine run, qualifying alongside 2016 World Champion Petra Klingler. Also moving on was all of last weekend's podium, with Janja Garnbret, Miho Nonaka, and Akiyo Noguchi all climbing in superb form.
Following bouldering Semi-Finals were speed Qualifiers and then Finals. None of the US athletes progressed from Qualifiers, with Michael Finn-Henry putting on the best performance. His 32nd place finish left him just outside of the points positions.
In the women's speed Finals, we saw the French star Anouck Jaubert securing victory when Russian Iuliia Kaplina jumped the start. After a short rest (even on a false start you lose some of your explosive power from the launch) Jaubert went for a solo run, chasing Kaplina's world record of 7.32 seconds. Amazingly, she matched the time exactly.
Reza Alipour dominated men's speed Finals. His 5.82 second run easily secured victory over Russian star Slava Deulin.
If there's a talking point from Moscow, apart from how exceptionally well run the event was, it's the dynamic nature of the Finals. After two rounds of physical and hard bouldering, Finals saw extremely dynamic problems. It proved to be a real crowd pleaser, but was a distinct change in style from the qualifying rounds.
The men went out first in Moscow, and it was all jumps from the word "go." Even the opening balance slab had a jump to shoulder press move.
On this night, Japan's Tomoa Narasaki was unbeatable, securing victory by topping all four problems and ending his victory drought, which went back to the 2016 World Championships in Paris. Jongwon Chon had pushed Narasaki hard but was unable to unlock the final problem, knocking him off the podium altogether. Chon's performance opened the door for Jernej Kruder, who secured second place by one attempt over Gregor Vezonik.
The women's Finals closed out the weekend and, although it was spectacular, it lacked a bit in problem quality compared to the men's Finals. The drama was there, though, with Janja Garnbret needing to flash the last problem to tie last week's winner, Miho Nonaka. Garnbret was the last competitor and, sure enough, flashed the problem, securing victory by a countback to Semi-Finals. Akiyo Noguchi completed the podium for the second time in as many weeks but was left frustrated by her performance, as she only completed three of the problems. At the moment, although it's tied between Nonaka and Garnbret for the season so far, it looks like Nonaka has the advantage as neither Garnbret or 2017 overall World Cup winner Shauna Coxsey will be attending the two competitions in China.
When all was said and done, the Russian Climbing Federation put on a superb World Cup which left many of the climbers raving about the event, how accommodating the locals had been, and how they couldn't wait to go back next year.
Results
Women's Bouldering
Janja Garnbret (SLO)
Miho Nonaka (JPN)
Akiyo Noguchi (JPN)
Petra Klingler (SUI)
Fanny Gibert (FRA)
Shauna Coxsey (GBR)
Men's Bouldering
Tomoa Narasaki (JPN)
Jernej Kruder (SLO)
Gregor Vezonik (SLO)
Jongwon Chon (KOR)
Aleksei Rubtsov (RUS)
Gabriele Moroni (ITA)
Women's Speed
Anouck Jaubert (FRA)
Iuliia Kaplina (RUS)
Elena Timofeeva (RUS)
Aries Susanti Rahayu (INA)
Men's Speed
Reza Alipourshena (IRI)
Vladislav Deulin (RUS)
Veddriq Leonardo (INA)
Hinayah Muhammad (INA)