Robert Kelman, 87, Becomes Oldest Person to Climb Devils Tower
The tower was his magnum opus
Heading out the door? Read this article on the new Outside+ app available now on iOS devices for members! Download the app.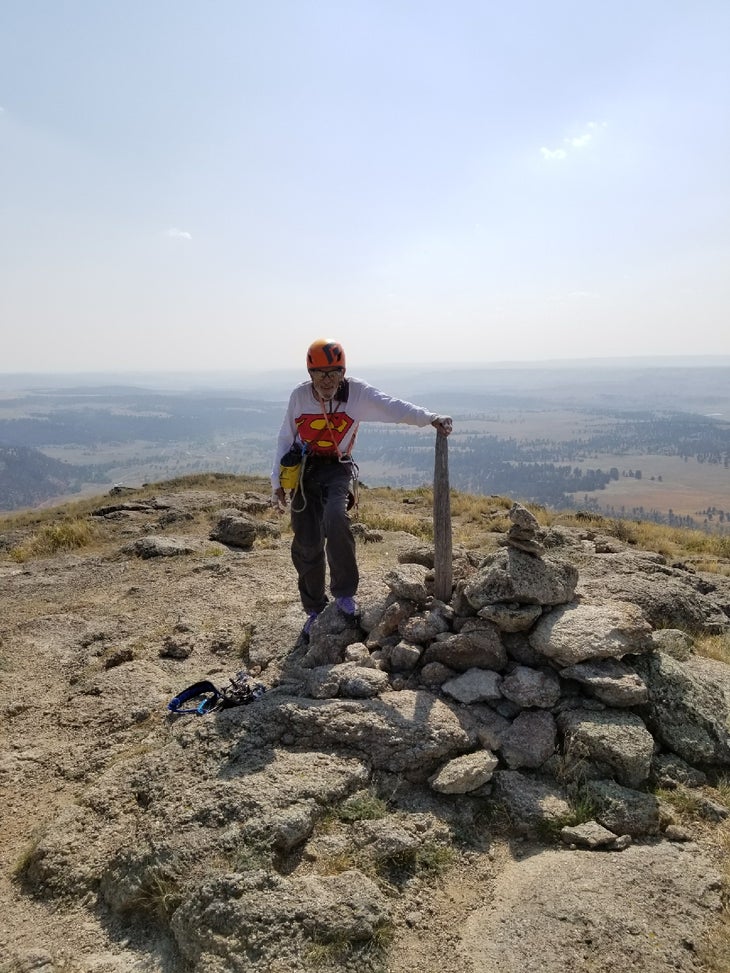 On September 11, Robert Kelman Ph.D succeeded in his long-term goal of becoming the oldest person to climb Devils Tower. He is 87 years old.
"Here I am on the top of Devils Tower," he messaged Climbing. "Durrance Route with Bailey Direct finish. Hardest part was 90+ degree temperature."
Kelman included a photo of himself with one hand on the summit post, dressed in a long sleeve Superman shirt, the endless expanse of Wyoming falling away in the distance.
"Climbing the Tower with Rob was an unforgettable experience," said Taylor Lais, a guide for Sylvan Rock Guides, who accompanied Kelman. "We moved up the Durrance steadily, [and] he was a pleasure to climb with."
Siegfried Hebenstreit set the previous record on September 9, 2012, age 83, when he climbed the Durrance Route with Sylvan Rocks guide Tony Schwartz.
Jack Durrance and Harrison Butterworth authored the 7 pitch Durrance Route in 1938, rating it 5.7. It's listed in Steve Roper and Allen Steck's 50 Classic Climbs of North America. The route has hands to offwidth and chimney climbing, and the Bailey Direct finish is a 140-foot 5.5 requiring a variety of techniques. Located in northeast Wyoming, Devils Tower is a 867-feet tall mass of columnar crystalized magma (phonolite porphyry) that juts out of surrounding forest. Its circumference is one mile. Fritz Wiessner, Lawrence Coveney and William House completed the first modern climb on it in 1937.
In preparation for the tower, Kelman and I had climbed together since March of this year, frequenting Eldorado Canyon, Elephant Buttress and Castle Rock in Boulder Canyon, Colorado, and in Vedauwoo, Wyoming. We became fast friends after meeting up at his place in Loveland, Colorado.
We often talked about his goal. Kelman obsessed over style—it was important that he freed every move during his significant climb.
"I took a few falls and hung once or twice but I did every move free," he shared over the phone from Wyoming. He cragged on the tower again on September 13, "despite feeling emotionally worn out."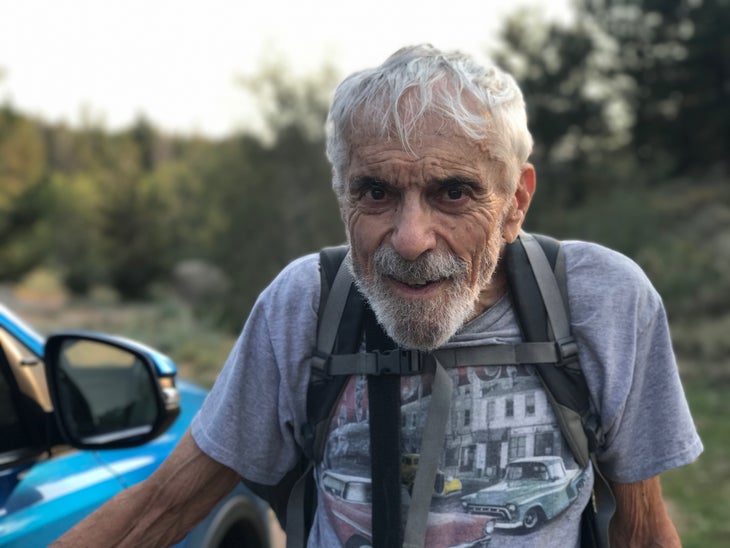 Over the past six months, when I brought up other significant routes to climb and set an age record on, he scoffed them off as not significant enough. "Devils Tower is world famous," he says.
The tower was his old-man magnum opus.
Looking back, there were days we both questioned if he would make it. Though he lifted weights at his home several days a week, just as he'd been doing since high school some 70 years earlier, his health wasn't perfect. Two years prior he'd gone through open-heart surgery. And just last week he came down with shingles but didn't get an outbreak.
"I felt lousy after open heart surgery. Even lifting 10 to 15 pounds took several months. I had to be very careful with the training before I could make any progress," he says.
He's at the age where many of his friends and colleagues die. "I know that if I want to get things done, now is the time."
When we climbed together he was slow and steady, but his narrow feet got stuck in hand-width cracks. He went through five pairs of different shoes in preparation for Devils Tower, searching for a pair that wouldn't lock his feet in the rock like a vice. He believes his feet have gotten longer as he's aged but the width has stayed the same. His solution was to wear a tight pair of La Sportiva Mythos.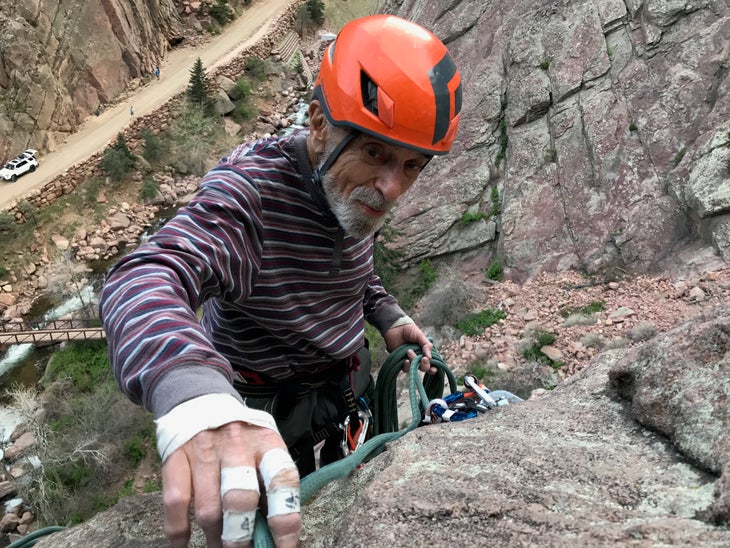 There were times he was unable to complete routes, such as Bailey's Overhang (the same Walter Bailey as with the Bailey Direct Finish), a 100 foot 5.8 offwidth to chimney at Castle Rock. He struggled with finger cracks, so we avoided them.
Except for a few occasions, we climbed the wide. After all, Kelman is the author of two guides to Vedauwoo: Heel and Toe: The Climbs of Greater Vedauwoo, Wyoming (1994), which he co-authored with Skip Harper when he was 64, and Rock Climbing at Vedauwoo, Wyoming: Climbs of the Eastern Medicine Bow National Forest, which he published in 2004 at age 74.
Ripped clothes and endless thrutching in Vedauwoo
One particular day at the Voo is etched in my mind. The wind was blowing over Nautilus. Semi-trucks rumbled in the distance along I-80. The sun cooked us. I was above Kelman as we were finishing up H & H Grunt (5.6 PG-13, 140'), a complex series of chimneys that split the formation, tucked behind the classic Friday the Thirteenth. It was a route he used to solo, but that was in his younger days, while he was in his 60s.
His foot got caught in the crack as he neared the first anchor, then, a few moves off the belay, he got stymied again at an overhanging flare where he had to transfer from a small tower (which had a bird nest on it, that he carefully avoided) to reach a thrutchy offwidth section in a roof. But that's not what I remember the most. His endless fight up the final section, a downward, outward flaring chimney was almost too much for him. Keeping him on a snug belay, I marveled as he chicken winged and gastoned, his legs fighting for purchase, the seams of his 30-year-old rugby shirt tearing apart and exposing his elbow pads and aging skin.
When he crawled onto the top of the rock, his eyes showed pure determination.
For a moment everything was clear: I would rather be in this place, this situation, than anywhere else in the world.
He says, "that route was harder than anything on the Durrance."
Salutes at the White House
During the Eisenhower administration, in 1959, Kelman put his mathematics Ph.D. skills to work as a consultant in the executive office for the President. This was during the Sputnik crisis. Kelman's responsibilities included debriefing scientists returning from Soviet Block countries, reviewed scientific mail en route to the president, and providing advice to the president from eminent scientists. Passing the gates in the morning, security would salute him and say "Good morning Doctor Kelman."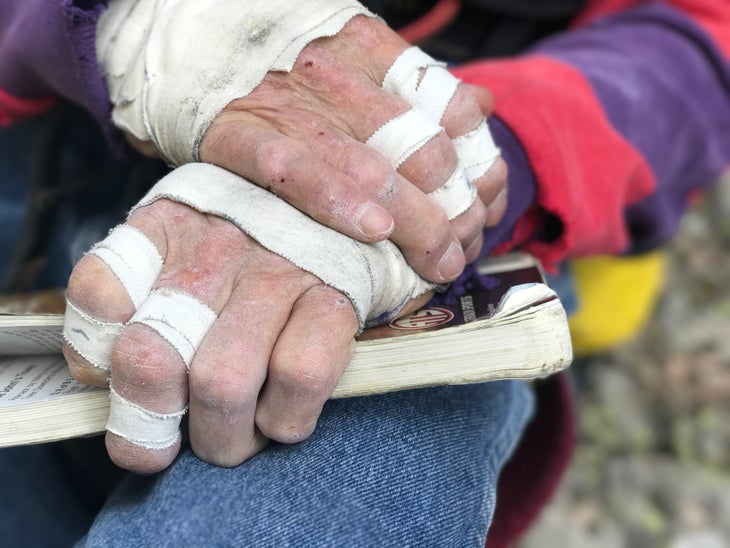 Today he's a grandfather with six grandchildren, he's married, and he loves climbing just as much as he did when he started in his 40s, in 1971. Forty-six years ago he signed himself and his 12-year-old son Karl up for a day of guided climbing in Banff, Canada and Robert—not his son—was hooked.
A day after completing his climb, the Devils Tower Park Service sent him a message confirming that he was the oldest person to climb the formation.
"Congrats again! You broke a record for sure!" wrote Climbing Ranger Rosa Tran.