Heading out the door? Read this article on the new Outside+ app available now on iOS devices for members! Download the app.
Photo courtesy of www.montagna.tv.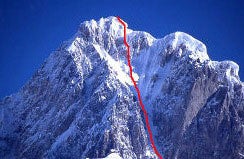 An Italian team completed the north face of 12,156-foot San Lorenzo, Patagonia's second-highest peak, in late March. On a gray day in the Patagonian autumn, the quartet of Hervé Barmasse, Matteo Bernasconi, Lorenzo Lanfranchi and Giovanni Ongaro climbed an obvious gully and mixed ground up the face, reaching the summit in just seven hours and descending later that night. An American trio had climbed the north face of San Lorenzo to the summit ridge in 1987, but were unable to reach the true summit in deteriorating weather.
The Italian team was part of the "UP Project," a well-sponsored series of expeditions led by Luca Maspes; last year's UP Project team had considerable success climbing new routes off the Chogolisa Glacier of Pakistan. This year, the expedition first attempted the northwest face of Cerro Piergiorgio and climbed 11 pitches of a new route before rockfall destroyed their base camp and injured Maspes. They had hoped to pioneer the striking north-northeast face of Lorenzo, but conditions did not allow an attempt.
For more details, visit www.planetmountain.com/english/news.