Shawn Raboutou Does First Ascent of "Alphane" (V17)
Raboutou at last discloses one of his two rumored V17 ascents.
Heading out the door? Read this article on the new Outside+ app available now on iOS devices for members! Download the app.
Rumors have been circulating for months that Shawn Raboutou has made not one but two V17 first ascents. Last Friday, he finally posted about making the first ascent of Alphane, in Chironico, Switzerland, confirming that he has indeed climbed the world's hardest bouldering grade. The testpiece is now the fourth in the world, after Nalle Hukkataival's Burden of Dreams, Daniel Woods' Return of the Sleepwalker, and Simon Lorenzi's Soudain Seul (though this latter's grade is contested).
Raboutou, 24, sent Alphane in April after working the route for about 25 sessions over the course of several months. He "forgot" to tell the public about his send, despite multiple attempts from this publication and others to confirm it.
"I just find it annoying that you have to post on Instagram when you do a climb," he said to Climbing. "Trying to change it up. Just climb for fun."
Neither Raboutou's historic ascent nor his cavalier attitude about it are particularly surprising. Raboutou did the FA of The Story of 3 Worlds (V16) last winter and dropped the news just last month. In May, he announced his FA of Fuck the System (V16)—nearly a year post-send. He's done a slew of other V16s ascents, too, including multiple FAs—Off The Wagon Sit and Big Z—and repeats of classics like Livin' Large (V16) and The Creature from the Black Lagoon (V16).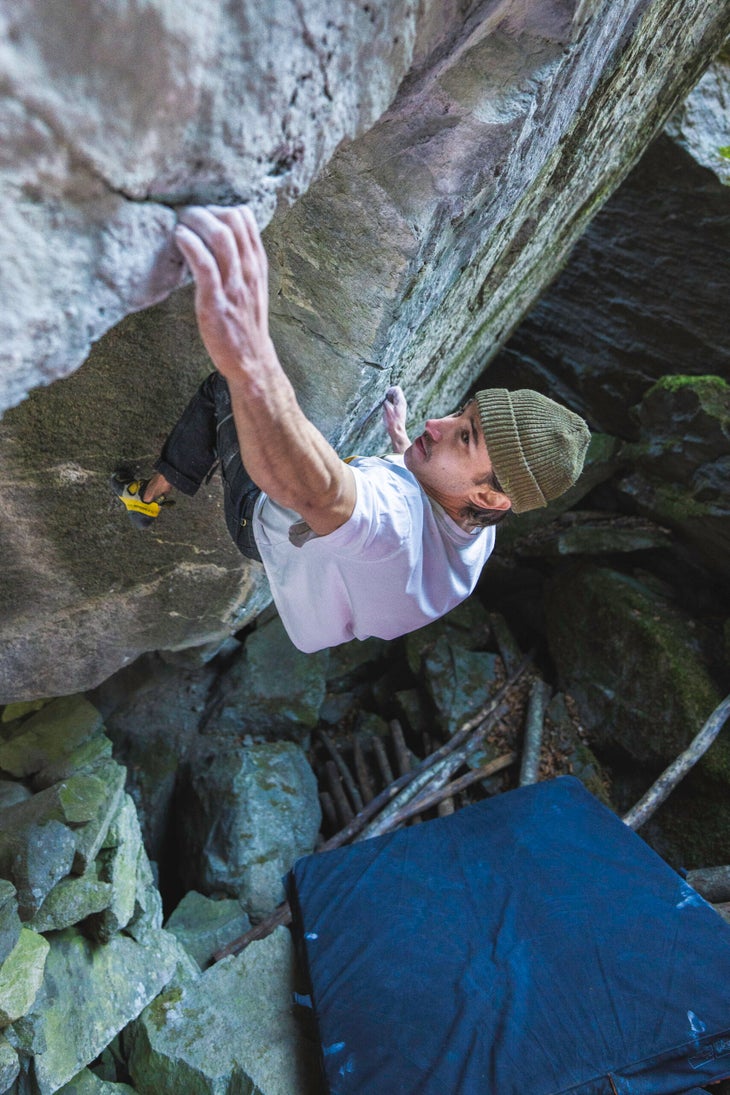 Alphane breaks down into a V14 followed by a V15, or just nine really hard moves in a row, says Raboutou. The boulder sits left of Alphane Moon, a classic V11, and was discovered by Dave Graham. Raboutou says that after trying it for a few days last October, he couldn't get the boulder out of his mind. So he returned in late January of this year.
"Shawn just got really inspired by it," said Daniel Woods in a Q&A at Movement Climbing, Yoga, and Fitness, in Rino, Denver. "And that's kinda how Shawn works: He likes to find things out there that seem impossible. And that's what attracts him to actually try hard. I guess we're kind of similar in that sense. Like, we want to see what we're capable of doing." 
Raboutou said working Alphane involved a lot of trial and error. At first he was trying the right variation. All the moves go, he says, but it felt like V18, so he opted to go for the left (for now). And then there was the "shoe dilemma." "I'd break a pair every three tries or something on the heel hook move," he said. "I had to super glue my shoes every night to be able to use them the next day." He said he switched from a pair of Five Ten's to the La Sportiva Miuras, and that fixed that. 
When asked what the hardest part was, he said: "Just putting it all together. I would fall on the last move twice a day—I only had two tries per day—and I did that for 10 days…. It's so long, and I had to be fresh to be able to do the last two moves. So I was trying every other day. [But] it wasn't too stressful because I like to project. … I didn't feel like I had to climb it, I was more just enjoying it."
Woods and Jimmy Webb confirmed the grade. "And we kind of helped Shawn be like, 'Hey, this thing is actually really hard. It's the next level. And if you do call it V17, I think that's correct," said Woods, before adding, "We're psyched. We're gonna go back next year and try it again."
Raboutou says next up, he'd like to try some hard sport climbs. He'd actually just gotten back from Céüse, France the day before the interview. 
"I was trying Bibliography (5.15c) actually and got nowhere close," he said. "Last summer, I went to Céüse and started sport climbing. And then I had the best bouldering season in the winter of my life. I noticed a lot of improvements. This year, I'm trying to sport climb again because I think it's what I lack the most of my climbing and it's so fun. Don't have shit for endurance though, so we're working on it."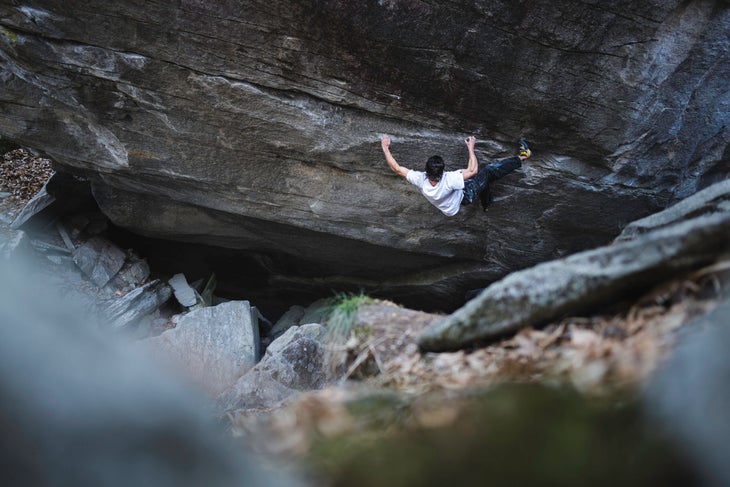 Raboutou is also considering getting back into competitions, he said, but "I want there to be more [winnable] money involved." He last competed in an IFSC competition in 2017—he placed 25th in the Vail Bouldering World Cup.
In both his training and his pursuits, Raboutou stressed the importance of trying hard. "Growing up I always would try stuff that was way too hard for myself," he said. "And I feel like you learn a lot by trying something too hard. Like on a spray wall, you try a climb, you can't do it, you learn the moves, and eventually you'll be able to develop the technique and all that you need to do the harder climbing. And I feel like that's like the biggest way to progress. … Just understanding even the mental concept of how to do harder climbing is I think the biggest thing."
While Raboutou was willing to comment on Alphane, he wasn't ready to disclose what else he's done that we should know about. Though unverified by Climbing, rumors circulate that Raboutou has also sent the Megatron project, in Colorado, another presumed V17. When asked about it, he simply replied, "I have another cool video coming out soon."
An Electrical Accident Destroyed What She Needed Most for Climbing