Sightless Onsight: Jesse Dufton Completes First Blind Lead of Old Man of Hoy Sea Stack
Heading out the door? Read this article on the new Outside+ app available now on iOS devices for members! Download the app.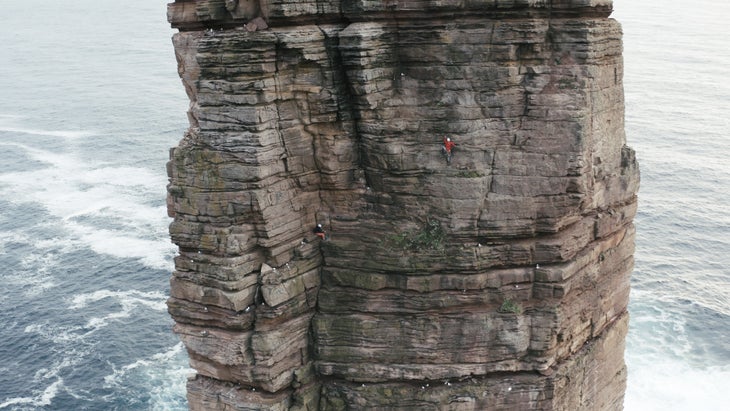 Despite being born with a degenerative condition that has caused him to lose almost all of his eyesight, Jesse Dufton is a dedicated climber. Some of this can be credited to the supportive community Dufton has always had around him—his dad taught him to climb from an early age, and in college he made friends who have become lifelong climbing partners. Molly Thompson, who sight guides Dufton using a radio earpiece as he climbs, was one of them.
Community is only half of the equation though, and without personal drive Dufton would not have achieved the remarkable climbing feats that he has. This includes holding a position on the Great Britain Paraclimbing Team—he came in fourth at the recent IFSC Paraclimbing World Championships—and a recent onsight of the Scottish sea stack The Old Man of Hoy (E1 5b; roughly 5.10a). This climb, along with a few other of Dufton's ascents, is the subject of a film by Alastair Lee that will be featured in the upcoming Brit Rock Film Tour.
[Ed. In 2013, Red Szell climbed The Old Man of Hoy for the first blind ascent, following all of the pitches. Dufton's ascent marks the first time a blind climber led the formation.]
We spoke with Dufton about what it's like to climb without sight, what motivates him, and his sea stack ascent.
How did you get into climbing?
Jesse Dufton: I didn't really have much choice in the matter, to be honest. My dad was a keen climber and he took me climbing pretty much as soon as I could walk. I think I did my first route when I was two, and I led my first route when I was eleven.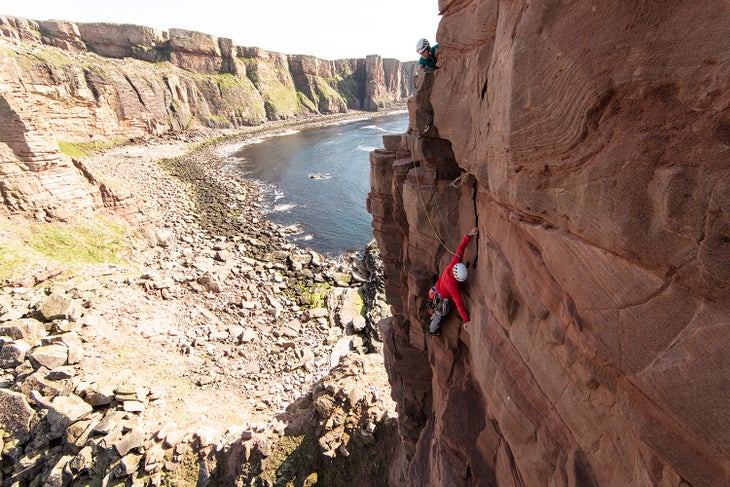 I could see a bit [back then] but my eyesight was always terrible. I was born with about 20% of central vision and basically no peripheral vision, and then, over time, that's deteriorated. [These days] I can kind of tell the difference between light and dark in a really small field of view. So if I'm holding my hand out in front of my face I can't see it, but if I'm in a room I can tell where the light coming through the windows is. Nothing else. But you can work out quite a lot from that.
Having been visually impaired your entire life, did it ever seem like something that would stop you from climbing or was your blindness something you always worked around?
I started climbing so young that it was just something I always did. It was only really when I started to talk to people who were better climbers than me that I realized, "Hang on a minute, they start on the bottom of the cliff and plan their sequence." I don't do that, you know.
When I was younger, I could still see a bit. I could see like the big obvious holds once they were within three meters, something like that. So I could kind of see the next move—but I could never stand at the bottom of the cliff and pick out my sequence. It was always hold to hold.
It's almost like you developed your own style to make climbing possible for you.
Well, obviously to me it's totally normal—this is what it's like for me. And it's only when you start talking to other people that you're like, "Oh, they can see and they do things totally differently." They look at their foot on the foothold, for example. I don't bother doing that, like what's the point? I can't see it. I just know the feeling that I get through my toes and I know whether or not it's going to stick.
How does the sight guiding partnership with Molly Thompson work?
I'll describe it for indoor climbing to begin with: So I'm holding a hold with my right hand and she tells me where the next hold is relative to that hold. She'll say something like "10A," and 10 is ten o'clock, the direction, and then A is [the distance]. If it's one foot away its "A." If it's two feet away it's "B." If it's three feet away it's "C." We have a code like that for hand holds. Then for foot holds [she'll just say], "It's by your shin. Up, down, left, right."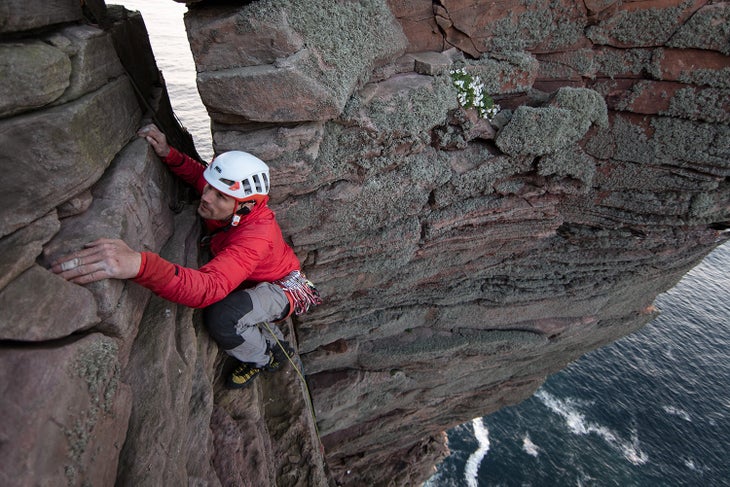 Outdoors, it doesn't work like that. I'll feel around a lot more, have a good fondle, find what holds I can. And if I find something, I'll just use it. Molly will do her best to direct [me] to holds she can see from the floor, but if she's not climbed the route before she doesn't necessarily have any extra beta. And obviously sometimes I go around a corner and she can't see me, so then I'm on my own and it's just done on feel.
There are some things that tell [me] when I'm going off route. If you find lichen on either side, you know you're off route, and on the popular routes all the holds are polished. If you found polish you're probably going the right way. Those are the little clues.
Also, [Molly will] read the route description first, and I'll remember that. So I'll know that I've got to go up three meters and then there's a ledge, and I traverse to the left of that ledge and then go up or whatever.
So you store as much beta as you can in your head and then most of it is just based on feel?
Pretty much. I've got a good memory, I have to. And the other thing is route selection. We'll try to pick routes that: A. Molly can see, and B. suite me. I'm not going to be doing any poorly protected slabs or stuff like that.
Tell us about your onsight of The Old Man of Hoy?
We didn't start climbing until 3:00 p.m., and that was because we were waiting for the weather window. It was raining and really windy, and they couldn't fly the drone [for the film] in the high winds. If we hadn't been filming it, Molly and I would have started much earlier.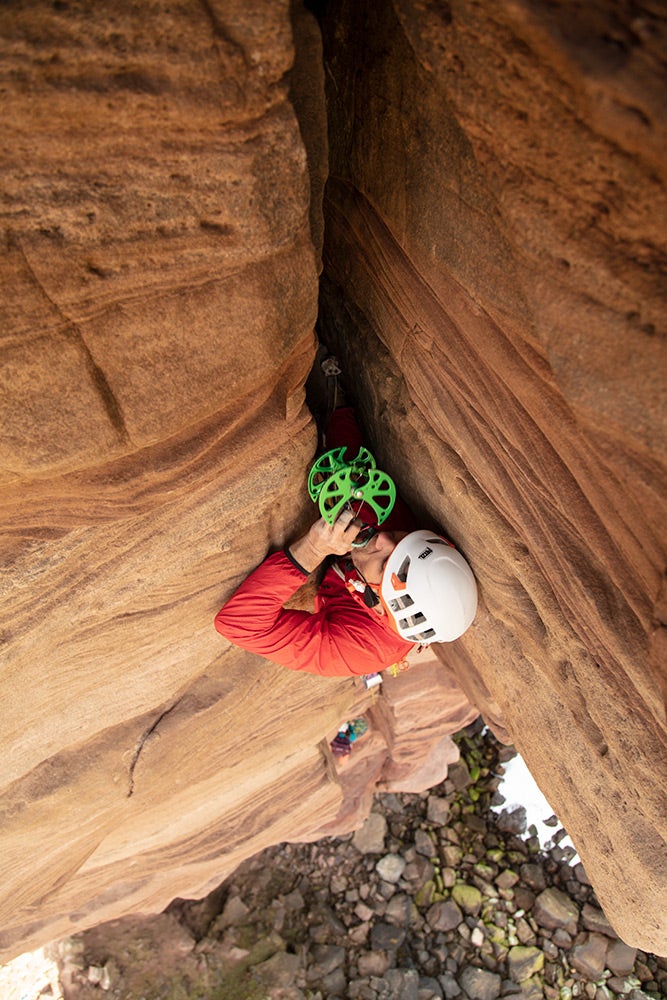 The guidebook says five pitches, but we did it in six. The first pitch is really easy. The second pitch is where it starts to get interesting. It's a traverse pitch, and you have to climb down. The feet are good but there's a step-across; you have to step onto your right foot with your left and use a right handhold to pull yourself across.
The third pitch was the crux. It's a big crack system, and then you climb up into this roofed chimney. It's quite narrow, so I had one shoulder on one wall and one shoulder on the other, and then you climb up into the top and traverse out the left side of this chimney. The tricky bit is getting passed the roof—you've got to get your hand on jams in the crack and swing up onto this foot ledge. It's just awkward, and you've got to be able to jam. If you can't jam, then you're screwed. I think I did it pretty well. The only thing was that, because I can't see the pitch, I had used all my big gear a bit too early. So I passed the crux and only had one big bit left and then the rest of the pitch, about 15 meters, there was opportunities to place the gear, but I'd used all my big cams so I couldn't place any.
Also, Alastair [Lee] said that there was the opportunity to [stem] and use these foot holds, but because Molly couldn't see me, she couldn't see that I wasn't using them. So I made it much harder for myself because there was this huge foot ledge that I couldn't see was there.
What time did you top out?
Ten past ten. And because Scotland is so far north, the sun was just setting then. On the final pitch there's an open corner. The sun was setting and, with what little light perception I had, I could just about tell that the light was shining through this crack in the corner. It was quite cool.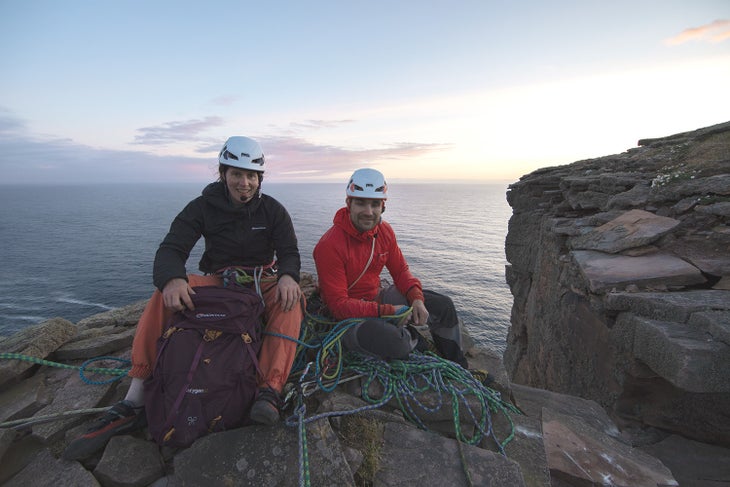 What are some of your other favorite climbs?
There's an uber classic in the Peak District called Flying Buttress Direct. It's also E1 5b. I've done that twice. And there's a route up in the Lake District called Copper Dragon which [goes at the same grade].
Also, in 2017 we went to Greenland for a month and got two [alpine] first ascents. I think those are, maybe not technically harder, but in terms of the whole package—the remoteness, the exhaustion, and stuff—I found them harder than The Old Man of Hoy.
What's next?
We're thinking of going to South Africa, and we'd quite like to come to the States as well. I'd love to go to Indian Creek and do some splitters out there. They sound quite cool.
I'd [also] quite like to go to either the Rockies or Canada and do some ice stuff. I actually find ice, in some ways, easier than rock because as long as you've got the endurance to hold your axes, you can make your own placements. I'll kind of place my one axe, pull up, lock off, and I'll search around on the ice with my second axe until I can find a little concave divot to aim for and then I can swing and hit that. So yeah, in some ways ice is easier.