"Skate-Style" Route-Setting: How World Cup Climbing Affects Your Local Gym
Heading out the door? Read this article on the new Outside+ app available now on iOS devices for members! Download the app.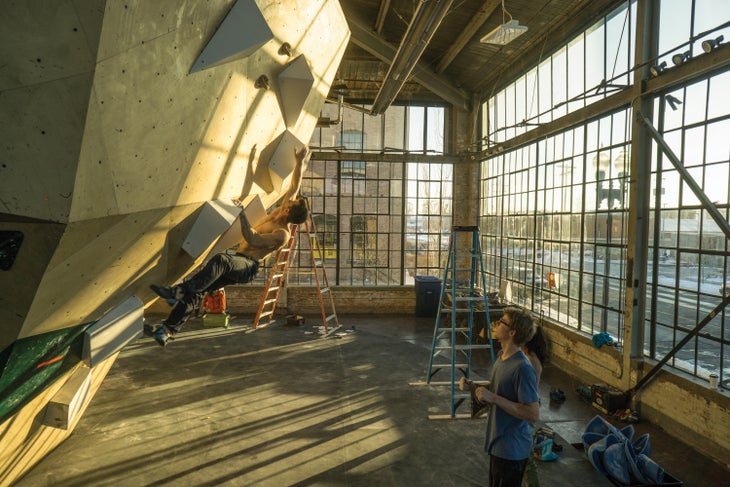 At the 2017 IFSC World Cup bouldering finals in Munich in August, Serbian climber Stasa Gejo stepped onto two volumes shaped like Star Trek logos, leaned starfish-style to an elongated pyramid, and then pawed to the top. On the men's side, German Jan Hojer topped a dynamic parkour-style run-across with a triple-catch double dyno. And in the commentator's booth, German Alex Megos, who'd last competed internationally in 2012, was asked if watching made him want to compete again. He replied, "Honestly, I'm not that big of a fan of jumping around."
This "jumping around" represents a shift in the last decade as the International Federation of Sport Climbing (IFSC) World Cup's competition style has shifted toward a more audience-friendly "skate style," applying wild, dynamic moves and elements of parkour to boulder problems and routes. Not surprisingly, a debate has started in the comp scene between purists who want the sport to stay true to its roots and athletes and route-setters who enjoy the new style. The debate has also spilled into local gyms, where setters set this style for competition teams, or simply like the big volumes and new-school movement—sometimes to the chagrin of gym members.
Comp setting begins with the walls. Founded in France in 1985, wall manufacturer Entre-Prise has built more than 4,000 walls, including World Cup installations, and is the manufacturer of the only US World Cup venue, in Vail, Colorado. Todd Chester, sales and marketing director for EP USA, says, "From a design perspective, our vision is to make the wall as simple as possible, to create a blank canvas that allows the setter to optimize the wall creatively." From there, IFSC-certified setters working under an IFSC "chief" will use their skills to define the dynamics of an event. For holds, IFSC guidelines state that setters must use at least 500 holds and 30 volumes for a bouldering comp, and 1,000 holds and 30 volumes for a lead comp. Typically, three or four brands are represented, with the chief setter approving a list of all holds and volumes provided by the organizer. But even these large numbers, when applied by a small group of setters, create repetition, and comp climbers can become familiar with both the holds and the setters' styles.
The chief then needs to break the field of competition apart without having the climbers get shut down. The perfect scenario has one climber in each category completing all the climbs, with the rest of the field clearly split to provide a ranking—having all the climbers fail creates a bad show, while having them all succeed makes it hard to discern a winner. Setters also need to consider speed. In 2017, the IFSC reduced the time allowed for each problem in finals from four-plus minutes to just four minutes to make scheduling more predictable. The time cut has affected setting—setters need the climbers to move quickly. Further, they must create climbs that appeal to an audience that wants to understand who is winning and what the remaining athletes need to do to win. It's a tall order, especially given that superfinals in the World Cup ended in 2011.
"Before, the line of holds made things straightforward to work out," says Percy Bishton, head of the IFSC Route Setter Commission and a chief setter himself. Bishton began setting in 1995, when volumes first appeared. Volume manufacture and design innovations influenced a new, more imaginative setting style. "With no holds and just a few huge plywood boxes, the style became less obvious, and vastly more physical," says Bishton. "Slopey compression problems, a lot more like we were finding on the rock, made their way into competition climbing." Some of this shift came about because of the setters' need to stay "one step ahead of competitors"—i.e., setters realized that if they set the same style that the strongest climbers trained on, then the competitors would fire everything. Thus elite-level setting moved from increasingly harder-to-pull-on holds to dynamic run-and-jump moves.
At the 2014 bouldering World Cup in Toronto, South Korean Jongwon Chon climbed through a roof with his back to the wall, his legs in a near-splits and feet smeared on giant blobs. He swam his arms through slabby holds and dynoed over the lip while flipping 180 degrees. The crowd exploded as he topped the problem. Though the IFSC lacks statistics on viewer engagement, anecdotally, audiences have responded well to the new style.
"It seems like the fast-paced, high-risk nature of this type of climbing often gets the crowd more hyped up and keeps them more engaged than slower, static, technical climbing," says veteran World Cup competitor Angie Payne. "That being said, I have also seen competitions where a great deal of suspense builds as a climber creeps across a slab or does a delicate move."
"It was love at first sight," says Canadian Sean McColl, a veteran of 126 IFSC events. McColl has welcomed volume setting in competitions, as it "creates better problem-solving," but that doesn't mean it's the only style he wants to compete on—power climbing, he says, is still important too. During the finals at Vail in 2016, McColl wedged himself between two volumes, turned 180 degrees, held the splits, and leaped to a stance in a corner, before falling going for the finishing hold. It made for a good show, but it begs the question, Is this climbing?
"The clientele in our gyms wants to train for rock climbing," says Mike Bockino, head setter at The Front SLC. Setters at the Front establish most of the climbs with power-endurance in mind, creating routes and problems with a series of slightly more difficult moves. According to Bockino, with this style, "climbers make progress consistently and are psychologically happier with their performance." And a happy climber is a happy gym customer. Salt Lake–based climbing coach Steve Maisch says, "I'm not climbing in a gym to do funky problems that don't tax my endurance or my finger strength or [aren't] relevant to my climbing outside." And Boulder, Colorado, climber and author of Bouldering: Movement, Tactics and Problem Solving, Peter Beal, laments that the skate style is all about conditions and hand friction. "Plastic gets warm and slippery in typical gym environments," he says. "Chalk becomes ineffective. Some climbers seem to be able to handle this with ease. Others get frustrated and go over to the campus board!"
As a counterpoint, Jackie Hueftle, of Kilter Grips and The Spot bouldering gym in Boulder, says clients at The Spot like it when the set includes skate-style problems. "The problems can be fun and are great for comps, but the run-and-jump starts can get in the way of climbers and other problems when the gym is busy," says Hueftle, who has been setting at gyms and for events since 1998. Per her estimation, these skate-style problems can be anywhere from 8 to 15 feet wide, with setters needing to leave space around the big holds so climbers can do balance moves, jumps, or mantels.
US Competitions have traditionally followed the old-school setting style, making it difficult for US comp climbers to do well internationally. Says Hueftle, "IFSC World Cups have a historic reputation for being different than American comps, with longer lead walls, different holds and volumes, longer draws, and different styles of setting that rely on coordination as much as strength." She adds, "Americans typically didn't do well internationally in the early days on the slabby, balancing routes and boulders."
But the US comp scene is adapting. USA Climbing (USAC) has been organizing and running the Vail Bouldering World Cup for the last 10 years, and USAC setters set for the Pan American Championships—and participate in "exchange programs" with other national federations to create international cross-pollination. This allows US setters to incorporate developing trends and styles in US gyms for teams and athletes to train on so they can compete internationally.
Even 30 years in, competition climbing is still evolving. Hence, says Bishton, the challenge becomes "to keep up with factors such as the rapid improvement in performance of the athletes, numbers of participants at comps, and becoming a sport that is televised." He adds that because each chief can choose "a mixture of all styles to create a fair and balanced competition," there is no specific pressure to set skate-style climbs. As climbing heads to the 2020 Olympics, setting trends will evolve, but there is no indication that skate style will be obsolete by then. "Setting trends are just that—trends," says Bishton. "For me, I try to buck the trend as much as I can."
At the 2017 Vail event, where Bishton was chief setter, his brief for the setters in the finals was that he "wanted no run-and-jump-style dynos because I think they have been used a lot" and were getting "boring." Still, sticking with the old-school style of bear-down-and-pull can also lead to stagnation: 1970s free climbers avoided overhanging offwidths until Randy Leavitt and Tony Yaniro invented Leavittation. And the early Hueco Tanks boulderers stuck mainly to crimp lines and missed the epic compression problems because there were no down-pulling holds: The style seemed "unclimbable."
Creative problem-solving may lead to limits being pushed inside and out. The crux of Silence, Adam Ondra's new 5.15d in Flatanger, Norway, involves an overhead toe lock. Ondra, who competed in World Cup events from 2012 to 2016, says, "The style of comps goes a lot into dynamic power and coordination, which is very rare to find on the rock. Flexibility and a willingness to take risks might be the only thing that is required for both." That and creativity.