Heading out the door? Read this article on the new Outside+ app available now on iOS devices for members! Download the app.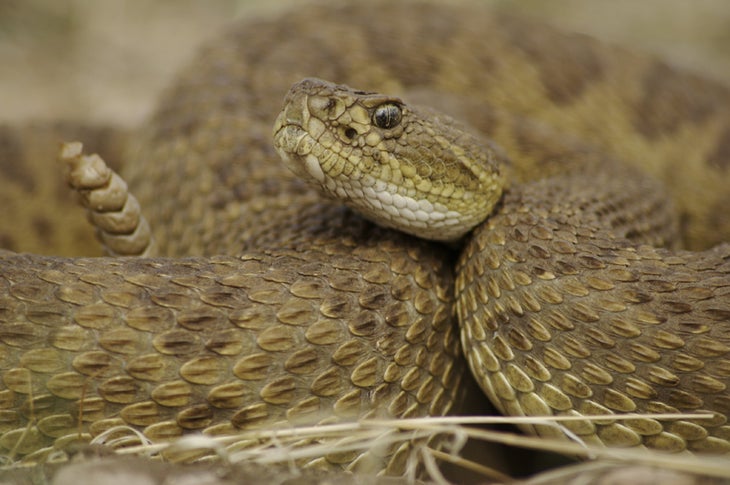 My guide to Turkey Tank said, tank, means a watering hole for cattle or horses. Wild west lingo. Turkey Tank is two miles from my new hacienda as Anna's Hummingbird would fly. A big wild Thanksgiving poultry would take the highway, it is easier. Leupp Road heads up toward the Navajo Reservation, then onto Hopi land on Black Mesa. My friend Willy drove me over to The Tank one cool day this past fall. You cross the drop down fence at the national forest service sign on the right side of the road heading toward the town of Leupp from Flag. Once you cross the fense, put the it back up to keep the cows in. Drive up the dusty dirt road a mile, then walk a half mile over bovine pies to the volcanic gorge. When I saw the place I about dropped my own bovine pie. Fine locale for my compadre to do his rocky yoga. For me I just wanted to gaze at the snake. What snake? The one on the wall. I was face to face with a petroglyph roughly a thousand years old. Weird, earlier that week I had found an Anasazi pot shard, the inside was sooty gray but shiny varnish, the outside painted black on white with a serpent sketched by the artist using ink concocted by plant or mineral dyes. Another thousand year old reptile. As Indiana Jones would say, "I hate snakes." I'm not that extreme, but . . . one day a decade back, pal Greg Auchenbach, a herpetologist, was catching rattle snakes like you or I might catch ground balls at baseball practice. No problem to Auchy. "Look at those heat seeking glands" my crazy compadre said. Ray Wylie Hubbard's song Snake Farm comes to mind, "ugh, snake farm, just sounds nasty." But a snake carved on the lava wall is different. I was mesmerized. My finger lightly traced the rough slithering groove and for a moment I was, well, snake bit. Not all there. Where'd I go? Not sure, but some place below the surface. I had no intention to rock climb now. I just wanted to view the whole gallery of prehistoric art, mazes and spirals and lizards, especially the snake.
Photo by Will Toms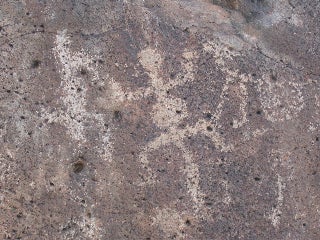 Will told me about a large rattler he saw first thing one summer day at Turkey Tank at the base of the huge dihedral we were standing at. There is a bunch of rough igneous cobble and boulders deep inside the chimney, all the way up. He said later that morning the same pit viper was at the top of that climb. I was tuned in, dialed in, and listening to what my amigo said. When is the Hopi snake dance ceremony? A final comment on ancient Native American art or habitations: I know of a climbing spot out west, on the California coast that has right smack dab in the center of a nice slab often ascended by climbers, a much fadded ancient star burst symbol. We locals know such a beauty of art is there. But the tourists who read of this site in the local guidebook (there is NO MENTION OF THE PICTOGRAPH in the guidebook!!!) have no idea. Their soft rubber climbing boots scrubbed over the diagram errase the image more and more until one day this piece of art as valuable as a Piccaso is gone for good. The moral is, 1) know that any rock we climb on could once very well of been an Indian location of habitation, of sacrifice or worship, or a fine place to practise art. Pay attention, do your homework. I do not want to damage someone else's art, especially a thousand year old relic. 2) Be willing to educate those on the rock about such finds — even if this means you become the bad guy or gal. I know at Lovers Leap and in Yosemite there are crags we cannot climb due to eagle or falcon nests. Joshua Tree has several sites off limits due to N.A. petroglyphs or pictographs. I'm very much OK with this. The archaic Indians were there first and they, even today, hold the privilege to these places. Such stone is sanctum sanctorum to the Native American. and #4) Read the petroglyphs.us web site for a short course on prehistoric Native American art of all kinds and how to not destroy such art.