Stefano Ghisolfi On Prying Excalibur From the Stone, Exclusive Q&A
The Italian climber reckons the line goes at 5.15c, making it Italy's hardest route.
Heading out the door? Read this article on the new Outside+ app available now on iOS devices for members! Download the app.
On February 5, Italian sport phenom Stefano Ghisolfi clipped the chains on what is likely the high point of his career so far, the crimpfest Excalibur, which he estimates at 9b+ (5.15c). Ghisolfi was one of several top-shelf climbers who battled the route in recent months, along with Adam Ondra, Laura Rogora, Will Bosi, and Jakob Schubert. 
Located right in Ghisolfi's backyard of Arco, the route was originally bolted by Italian climbers Cristian Dorigatti and Morris Fontanari (taking its name from the sculpture of a sword wedged into an anvil at the base of the face). At a mere 40 feet, the limestone route is short, steep, and littered with tiny pockets and micro edges, with an V15 boulder problem guarding the chains. With a proposed grade of 5.15c, Excalibur is now the hardest sport climb in Italy.
It's safe to say that Ghisolfi's grade estimation holds weight in the climbing community. The Italian was the fourth climber in history to send 5.15c (with Perfecto Mundo in 2018) and has to date redpointed nearly 20 5.15+ routes, including four graded 5.15c.
Before Excalibur, for a time Italy's hardest climb was another Ghisolfi route, Erebor, which went at 5.15b/c in January 2021. That line, also in Arco, was the first route Ghisolfi ever bolted. It made history a second time with its repeat by Laura Rogora, marking the hardest redpoint by a woman at the time. (Adam Ondra, who made the route's third ascent suggested a downgrade to 5.15b.) In the last year, however, two other top-end climbs were put up, Wonderland (5.15b/c) and Bomba (5.15b), both by Ondra. Like Excalibur and Erebor, both routes were in Arco.
Climbing reached out to Ghisolfi—who celebrated his 30th birthday shortly after sending Excalibur—to learn more about the route and the strategy that brought it down.
***
Climbing: How long have you been projecting Excalibur?
Ghisolfi: I tried it for the first time in February 2021, but at the time I was working on some other projects and this one seemed impossible, or something that could take [a long time] to be completed. So I gave up for that year and waited until the next spring. In the spring of 2022 I went back to it and decided to invite Adam Ondra to try it with me, to share this project and find the best ways to climb it together.
Climbing: What were your first impressions of the route back then? Did it feel possible?
Ghisolfi: I just did a few of the moves of the upper part, [but] the whole first part seemed impossible. I understood it was something extremely hard, and for this reason it was always on my mind throughout that year, but never had the courage to project it by myself.
Climbing: What was special about Excalibur? Out of all the projects you could put time and effort into, what made you want to come back and keep working this route?
Ghisolfi: The aesthetic of the line, the perfect straight wall [that is] 40° steep, on small holds, the landscape behind the route, and the possibility to watch the route from very close… It immediately felt special. Also, the fact that it is so short and intense, on a single huge boulder with no other route (at the beginning). And the sword on the stone below made everything even more special.
View this post on Instagram
Climbing: You tried this route with a lot of other strong climbers. Did that help you?
Ghisolfi: I had experience on Erebor—which I bolted, tried, and freed alone—it took me days and days to figure out the beta and I kept falling on the last moves. Then Laura Rogora and Adam Ondra came, found new beta, and completely changed the way to climb it. In that way, I could have done it much faster and saved a lot of time and energy for other projects. 
So on Excalibur, I immediately decided to share the project with someone else, so we could find the best betas fast and in the most efficient way. Adam tried it a lot with me first, Jakob came but for just one day, and Will came this winter. I found the beta for the last section, [and] Adam [found beta] for the first part. Will came with basically all the moves discovered, but he helped me to understand the very first move, and was crucial for me to start doing some attempts.
Climbing: Were there any drawbacks to having so many other hardcore climbers attempting the route along with you? Did it put you under more pressure for the FA?
Ghisolfi: There is the risk of losing the first ascent of such an iconic route. The moment I asked Adam to try it, I knew he could [end up] climbing it before me. But I decided to give less importance to the first ascent and focus more on the experience of sharing a project like this, on collaboration and friendship. So together we started trying the route.
There was a bit of fair competition, but it wasn't the most important part of the process. We didn't have any pressure and we were both focused on doing our best, not on being better than each other.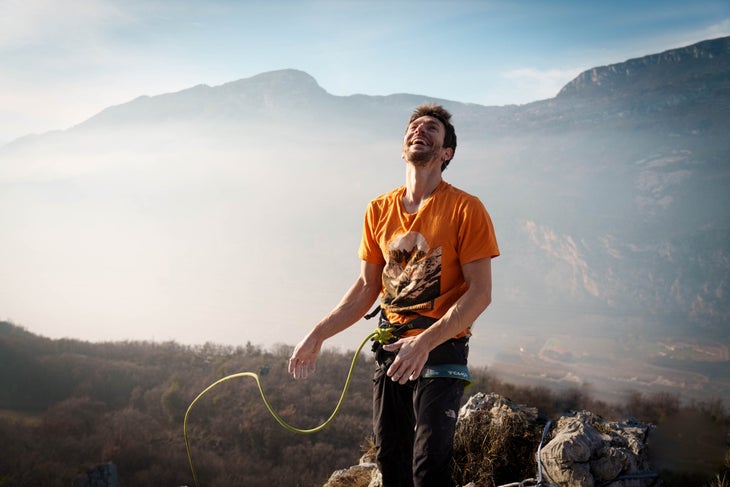 Climbing: You mentioned on your blog that "with Excalibur, [you] started this path not only as a professional but also for [your] personal growth." What did you mean by that? 
Ghisolfi: I understood that the most important part of the process was not the climbing, not the first ascent, but all the people I shared the process with. It has been amazing climbing with the best climbers in the world, with friends who helped and belayed me in all conditions, and with my girlfriend Sara who was always there supporting me.
Climbing: You seem pretty confident about the 9b+ [5.15c] grade for Excalibur. Why?
Ghisolfi: The number of days trying it helped me understand the difficulty more. If I was alone it could [have] taken many more days. The fact that also Adam, Jakob, and Will tried it made me realize how truly hard it was. Someone [might] think it could be even harder, but in the end I believe 9b+ fits perfectly.
Climbing: You've climbed all over the world. How does it feel to FA the hardest route of your career in your home country of Italy? Is there any sense of national pride with this send?
Ghisolfi: It was important not only because it was in Italy, but also because it is close to where I live, in Arco, Trentino, which is a region full of potential and that is growing fast in terms of hard climbing, even [though] the tradition of climbing started in the 1980s here. The three hardest routes in Italy are here (Excalibur, Wonderland, and probably Bomba), and they were all climbed in the last 12 months, and this says a lot about the potential here.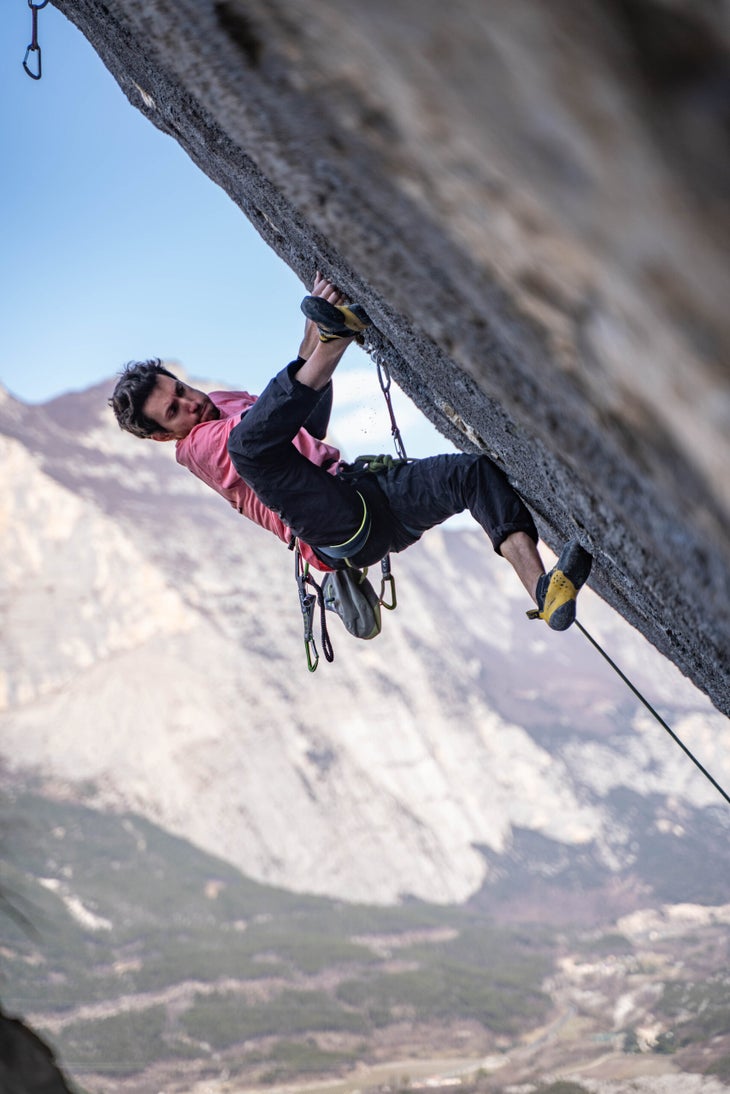 Climbing: Excalibur is super short—only 18 moves long. Did it ever feel like you were almost working a boulder problem, instead of a sport climb? Did the length change your strategy at all? 
Ghisolfi: 18 moves are few for a route, but many for a boulder. I always feel good on long and endurance-based routes. This was different being just around 12 meters [40 feet]. There is a rest in the middle, and being able to use it well is crucial for climbing the last part, but still, strength is a very important [tool] for climbing this route. In the last few months, I changed my training and focused much more on power training, because I knew my natural endurance would be enough, but somehow I was lacking in pure power.
Climbing: You mentioned there's a low start to Excalibur. Do you want to try this low start very soon, or is it more of a "possible" project for the future? 
Ghisolfi: I want to take a pause from Excalibur for now, but Will Bosi will come back and it could be the right moment to try [the low start] with one of the strongest boulderers in the world. [The start] seems something like adding a hard boulder at the beginning of the route.
Climbing: What's next for you? What's on your mind for the future? 
Ghisolfi: I'm projecting Silence. I already tried it last year and I'll be back on it in May, and then again in August.
Also Read