The Complete Jim Holloway Interview
Heading out the door? Read this article on the new Outside+ app available now on iOS devices for members! Download the app.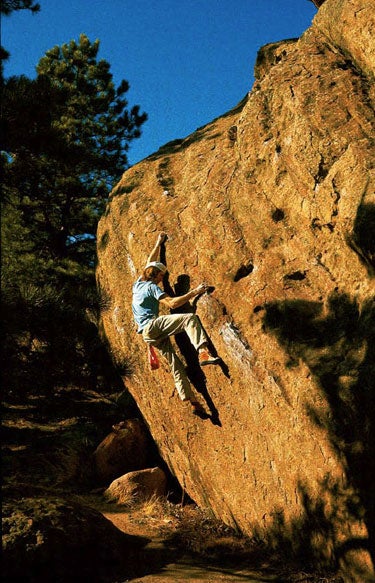 A Boulderer Nonpareil
In 1975, Jim Holloway, 6'4" and with cable for tendons, shoed up beneath Cloud Shadow Wall, above Boulder, Colorado. His project lay on the convex east end of the sandstone face. Holloway fished his right hand into a fingertip undercling, crimped the left on a layaway, and pulled on. The next hold — a dismally slopey pocket — lay high and right. Holloway snagged it. He brought his feet up, snapped at a micro left, held it, and controlled the swing. He topped out. The problem was A.H.R. Thirty-two years later and despite the best efforts of the world's strongest boulderers, it has not been repeated.
This full interview with Jim Holloway, by Andy Mann appears below:
A: Tell me about the glory days of bouldering. J: Mostly having a good time, climbing hanging out, that was about it: living, climbing, and not much else.
Do you still get out climbing anymore? I haven't climbed in many, many, yearsHow did you put the sport behind you? I started getting into running and riding the bicycle, and that just took over all the time. I started riding a lot. The first summer I was a riding over a thousand miles a week. I guess one passion took over another. Sometimes I'm sorry I quit; other times I'm glad I took to doing other things. I miss the old guys, though. When you're grey like me, those times meant a lot. I just dropped out of sight. I took cycling as serious as I took climbing. Speed was the draw! I was a slave to speed and times, and I started to burn out of that mode of cycling pretty quick.What stands out as the most significant climbing events in your life? Just the good times I had in the early 1970s with Dan Oliver, Dave Rice, and Jim Michael. That was our main bouldering group of the time. We didn't let anything get in our way!Are there any certain areas that stand out as your favorites? Oh, I remember doing the rounds in Fort Collins — we'd do just about everything up there in a day. All the problems on Flagstaff, and we went to Vedauwoo too. In my later years I climbed a lot on Dinosaur Mountain in the Flatirons. There is a lot of history up there that is still unknown. I suspect if they have been found they have been re-named by now. The later years we were bouldering down in Pueblo. There is still a lot of untouched stone down there, though I imagine it is all private by now.What would be a typical climbing day for you at the height of your bouldering skill? Say, on Flagstaff Mountain. Never-ending jokes. We had an obnoxious sense of humor to most people. We would start at Cloud Shadow and climb all the routes there, then head to the Red Wall, Pebble Wall, and Smith Overhang Areas, just circuiting from one area to another and getting in as much climbing as we could. Who was your biggest influence in climbing?Bob Williams. In the early 1970ss he invited me to Pueblo to meet John Gill and boulder with the big boys. I wasn't going to miss that, so I went. They were my heroes at the time and the top-notch guys around.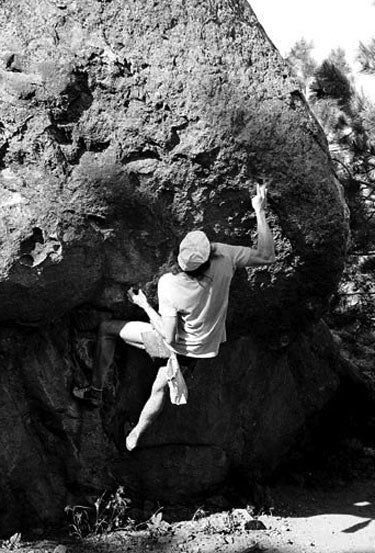 Ever walk by the old problems and boulders and look at the lines? Yeah, I still look at the boulders quite a bit. I'm also looking at the wildlife and different things now. It can be difficult sometimes, but I moved on from bouldering so many years ago. Now I would just as soon look at something else. But now and then I happen upon an old problem and think, "How the heck did I do that?"
You established what is known as the "Big Three" boulder problems on Colorado's Front Range. They are: Slapshot on Dinosaur Mountain in the Flatirons, Trice on Flagstaff Mountain, and Meathook at Fort Collin's Horsetooth Reservoir, all three of which are un-graded and remain un-repeated. They could be the world's first V12 and V13 boulder problems. Tell me about these problems.
Well, Slapshot was a pretty significant problem for me. I specifically hiked up Dinosaur Mountain to work on Slapshot a number of times for about a year in 1976-77. I remember that the holds are very marginal; if you glued a quarter on the rock it would be a good hold! I remember John Sherman pulled off a loose flake at the start and glued it back on. I sometimes wonder if it was put on upside down because the hold is about twice the size as I remember it being! The beat is; pulling up, and lunging all at the same time for a little seam near the top. The takeoff point is critical, so that you don't lunge out instead of up. I took a few rocky downhill rides from missing that move.Meathook too was an interesting challenge. My good friend and climbing partner Jim Michael and I would go up to Horsetooth Reservoir. He would go to up to the Talent Scout Wall. I wouldn't really care for it because I had done it back in high school. So, I'd wait for him down at Meathook trying and trying to do the first moves but I never really took it too seriously. Then, one day I finally pulled of the ground! The rest went on autopilot, and it became a legendary problem, one that's much more technical than Slapshot.Trice I've heard called several things over the years. Chris Jones started calling it Another Holloway Route or AHR, and someone else started calling it another "Hell" route. I just called it Trice. When we first took notice to that line we were bouldering up there, his name was… he had a friend called the big D — David something — he had the strongest fingers and I remember him putting his hands on the beginning undercling holds of the problem, and I remember saying, "Now pull up", thinking no one could ever lift off these hold. But he did! I got inspired and started working on the thing from that start. I remember you start under the bulge on an undercling, made a big move to a three-finger pocket with the right hand, bring the left up to a small hold and jump for the lip. There are no footholds. Again I had an open-handed technique down, and you can't crimp on the pocket, so it suited me well.Do you recall any problems being as hard as the Big Three at that time? Oh yeah, some in the same difficulty for sure. I put up some horrendous problems in the Flatirons, some stuff in Vedauwoo that I couldn't even get to anymore. There were some variations in Morrison. We bouldered some in Rocky Mountain National Park, as well. I'd like to know how hard that stuff would be nowadays, but alas, it is all lost to history. There was a place called Split Rocks halfway to Estes Park — we used to climb there, but is all closed now. It has some hard stuff. I climbed a lot in Guanella and Ute Pass around 1975.
Would you like to see a second ascent of the Big three? It would be neat to see if they can be done. It would be interesting to see how hard these things are. Apparently, pretty hard in that nobody can repeat them. I guess it is kinda nice in one sense to have unrepeated problems in these times and I've often wondered how my problems can have ratings if no one can repeat them? It would be neat to see the first repeat though. I used to love getting second ascents.
Holloway in his element – Colorado sandstone – near Morrison, west of Denver.Photo courtesy Jim Holloway Collection.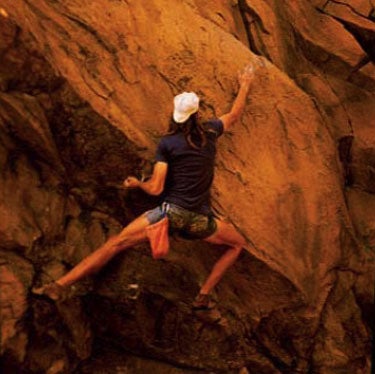 Which of the Big Three is the hardest?Slapshot.Ever get scared bouldering without a pad? One night, I was on a 25-foot highball on east face of Square Rock on Dinosaur Mountain — I got stuck high on that one day and held there for about an hour, waiting for a hiker to help me, but no one came by. It was either jump or top out, I topped out. I never got back on it, it felt so difficult but I guess I was up there a long time. Christian Griffith has since bolted the three lines on that face, but they were all done pre-rope and pre-pads. Scary. I'd pop a few crystals now and again and take big falls; it was part of the game. We never spotted either. It would just drive me crazy having someone with there hands behind my back. You hang on a lot tighter if there is no one to catch you! But we didn't fall all that much — we would jump off a lot of the harder things — but we were in control most of time.Did you ever train for hard bouldering? We were serious about the climbing but never let it get in the way of a good time. But we worked out by traversing on flagstone buildings, or if it was raining we'd go exercise at the gym. I was never really prepared mentally or physically. I'd just get psyched at the boulders and do stuff. I just got so excited about being outside and the good weather and good friends, sometimes I'd just have a good climbing day. I sometimes wonder if there were climbing gyms around when we were climbing if we would have just tore ourselves up, we had so much enthusiasm. We would have been in there seven days a week trying to crimp the tiniest of things. I could never wrap a crimp smaller than a quarter inch though — I would just open hand everything small. Just have fun and be psyched. If you are giving up having fun for the difficult aspect of the sport, you're going to regret it when you're my age. When you're plugged into it, it is hard to realize
John Bachar and John Gill have said that you were the most elegant climber they ever saw. What do you think of that? Wow, they don't give up compliments lightly! I remember someone saying once that I had good technique — I didn't think that at all. But from the Johns it is a big compliment, and I really appreciate that from them.Egos can play a role in difficult climbing. Did you ever find yourself driven to establish things others couldn't do. I think everybody who starts off in a sport wants to be the best and I wanted that as a young climber, too. Later on, I never cared about it. Some people thought we were egotistical or "stuck up," but we were mostly misunderstood. We were just quiet and shy and very serious about what we did. In hindsight, I might have zipped up somebody's project without saying much to them, but it was on my circuit and I was a quiet guy. I tried to be friendly with everybody.What do you think of the current grading system in bouldering? When I started climbing, even in routes there was nothing harder than 5.10 — if it was harder than that it was still 5.10. Then came John Gill's B-scale of 1,2, and 3. B1- was the top of the 5.10. B2- was quite a bit harder. And B3 was basically non-existen,t because if it could be climbed it wasn't B3 anymore. I got tired of the numbers, and the stars, and the letters, and the asterisks. They didn't mean much to me back then so I just adopted an easy, medium, and hard attitude. John Gill also developed the individual system called E-system. It was: that if a problem had been climbed once it was E-1, if by 6 people it was E-6 if it was climbed by too many people it wasn't considered hard anymore. The trouble with that was in the really obscure areas are many E-1s, but they might not be that hard. I'm a little familiar with the V-system and I don't know what it is up to now. Who really knows? I'm tall, and you're shor,t so we have to climb differently anyway. Sometimes a problem is B3 in the summer and B1 in the winter. Make up a scale that works for you, if you need one. Rating s have gotten a little out of hand —they are setting the standards for the public's eye and that isn't what it was all about.
Photo by Pat Ament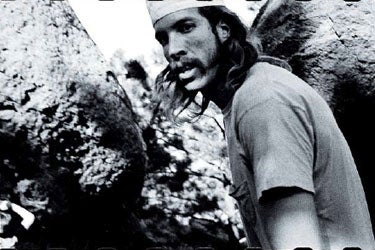 Ever stay in tune with modern bouldering, the magazines or websites? I don't even have a computer. I have actually never been on the Internet. But, I hear stuff through the grapevine. John Sherman came by the house a few years back when he was working on his book Stone Crusade, and asked a few questions of me. I did some work to the inside of his van, and that was the last I heard of bouldering until now.Did you guys ever get your buzz on during a session? In the early years, we'd smoke a little bit and have a few beers. Partying was a big part of the scene. We used to get high up on Crown Rock on Flagstaff after a climbing session. But for the most part we would generally stay sober and focused when we were on the rock. We'd hang out a few hours after we took our shoes off, ya know — it was the 1970's culture.Will you ever shoe-up and go bouldering again? The cerebral nerves in both my legs are dead. When I get up in the morning, I have a hard time getting up and down the stairs. Driving is kind of interesting when I can't tell were the pedals are. I can't feel my feet. I've had 70-some stitches put in my leg over the last year from three different cuts I didn't even feel happen. They even stitched them up without Novocain. I can take an electric drill to my feet and there is nothing there! I often get phantom pains; I feel pain even though my sensory nerves are all dead. For me to get back on the rock would be a disaster. It would be difficult to handle for me mentally. My brain thinks I can shoe up, but my body knows I can't.Still keep in touch with John Gill? He came by my house a few years back when he was in town for a math seminar, but we don't keep in good-enough touch.
Tell me about Hollow's Way?Rob Candelaria first ascent and a very underrated problem — the landing is a death fall in my opinion. Has that even been repeated? It was very still very dirty when I hung up my shoes, because I never believed in lichen removal or even re-doing the base of a problem — it destroys the natural beauty of an area. Ya know, that problem could have been done around 1970 though by a guy named Rick Thurman from Fort Collins. He told me he had done something called Junior Achievement, because he described it as a hard crack hidden in the woods.Tell me about meeting John Gill? I remember getting out of the car on my first trip down to Pueblo to boulder with the big boys. Bob Williams jumps out of the car and does a front lever on Gill's rings set-up in front of his house. I remember that they said a really tall person couldn't do one. I said we will see about that. I was determined to learn one. I had heard of the hard routes he was doing up in the Needles and stuff.
I first met John on Flagstaff at the Smith Overhang area. I though it might be him, so I asked if he was John Gill, but he wouldn't answer! I asked again, but still no answer. I don't know if he was shy and didn't want some young kid goggling over him or something like that. He was a big influence for me at the time; he became a major reason for my respect for the sport. I learned a lot about dynamic moves from him. When we first started climbing, dynamic moves were taboo. You never lunge for anything! It was against the rules! The caliber of the stuff he was doing in Colorado in the 1960s was amazing. Way ahead of the time. And John's problems were the best — none of this sit-on-your-butt crap. You'd just look for the little white arrow at Sylvan Lake and you just knew it was gonna be a classic route.Would you like to see a second ascent of the Big three? It would be neat to see if they can be done. It would be interesting to see how hard these things are. Apparently pretty hard, in that nobody can repeat them. I guess it is kinda nice in one sense to have unrepeated problems in these times, and I've often wondered how my problems can have ratings if no one can repeat them? It would be neat to see the first repeat though. I used to love getting second ascents.Which of the Big Three is the hardest?Slapshot.
Do you have any words of wisdom for a young climber like myself? Number one is always have fun. Don't take climbing too seriously that you become a slave to it. I saw people so plugged into climbing that they couldn't get their minds around anything else. By the time they got out of the car to climb, they were so worked up — so intense about climbing — that they couldn't enjoy the experience. I think that holds a lot of people back. I think those people should re-learn how to just relax, and enjoy what they are doing.
Ya know, we'd never talk about climbing, even on the way to the climbing areas! Intenseness can hold ability back — I truly believe that. Jim Michael and I used to always stop at lakes and throw rocks on the way to go bouldering. Why the hell would we do that? Well because we just enjoyed doing it, see? It would drive our friends crazy, and it really showed me the importance of enjoying other things. Go fishing! Be serious about what you do, but don't let it consume you. If you one day become disabled, like me, you'll miss the fun with your friends much, much, more than a piece of rock, trust me. Take it slow. The routes I miss the most are the easy ones.