Interview: The First Naked Ascent of El Capitan
Heading out the door? Read this article on the new Outside+ app available now on iOS devices for members! Download the app.
On June 3 Alex Honnold climbed El Cap with nothing but the clothes on his back. On June 6 Jonathan Fleury and Leah Pappajohn climbed El Cap, via the Nose, without clothes.
We caught up with Leah Pappajohn to chat about the ascent.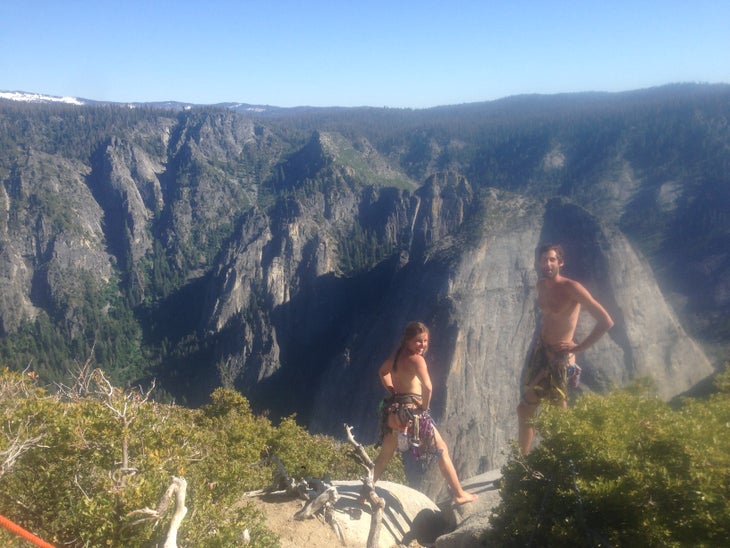 What gave you the idea to climb El Cap naked?
Leah Pappajohn: The dream of climbing El Cap naked was an obvious one to me, but it took years for me to feel it was a possible in relation to my climbing ability. It's a great feeling to climb nude. It's empowering for me. And come on, it's funny.
While searching for a fitting partner in the Valley, Jon was stoked, but he had never climbed the Nose in a day (NIAD). I told him to climb the NIAD first, and then get back to me. I thought he might realize the less-than-desireable realities and retract his interest. To my surprise, he let me know he was all-in the second he was back on the valley floor. To be honest, he was more confident than I was. I couldn't have asked for a better partner.
Have you ever done any other similar nude climbs?
I like to do a naked climb most places I've climbed at. The most recent "birthday climb" I did was Angel's Crest in Squamish, which is now my second-longest nude route.
Have you climbed El Cap fully clothed before? If so, how would you compare it to nude climbing?
I've climbed El Cap seven times now, on three different routes. The biggest difference was the ease of peeing at hanging belays. Also, this was the fastest time either one of us climbed it. Light and fast is the way.
How did you deal with the exposure?
Ha! It's impossible to be discrete, and honestly, climbing takes so much of your focus, you forget you're naked. As I was stemming up the first section of the great roof, Jon admitted that he had never stared at a vagina for so long. Just a part of the job description of an attentive naked belayer.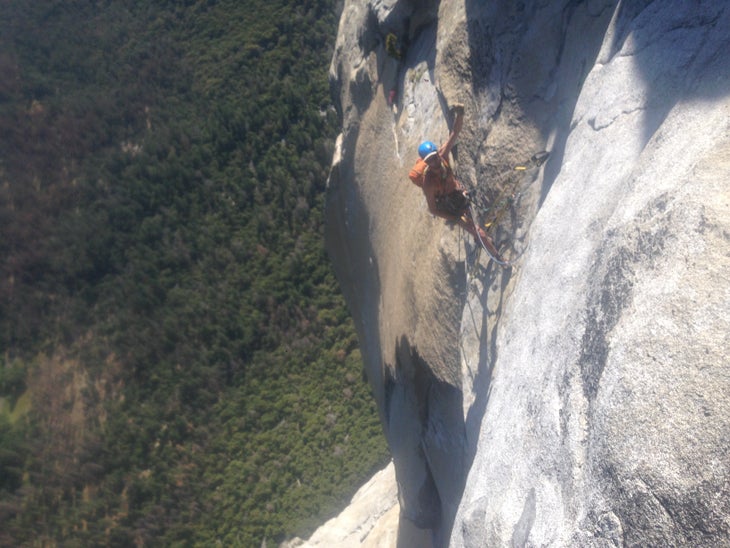 How sunburned did you get?
Sunburn wasn't too bad. I taped up a tube of sunscreen and attached it to my harness. When getting close to the top, I realized I was getting a little burned, but it was my lead block. I took a little burn to avoid slippery hands.
What was the most difficult part of the climb?
The most difficult part of the climb was committing to it; starting up the climb with one rope and no clothes. Everyone had different ideas on what might be the worst part; scrape-age, chaffage, cold, or sunburn. While I didn't think it would be that bad, there was no "naked beta." I didn't know for sure.
Was there anything about climbing a big wall nude that you didn't expect?
I didn't expect to get my personal best time on the route. Jon certainly didn't either. I thought I would move slower and more delicately, but it turns out clothes might as well be sandbags.
Did you encounter other climbers on the route? How did they react?
There weren't many people on the Nose that day. We passed a few nice guys on Sickle Ledge who "heard we were coming," but the best was Tim and Dustin from Pennsylvania. They were finishing their first multi-day ascent. We caught them on the last pitch, and when I asked Dustin to take my picture he responded, "Oh good. I wanted to, but then I didn't want to be creepy." We finished right behind them and shared food, water, and stoke all around by the tree on top.
How has nude big wall climbing affected your partnership with Jonathan?
From my experience, every time you climb a big-wall with someone, you develop a deeper bond. The nudity was a moot point in my friendship with Jon, but of course I feel closer to him and lucky to have had such a fantastic partner.
Is there anything else you'd like to add?
I'd like to point out the potential that exists on El Cap. El Cap has never been soloed naked. Naked Zodiac is ripe for the taking. The nude Lurking Fear is a no-brainer. And whoever does the Naked Salathe will eternally have my respect. There is now real nude El Cap beta. The beta is that clothes only slow you down.