The Highs and Lows of El Cap Speed
Are big-wall speed climbers pushing too far?
Heading out the door? Read this article on the new Outside+ app available now on iOS devices for members! Download the app.
This story was originally published in the August/September 2018 issue of our print edition. Subscribe here: Print, digital.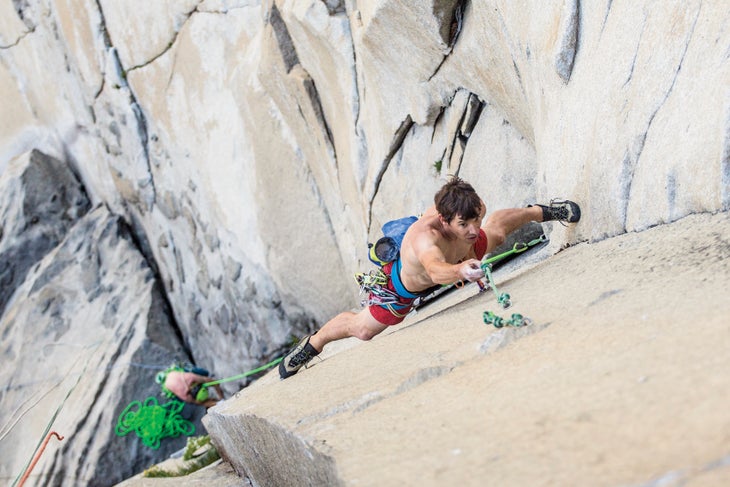 In the past year, Yosemite Valley's El Capitan has seen two accidents involving speed climbers, the Nose speed record broken three times, and two other deaths seemingly related to speed climbing. First, on October 11, 2017, Quinn Brett was paralyzed after a 100-footer while attempting the Nose in a day. On May 3, Hans Florine broke both legs when a nut popped and he hit a ledge on the Nose. On May 30, Alex Honnold and Tommy Caldwell climbed the Nose in 2:10:15, claiming a new record. On June 2, Jason Wells and Tim Klein died while speed climbing on the Freeblast portion of the Salathé Wall. And on June 4 and June 6, Honnold and Caldwell broke the Nose record twice more, clocking in at 2:01:53 and 1:58:07, respectively.
The Nose has been a magnet since its FA in 1958—and a speed benchmark since John Long, Billy Westbay, and Jim Bridwell made the first one-day ascent (sub 18 hours) in 1975. As tactics progressed, Valley veterans whittled away the time, initially doing things as simple as not bringing a haulbag, carrying less weight, and using a shorter rope, eventually segueing into riskier techniques like short-fixing and simul-climbing.
With short-fixing, the leader climbs to an anchor and then pulls up slack until the follower is tight, and fixes the rope. The follower can then jug the rope or free climb on self-belay. With a pile of slack, the leader casts off, risking a fall twice the length of whatever slack is out—though she can reduce that by placing pro and/or clipping excess rope off to her belay loop. Both Florine and Brett were short-fixing when they fell.
"My accident didn't happen because I was speed climbing," Florine says. "My accident happened because I [didn't self-belay properly]. I had 23 feet of slack out, and the ledge was 10 feet below my last piece. I was going at a 12-hour pace, which is not fast for me." Ironically, Florine says the fall might not have happened were he trying to go faster—that is, using his standard speed rack of cams only: "I would have been French-freeing [pulling on gear], not aiding, and if the piece had popped, I would have fallen out from the wall and not hit the ledge."
Adds Florine, "There's also this focus thing, like why did Ueli Steck survive an 80-foot fall [on the Nose with Honnold in 2010]? He was attentive and catlike." Similarly, Caldwell survived a 100-footer during a practice run with Honnold this spring, slipping on 5.3 while they simul-climbed. For his part, though, Caldwell says he botched it. "We thought about the systems quite a bit. It was a constant conversation where we'd debrief every time we walked down the East Ledges," Caldwell says. "We risked big falls, but only in places where there was nothing to hit. I've taken enough big falls on El Cap—and spent enough time thinking about those falls—to know that if you do it in the right circumstance, it's OK." As he and Honnold pushed for the record, many expressed their misgivings to Caldwell, including other speed climbers like Brad Gobright, who'd set a Nose record with Jim Reynolds in October 2017 (see page 22).
But for Caldwell, it was more about flow than speed. "If you look at the video footage, it doesn't look like we're moving that fast," Caldwell says. On average, Honnold and Caldwell climbed 25 feet per minute, while competition speed climbers ascend a 15-meter wall (49 feet) in about six seconds—about 20 times faster. Of course, the latter is performed on toprope, in a controlled indoor environment.
Meanwhile, simul-climbing—in which the leader and follower climb at the same time, with the rope clipped to pro between them—is the most efficient way to move quickly but also carries the greatest risk. Theoretically, the leader is "belayed" by the follower, who climbs with a Grigri or similar device to manage slack. However, if the follower falls, the leader gets pulled straight down onto the last piece, though using a progress-capture device like a Mini Traxion or Tibloc can mitigate this.
Since 2001, the biggest progression on the Nose has come from an expansion of areas where it's possible to simul-climb. At first it was 5.9 terrain, then 5.10, then 5.11—now Florine suggests that for folks like Honnold and Caldwell, it's all terrain. However, Caldwell points to the easiest sections as the most hazardous. "Coming off Dolt Tower up to El Cap Tower, you're running it out 80 or 100 feet on 5.1 and 5.2," he says. "I'm pretty confident on 5.1 and 5.2, so I didn't slow down there, but you do not want to take an unexpected 80-foot fall on that terrain."
With the fatal accident on Freeblast, the rope connecting Klein and Wells was witnessed to have severed; as the follower, Klein was not clipped into any anchor, so the team was likely simul-climbing—Wells was leading below Mammoth Terraces on a notoriously ledgy section. Both men were highly experienced climbers, particularly on El Cap—Klein had climbed El Cap in a day 106 times, many of those ascents with Wells. The section should have been a stroll for Wells, who would regularly fly to California on a Friday night, climb El Cap once on Saturday and again on Sunday, then fly home to Colorado Sunday night.
"Not many people understand going up El Cap like that," says Stefan Griebel, a longtime climbing partner of both men. "You're just moving, motoring up and being efficient. It's so much fun."
While Caldwell was at first doubtful about going for a record—"Racing the clock felt like such an arbitrary thing"—he was hooked as soon as he and Honnold started practice laps. "Speed climbing the Nose is this incredible combination of complicated logistics and cardiovascular fitness," he says. "It was bearing the fruit of my and Alex's decades on El Cap. We're both so darn familiar with that rock and that style of climbing. It felt like a runner's high."