The Phil Schaal Interview
Heading out the door? Read this article on the new Outside+ app available now on iOS devices for members! Download the app.
Schaal sending a problem at Bradley, Connecticut. Photo courtesy of pimpinandcrimpin.com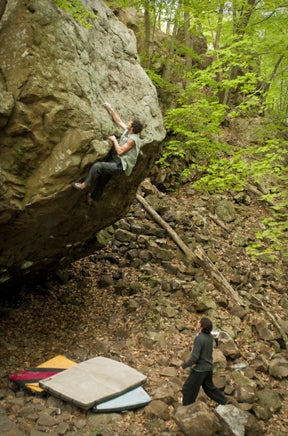 Phil Schaal's been killing it recently. In the past year alone, this Connecticut climber has ticked 15 V13s, including some rare repeats of hard East Coast lines —The Book of Bitter Aspects (V13) in Bradley, Conn., Agent Orange (V13) in the Gunks, and the Chelsea Smile (V13), Ty Landman's new sit start to Divine Providence in Lincoln Woods. But pissing on hard blocs hasn't come easy for Phil, who's gone from struggling to do a single pull-up (OK that was awhile ago) to world-class send status. His secret? Pure determination. Phil ranks Roses and Bluejays in Great Barrington, Mass., among the best problems on the East Coast. "The rock is amazing, really fine-grain granite, kinda crimpy. It's a pretty standout line. It's seen a lot of ascents but as far as East Coast quality it's probably top three. Chelsea Smile you get on and it's like 'Ow it hurts'." Phil's boulder-crushing rampage is about to pick up speed as he heads for Colorado's high alpine gems this summer.
C-Note: You just climbed your first 5.14, Supernova, how's it feel?Phil: Yeah, my first four-bolt 5.14. It was long overdue. I tried Supernova a lot like three years ago and kept falling on the last move. This time I nailed it. It felt good finally to get that confirmed 5.14.C-Note: Yeah, you made it look pretty easy.Phil: I was pretty stoked. I would have been upset if it felt the same as three years ago.
At Bradley, Connecticut. Photo courtesy of pimpinandcrimpin.com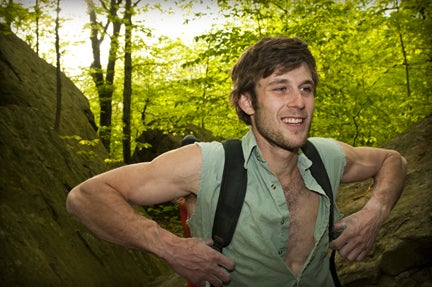 C-Note: How did you start climbing?Phil: I started climbing when I was 15 in the gym. I couldn't even do a pull-up. 5.9 was a challenge. I remember just barely getting to the top of this slightly steep wall, using all the holds and stemming on the other wall, and it was only like 18 feet tall.
Psyched post send at Bradley, CT. Photo courtesy of pimpinandcrimpin.com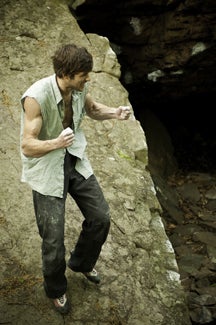 Satan's Choice, Rumney, New Hampshire. Photo courtesy of pimpinandcrimpin.com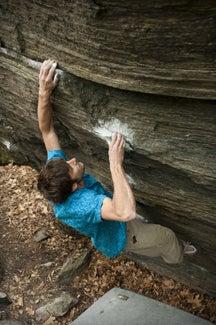 C-Note: So, you've definitely improved since then…Phil: Yeah. I've definitely improved since then. The first year and a half I just climbed so much. I got the point where I could do 20 pull-ups. After two solid years I could climb 5.12. Just out of pure tenacity—it didn't come easy.
C-Note: So what's the secret to your recent comeback?Phil: I wouldn't say a comeback, but I broke through a huge barrier last summer. I think a lot of it was strategic. I definitely feel stronger, but it's not like night and day strength. Definitely training, strategy and conservation.C-Note: What do you mean, conservation?Phil: I have all these little games I play with myself, little thoughts. I try to relate the skin on my finger tips to my body's condition. When I wear my skin down til it's really thin, I know my body's messed up. So, I try not to let my skin get too damaged. I limit myself to a few tries and stop when I'm still feeling fairly fresh. I try to think about the next day. When I was younger I'd just go at it and get completely devastated, not taking any body conservation into account.
To continue this interview and see more visit pimpinandcrimpin.com