The Red Rock Housing Development Controversy Explained
Heading out the door? Read this article on the new Outside+ app available now on iOS devices for members! Download the app.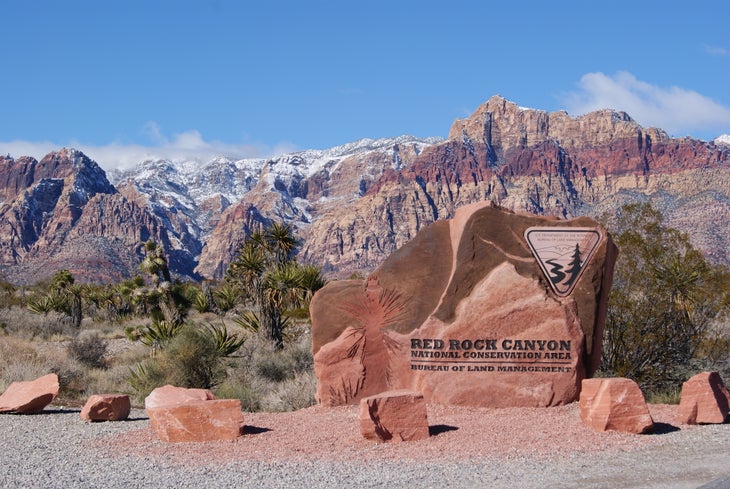 Since 2002, when local real estate developer and CEO of Gypsum Resources Jim Rhodes purchased the approximately 2,000-acre parcel on Blue Diamond Hill, the land has been in a match of zoning tug-o-war between the developer and local conservation group Save Red Rock (SRR), with the Clark County government caught in the crossfire. The land on Blue Diamond Hill, perched at 4,000 feet above sea level, is buffeted by views of the Las Vegas strip to one side, and the Red Rock National Conservation area to the other. The land offers a stunning panorama of the canyon, but Rhodes' vision for capitalizing on the views by implanting a 5,000+ home housing development atop the cliff has been met with resistance from residents of nearby town Blue Diamond and the outdoor community, along with SRR.
Rhodes' most recent attempt to persuade Clark County to rezone his land from rural to high density came last fall; without a high density designation, his development dreams would be restricted to two houses per acre. The rural zoning is a protection the conservation group hopes will remain in place in order to keep Red Rock Canyon as an outdoor destination and a protected Mojave desert environment. 
"The problem is that the county has historically not been supportive [of conservation], so they're afraid that if they vote in support of saving Red Rock they will have legal repercussions." says Heather Fisher, president of SRR, referencing a lawsuit spearheaded by Rhodes in 2003. The lawsuit was filed against the State of Nevada and Clark County after Rhodes' initial attempt at rezoning was blocked by a former state law that prohibited rezoning proposals for part of the state in an attempt to curb development. The court ruled in Rhodes' favor, saying the law was unconstitutional. While Clark County declined to file an appeal, the state was forced to pay a settlement of $920,000 after several rounds of appeals. Dan Kulin, from the Clark County Office of Public Communication, said, "concerned about a similar outcome in federal court, County officials, in 2010, settled the lawsuit allowing Gypsum Resources to apply for land-use changes. The county avoided any financial penalty."
"They had a lawsuit from this developer and they're just doing everything they can by suing us." Fisher said, regarding the current suit filed against SRR. It's important to note here that Clark County is not actually suing the group, but rather filing an Action for Declaratory Relief against SRR as well as Gypsum Resources. Kulin clarifies, "the County is seeking a ruling from the court on several legal questions in order to make an informed decision and avoid future litigation from any party."
"What is at issue at this time is the approval of a concept plan, a preliminary step in the process of applying for higher density land use designations," he said. "Approval of a concept plan is not approval of higher density development [and] does not guarantee or imply approval of higher density uses will occur."
Following the approval of a concept plan, Kulin lists the additional steps in the process the developer's plans would be subjected to, "a public facilities needs assessment, a specific plan, zoning designation changes for specific pieces of property, and a development agreement, all of which would be subject to public hearings and votes."
According to both Fisher and Justin Jones, attorney for SRR, the current legal filing came by complete surprise and is an unwelcome delay in a decision being made on the rezoning issue. On October 18, 2016, the county planning commission had voted unanimously to recommend against rezoning Blue Diamond Hill. With a vote slated for early December 2016 from the board of county commissioners, SRR had celebrated an early victory. While it was hoped the board would take the recommendation from the planning commission and vote in kind, SRR said they knew that nothing was a sure thing. Then the board moved to deflect the issue by taking legal action against SRR and Gypsum Resources.
The matter in question is whether or not the plan Rhodes is proposing is the same concept plan proposed in 2011, that the county approved. From the county's perspective, Kulin said, "The 2016 concept plan is different from the 2011 concept plan only in that it incorporates the conditions of approval placed on the 2011 plan. This submittal raises several legal issues regarding the County's authority to make a different determination on the concept plan. So, on Dec. 9, the County filed an Action for Declaratory Relief with the court seeking a ruling on several legal questions, one of which is whether the 2011 concept plan is still in effect."
Fisher said, "There was a plan in 2011 that was approved, but then it expired because the developer didn't move forward with the next step in the process. Then in 2016, he presented a new plan and this is the one that we have been fighting but the county has been saying that we can't fight this new plan because the old plan's not expired. But it did expire in 2014."
"We see it as a direct assault on SRR," said Jones. "It's not just a simple procedural matter to clarify some legal issues." SRR feels that it is being boxed out of the argument via a legal loophole that may allow the 2016 concept plan to move forward without requiring approval again from the board of commissioners. The question of the original 2011 concept plans' expiration is unclear.
While the legal nuances of these events may not seem relevant to climbing, if Rhodes plan for a hilltop development is approved, Fisher and Jones agree there would be drastic changes to the Red Rock climbing experience.
"If you allow a development to go forward that's not connected with existing infrastructure, existing roads, existing power, water, sewer, the minute those amenities exist and get out to leapfrog developments, the infill will happen whether you like it or not," said Jones. Projections for the Gypsum development estimate it would bring in 14,000 new people. Jones also forecasts an extreme change to the climbing environment for Red Rock visitors, "If you're climbing in the conservation area you're going to look down into a 5,000+ [home] development along with other proposed amenities. You're going to look down onto roads that will be built. You're going to have the additional traffic of close to 14,000 vehicles per day going up and down the mountain in Red Rock canyon.
"Whether you're a climber or a cyclist, or a runner or a hiker that's bad news. That's dangerous. And if you're a climber who is trying to get out to the conservation area, you are now going to be sitting in traffic on something that is supposed to be a scenic byway that is restricted to traffic going to the conservation area, not through traffic going to the development."
Fisher echoed the same concerns, "it opens the floodgate for all that other stuff—urban sprawl all the way through the canyon." Fisher says that Blue Diamond Hill is ill suited to accommodate the actual construction of the proposed development and would need to skirt the conservation area roads, "It's on top of a 1,000 foot cliff so they'll have to build a six lane highway to get all their people down the mountain to the next closest highway…They're going to build it across virgin desert that hasn't been touched yet and build this huge ramp up the mountain with water sub stations and power and gas and all of that going up against gravity."
If the plan is approved, the leapfrog development projected by Jones could become reality; all of the land surrounding Rhodes' Blue Diamond Hill parcel belongs to the BLM who have entertained the idea of selling more land to Rhodes in the past. "There is no reason, particularly with the incoming administration, that the BLM couldn't simply decide 'Well there's the development approved up there right now, let's go ahead and sell off these other lands so there can be more development,'" said Jones. "I think that's not only a possibility but a likelihood if this project is approved."
"Then you're not talking about 14,000 people you're talking about 30,000 people," Fisher said.
Fisher remains hopeful as support for Save Red Rock continues to grow, as evidence by the 26,000 petition signers the group's anti-development campaign has garnered, and the hundreds of attendees at the recent fundraising events, the Rock Out for Red Rock concert and Red Rock Rally. The next fundraising event is slated for early 2017, a Rock Out for Red Rock concert to be held in Las Vegas. Until then, Save Red Rock will focus on preparing for the next scheduled county commissioner board meeting to take place on February 7, 2017.
To help support Save Red Rock and preserve one of the country's best climbing areas, visit Save Red Rock. Fisher emphasized the importance of spreading the word, "The easiest thing is sign the petition, or donate and there's also a link on there where you can e-mail the commissioners."