Heading out the door? Read this article on the new Outside+ app available now on iOS devices for members! Download the app.
Jean-Christophe Lafaille at the Ouray Ice Festival.Photo by Zach Reynolds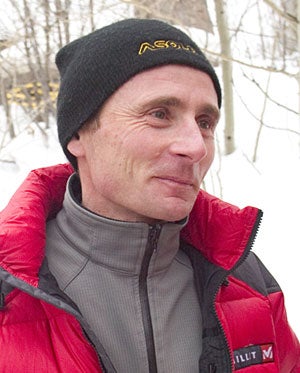 One winter's dawn, a man alone, awakens And, sees, A clearing in the morning sky And, decides To climb into the clouds. This morning everything is happening for the first time: The wind relents, the stars scintillate and disappear Into the morning mist. And, the sun at last appears, an angry red. The man climbs fast as the day declines. The snow like foam troubles his veins, He fears, then forgets the mountain hell. Now he knows. No man can climb all the summits on the earth For they are infinite like the desert sand. The man's thoughts turn to his wife and children, And, at that telling moment He returns to them in their slumber In that valley moonlit, golden like dunes of sand. And, he knows. There is nothing so beautiful under the sun. It is this alone that he has lost And savors those gleanings from the past, And, the solitude. This night all is new. It rings of eternity and of grief. Desperatly, the man struggles still Against the growing obscurity within his mask, When appears an angel and facing east Towards the clouds he soars. Tonight, the man becomes the river that descends to the Ganges, He is the sea, the resplendent and infinite. The sea of the Vikings, of Ulysses, and of a blind man from Dublin. Tonight the man is alone, at last, and yet, he decides to sleep To become the morrow of all men.