Heading out the door? Read this article on the new Outside+ app available now on iOS devices for members! Download the app.
Dmitry Pavlenko on Jannu's summit after the fifty-day siege of its north face (above).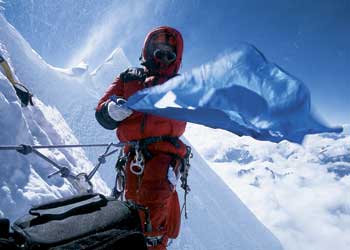 Alexander Ruchkin groggily poked his head out of the sleeping bag and switched on his headlamp. Tiny crystals of ice and fog glittered in the confined space he shared with Dmitry Pavlenko. The icy portaledge fly flapped in Ruchkin's face, making it hard to ignore the giant patch where a falling rock had recently ripped through the fabric. It was 3 a.m. on May 24, 2004, and at 7400 meters on the two-mile-high north face of Jannu in Nepal, it was pushing minus forty centigrade. Ruchkin could hear snow rustling down between the portaledge and the cliff. As he fired up the stove for a brew, he wondered how much longer he could hold out. He had been working the wall for nearly fifty days; he'd been above 7000 meters for a week straight. Other team members had dropped out, one by one, "like used cartridges," he later recounted. First to go was Mikhail Pershin, who burst a retina from overexertion and had to rappel the seventy-odd fixed lines half blind. Then Nick Totmjanin was hit by rockfall and went down with injuries to his face and legs. Sergey Borisov also took a rock to the head, which crushed his helmet. Alex Bolotov took a near-disastrous whipper, leading a roof at 7500 meters, and broke ribs. Mikhail Mikhailov became "overcooled" during an extended belay session for Ruchkin and developed pulmonary edema. He too went down and would not return. At the base of the wall, the team doctor, Mikhail Bakin, was running a full-fledged MASH camp. Alexander Odintsov, team leader, was coordinating the massive siege by radio and spotting scope from basecamp, and had mustered his troops for one last charge. On the Russian climbing website www.risk.ru he posted the note: "Anyone who can still hold a gun has been sent up."
The north face of Jannu; coveted prize of elite wall climbers around the world, and the keynote climb in the Russian team's controversial career.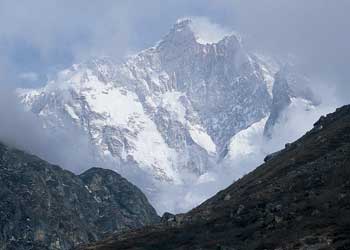 Up meant a three- or four-day 10,000-foot high-altitude jumar ascent. Finally, after a month and a half of work, Ruchkin and Pavlenko were poised at high camp for a summit bid. At 5 a.m. on May 26 the team unzipped the portaledge fly and clamped their ascenders to the thin, frosty static line hanging outside. The cold was intense, though the men wore big down parkas over thickly insulated one-piece suits. Leaving their packs, Ruchkin and Pavlenko carried everything for the day in their pockets or clipped to their harnesses. The 150-meters of icy fixed lines took three hours to ascend, with both climbers struggling desperately to keep their fingers functioning. The lines ended below two rope-lengths of rock, above which lay snow slopes and the summit. Ruchkin sorted his rack of titanium pins, then tied in and started up a snow-choked chimney. Too fatigued to burrow through the snow, he stemmed precariously up the outside of the fissure. Handling the pitons in his thin gloves made his fingers go numb, and he spent much of his time trying to coax blood back into his frozen digits. After an eighty-meter struggle that took over five hours, Ruchkin emerged onto the snow slope in early afternoon. Pavlenko joined him, half frozen from belaying in the horrific cold. The final pitch to the summit varied from chest-deep snow to rock hard névé that proved nearly impossible to climb in crampons dulled and mutilated from over fifty days on the wall. At 3 p.m. Ruchkin bent his knees into the slope and shaved off the impossibly tiny whip-cream summit pinnacle of Jannu, the world's thirty-eighth highest peak. Pavlenko — who had done many difficult leads and a tremendous amount of work on the wall — followed Ruchkin's lead and joined him on top. Straddling the peak, with a south wind beating snow crystals into their faces, the two men shouted in happiness. A sea of clouds surrounded them in every direction, with only the summits of 8000-meter giants — Kangchenjunga, Makalu, Lhotse, and Everest — rising above the clouds, like ships on a boiling sea. The north face of Jannu was a last great problem no more.
The mile-high northwest face of Great Trango Tower, where America and Russia's leading big-wall climbers converged in 1999.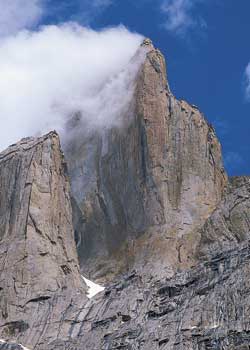 News of the historic ascent quickly spread across the world, followed by fanfare and controversy. The Russians returned home as national heroes. Having been on the face myself and figuring an alpine-style ascent to be virtually impossible, I gave the Russians full credit for a truly great achievement in Himalayan mountaineering. Soon, however, news began to circulate that the Russians had left all of their fixed ropes and a portaledge camp on the face. Many climbers, particularly in the U.S. — even those accepting of the heavy-handed style — were shocked to hear about the volume of abandoned ropes. The Jannu ascent won the prestigious Piolet d'Or award for 2004, presented this past February, and Odintsov attended the ceremonies in Grenoble on behalf of the team. Also in attendance was the American alpinist Steve House, an award nominee as well as a vocal "light-and-fast" purist. House later wrote an article about the ceremony for the French magazine Vertical in which he clearly states his opinion of the Jannu ascent: "Their climb was an amazing accomplishment. At the same time I was astounded that they used such words as 'impossible' and 'extreme' when the comforts of their basecamp were never more than a few rappels down their many fixed ropes. I was also struck by the fact that they left those seventy-seven ropes fixed on the mountain. I was appalled that they abandoned their camps and their equipment on the wall. … The Russians did climb the north face of Jannu … but they also mutilated it with their heavy style. The Piolet d'Or pretends to award ascents that represent the 'evolution' of alpinism. I maintain that the Russians' ascent of the north face of Jannu is irrelevant to modern alpinism." The Russians and their accomplishments in the Himalaya in the past fifteen years have been anything but irrelevant. The north face of Jannu was only the latest in a string of Russian conquests spearheaded, led, and largely financed by Alexander Odintsov in a massive world-wide effort called the Russian Big Wall Project. The project aims to establish Russian routes on the ten biggest walls in the world; Jannu was number seven. Objectives already checked off includes new lines on Peak 4810 (1995) and the west face of Rocky Ak Su (1996), both in the Pamir Alai; the 4000-foot Trollveggen (1997) in Norway; the north face of Bhagirathi III (1998) in India; the northwest face of Great Trango Tower (1999) in Pakistan; Great Sail Peak (2002) on Baffin Island; and most recently Jannu (2003 attempt, 2004). In addition to Odintsov's teams' effort, several other world-class Russian teams and individuals have made first ascents of numerous last great problems in the Himalaya in recent years, including the south face and the middle summit of Lhotse, the west face of Makalu, the north face of Changabang, the north face of Meru, the southeast pillar of Nuptse, and the north face of Everest. No other country comes close to matching Russia's tally in recent times.
Yuri Koshelenko, titanium pitons at the ready, blows by the author's party in 1999 on Great Trango Tower.
I first met Alexander Odintsov not at a contentious Grenoble convention, but on a snowy ledge at 18,000 feet, halfway up the northwest face of Great Trango Tower in Pakistan. It was 1999 and Alex Lowe, Jared Ogden, and I had been sitting in our portaledge for nearly a week, waiting out a storm, when we suddenly heard voices. Alex unzipped the portaledge door and there in front of us was a crazy-looking dude wearing a warm-up suit, Boreal Invernals, an old-school orange helmet, and a carpenter's tool belt. We had heard over our radio that a Russian team had showed up in camp but we never thought we'd see them up on the wall; we had a good two-week head start on them. It was a cold, blustery day, and I'll never forget Odintsov saying something about the weather being pretty good. Hah, hah, good joke, we thought — but then we realized he wasn't laughing. While we had been sitting on our butts in the "storm," thinking about bailing, the Russians had been climbing, firing off the lower wall in less than half the time it had taken us. Soon we were joined by the rest of the Russian team: Yuri Koshelenko, Igor Potan'kin, and Ivan Samoilenko. It was not entirely a coincidence that we were now meeting on this ledge. A few months earlier at the outdoor trade show in Salt Lake City I had met Samoilenko, the official cameraman of the Russian Big Wall Project. He showed me some pictures from their Bhagirathi ascent, and the images were truly inspirational. We got to talking about upcoming projects and when he pulled out a picture of Great Trango's east face, I pulled out a photo of Trango's northwest face that I had been planning to keep secret. I remember Ivan looking at it carefully and asking, "So, this one is pretty good, huh?" Now, on a ledge in the Karakoram, Ivan and I shared a warm handshake and he said, "Yes, Mark, you were right, this one's pretty good!" Above our shared ledge, the Russians chose a line about 300 feet to the right of ours and immediately began fixing ropes. Although the language barrier was difficult, we hung out together at night and shared stories and hot drinks. I remember coming down from leading a long pitch and being greeted on the patch of ground between our two camps by Koshelenko, who gave me a pat on the back and a shot of grain alcohol. We seriously discussed joining into one seven-man team. Lowe and the Russians were all for it, but Ogden and I selfishly shot down the idea, greedy for as many leads as possible.
A Russian climber dangles amid the controversial fixed ropes on the north face of Jannu (left).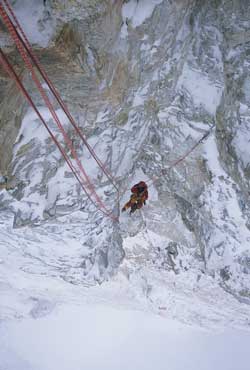 The Russian techniques and equipment were different. Instead of using conventional aiders, they employed strap-on stirrups on their lower legs, fitted with small hooks on the front, which they paired with stout daisy chains fit with numerous metal rings. To climb, instead of putting their feet into conventional stepped aiders, the Russians hung a daisy from each piece and moved up by hooking the stirrups into the rings. We had about three sets of cams, while the Russians carried only about a third of that, and would regularly lower off while leading to backclean. They carried numerous very lightweight titanium pins, of which we had none. Odintsov showed us some of the ti-pins, which he carried like nails in the bags of his tool belt. The pins were homemade, and he seemed to know the age of each one; some even had pet names. Other Russian items we found very interesting were their titanium removable bolts. They had one hand drill for the removable bolts, and another with a smaller tip specifically for bat-hook holes. One signature Russian item — which they didn't carry on Trango, because it was pure rock — was the ice fifi hook. Picture a giant Talon-style rock hook with an ice pick for a point. Peck the thing into the ice, then stand on it using an etrier hooked to the bottom. A unique hooking geometry drives the point into the ice as you weight the piece. These secret weapons allow the Russians to aid up steep walls covered in thin ice — exactly the kind of heinous terrain they seem to enjoy. They were indispensable on the Jannu ascent. The best way to understand the Russians' climbing style is to know their history. Big, organized teams, fixed rope, and a premium on success all originate in the Soviet-born classification and ranking system that all Russian climbers were taught as they came up through the ranks. At the end of the Second World War, the Union of Soviet Socialist Republics was the largest country in the world, a superpower sharing borders with Iran, Afghanistan, Turkey, China, Tibet, and Mongolia. Since most of these borderlands were mountainous, the Soviet military began running state-funded climbing camps with an eye to developing a corps of elite mountain troops. When the war ended, mountain climbing became an "official" Soviet sport. Along with this designation came a classification and competition system similar to what was used in other official sports like track and field. Each year the government set up about twenty alpine camps across the Soviet Union. Thousands of rookie climbers (male and female) attended each year; as a trainee you would pay only a fraction of the cost and were granted time off from work to attend. After completing this training and an ascent of an easy summit, you achieved the classification "Alpinist of the USSR." If you wanted to continue climbing, and were good enough, in your second year you attended another camp, culminating in four ascents of Grade 1 and Grade 2 routes, under the tutelage of a guide. [Russian alpine routes are broken into six grades based on technical difficulty, length, steepness, and altitude, much like the French alpine grades Facile (F) to Extreme Difficile (ED).] The next year's camp would raise the bar again, including ascents without a guide. And so on.
Home-field advantage. Rocky Ak Su in the Pamir Alai, where the Russian Big Wall Project began.<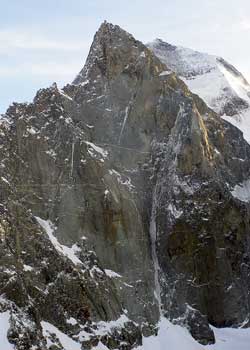 As you graduated from category to category, you received actual merit badges. And as long as you succeeded on your required climbs — no easy feat — camp invitations would continue. All climbs were recorded in a little book, and each climber was required to confirm his rank each year by climbing a route of the appropriate grade. Dropping a rank was equivalent to getting kicked off the team. Your climbing career was terminated. "Only the strongest survived," explains Odintsov. By the fourth year, a promising alpinist would begin working toward the esteemed "Master of Sport" rank. Candidates attended a camp requiring the completion of six routes of Grades 4 and 5 without a guide. To top it off, you would then need to place in the top three in the U.S.S.R. alpine-climbing championships. Such formal competitions — ranging from city championships all the way up to the national U.S.S.R. championships — were a big part of Soviet climbing, and took place in mountains ranges across the country such as the Ak Su and the Fanskie Mountains (both in the Pamirs), the Caucasus, and the Tien Shan region. Each of the eight Soviet republics was allowed to field a team, and there were several categories including rock, big wall, high altitude, and first ascent. Approximately ten percent of those who started in the alpine program became candidates for Master of Sport. Of those candidates, one in ten achieved the rank. The highest possible rank was the rarely achieved International Master of Sport, for which a climber needed to earn a total of thirty balls (points) in the national championships. Due to the expense and the inability of climbers to otherwise get out of work, almost all of the climbing in the U.S.S.R. took place during the climbing camps. You couldn't climb anything without permission. If you wanted to climb the hardest Grade 6 climbs, you had to become a candidate for Master of Sport, and therefore complete a rigorous, highly structured program involving sixty or seventy ascents up to Grade 5 as well as numerous first-aid and rescue exams. To make a first ascent, you submitted a formal application estimating the length and difficulty of the line, and judges would review your resume and decide if you were worthy. All the climbing was strictly monitored and done under the watchful eye of judges who sat at the base of the mountain with spotting scopes. The system produced climbers who were extremely fit, skilled, and disciplined, which minimized the frequency and consequences of accidents. If an accident did occur, all the climbers in the area were required to help with the rescue; anyone who refused was permanently barred from their mountaineering trade union.
The Russian team at Jannu basecamp.
Since ranking and competitions determined Russian climbers' ability to keep climbing, the accepted climbing style was basically dictated by the judges. Their single most important criterion was safety. If a member of your team died, you were disqualified, no matter how impressive your climbing may have been up to that point. At the same time, competitors were not penalized for using fixed ropes. Since these made the climbs safer, everyone used them. Also, since good weather was not guaranteed during the championships, coaches insisted that even during training, climbers fix some rope every day, no matter what the conditions. Consequently, the Russians are famous for getting ropes established in weather that would keep most climbers pinned — as we saw firsthand on Great Trango. Far from feeling guilty about setting fixed rope, the Russians have long taken pride in what they call a "fully laid Russian route." You can now see how the modern Russian Big Wall Project gained its distinctive characteristics. Russian mountaineering, with its Soviet roots, was a creation of the military. There was a heavy emphasis on larger teams, establishing positions of strength in the mountains, attaining objectives, controlling the risks, and living to fight another day. Disciplined teamwork and perseverance took precedence over brilliant individual efforts. The rankings and competitions supported these same values: If you didn't attain an objective and do so without incident, your climbing career was at risk of being terminated. All of this created an intense spirit of competition. This intensity can be attributed to a simple fact: the Russians loved to climb, and if they wanted to keep doing it, they had to win. When the Soviet Union dissolved in the early 1990s, the entire system of state-sponsored alpinism collapsed. The result was catastrophic. Without the money that previously flowed into the sport, everything —the climbing camps, the coaching, the championships — fell apart. Many climbers lost not only their climbing, but their jobs as well. "Most importantly," explains Odintsov, "the motivation disappeared to perfect oneself as an athlete, to prove something to someone, to wear oneself out during workout. It became impossible to formulate a goal." Odintsov, a Master of Sport since 1983, had spent years teaching young aspiring alpinists, but after the collapse of the Soviet Union he did it entirely unpaid. One day, realizing how aimless his students had become without the old structure, Odintsov gathered his group and advised them to quit climbing.
Great Sail Peak in Baffin Island's remote Stewart Valley.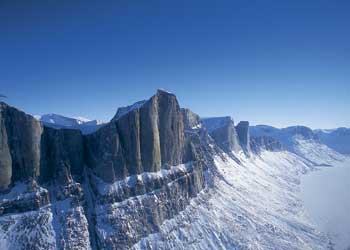 Like many climbers of the Soviet days, Odintsov found work as a tall-building window washer; eventually he became a well-paid supervisor. Though he had money, he was still lacking direction. "I lived with the thought, like a splinter, of what to do next?" says Odintsov. In search of an answer in the summer of 1994, he headed to the Ak Su, where he and a friend became inspired by the unclimbed 1200-meter east face of Peak 4810, one of the most beautifully proportioned walls in the world. "Suddenly, it was as if my eyes opened: after all, there are quite a few walls that big around the world. What if one chose ten of them and completed Russian routes on all of them? Back then I was thinking neither of popularity, nor of fame, nor of sponsors; I simply needed a goal — preferably one difficult to attain, or unattainable at all." Odintsov had no problem putting together a crack team. At his disposal were other Masters of Sport like himself: highly trained athletes with talent, discipline, ambition, an understanding of the power of collective will — and a similar need for a mission. Younger, less established climbers fell by the wayside during this period, but Odintsov, and others who had connections and money, were now free to climb as they wished. Most notably, they finally were able to leave the Soviet Union to climb in the Himalaya. Russian climbers looked at this vast range of mountains and badly wanted to leave their mark. While the rest of the world had been climbing these great peaks for decades, the Russians had been denied this opportunity. Yet in isolation in their demanding home ranges, they had been honing themselves into formidable climbing machines. They looked at last great problems like the north face of Jannu and realized that their years of training in the Russian style made them uniquely qualified to get the job done. It was time to show the world how good they were. And they did.
Belaying at 7100 meters on Jannu's north face.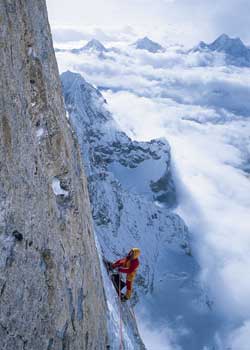 Over the next ten years, Odintsov, with various partners, systematically ticked off one huge wall after another — Rocky Ak Su, the Troll Wall, Bhagirathi, Great Trango — culminating in 2004 with Jannu. Other Russian teams also were extremely successful during this period. Details of these ascents are unfortunately hard to come by. The Russians' written accounts are universally understated, giving only the basic facts. It's not in the Russian nature to wax too emotional in the official account. Over a few shots of grain alcohol — well, that's another story. There has only been one wall on which the Russians were denied, and the only climb to have claimed the life of a member of the Russian Big Wall Project. On July 19, 2001, the Russians were four-fifths of the way up the unclimbed 2300-meter west face of Latok III, one of the biggest walls on the planet. This was their second attempt, having reached 5800 meters the previous year. The team was clearing a bivouac platform at 6400 meters. It was a beautiful evening, with no wind and the wall bathed in warm sunshine. Igor Barikhin was about forty meters below, jumaring up a fixed line to camp. He called up to Odintsov with a nothing-special question, while hanging back on the rope to rest. Suddenly, a huge rockfall cut loose from the summit ridge. Everyone pressed to the wall as massive boulders rained down. The chaos lasted only a few seconds, then all was quiet again. No one had cried out, but when they called to Barikhin, there was no answer. Soon they had a severed rope end in their hands. Barikhin had fallen a kilometer and a half to the bottom of the face. The Russians had at most two days of climbing between them and the summit, but Odintsov made the call to begin descending immediately. They reached the glacier two days later, never to return. One of the things that I love about climbing is that it's a sport with no rules, and for the most part, climbers are free to choose a style based on their skills, experience, and personal preference. The Russians often climb in excellent alpine style. Other times they mount massive expeditions. I recognize, as many others do, that on certain Himalayan big walls, alpine style dooms the team to a token effort. I made such an effort myself on Jannu. One thing I've learned about the Russians is that they're not interested in token efforts. A failure in impeccable style does not fit as comfortably into their heritage as it does into ours. For the Russians, the summit is more than a little important, and it is usually reached.
Jugging in the land of the midnight sun, Great Sail Peak, Baffin Island.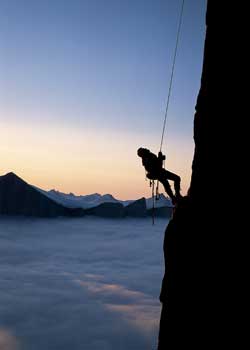 The problem with expedition style, as evidenced on Jannu and countless previous expeditions of all nationalities, is that it installs vast amounts of gear that becomes physically and psychologically difficult to strip off the mountain. Be it bad weather, illness, or accident, the factors that lead to leaving behind ropes and camps are ever present. Such ropes litter the Himalaya. Concerning the equipment left on Jannu, Odintsov offered only this explanation: "I am as concerned about the environment as the most fervent member of the Green Party. The decision was well thought through and, as future events showed, a reasonable one. I don't think it necessary to list those grounds. Whatever I say about this, there always appears some dogmatist who wishes to be holier than the Pope." Nick Totmjanin, who summitted in the second team along with Sergey Borisov and Gennady Kirievsky, was the very last person down from the summit. By email, he offered this additional information, indicating that some stripping of ropes did indeed take place:I went down from the top last. We took down seven ropes above 7400, the portaledge of camp 7400, two ropes above 7000, tent and equipment of camp 7000, the portaledge of camp 6700, some ropes between 5600 and 7000, tent and equipment of camp 5600. We have taken downwards a maximum possible at one time." Totmjanin also reported that the face of Jannu already was littered with fixed ropes when the Russians got there: "There were a lot of old ropes and pitons from other expeditions up to 6500, and a broken tent of Uzbek Expedition at 6700." If Totmjanin's report is accurate, the Russians weren't nearly as messy as previously reported.
Ascending fixed ropes on Latok III's west face.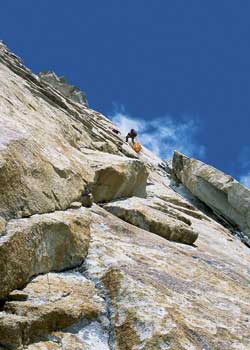 It's also important to note that on the vast majority of Russian climbs, the fixed ropes have been removed, and Russians are no strangers to alpine-style ascents. Climbers like Koshelenko, Odintsov, Ruchkin, Valeri Babanov, Pavel Shabalin, and many others have resumes with countless fast and light ascents from the Alps to the Tien Shan to the Himalayas. I asked Koshelenko — who participated in the Russian Big Wall Project for a few years, but has since left — for his opinion on the matter. "I personally always regard [leaving fixed ropes and camps] negatively," he wrote, "and I know other climbers from Russia think this also. Sometimes on extreme ascents climbers get in such conditions when there is a choice of ropes or human life. I think of mountaineering as a noble sport and I welcome discussion about ethics, but I'm against pinning a label on somebody. Any person has the right to a mistake." Koshelenko had just returned from an immaculate alpine-style attempt on the north face of Menlungtse in Nepal with Totmjanin and the well-known American alpinist Carlos Buhler. Buhler has undoubtedly done more climbing with the Russians than any other American, having climbed both K2 and Changabang with them. "When the Russians were finally able to climb in the Himalaya after Perestroika," says Buhler, "they looked at objectives like the north face of Jannu and found a solution within the universe that they were brought up in. Climbing Jannu … without an accident and with a lot of people reaching the summit, was exactly what the Soviet system had rewarded all those years. Now someone comes along and says it's all bullshit. 'You came in too late and we're not playing that game anymore. Here are the new rules, so dance to the new tune.'
The west face of Latok III. One Russian team member miraculously survived a big fall on the first attempt, but on the second attempt rockfall swept a climber from the face.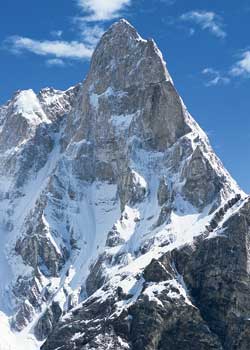 "In our country, we worship cowboys like Davy Crocket and Daniel Boone, and in the mountains we want to climb in cowboy style. But when we decided to try and put a man on the moon, we didn't just get a slingshot and shoot them into space and say 'Yahoo, let's see if they make it.' We did it in ultimate expedition style, to make sure that they were going to come back. That single event gave NASA fifty years of funding, whereas if they hadn't come back the whole program might have been shut down. The Russians look at mountaineering the same way." The Russians find it strange that American climbers are making such a big deal about fixed ropes — they've said as much to me. Ultimately, it seems like a lot of this controversy was based on misunderstanding, but perhaps it's for the common good that we draw attention to the question of what, as climbers, we are doing to the environment. At the 2004 Piolet d'Or ceremony in Grenoble, House and Odintsov had a chance to discuss their differences of opinion. I would have liked to hear this conversation. House's problem with the Russians includes more than the issue of abandoned ropes. He questions whether the so-called Russian style is even a valid means of ascent. Somewhat ironically, two members of the Piolet d'Or jury were Valeri Babanov and Koshelenko, who had provoked similar criticisms from House when their first ascent of the southeast pillar on Nuptse won the 2003 Piolet d'Or. House later editorialized, "Alpinism is not: fixed ropes, fixed camps, bolts, high-altitude porters, or breathing supplemental oxygen. Ever since the great alpinists of the previous generation brought alpine style to the Himalaya, any other style of ascent is a gross and unacceptable step backward into the past, and a great strike against all that is beautiful about the pursuit. I also believe that alpinists from all countries should stand up strongly for good style and draw a line that the style Babanov and Koshelenko employed is no longer acceptable."
Mikhail Mikhailov, before being knocked back by pulmonary edema, leading tenuous mixed ground at 7100 meters on Jannu.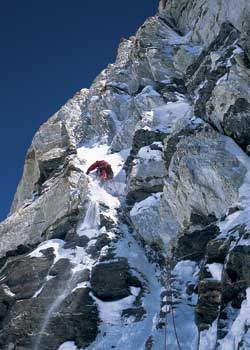 In regard to that surely intense conversation that took place between two of the planet's leading climbers, Odintsov writes: "Such disagreements legitimately exist between people of different age and mentality, born on different continents. It would be strange if those disagreements didn't exist at all. Yet there exists a category of people with a firm knowledge of how one is supposed to live. For them, personal happiness isn't enough; they need to make others happy. To them, it's absolutely necessary that everyone around them live life by their patterns. If such a zealot is given no power, he is merely amusing and is quite harmless. But God forbid that he is given the means to try out his recipe on others. The Russians are personally familiar with such experiments." "The one bad thing," Odintsov adds, "is that such discussions lead to disunion among people practicing this wonderful sport. Climbers, including their elite, have little association with each other as it is. To the Atlantic Ocean that separates us, do we have to add a swamp of discussion on who's better?" Perhaps the single most important thing that I've learned about the Russians is that they climb for the exact same reason we all do: because it brings them great joy. I've seen it firsthand, and I can attest that climbing for them is not just a sport or a job, but an extremely passionate way of life. They'd far rather spend their time in the mountains, working on some heinous last great problem, than arguing with us about who is more rad. And despite all the criticism he has received from Americans, Odintsov ended his letter with this note to all of us: "In conclusion, I would like to give my best wishes to the American climbers. Let good fortune always accompany you, and let the sun always shine above your heads." Mark Synnott is a Senior Contributing Editor at Climbing.