The Spray – VOLUME 4 – JANUARY 2007
Heading out the door? Read this article on the new Outside+ app available now on iOS devices for members! Download the app.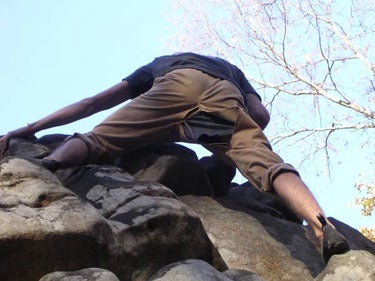 BUTTSHOT OF THE MONTH
Liddy Freeman took this shot of John Reger climbing "some random highball" in Little Rock City, Tennessee, late November. There's a high-step involved on this "V-Easy," says Reger who now claims he's done buying clothing that are missing gusseted crotches. John submitted the snap to climbing.com's Photopost (forums.climbing.com/photopost). Every issue of OFF THE WALL 2, we'll select the most atrocious buttshot and reward the photographer with nothing. Afterall, it's a buttshot.
URLs:youtube.comyoutube.comyoutube.comvideo.google.comteamlescollets.comtherestofeverest.com
POSE TO THE PROS
QUESTION: WHAT'S THE WORST ROAD-TRIP YOU'VE EVER HAD?Jamie EmersonI went to Joe's Valley by myself on a Friday. It was an eight hour drive. I got out of the car and split my tip within one hour. Saturday I decided to drive to Moab to look for some new boulders. I got some dinner in Moab and drove two hours outside of town where I got stuck in the snow about half a mile from the boulders. I drove back down to Moab and out to Castle Valley where I slept in a heinous thunderstorm and my stuff got soaked. I woke up that morning and threw up 6 times from food poisoning the night before. I then had to drive myself home. Heinous!Joey KinderI have never really had the worst climbing trip … But, I have had some pretty bizarre ones. Tim Kemple and I were up for something adventurous and wanted to get away from our local crags. Tim had the idea to go and check out Kingston Quarries. Kingston Quarries is an old school outdoor gym in the middle of Kingston, New York. The area has history and development by the greats such as Jerry Moffitt, Russ Clune, and Al Diamond. It was also a source of building material for the Statue of Liberty. The place is completely manufactured and pretty comical. We left New Hampshire around 7 p.m. on a Friday and bombed down in Tim's "chick car" which was a white Toyota Paseo (kinda lame). The drive was a good three-and-a-half hours. We took the Kingston Exit and followed the directions that Al Diamond had faxed us. When we got there, we could not believe what we were really doing. We were parked in the middle of an industrial ghetto and were almost positive the directions were wrong. There was not a pleasant camping area or mellow streams to chill by … there were sketchy dudes in big coats and cops driving all around. I suggested camping in the 'Gunks and driving back in the morning. Tim (being psycho) hopped out of the car and grabbed his sleeping bag and dashed into the woods and up the hill. Like an idiot, I followed him. This hill was steep and dark, hiking up was hellish while carrying all of our stuff. When we got to the top … there it was: The Wall. We were psyched on the angles and our attitudes totally changed. It was super steep and all surface climbing….we analyzed the wall and grabbed some chipped holds for the first time to realize how bad it really sucks. I decided to check out the left side of the cliff and see what it had to offer. I slipped off the path and fell 10 feet into vines. I was hanging in mid air, all tangled and trying to get a grab of something. It happened way too fast to be scared or even to know that I was dangling 40 feet off the deck. Tim rushed over frantically to witness the worst. He stared in awe as I climbed the vines back up and checked myself for injuries. Just scratches and heavy breathing overwhelmed me. "That could have been really bad." Tim huffed. The next day we looked at the spot where I had fallen and were amazed at how lucky I really was. It was all dead vines dangling over a random pit where they had quarried. Those vines saved my ass. We opened our sleeping bags and got ready to sleep. Super uncomfortable laying directly on leaves below a cliff in the middle of the ghetto. When I finally fell asleep I was woken by foot steps. When I came to and zeroed in, I saw a man walking around the cliff. I couldn't tell if he saw us or not, but I was clocking him and was sure as hell we were going to get robbed, stabbed or rolled into another pit. The dude kept wandering back and forth in the vicinity. I saw Tim's head turn toward the dude and felt a little better that he was awake now. We were buggin' and I almost just said something to him when he walked down the hill into the streets. "What A Ghetto!!", "What the Hell are we doing here?" I blurted toward Tim. I was kinda pissed at him and his crazy idea of sleeping at a cliff in the middle of Kingston, NY. I really could not sleep anymore. The next day was filled with grabbing five finger/bowling ball grips, Nicros bolted to the wall, and greasy two fingers pockets. I thought the place sucked and hated everything about it. None the less … it was pretty adventurous and gave me something to talk about. For anyone who decides to go to Kingston Quarries … don't camp there, stay on the trail and bring a 9mm Glock with you … the place is not Ceüse.Tim KempleJoe is just hatin' because he got served by that place. Myself on the other hand … let's just say I can't climb there anymore, there's nothing left. I murdered all of it.Ivo NinovMy worst road trip was in 2003. Me and my friend drove to Zion to free climb the Moonlight Buttress. We spent three weeks waiting for good weather, but in 21 days we enjoyed only cold and snowy weather. It was so much fun I don't want to remember …Michael ReardonOne of my first climbing partners was a driven individual that thrived on competition and truly knew how to toss a high-octane wobbler, particularly against his belayer whenever he couldn't send a project. Even worse, he was extremely competitive and believed no one was worthy of drinking his bathwater. If I sent a climb, he had to get it on the next go, if he sent a climb, then I was supposed to understand that there was no way I could even fathom being as good as he was so I shouldn't even try. Worse, his mental midgetry provided the need to dismiss anything I wanted to climb as unworthy, and if there was something he wanted to climb but was runout or rated X it was suddenly my lead for the "mega-classic" which usually left a puddle in my shorts. One day during a blistering heat wave, this master of all things climbing dragged me to the distant hinterlands of Joshua Tree, to an arcing 5.11c classic that will remain unnamed to protect the criminally insane. During his onsight, he skated, stuttered and stammered his way into the upper crux where he was forced to leave the crack, and paw his way onto smears towards the summit. Unfortunately, the hundred-degree heat was not the best condition to attempt such a stunt, and his frequent flier miles were immediately cashed in. That was when it hit the fan — even though he was given the best of dynamic belays that softly brought him to a stop, I was accused of short-roping him, killing JFK, not understanding the god-like importance of his climbing skills, knowing where Hoffa is buried, having horrible taste in whiskey, and generally being the worst motherf#*!er on the planet, barely worth the bullet I should use to rid the world of my misbegotten life. I kindly smiled, then walked over to the tree behind me and wrapped the rope around it several times before undoing my harness and leaving him dangling high on that route with no way up or down. It had been six months of his abuse. To this day I'm still not sure how he made it back to the ground, but I can't help but smile every time I think about that road trip.Rob PizemWe went to Mexico to free a bigwall and one team member got violently ill, while sleeping the second night on the wall. The guy could barely jug. Vomiting and diarrhea. We completed the wall without freeing much just trying to escape when the sickness hit me and the rest of the team. The scene at camp looked like 2-3 guys purging from all parts of their bodies for hours on end. Got so bad people would just roll over out of their sleeping bag to puke and not have enough strength to get to the woods for number two. It was the worst, for all of us I think!Stephan SiegristThe worst road Trip just recently was in El Chorro, in December. Ines [Papert] and I put a new multi-pitch route (six pitches total) up on sector Frontales, in October. We went back to do pictures. I also put a high-line [slack line] up over the gorge. Unluckily, a friend of mine kicked a stone by accident. This stone hit me and I fractured my skull. So, the trip was over after four days.Pat GoodmanIn the Summer of 2006 our destination was Vampire Peaks, NWT, Canada. Driving from the New River Gorge in West Virginia, we (Hank Jones and I) thrashed our transmission in Kansas, drove to Fort Collins, Colorado in fourth gear. Waited for a week in the Fort — no car, no climbing, and 100 degree heat. Finally, we made it to the Yukon where we found foul weather. No climbing. On the drive home, we had another transmission failure and got stuck in Missoula, Montana for two weeks. So, we went hunting and killed things.