The Ten Sleep Route Manufacturing Controversy Explained
Heading out the door? Read this article on the new Outside+ app available now on iOS devices for members! Download the app.
Over the last year Ten Sleep Canyon in Wyoming has seen heightening tensions between climbers with differing perceptions of what constitutes good route development ethics. Although bolting routes in this area has always involved some degree of rock manipulation, many in the community feel that many routes that have gone up in the last few years violate reasonable ethical standards—specifically routes with holds that are manufactured, sometimes a significant number of them, including drilled pockets. This tension recently came to a head when a group of 18 anonymous climbers chopped the bolts from about 30 climbs within the canyon. In a statement on Reddit, they explained that they could not chop the bolts from every heavily manufactured climb due to their abundancy. In an effort to inform others as to which routes those were, they placed padlocks, painted red to be more attention grabbing, on the first bolt of around 30 more climbs.
The opinion of those who participated in this action was that the climbs had been manipulated to such as degree that they "were essentially 'downgraded' from their natural state to much easier climbing grades." At the end of their statement these vigilantes went on to say, "The truth is that [these routes] never existed in the first place… they were chipped and drilled into existence."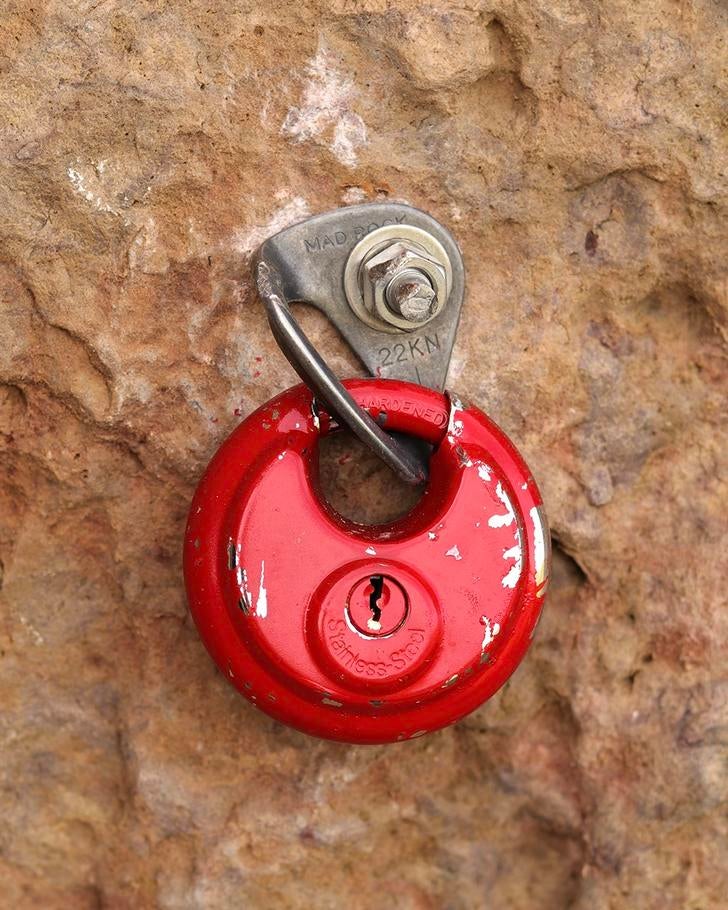 Due to the actions of both the route manufacturers and the bolt choppers, Bighorn National Forest officials have stepped in and banned development across the National Forest. The Access Fund released a statement about the issue on August 9.
"The actions taken by both groups of climbers—the ones manufacturing holds and the ones chopping bolts—are now responsible for a host of damage to the rock in Ten Sleep Canyon. The Forest Service considers both sets of actions to be unlawful. The environment has suffered at the hands of climbers on both sides, and the reputation of the climbing community as a whole is at stake.
"Access Fund has been working for nearly 30 years to prove to land managers that climbers are responsible users and stewards of our shared public lands. And local climbing organizations all across the country are working to establish relationships with public land managers to do the same. The actions of these two groups of climbers at Ten Sleep undermine our ability to protect climbing access, steward our climbing areas, and have a seat at the table on local and national-level policy issues that impact climbing on public lands."
Read the full Access Fund statement here.
Climbers in Ten Sleep began to take notice of hold manufacturing a few years ago but guess that this change could have begun as early as 2010. "It appears that well-known bolters started to manufacture here or there to connect intermittent lines," said JB Haab, who is the director of Front Range Climbing Stewards in Boulder, Colorado, and has been climbing in Ten Sleep since 2001. "In 2016 development of routes in the canyon experienced a drastic shift towards what I would describe as a route setting mind-set similar to what takes place in a gym." Some of the routes that fall into this category have as many as 20 drilled holds. Furthermore, Haab and others report the appearance of new moderates at long established walls and whole walls of heavily manufactured climbs being bolted.
Haab, who bolted his first line in Ten Sleep back in 2006, has experience establishing routes on the dolomite limestone found there. "The softening of the sharp barbs and razor edges is accepted," he said, "If not, flappers would be a daily occurrence for any climber." Alex Green, the president of the Bighorn Climbers Coalition, backed this up by describing the numerous methods and tools used to clean the routes found on these limestone walls. These include using a crowbar to remove loose rock, filing sharp edges, reinforcing holds using epoxy, and cleaning dirt, sand, and lichen with leaf blowers and brushes.
"The spectrum of techniques used to develop dolomite makes it hard to precisely define 'manufacturing'," Green said. "The boundary of what constitutes acceptable cleaning vs. manufacturing has been pushed more rapidly over the past three to five years. Several developers engaged fairly openly in the activity on a broad scale, which is what has led to the current situation."
In an effort to explain why he takes so much issue with the heavily manufactured routes, Haab listed a few reasons for why a route should not be developed using such extreme measures. For one, there could be lines of high difficulty—the kind of lines that could push the outer limits of climbing—that are being lost forever when holds are created and adapted to make the climb easier. Another factor is the impact that climbers have on an area is increased when every inch of rock is developed. Unclimbable rock works as a filter for where human beings can go, something that is increasingly important given how rapidly climbing is gaining in popularity. 
"I think it is senseless to invite even more impacts while we seriously struggle to mitigate the amount we already cause," said Haab.
The potential of greater ecosystem impact is not the greatest loss that Haab sees in this type of development though. "I believe that the whole essence of climbing is for us to face natural challenges presented by the rock," he said. "I really enjoy thinking about how my body, brain, and abilities coincide with the features that formed over millions of years by geological processes." In his view, to manipulate the difficulty of a route is a rejection of the very core of what makes climbing what it is.
Over the last year the community in Ten Sleep has become increasingly more vocal about their rejection of these development methods. In August 2018, the Bighorn Climbers' Coalition released a statement condemning the activity. Then in February, Haab, along with other longtime Ten Sleep developers Charlie Kardaleff and Aaron Huey, penned an open letter in Rock and Ice that denounced these methods, explaining how they fear the normalization of this type of extreme development and asking other climbers to stand against it with them. Ultimately, though, the actions of the bolt choppers prompted ongoing discussions between the National Forest Service, Bighorn Climbers' Coalition, and Access Fund, meant to facilitate the creation of a Climbing Management Plan for Ten Sleep. "[This document] will include a thorough guidance for route developers and will give the local community and land managers some recourse should further incidents of manufacturing occur in the future," explained Green.
While some anonymous Reddit users expressed support for the bolt chopping, this reactionary incident was not in keeping with the ethics that Ten Sleep would like to set into the future. Instead, Green said he'd like to see everyone "do our best to come together as a community of route developers and hold each other to account." Furthermore, the chopping of those bolts prompted the Forest Service to place a moratorium on new route development in Ten Sleep until the time the Climbing Management Plan is completed. "Both the manufacturing of holds as well as the unilateral removal of bolts … damage the rock and threaten access for the entire community," said Chris Winter, Executive Director of Access Fund. This view is aligned with the broad stance of his organization, which "opposes intentional alteration of the rock by gluing or chipping for the purpose of creating or enhancing holds." Winter also reiterated Green's sentiments, placing emphasis on the need for all interested parties to work collaboratively so that climbing and development in Ten Sleep can continue to be accessible to everyone.
Collaboration does not mean that concessions do not need to be made though. Speaking for the Bighorn Climbers' Coalition, Green said, "Route removal is opposed unless it is by a directive from a land manager or based on the sentiment of the majority of the local community." With this backing from climbers' organization, Haab took a stand for the need to eliminate the most problematically developed climbs. "If we agree that manufacturing routes is not acceptable, then lets remove the routes and only allow routes that adhere to the permitted practices to exist," he said, "The community being able to find consensus and remove any examples of poor development ethics is a much more powerful act than a bolt war."