This Beer is Brewed with Climbing Chalk
Heading out the door? Read this article on the new Outside+ app available now on iOS devices for members! Download the app.
It started as a joke for Wynkoop Brewing brewers Jay Lima and Charles McManus. The friends and avid climbers laughed at the idea of bringing their two passions together in an unconventional way.
But at the end of the day climbing and brewing are both so often about taking risks, and so Limey Unicorn was born—a drinkable ale brewed with FrictionLabs Unicorn Dust climbing chalk, available on the "secret menu" of the Denver brewery as McManus explains.
I got the chance to try the beer for myself while talking to Lima and McManus at Wynkoop. It poured a nice golden hue with a light floral aroma. The beer is malt forward, and it is light, refreshing beer that manages to pack in flavor. As the brewers describe, Limey Unicorn finishes super clean, dry, and crisp thanks to the chalk. If I didn't know it was brewed with chalk, I wouldn't have guessed, but it does lend a unique flavor. 
I spoke to the brewers about how this beer came to be and why climbing and beer make such a good pair. 
How did a beer brewed with rock climbing chalk come about?
Jay and I climb, and we joked that if we ever run out of climbing chalk we can use what we have at the brewery. Calcium carbonate is the same chemical we add to beers when trying to produce a certain flavor. Right around this time, we talked with our friend and climber JoAnne Carrilli-Stevenson of White Labs Yeast about the idea, who encouraged us to do it. Collaboration Fest (a beer fest where brewers work together to create unique beers) was around the corner, so we worked with with White Labs Yeast and Kevin Brown at FrictionLabs to create Limey Unicorn.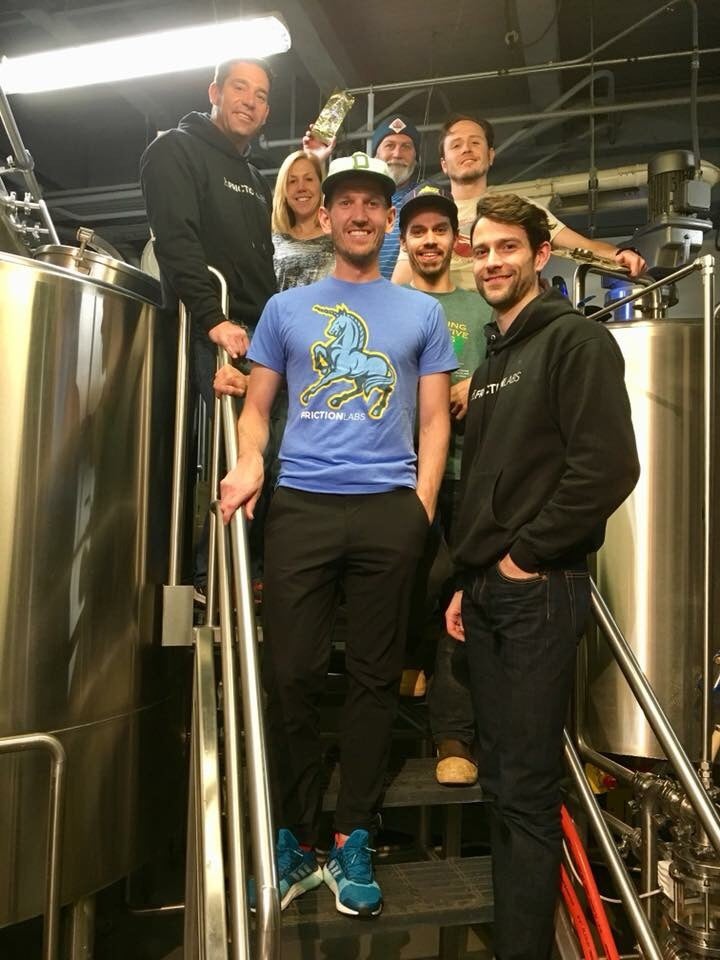 After the beer was brewed, everyone went to the basement to climb. It might be esoteric, but it was a great time, and I think you can feel that in the beer.
(Until recently, the brewery's basement featured a natural stone wall from 1889 which doubled as a climbing wall where the brewers would take their breaks.)
You recently took first place in the Colorado Brewers Climbing League. Tell us about that.
The two communities really overlap, and it's surprising how many brewers climb, too. The brewers just record what climbs they did and how long it took. After a climb, we go to a brewery nearby. It's awesome.
What does the chalk do to the beer?
Brewers actually add the same chemical to beers to emulate water profiles from other areas. This particular chalk is pharmaceutical grade—it's better than food grade. It's rigorously tested to be super pure. The chalk gives it an ultra-clean finish that lets you know it is time for another sip. It makes it the kind of beer you want to keep drinking.
How would you describe this beer?
It's a British golden ale, and it's basic and easy drinking. It comes in at 4.9 percent ABV so you can have a few, and it's not going to get you twisted. It's a simple "everyman beer," which is what we're going for.
How has the climbing community responded?
Really well! We've poured the beer at bouldering clubs, and it was on tap at a local climbing gym. Beer is a really social thing, especially for outdoor athletes. You can bring cans up in the mountains, and it's a go-to for active people after any group activity. It's fun to catch up with a beer, and it's celebratory after a climb. Plus, it's good for you, with carbs and protein, depending on how you drink it.
Related: