Tim Ashwood – Adventure Therapy – Yosemite 2003
Heading out the door? Read this article on the new Outside+ app available now on iOS devices for members! Download the app.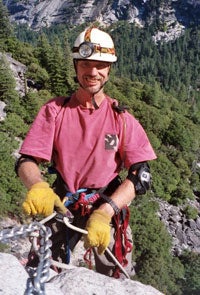 Pursuing a dream of jumaring El Capitan, I headed out to Yosemite National Park in September of 2003 for two months of climbing and hiking. This trip would start my one year adventure of which I have coined the phrase adventure therapy. Adventure therapy is how I have chosen to improve my cerebral palsy. As I drove straight through to Yosemite, I decided to stop just outside of Reno. It was night and I wanted to see the mountains on the drive from Reno to Yosemite. The mountains on the drive into Yosemite were breathtaking but when I drove into Yosemite Valley the sight of El Capitan took my breath away. This was the first time that I had seen Yosemite since I was a kid. I had planned to do El Capitan with some people at the end of September but they backed out at the last minute. So instead a friend from St. Louis, John Murphy, and I went out on a hot afternoon (around the time I was to jumar up El Capitan) to practice jumaring. I set a personal record that day of jumaring 900 feet in 2 hours and 2 minutes. What surprised me was, after jumaring 900 feet, it had felt like a rest day. So now I'm working on putting some other friends together for a climb up El Capitan in May 2004.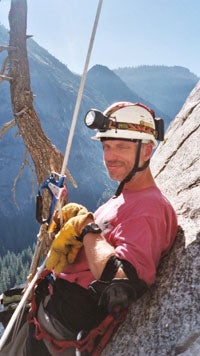 The weather in Yosemite was sunny every day I was out there. In October it started out cool in the morning and warm by the afternoon. While staying at camp 4 I met a lot of climbers and made a few new friends. Most of my days started out with breakfast at the cafeteria. Then I would go for a hike. I jumared about 4 times and climbed a few times. After hiking I would do a little stretching then eat some dinner. At night I would hang out with some friends at camp 4. I lost count of the number of times I hiked up the Yosemite Falls Trail but it was a lot. This was a great trail to train on. It was steep and rocky with a fine layer of sand over the rocks. The trail starts at camp 4 and about one mile up the trail you get an immense view of Half Dome and several other cliffs. You get several great vistas all along the 3.5 mile trail. Since it was the fall time, Yosemite Falls had just a trickle of water coming over the top. I'm looking forward to seeing it in May when the Falls will be roaring. Another favorite hike of mine was the Panorama Trail. I started out at Glacier Point and hiked down the 9 miles to the bottom. This hike has some of the most spectacular views. This was fairly easy trial until you get over by the falls then it gets a little rocky in spots. The trail being fairly easy just allowed me more time to take in the great views instead of looking at where my feet were going. I look forward to doing this hike again in May to see what the views are like in the spring.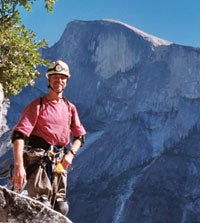 Most of my jumaring was done over by camp 4 on Swan Slab. I also did a little jumaring on the overhanging part of the LaConte boulder; this was to practice jumaring a little on overhanging rock. I found that my jumaring system works best on steep to overhanging rock. The rope feeds through the system easier on the steep and overhanging rock. On my hikes up the Yosemite Falls trail I found a couple places to rock climb along the side of the trail. So I went up to try them. I found that the one climb was a little harder than it looked. The rest of my climbing was pretty much climbing on the boulders around camp 4. I left Yosemite October 26th and drove to Las Vegas for a couple of days and actually won a little money. Then I drove back to St. Louis through Albuquerque. I spent a couple days in Albuquerque visiting my brother and doing a little hiking.
Climb Hard Tim Ashwood