Heading out the door? Read this article on the new Outside+ app available now on iOS devices for members! Download the app.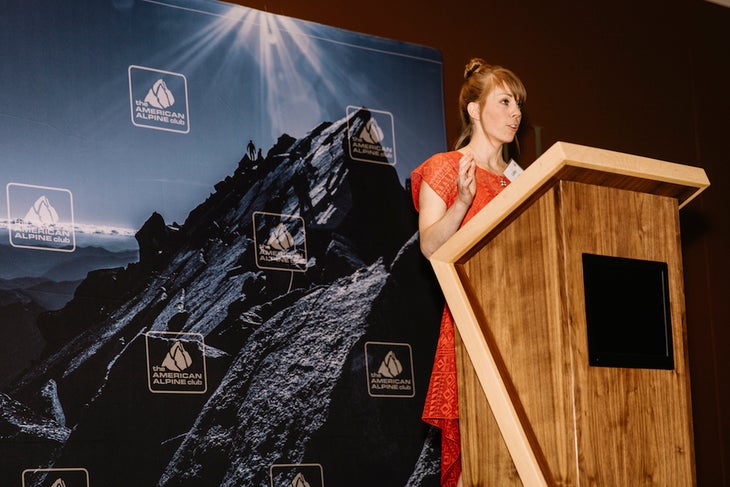 The word "hero" gets thrown around a lot in climbing. But as impressive as summiting K2 or bouldering V15 might be, the genuine heroes of climbing are those whose achievements help make the world a better place. That was the theme of the AAC's first Excellence in Climbing Awards dinner, held Saturday night in Denver, where five inspirational climbers were inducted into the 2016 Hall of Mountaineering Excellence.
The event was a fund-raiser for the American Alpine Club Library and the American Mountaineering Museum, both in Golden, Colorado. It gives you an idea of the kind of night it was to know that Tommy Caldwell and Sasha DiGiulian were in the audience but never appeared on stage—they were present only to cheer on the award winners, including the first recipients of the new Alpina AAC Cutting Edge Award, presented to Kyle Dempster and Hayden Kennedy for a pair of bold climbs in Pakistan.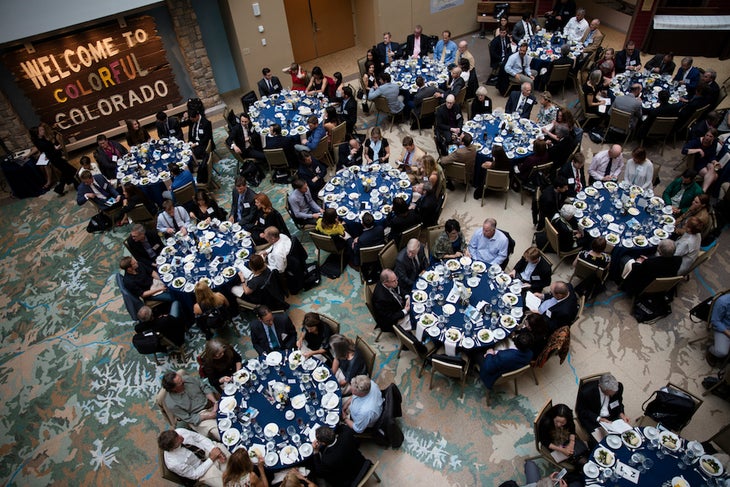 The first new member of the Hall of Mountaineering Excellence was Hugh Herr, who lost parts of both legs in a winter climbing accident in New Hampshire, went on to complete 5.12 and 5.13 rock climbs, and now is head of MIT's biomechatronics research group, developing wearable robotic systems. On stage, Herr showed off the high-tech prostheses he wears and told the audience that, after his accident, a doctor said he'd be unlikely to bike and climb again. "The doctor was wrong because he viewed the void beneath my knees as a weakness," Herr said. "I viewed it like a writer views a blank piece of paper. After 12 months I climbed better than I had before the accident, using the limbs I had designed." Now, Herr said, advances in bionic technology give him hope that many "disabilities will be gone," not in this century, as many predict, but in just 15 years.
Former AAC President Alison Osius then introduced honoree Tom Frost, the great Yosemite pioneer, who was unable to attend the dinner. Frost, who did the first ascents of the Salathé Wall and North America Wall on El Capitan, Lotus Flower Tower in the Northwest Territories, and Kangtega in Nepal, was celebrated for his stirring photography and for leading the effort to preserve Camp 4 in Yosemite Valley as a climbers' campground and a national historic place.
John Roskelley, widely considered the most driven and accomplished American climber in the Himalaya during the 1970s and '80s, spoke of his career in public service and environmental activism. Roskelley was the first American to receive a Piolet d'Or for lifetime achievement, and he credited much of his success to other climbers, saying, "Along the way I had great partners." A couple of them were in the room that night, including his own son, Jess, who has followed in his father's footsteps to become a superb alpinist.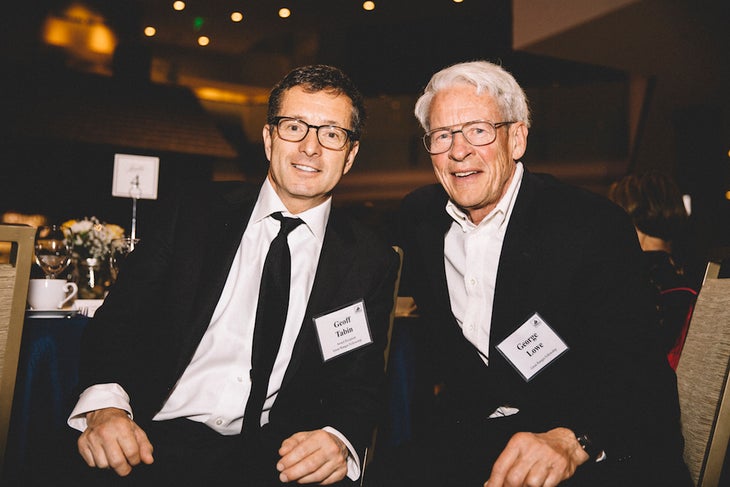 AAC Executive Director Phil Powers then introduced Geoff Tabin, who was one of the very first climbers to reach the world's Seven Summits. An ophthalmologist by profession, Tabin co-founded the Himalayan Cataract Project, which has used low-cost, relatively simple procedures to restore sight to over half a million people with blindness in Asia and Africa. Counting the successes of other doctors and organizations that Tabin and his team have mentored, more than 2 million people worldwide have been cured.
As Powers said, "These are not only people who live big climbing lives, but people who live big lives period."
That is certainly true of Libby Sauter, the final award recipient and the night's keynote speaker. As a climber, Sauter has set numerous speed records on Yosemite big walls, but in her other life she works as a pediatric ICU nurse in strife-torn countries around the world. She shared stories, photos, and video of her patients in Benghazi, Libya, and explained how she had assured her mother that, while the risks and difficulties were real, they were manageable and the rewards were tremendous. "We do this as climbers, don't we?" Sauter asked the audience. "We seek out uncomfortable situations. The challenges we face act like catnip on the brain." Sauter's experiences have convinced her of the power of the "collective we," she said, and she urged climbers, as "fortunate athletes," to address "more than just our latest projects, but also something larger."