Unbelayavable: The Slackline Belay
Heading out the door? Read this article on the new Outside+ app available now on iOS devices for members! Download the app.
Every Monday we publish the most unbelievable stories of climbing stupidity submitted by our readers. See something unbelayvable? Email unbelayvable@climbing.com and your story could be featured online or in print. For more Unbelayvable, check out the Unbelayvable Archives.
My girlfriend and I were visiting one of the big indoor gyms in Sydney. We saw this guy lead belaying his partner on a grade 23 (5.11c/d). He would stand behind the gym's slackline, step over it to feed slack, and then repeat the process. I took the photos after advice was offered and ignored.—Chris, via email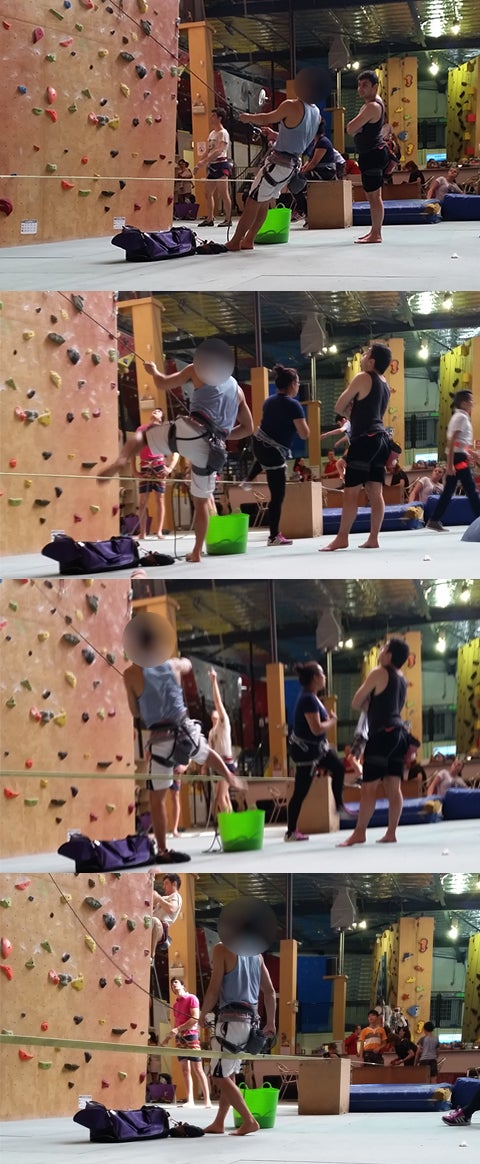 LESSON: Belaying is complicated enough. There's no reason to add a literal hurdle to the process. Aside from being ridiculous and unnecessary, this belayer's method poses a couple risks, the most major being what could happen if his climber falls while he's behind the slackline. If the climber falls, and the belayer is yanked towards the wall, his feet could catch on the line. This would launch the belayer towards the wall head first, like a belayer missile. At that point he would likely either let go of the rope to brace for impact, or hold onto the rope and take one for the team, bashing his head into the wall, and then dropping the rope anyway because he just bashed his head into a wall. It's generally considered best practice not to put yourself in a situation where you have to choose between the safety of yourself and your climber, especially when either choice leads to you maybe dropping your climber. Your belayer's flight path should be free of obstacles.
Dramatic scenarios aside, it's good to get in the habit of belaying close to the wall. The further you are from the wall, the more slack there is in the system, and the further your climber can fall. Also, belaying close to the wall minimizes outward pull on protection.
We want to hear your Unbelayvable stories! Email unbelayvable@climbing.com and your story could be featured in a future edition online or in print. Unbelayvable photos are welcome, too.