Unbelayvable: An Ice Climbing Confession
Scary (and true) tales from a crag near you
Heading out the door? Read this article on the new Outside+ app available now on iOS devices for members! Download the app.
Every Monday we publish the most unbelievable stories of climbing stupidity submitted by our readers. See something unbelayvable? Email unbelayvable@climbing.com and your story could be featured online or in print. For more Unbelayvable, check out the Unbelayvable Archives.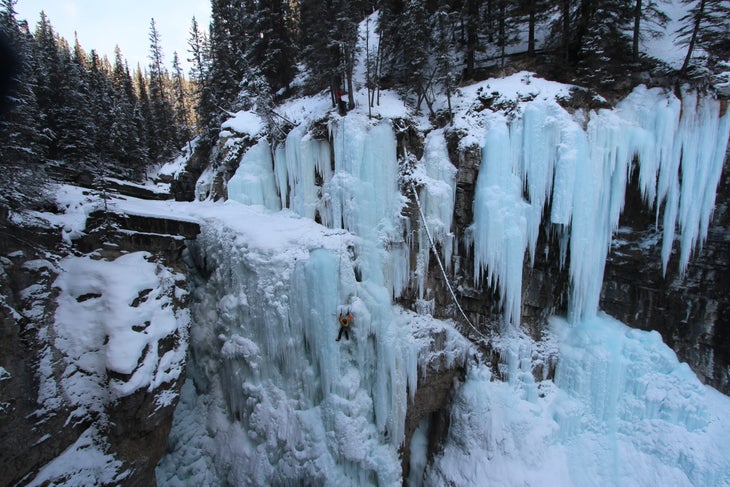 I wanted to learn to ice climb but I couldn't find anyone to teach me. I read books and asked questions at REI but felt that my dream to climb a long WI5 would always be out of my reach. One day I met a guy that told me, "Ask Brian to teach you. He's a great climber, a very nice guy, and willing to teach new climbers." Since I assumed that he had lots of people asking him for instruction, I figured that the best thing to do would be to impress him by showing him how good an ice climber I already was as a beginner.
My chance came one day at the crag. I saw Brian standing at the base of a WI3 route that I was preparing to climb. Instead of walking to the top to set up a toprope like I'd planned, I decided to lead the route, knowing Brian would see. I started up the steeper right side, but soon found myself in over my head. I downclimbed a bit then veered towards the easier, lower-angle ice. I did reach the top of the route, but it took me so long that the sun had begun setting. That's when I realized that I didn't know how to build a V-thread in the irregular ice that surrounded me. I anxiously tried to figure it out on the fly as I burned away daylight. Brian must have been really impressed, because at that point he asked my girlfriend what I was still doing up there, and why I hadn't rappelled yet. She didn't know.
The ice looked weird in the light of my headlamp. Since I was having a hard time building a V-thread, I decided to leave an ice screw instead. Then suddenly, my light went dead, or so I thought. I yelled down urgently that I couldn't see. Little did I know, my headlamp had silently fallen off my helmet and slid down the rope to my girlfriend. From Brian's perspective, I had sent down my headlamp then started screaming that I couldn't see. By this point I'd pulled the rope up to the middle mark, so lowering didn't seem like a good option. I opted, instead, to improvise what I thought was a brilliant plan: I would rappel down one strand of rope while my girlfriend acted as a dead-weight anchor for the other strand on the ground.
As I descended the single strand, I had no idea what was happening below me: Every time I bounced off the wall, my girlfriend was lifted up into the air by the rope. On my third jump, she was yanked head-first toward the wall. She surely would have dropped me had Brian not dived and caught her. Needless to say, I made a strong first impression on him.
In hindsight, I should have climbed within my ability. I shouldn't have tried to impress anyone. I should have had more practice setting up a V-thread before I actually needed to use one, and I should have stuck with known rappelling methods instead of inventing my own, which could have resulted in my death.
—Steven Frisch, via email
LESSON: Thanks for the candid story Steven. I'm glad you made it through the ordeal unscathed. Your assessment is about right, but I think I can sum it up a little more succinctly: You should have been better at ice climbing before attempting to lead ice. Ice, as a medium, demands a lot more respect and caution than rock. In one article, Will Gadd (who is an expert on these things) stated that climbers should toprope or follow at least 50 pitches before attempting to lead steep ice. In another article, he suggested that 150 30-meter pitches is the bare minimum to have any sort of understanding of ice. The point is that you shouldn't rush into it. Take your time. Toprope as many routes as possible. Practice technical skills on the ground. Hire a guide if you need to (or ask Brian nicely). And, most importantly, don't lead any ice unless you know you can lead it without falling.
We want to hear your Unbelayvable stories!
Email unbelayvable@climbing.com and your story could be featured in a future edition online or in print. Unbelayvable photos are welcome, too.