Vote for Climbing: Where the 2016 Candidates Stand on Outdoor Issues
Examining two important issues for climbers in the presidential election
Heading out the door? Read this article on the new Outside+ app available now on iOS devices for members! Download the app.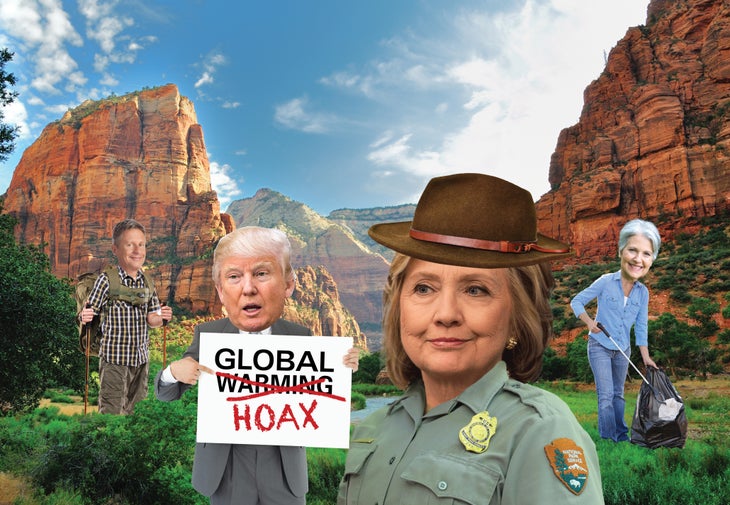 On August 10, Stephen Rogata, 19, attempted the first free-solo aid ascent of Trump Tower in New York. Access issues stopped his bold line on the tower's south face. Less than one-third of the way up the route, the NYPD removed a pane of glass on the 21st floor and pulled Rogata through. In the spirit of this election season, it was an appropriately batshit-crazy situation, and for a minute, climbing was part of the discussion. Rogata, who was attempting to meet with Donald Trump, was sent to a Manhattan psychiatric hospital after his arrest. 
Like most Americans, you have thoughts, emotions, and convictions about this year's election. I have one overriding feeling: sadness that Hunter S. Thompson is unable to cover it. I mean, Fear and Loathing on the Campaign Trail '72 was a brilliant book about a ridiculous election year in which an embattled George McGovern finally won the Democratic Party nomination and then lost the election, but 2016? Good heavens. Thompson would have been ecstatic to have this cast of characters dropped in his lap.
I am not telling you who to vote for this year. That's as effective as trying to convince someone to quit smoking, wear a bicycle helmet, or accept advice on improving their janky toprope anchor so they don't kill themselves. However, I want to break down the issues that are pertinent to climbers and how the presidential candidates and their respective parties stand. Obviously you'll want to consider everything from a candidate's knowledge of where Aleppo, Syria, is on a map to the proportion of their hands to the rest of their body, but for the purposes of this article, we'll focus on two issues: access and climate change.
Federal Land Transfer to States
Most climbing (unless you're in the Gunks or a handful of other places) takes place on public, federally managed land, like national forest, BLM, and national parks. The federal government owns and manages approximately 29 percent of the land in the U.S. In the western United States (Alaska, Oregon, Washington, California, Idaho, Utah, Nevada, Arizona, Montana, Wyoming, Colorado, and New Mexico), it's 50 percent, according to the Congressional Research Service. The Access Fund's GIS database calculates that almost 60 percent of the mountains, climbing crags, and developed boulders in the U.S. are on federally managed lands. Recently, conservative legislators and private interests like the American Lands Council, Free the Lands, and the Koch brothers–backed American Legislative Exchange Council have pushed legislation to transfer public land ownership back to the states.
The Republican National Committee's official platform calls for land to be transferred to the states: "Congress shall immediately pass universal legislation providing for a timely and orderly mechanism requiring the federal government to convey certain federally controlled public lands to states. We call upon all national and state leaders and representatives to exert their utmost power and influence to urge the transfer of those lands, identified in the review process, to all willing states for the benefit of the states and the nation as a whole."
Donald Trump, the Republican nominee for president, breaks from the RNC's position on federal land. In a 2016 interview with the Outdoor Sportsman Group, Trump said, "We're not looking to sell off land.… I don't like the idea because I want to keep the lands great, and you don't know what the state is going to do. I mean, are they going to sell if they get into a little bit of trouble? And I don't think it's something that should be sold." However, in a mixed message about the GOP platform on land transfer, North Dakota Rep. Kevin Cramer (R), one of Trump's top energy advisors, said in July that Trump is "allowing the platform without opposing it."
The Democratic National Committee's official platform says: "As a nation, we need policies and investments that will keep America's public lands public, strengthen protections for our natural and cultural resources, increase access to parks and public lands for all Americans, protect native species and wildlife, and harness the immense economic and social potential of our public lands and waters."
Hillary Clinton, the Democratic nominee for president, opposes transfer of federal land. Clinton's campaign website states, "In recent years, special interest groups have been supporting efforts to dispose of or sell off America's public lands, which would privatize national forests, national monuments, and even national parks. Clinton strongly opposes these proposals to sell off America's natural heritage. She will fight to protect the rights of our children and grandchildren to explore the lands and waters that define us as a nation." Clinton affirmed this position at a fall 2015 press conference in Nevada, saying, "We need to preserve existing public lands and add more public lands…. We certainly should not be giving in to this ideological argument from the right that we need to put more public lands in private hands. I don't agree with that."
Gary Johnson, Libertarian candidate for president, believes Forest Service lands and BLM lands should be split in how they are treated. In an interview with the Los Angeles Times editorial board in July, he said, "You know, I don't go along with the Forest Service lands. I don't go along with wilderness lands returned to the state. But the BLM [Bureau of Land Management], that's a whole other topic…there's no understanding at all of what BLM lands represent…. To give control of those BLM lands to the state and sell that land to the private landowners, and actually put that on private property tax rolls, that makes a lot of sense." To put that in perspective, the BLM manages 247.3 million acres of land in the U.S., and the Forest Service manages 193 million acres.
Green Party candidate Jill Stein's platform does not specifically address land transfer issues, but the Green Party's platform is as follows: "Oppose the sale of any portion of our national parks, forests, or coastlines. Fund and maintain public lands in a healthy and productive state. Oppose commercial privatization of the management of these lands…. Ensure public ownership of natural resources located on public lands. Halt federal mineral, oil and gas, and resource giveaways, 'royalty holidays,' and flagrant concessions to the mining, energy, and timber industries on public lands."
Summary: Why would transferring lands to states be a bad thing? United States citizens own the federal lands, meaning we all have rights to use them. State parks, on the other hand, are owned by states (not the residents of those states), and states allow people to use the parks. If a state decides it can make more money off of a state park by closing it to climbing and leasing it for a private golf course, the state has no obligation to ask its residents for permission. If Utah received ownership of its federally managed lands (like the BLM-owned Indian Creek) and got sweet-talked into making more money off natural gas drilling, then say goodbye to climbing at Indian Creek. Furthermore, if a state gets in financial trouble, for example, spends $80 million on a natural disaster, and suddenly needs cash, it can sell off state lands to raise that money.
Climate Change
Whether or not you "believe in global warming" or things like "science" and "math," we can all agree that glaciers are disappearing. Glaciers (and permanent snowfields in the mountains) make approaches to alpine climbing, ice climbing in crevasses, and skiing possible. When they disappear, we're left with steep, unclimbable choss and routes that disappear altogether.
The RNC platform never specifically addresses climate change, but generally prioritizes business over environmental policy: "Climate change is far from this nation's most pressing national security issue. This is the triumph of extremism over common sense, and Congress must stop it. We support the development of all forms of energy that are marketable in a free economy without subsidies, including coal, oil, natural gas, nuclear power, and hydropower. We oppose any carbon tax. It would increase energy prices across the board…. We reject the agendas of both the Kyoto Protocol and the Paris Agreement, which represent only the personal commitments of their signatories; no such agreement can be binding upon the United States until it is submitted to and ratified by the Senate." For reference, the Paris Agreement is a treaty signed by 180 member countries within the United Nations Framework Convention on Climate Change to mitigate greenhouse gas emissions starting in the year 2020.
Donald Trump, in an August 2016 interview with the Miami Herald, said, "I'm not a big believer in manmade climate change. There could be some impact, but I don't believe it's a devastating impact…. I would say that it goes up, it goes down, and I think it's very much like this over the years. We'll see what happens." Trump has said that environmental policies hurt American businesses. In May 2016 he said that in his first 100 days in office he would "cancel the Paris Climate Agreement and stop all payments of U.S. tax dollars to U.N. global warming programs."
The official DNC platform on climate change states: "We believe America must be running entirely on clean energy by mid-century. We will take bold steps to slash carbon pollution and protect clean air at home, lead the fight against climate change around the world, ensure no Americans are left out or left behind as we accelerate the transition to a clean energy economy, and be responsible stewards of our natural resources and our public lands and waters."
During her acceptance speech at the Democratic National Convention in July, Hillary Clinton said, "I believe in science. I believe that climate change is real and that we can save our planet while creating millions of good-paying clean energy jobs." Clinton's campaign website pledges that she will set a goal to power every home in the country with renewable energy, saying she will do this by "reforming federal fossil fuel leasing," expanding energy production on public lands by tenfold, and streamlining the process of building transmission lines to get low-cost renewable energy to consumers. After winning the Pennsylvania primary in April, Clinton also said, "We Democrats agree that climate change is an urgent threat. And it requires an aggressive response that can make America the clean energy superpower of the 21st century."
On climate change, Libertarian Gary Johnson acknowledges that it may be human-caused, but the U.S. government is addressing it improperly, and that hurts business. His campaign website states, "Is the climate changing? Probably so. Is man contributing to that change? Probably so. But the critical question is whether the politicians' efforts to regulate, tax, and manipulate the private sector are cost-effective—or effective at all. The debate should be about how we can protect our resources and environment for future generations. Governor Johnson strongly believes that the federal government should prevent future harm by focusing on regulations that protect us from real harm, rather than needlessly costing American jobs and freedom in order to pursue a political agenda."
On Jill Stein's campaign website, she promises she will work to: "Enact an emergency Green New Deal to turn the tide on climate change, revive the economy, and make wars for oil obsolete. Initiate a WWII-scale national mobilization to halt climate change, the greatest threat to humanity in our history. Create 20 million jobs by transitioning to 100 percent clean, renewable energy by 2030, and investing in public transit, sustainable agriculture, conservation and restoration of critical infrastructure, including ecosystems. Implement a Just Transition that empowers those communities and workers most impacted by climate change and the transition to a green economy. Ensure that any worker displaced by the shift away from fossil fuels will receive full income and benefits as they transition to alternative work."
Summary: If you think climate change is a hoax, you probably haven't read this far. But if you think refusing to do anything about climate change means we're fucked, you're probably in tune with the fact that glaciers are changing the Himalayas, the Alps, and even the Sierra. You also might be of the mindset that losing access to classic alpine climbs and skiing will be the least of the human race's worries when the Whoa I Guess Scientists Were Right shit really hits the fan. So if you're hedging your bets and you're anywhere from "I dunno, maybe" to "certain" on the "Climate Change Is A Real Thing" spectrum, the above information should provide you with enough to make a decision at the voting booth in November.