Heading out the door? Read this article on the new Outside+ app available now on iOS devices for members! Download the app.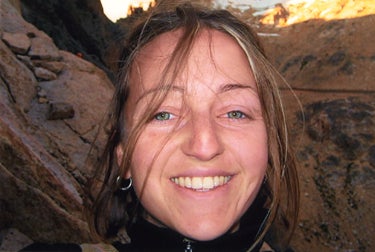 "Aaaaaggghhhh!" I screamed in the loudest, highest-pitch squeal I could muster. It was a long exaggerated shriek that filled the valley, one that only a first-ever lead whipper of 30-plus feet could generate. It wasn't out of hand either — without even knowing it, I barely escaped dying. I was on a weekend trip, away from college. Some friends — Jay, Tim, Chris and Eric — were going on a climbing trip near Shasta, CA, to Castle Crags State Park, an area known for its stunning multi-pitch granite climbing. If I wanted to come, I'd have to find a partner. I solicited my friend Joe for the task. Although we'd never climbed together, and neither of us owned a rack, I figured we had enough collective knowledge of the sport to manage. I had been climbing half a year, could follow 5.8, and learned to clean gear and place some too. I had only led a few climbs though, and all of those were at Joshua Tree or Suicide Rock, where most routes have permanent anchors. With Joe's consent (and borrowed gear), we joined the others, beginning our adventure in savage and maniacal weekend-warrior fashion. A steep three-mile hike, passing oak, pine and fir, brought us to our bivy site, not far from the base of the rocks. We set up camp near a stream and looked at the guidebook. The next morning, Joe racked up for our three-pitch crack climb, while Jay and Chris started on a neighboring route. I followed Joe up to an inset belay ledge and was shocked to discover two tipped-out Friends, and a nut that had fallen out on lead. Since he'd only placed five pieces of protection in 80 feet, it was disconcerting, to say the least. Not wanting Joe to continue, I grabbed the gear sling for the next pitch. Why not, it was only 5.6, and I knew how to place gear that held. I headed up, assuming Joe had built a sound anchor. Placing a green ABC nut just above the ledge, not knowing I was getting into the crux of this old-school sandbag, I laybacked up a flaring crack. It felt more like 5.9, as I ran it out for 15 feet, unable to find adequate protection. Plenty of practice on slab had me confident smearing my feet. I fumbled through the rack with my left hand. Just then Jay saw me and shouted down a congratulatory, "Yeah Holly, woo-hoo!" I looked up, flashed a modest smile, and suddenly, was air-borne, feeling gravity as a downhill ski racer does. For 30 feet I fell, bouncing off the wall once or twice. Finally I stopped, and I looked up, determined to complete the pitch. I quickly regrouped and climbed back to Joe's perch, then started off again. I'd just begun my laybacking sequence when Joe mumbled something about how he wasn't anchored in properly. 'Was he kidding?' I wondered, nervously down-climbing those few feet to the anchors. Joe, a confused look on his face, tinkered with two pieces of unequalized, sketchy-looking pro. He was not clipped into either! I'd overlooked this vital information, since Joe had been sitting right in front of them.
'Holy shit,' I thought, then froze up. I'd never had to build an anchor. What were we going to do? Did Joe know how close to death we'd come? Had that single nut not held my factor two fall, we would have been a pile of bones 80 feet below, with only a plaque or a blood smear to commemorate our short lives. Jay, 25 feet away, and hearing my ear-piecing scream, asked if I needed help, but I declined. Now, I was having second thoughts. I called him over. "What's the matter?" he shouted. I told him I needed to come down. "Just rappel," he answered. "I can't, I don't know what to do," I said. My ego had gotten the best of me, and I took the lead before I was ready. In my haste to find a partner, I jeopardized my safety — the biggest oversight one can make. Jay rappelled from his climb to lend us a hand. He was completely appalled to discover Joe's manky attempt at an anchor. "I've seen 30-year-old copperheads in the Fisher Towers that look less suspect," he sneered. After building a proper anchor, he set me up to lower. Later, he and Chris climbed our route to retrieve the gear. Once on the ground and after the adrenaline rush faded, I noticed my newly acquired scrapes and bruises, and sprained ankle. With our tails between our legs, Joe and I packed our gear and did the three-mile hobble of shame back to the car.I vowed not to climb with other novice climbers again, at least not until I was solid. I bought John Long's How to Rock Climb and Climbing Anchors, Craig Luebben's Knots for Climbers, and Mountaineering: Freedom of the Hills, and began to build my rack. I worked tirelessly at home with my new cams, building anchors with slings around the fridge door, and placing nuts in cracks between the stove and counter. I would go to the beach crags with a friend and set up anchors, and then rappel and toprope until I felt comfortable.
By winter, Joshua Tree was sounding good, so I headed down and posted a sign: "Looking for a partner, have a rope and small rack. Holly, site 27." The next day, I met Randy, a super-amped NOLSee, who over the next month, schooled me with endless climbing technicalities and techniques. We climbed everything from Toe Jam (5.7) to Illusion Dweller (5.10b). I led more and more and ate up all feedback. After a short jaunt to Red Rocks, I returned to J Tree and found non-other than Tim and Eric in my old site, along with a group of friends. Surprised, they introduced me to everyone and proceeded to tell the story of my "huge, epic whipper." Everyone laughed at my embarrassing predicament. They had told this story before, at every campfire of climbers they'd encountered. Were they laughing at me or with me? Probably the former. This suspicion was confirmed when they did not invite me to climb with them the next day, and I never heard from any of those guys again.
Now, I understand the phrase "Climbing is inherently dangerous, seek professional guidance." I've read it (or something to that effect) on every piece of gear, video, or guidebook, and at every climbing gym. I used to think the warning was unnecessary. Obviously, climbing is serious — who in their right mind would go out without knowing what they were doing? However, the label isn't just there for liability purposes. Many people were severely injured or died before it became commonplace, and accidents still happen. The label was there for me, to remind me how climbers unnecessarily endanger themselves by neglecting simple rules or going out before they're ready. And it's for all beginners: cautionary advice to have patience and learn about gear, climbing, and even rescue techniques. Climbing, after all, should be fun, not frightening!