Why Aren't There More Black Climbers? These Athletes Know Why and Aim to Make a Difference
For these climbers of color, representation isn't just about getting new climbers into the sport, it's about increasing diversity and mentoring on and off the rock.
Heading out the door? Read this article on the new Outside+ app available now on iOS devices for members! Download the app.
When Andrew Alexander King descended Mt. Kilimanjaro after a successful summit in 2018, he found himself surrounded by dancing guides and porters.
"I asked them why they were dancing, and they said, 'We never met someone like you who was so passionate and happy,'" King says. After all, most paying commercial climbers on Kilimanjaro are white; as an elite-level high-altitude mountaineer, King, who is African American, stood out.
This was before King was a sponsored Seven Summits candidate, back when he was climbing in "shitty Walmart boots," and hardly knew any climbers who looked like him.
"The people I grew up with thought I was weird for doing a white person's sport and thought I should do something normal," Lightner says.
According to data from the US Forest Service and National Park Service, about 40 percent of the population of the United States identifies as a minority group, but only five percent of national forest and park visitors identify as minorities—and only one percent of those identify as Black or African American. That's because inner-city communities often lack the transportation and other resources they need to reach the outdoors, says Kai Lightner, a diversity advocate and competition climber with 12 national championship titles. It's also because climbing is still seen as a very white activity—and that's a stigma that can be hard to overcome.
"The people I grew up with thought I was weird for doing a white person's sport and thought I should do something normal," Lightner says. At the time, the only climbers of color he had to look up to were professional climber Meagan Martin and Alex David Johnson, the first Black climber to win a national title in the bouldering National Championships in 2011.
A few months after summiting Kilimanjaro, King found a role model of his own. A friend of a friend introduced him to Dominique Barry, a 5.13 sport climber and coach based in California.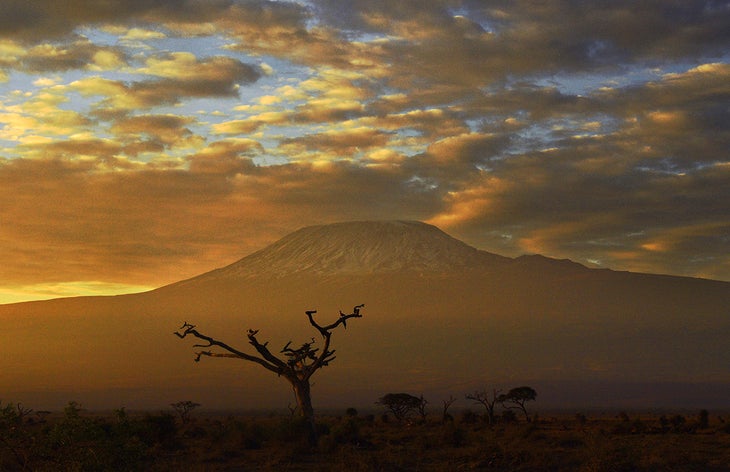 "I was like, 'Holy shit,'" King says. "I'd seen him in Rock and Ice magazine. I told him I needed help with my rope management skills. To have him start coaching me and introduce me to the team at the gym there—it just made me feel comfortable about my story coming from Detroit. I didn't have to sugarcoat it or lie about who I was."
Then, in the summer of 2020, climber and activist Nate Pierce started a group chat with an all-star cast including King, Barry, Lightner, and ice climbers Manoah Ainuu and Fred Campbell of Black Ice fame, among others.
"Nate brought us all together, basically saying 'We are the faces of the future of outdoor athletes,'" King says. "It became a place for us to collectively support one another, and to figure out how we can compound the interest of people knowing who we are."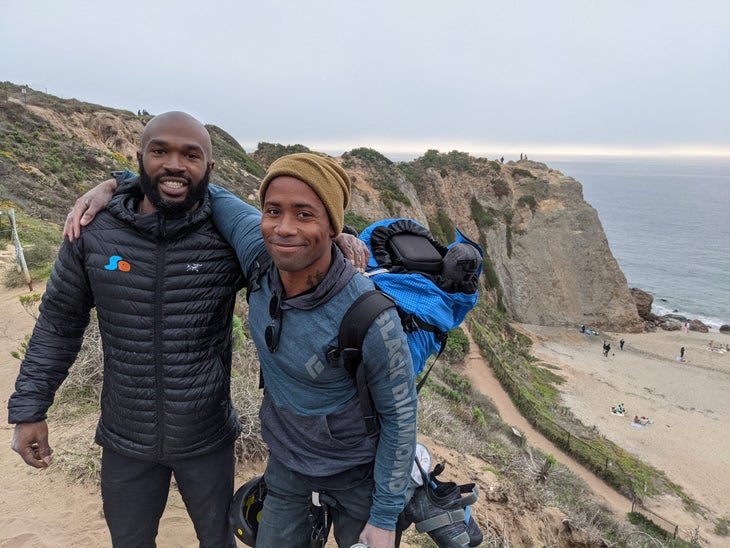 For example, after the debut of Black Ice, a critically-acclaimed Reel Rock film about a group of Memphis climbers learning to ice-climb, King says Black climbers got a publicity boost. So, the group came together to build on that. They took turns sharing mentions and praise of the film with the goal of amplifying that kind of powerful, genuine representation that has been so lacking in outdoor sports.
Even now, with the climbing community striving to be more inclusive, Campbell says climbers of color lack critical mass—he often goes to the chat when he needs to be understood by someone with a similar background, whether that's commiserating about election anxiety last November, or joking about being mistaken for Ainuu or Pierce at the crag, which happens to all of them. Joking about it, Campbell says, takes away the sting.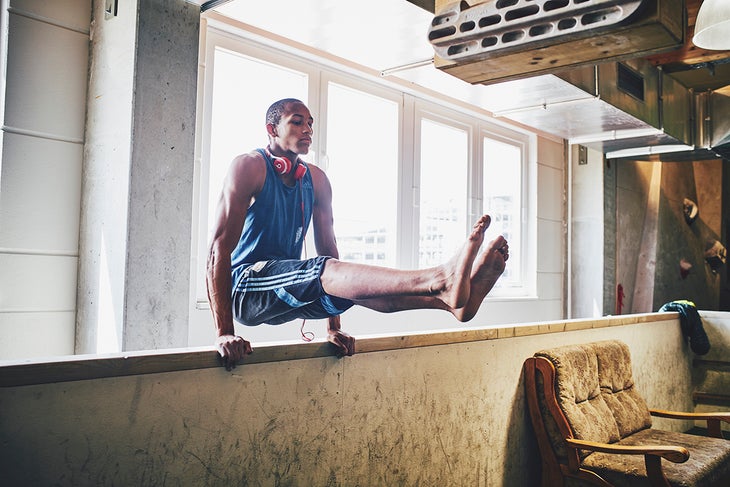 "I mean, it's comforting, right?" he says. "There just aren't that many Black people in the sport, and I certainly don't see people regularly in my area [in Seattle]. It's nice to have everyone together in one place where there's a bit of support, representation, and inspiration."
After all, it's lonely being the only person of color in the room, and it can be lonelier on top. Having a constant stream of inspiration from athletes who like him, says Campbell, keeps him motivated to keep pushing his own limits—and ultimately pushing for racial parity at the highest levels of the sport.
Now playfully nicknamed "Boys in the Woods," the group chat is still active, but, says Lightner, it's just a small example of the tight-knit system of mutual support and mentorship that elite climbers of color have had to build.
"There are so few of us," Lightner says. Unlike other sponsored athletes, who might feel they're competing against one another for sponsorship or media attention, Lightner says these athletes just don't have that luxury.
"When you start off in really low numbers, it's hard to grow them," says Connie Lightner, Kai's mother and a member of USA Climbing's board of directors. "And climbing isn't like swimming or gymnastics where it's so organized across the country and you can get lessons or learn to do it at a high level relatively inexpensively." The climbing community can't just wait on those things to happen organically, she says.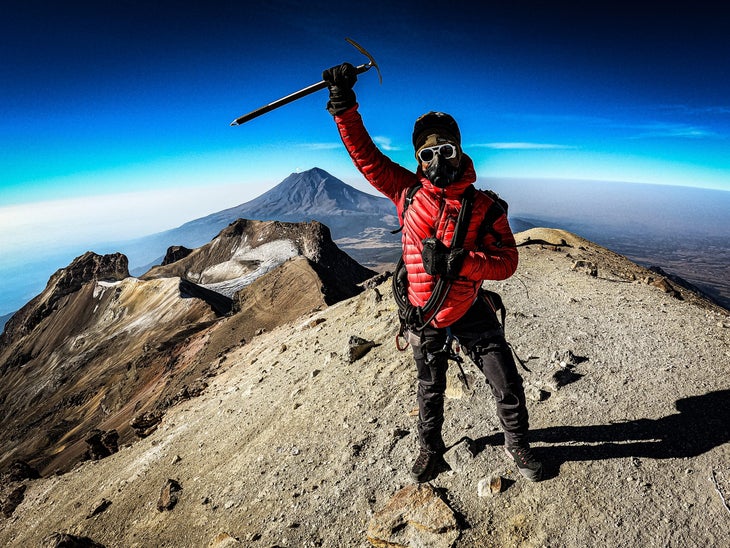 "If there is a need to talk about a diversity problem in any demographic, it means there aren't enough allies and mentors," she explains. "For instance, in Kai's early days in climbing, our gym knew my finances were stretched thin as a single mom driving him to Atlanta and other cities along the east coast, to train every weekend. They basically waived his team fees and his membership fees to help."
Having allies who helped him get his foot in the climbing door helped Lightner find the mentors he needed to advance as a competition climber. Today, he's working to be that mentor to others, and to educate the rest of the climbing community on how critical active allyship is.
"I wouldn't be an athlete wearing Black Diamond if Kai and his mom didn't speak to them about diversifying their athlete team, before I was on Black Diamond's radar," King says. With athletes like Lightner spearheading the movement, things have begun to change, albeit slowly.
"Now, people I grew up with see me on TikTok or on the Today Show and understand that this is something worthy of respect or at least interesting to look into," Lightner says. "The more exposure I get, the more relatable the sport looks for people who look like me."
Lightner adds that one of the biggest barriers to representation in outdoor sports is people who don't fully understand what allyship means, and who don't understand why barriers to access exist for historically underrepresented populations. It's up to all climbers to educate themselves on that history, he says, because until they do, the cycle will continue and the "oasis" that climbing can be will remain gated—at every level.
"Today, thanks to people like Dom and Kai and Fred and Manoah, I feel like, wow, I'm not the only one out there," King says. "Seeing that they're so far ahead of me and that I can learn from people who look like me—it makes me feel like I have a place here.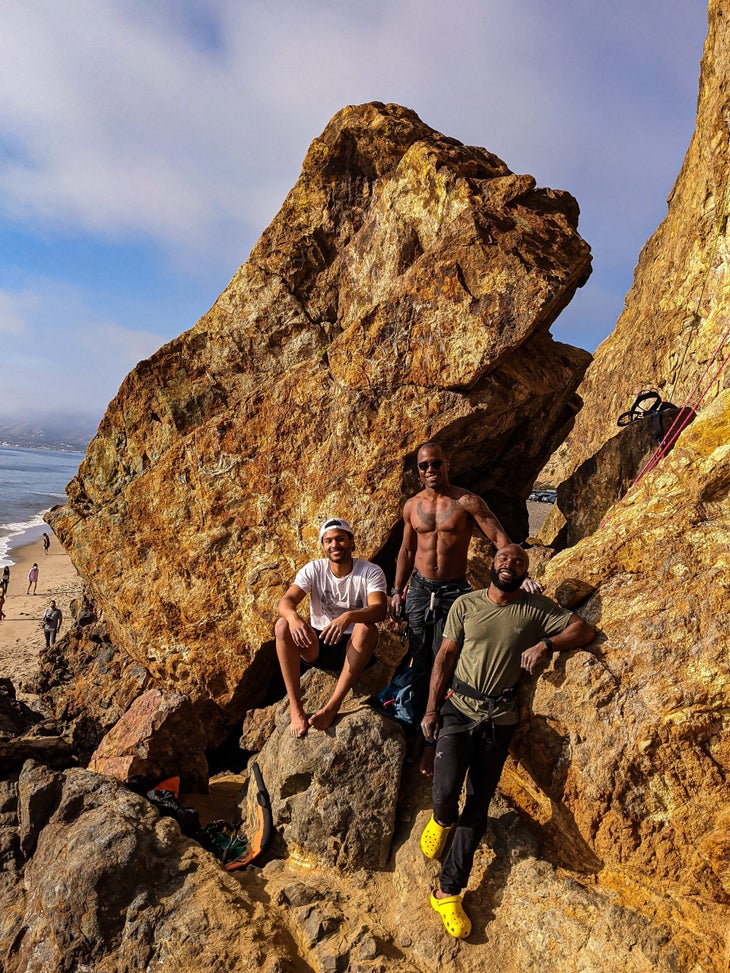 How to Become a Better Ally
Allyship in climbing begins with educating yourself on the historic and systemic issues that have led to the diversity gap in climbing today. A good place to start: This list of resources by Lanisha Renee Blount. Climbing community organization Brown Girls Climb offers a few more specific tips in their Resource Guide for White Climbers:
Acknowledge and listen to the experiences of Black, Indigenous, and people of color (BIPOC) climbers.
Accept that ableist, sexist, and colonialist ideas are deeply embedded in climbing culture, and that most of us perpetuate those notions whether we mean to or not.
Invest in BIPOC-owned businesses and in organizations that support BIPOC communities.
Demand that the companies and brands you follow take concrete action to fight for diversity, equity, and inclusion. If they don't, take your business elsewhere.
Share your learnings with your family and friends, especially those who need to hear it most.
Vote for representatives and measures that will improve equity and protect the rights and futures of BIPOC communities. Read Brown Girls Climb's full guide here.
Also, for a video of King training—both body and mind—for the Fourteen Summits (Seven Summits plus the highest volcanoes), watch the short film from Black Diamond below: