Scottish Climber Will Bosi Dominates Adam Ondra's Home Crag
In one month, the 23-year-old put down 19 boulders V12 and up, in addition to two 5.14d routes in the Moravský Kras area of the Czech Republic.
Heading out the door? Read this article on the new Outside+ app available now on iOS devices for members! Download the app.
Over the course of four weeks, Scottish climber Will Bosi absolutely crushed in the Moravský Kras area of the Czech Republic. He sent 19 boulders V12 and up—six of which were V15—and completed the second ascents of two unrepeated Ondra 5.14ds. On one particularly memorable day, he completed the first ascent of a V15, flashed a V14 and V12, and put down another V11 for good measure. He also competed in the Czech Republic's Lead National Championships, where he took second to Adam Ondra.
From Edinburgh, United Kingdom, the 23-year-old previously had only sent four V15s. That's on top of the 5.15b King Capella, at Siurana, Spain. He's put years in on the international circuit, placing as high as fourth in two Lead World Cups in 2019. Last year, after the World Championships in Moscow, where he placed 11th in Lead, he decided to take a break from competition to climb outside. Beginning in October, he started training for this trip to the Czech Republic.
Climbing caught up with Bosi to hear more about his trip, training tactics, and goals for the year. The interview has been edited for length and clarity.
This article is free. Please support us with a membership and you'll receive Climbing in print, plus our annual special edition of Ascent and unlimited online access to thousands of ad-free stories.
***
Climbing: So tell me: What inspired you to go to Moravský Kras? I haven't heard of many pros going there, other than of course Adam Ondra and Martin Stranik.
Bosi: Yeah… I think few people have been wondering about that [laughs]… Basically because, for me, a big part of climbing is the mystery. I'm really in to routes that have had one ascent and then no one's repeated it. And then I wonder why that is. This area had, to me at least, just so much mystery behind it. I know that Adam Ondra has been going there and establishing all these crazy hard boulders and routes. Some of the boulders, you know, like Martin Stranik has repeated, and you get to see them on YouTube. But for a lot of stuff, especially the routes, there's very little information about them. You know, one of the very few 9b+ (5.15c) routes in the world is in this area, and there's about three photos and maybe five seconds of video of it, and that's it. So I've just always been very keen to come and actually check them out and see exactly what was going on. Just to see how hard this next level of stuff is. 
Climbing: What were your objectives going into the trip? 
Bosi: Quite Broad. I had no idea what to expect because no one has really traveled here. So there's not much info. I was kind of unsure as it's Adam and Martin's playground. I was like, "Maybe the grades are all going to be ridiculous. And maybe all the climbs are going to be absolutely desperate so I'm not actually going to be able to do much."
I wrote a dream tick list before coming out, which had all the crazy hard climbs and some of the easier ones that do have videos that I thought looked really cool. But I didn't really have a big goal list that I thought I'd be able to achieve. It was very much coming out to see just what was going on and then taking it from there.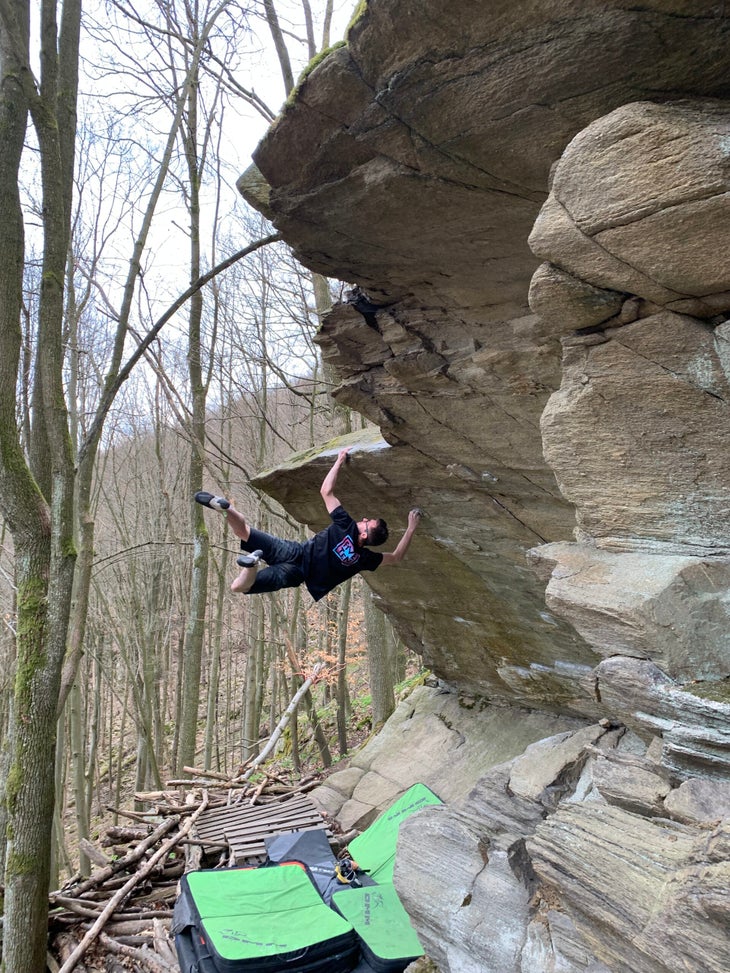 Climbing: Did you send everything on your dream tick list?
Bosi: Not quite, but I managed quite a bit. I had the 9b+ (5.15c) Vasil Vasil [first ascended by Adam Ondra in 2013] on the list, which I only ended up trying one day actually. It felt absolutely desperate, so I thought it was definitely one to come back for. And I got on, Terranova, which is one of Adam's 8C+ (V16) boulders. There is film of him on it, and it's one of those climbs that looks pretty grim, there's super horrible holds. It's like a traverse, so the line is maybe not the best, but it was one of those things that I watched when I was a kid. And I was just like, "I just want to go in and feel the holds and see actually how hard it is." So I didn't send those two, but I think most of the other stuff on the list I actually got through, which I was really surprised about.
Climbing: You put down six V15's on this trip. How many, V15-graded boulders had you sent prior to this trip? 
Bosi: Yeah, so I've spent most of my time going lead climbing. I've only actually had two dedicated boulder trips outside of the U.K. In the U.K., I've put quite a lot of time into bouldering. But before this trip, I'd sent four 8C (V15) boulders—two in Switzerland, one in Spain and one in the UK. So this trip, when I sent the first four 8C's (V15), I was just shocked. I was like, "I've doubled the amount that I had done previously." It kind of blew my mind to then make it to six, which brought me to the double digits in total. And I just couldn't really believe it. I'm still struggling to believe it, I guess. It's a weird one because that's one of the other reasons, I guess, that I was so drawn to come here, because there's just so much hard climbing. And there's still so much more potential for stuff to do. And whereas in the UK there, there's maybe six to 10 8C's (V15's) total. And there's one sector here which has six 8C (V15) and above boulders. So it's crazy, the difference [in density of hard boulders].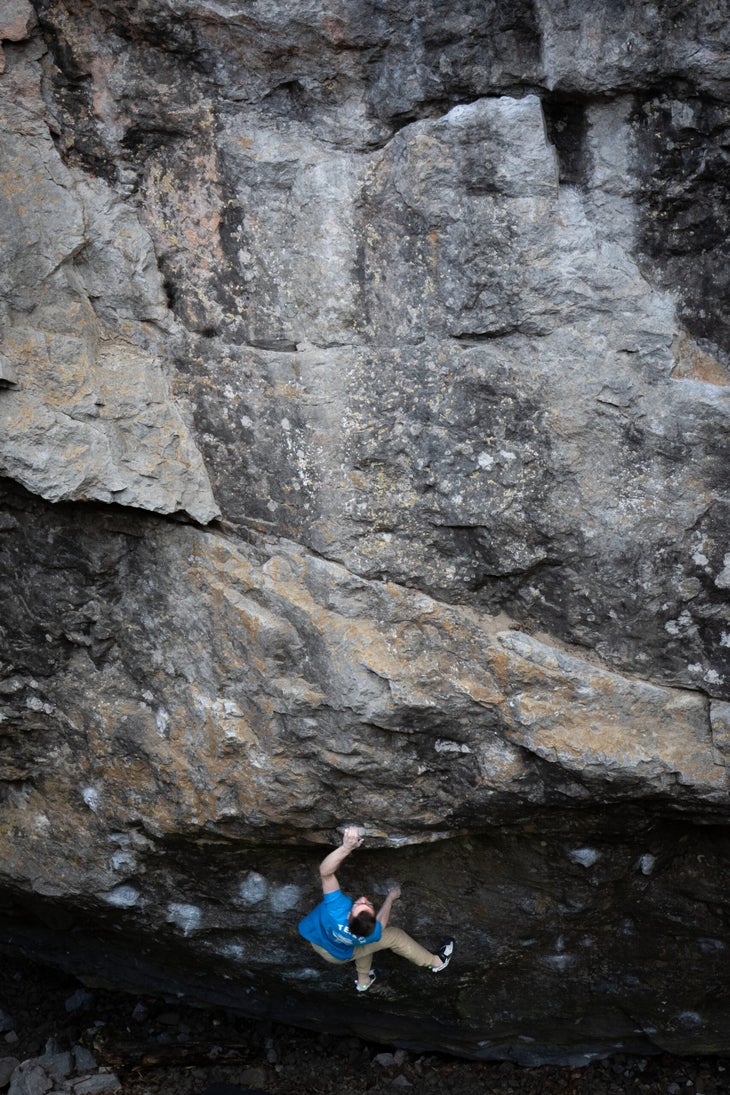 Climbing: Can you tell me about your training? What has been the key to your success?
Bosi: After the Moscow World Championships, I decided I was going to take a break from competitions. Pretty much since then, or a month after, I focused just for this trip, and I was training two days on, one day off. I was mostly just board climbing on Ben Moon's old boards in the School Room [in Sheffield]. I basically went in for like two- to four-hour sessions at a time, trying the hardest boulders I could try, mixed in with long campus boulders. I'd do like 12- to 14- move campus boulders. I think the key that made the difference is having it being consistent for a long period of time. So with the competitions before, I had lots of training, but it's like in six-week intervals. Whereas I was able to just keep training in sort of a similar style the whole way through, and I think that was what made a big difference. 
Climbing: Do you think you're going to go back to competitions? 
Bosi: Not too sure. I did the Czech National lead competition. Adam invited me to it, so I thought, why not? And it was really good fun. I really enjoy competing. I came in second, which I'm not overly surprised by, to be fair, but I had a really good time. I don't know. I'd still be psyched to go to the Olympics, but I'm going to see how the rest of the year goes and then decide for next year. 
Climbing: What was your favorite moment of the trip?
Bosi: There was a lot of good moments. Personally, flashing the 8B+ (V14) boulder, Charizard, that was absolutely incredible. And then that whole day was just like a highlight of my climbing. And then another good one was training with Adam at his home gym. Just seeing how psyched he is and how hard he tries. I was just like, "Yeah, I want to do more of this."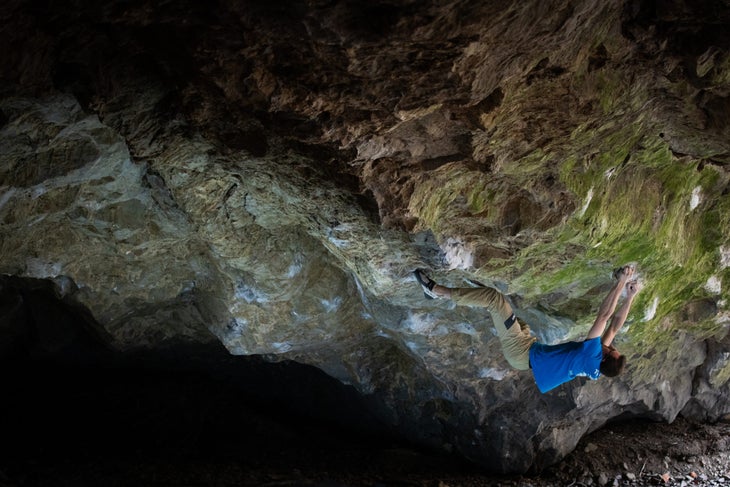 Climbing: What are your goals for the rest of the year?
Bosi: That's a good question. Currently, I'm going to go back to the U.K. and train for a while. Get outdoors a bit, but during the summer, conditions are bad, so mostly just training. And then in the winter, potentially before Spain, I'd like to come back here. I feel like I have a lot of unfinished business from the stuff I tried. And then as we get into winter, I've got a lot of stuff up in Scotland I'd like to develop. I found lots of really cool boulders and I feel like there's a lot of potential. The problem is the weather is a bit of a nightmare in Scotland. It rains a lot. And then during the summer, the bugs just come out so badly that trying to climb is a nightmare. 
Climbing: Looking ahead, what do you think your potential is for hard climbing? 
Bosi: I think in bouldering, in the last year or two, I feel like I definitely improved a lot. I think that I can push it a grade harder and do 8C+ (V16) boulders, especially if I were to seriously project a boulder, which I've never really done. But I'm more psyched on routes for projecting. … I definitely think I have the capability to do 9b+ (5.15c) routes, and I'd like to go and do more of them. There's a couple that I really want to repeat. So that's my main goal for the next couple of years. I never thought as a kid I'd even climb 9b (5.15b), so to cement myself at that level would be incredible.