Woods, Durif are 2013 SCS National Champions
Heading out the door? Read this article on the new Outside+ app available now on iOS devices for members! Download the app.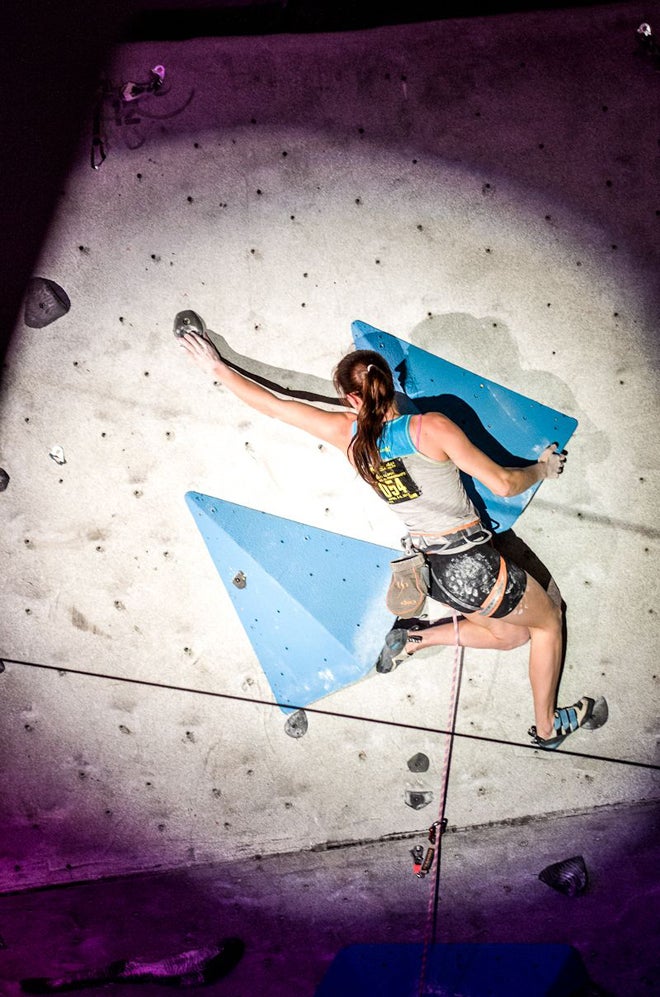 4/8/13 – Daniel Woods and French climber Charlotte Durif took top honors at the 2013 Sport Climbing Series National Championships April 5 and 6. About 1,000 spectators crowded into Movement Climbing + Fitness in Boulder, Colorado, to watch the 80 of America's best climbers battle it out on steep terrain.
Durif gave a solid performance throughout the competition; she led the pack going into finals, and was the only woman to finish the finals route. Impressively, she was also the only woman to find a knee-bar rest before firing to the top. Delaney Miller, who won the National Champion title, fell only one move from the top and came in second. Chelsea Rude finished third.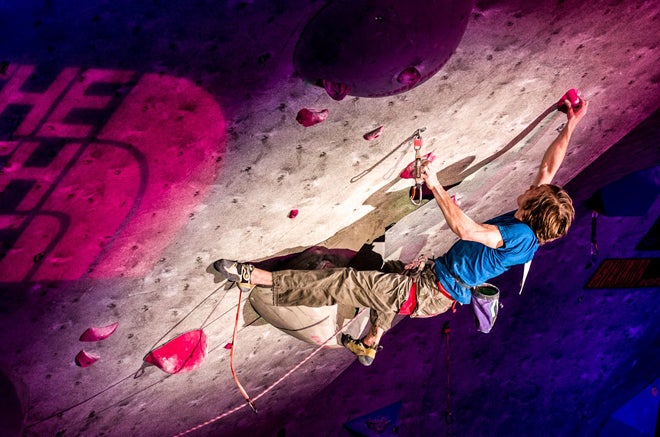 Woods' performance in qualifiers was less than grandiose, landing him in seventh place going into finals. But he revved it up in the last round, reaching the high point only a few moves from the top. Notably, he won the 2013 ABS Nationals too, marking the first time one person has taken both titles in the same year. Carlo Traversi, who qualified in first, fell just below Woods and came in second. Noah Ridge emerged from qualifiers in third place and maintained a solid showing, finishing third in finals.
Last year's champions, Sasha DiGiulian and Vasya Vorotnikov, finished in ninth and fifth place, respectively. Typically, eight competitors advance into finals, but there are a few caveats: 1) Extra spots are allotted for foreign climbers (i.e., Durif and Canadian Elan Jonas McRae). 2) Winners of the Continental Championships are also granted extra spots into finals; Miller and DiGiulian were the Continental Champions.
Women's final results:
Charlotte Durif (FN)

Delaney Miller (CC)

Chelsea Rude

Chauncey Carroll

Tiffany Hensley

Kyra Condie

Cicada Jenerik

Meagan Martin

Sasha DiGiulian (CC)

Angela Payne

Nina Williams
Men's final results
Daniel Woods

Carlo Traversi

Noah Ridge

Jon Cardwell

Vasya Vorotnikov

Elan Jonas McRae (FN)

Rob D'Anastasio

Alex Fritz

Josh Levin
See the full results list at scsnationals.org.