World Dyno Record Broken Twice
Heading out the door? Read this article on the new Outside+ app available now on iOS devices for members! Download the app.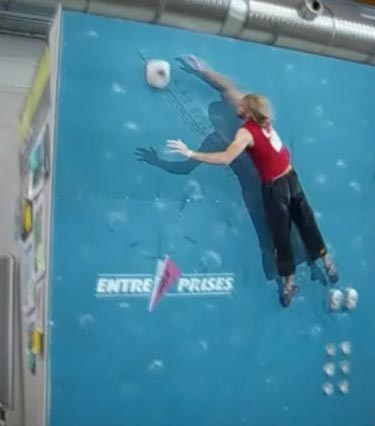 High flyers from America and Germany broke the world dyno record twice in just over a week at contests in Europe. Skyler Weekes from Denver traveled to the United Kingdom specifically gunning for the five-year-old record leap of 2.6 meters. On July 14, at a competition during the Cliffhanger sports festival in Sheffield, England, Weekes jumped 2.625 meters from twin handholds to a finishing jug. That's more than eight and a half feet in the air.

"Official" dyno contests are held on a 20-degree overhanging wall, starting with twin large handholds and a ladder of identical footholds. Contestants leap up and left at a 45-degree angle to catch a jug that is moved progressively farther from the left starting hold. They have to latch the jug with both hands for the dyno to count.
Weekes' record didn't last long. At the annual European Outdoor Trade Fair in Friedrichshafen, Germany, on July 22, German Peter Würth smashed the record with a jump of 2.775 meters—nearly five inches farther than Weekes' mark. Würth also broke the mythical Nine Foot Barrier—if there were such a thing in this mostly European contest, which is always measured in meters.
Würth failed to leap 2.8 meters during the comp, but then stuck the move after the judges had left, creating an unofficial target for prospective record breakers. Want to start training? Study Würth's technique in this video clip, complete with super slo-mo replay: http://www.tmms-verlag.de/downloads/boulder_highjump2.wmv.
Dates of Ascents: July 14 and July 22
Sources:www.planetfear.com, climbing.local, www.digitalrock.de, www.thebmc.co.uk, www.8a.nu