The Wright Stuff: Trust Me, I'm a Professional
Heading out the door? Read this article on the new Outside+ app available now on iOS devices for members! Download the app.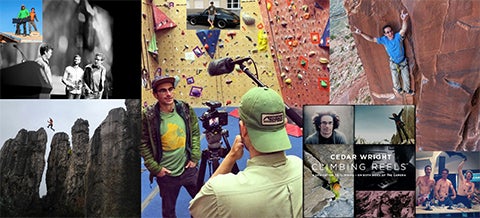 INT. AIRPLANE, ECONOMY CLASS — NIGHT
Cedar Wright, a road-weary, bespectacled professional rock climber takes his seat next to a smiling bald man in a blue button-down.
MAN"Hello there. So, what is it you do?"
CEDAR"I'm a professional climber."
MAN"Wow, isn't that something? Say, have you summited Mount Everest?"
CEDAR"Uh, no. Sorry to disappoint!"
Cedar flags down a stewardess to order a whiskey and Coke and a fistful of peanut packs.
FADE OUT.
Argh! Scenes like this happen so often that I used to give the vague answer of "self-employed" and leave it at that. Given my stubborn adherence to dirtbagdom, some people probably imagine that I have an illicit occupation such as drug dealer, hit man, or human trafficker, or am actually just unemployed. Which is fine by me—because I'm not joining the conga line on the world's highest tourist trail anytime soon just to finally answer yes to the dreaded Big E question.
But the truth is, once you get past the crushing disappointment at my lack of Everest summits, my job is kind of complicated. In fact, no two professional climbers' jobs are exactly the same. I explain that I'm more of an "adventure rock climber," and that I like to explore the world and come back with stories and short films about my adventures. I explain that I've been on The North Face climbing team for more than 10 years, and that they use our adventures and stories in their marketing campaigns while we act as ambassadors of sorts, often traveling for public speaking and appearances.
"And they pay you to do that?" is the standard reply. While it might sound like one long vacation on the surface, it's definitely a job, and sometimes it feels like I'm juggling Zen koans in a wormhole while reciting the ABCs backward.
For those who are genuinely curious about what the hell it takes to be a pro climber, well, good question! I'd wager that every pro has to have at least these six qualities to patch together this dream job: climbing ability (duh), the vision to find and pull off notable climbs, a compelling personality, media savvy (writing, filmmaking, or photography, for example), a healthy work ethic, and luck. A seventh quality of drop-dead good looks doesn't hurt either—shout-out to Sierra Blair-Coyle. If this were a game scored on a 1 to 5 scale in each category, I'd say you need to score at least a 21 to have a sustainable career as a climber, and that scoring very high in at least one area really helps seal the deal. If it all adds up and you have the points you need to be a professional climber, you win the dubious opportunity to enter the rarified air of the least lucrative of all professional sports. I'm guessing top Ping-Pong players make more. In fact, most people I know who call themselves professional climbers are getting a full refund on their taxes. The few who scratch above the poverty line are probably working with one of the larger apparel companies, which typically is a pro climber's biggest sponsor.
While the traits I mentioned above are helpful, there is no secret recipe. There are those that build their careers mostly on their superhuman ability, the Sharmas and the Ondras who simply climb a cut above the rest. Sharma is also one of those rare individuals who scores very highly across the board; he's mind-bogglingly strong, forever in the best climbing films, has an alluring, mystic surfer-bro personality, and let's face it, is wickedly handsome. I may prefer Ondra's giraffe-meets-Harry Potter looks and love his banshee screams, but what do I know? There is, obviously and of course, Mr. Alex Honnold, but as Peter Mortimer from Sender Films recently said, Alex is bigger than climbing. So we'll leave him out of this discussion.
Luckily, not every pro climber has to pull on the tiniest crimpers to make a living, like say, Joe Kinder, a super-nice guy with a wild personality, social media savvy, frequent short films, and intense hustle. Sponsors dig that. Climbers who have the most longevity in their careers are creative and open to reinventing themselves, too. Consider Emily Harrington. She started as a world-class competition climber, then went on to become an accomplished mixed climber and mountaineer. Heck, even Emily can say yes to the dreaded Everest question! 
But then there's me. As undeniably sexy and lucky as I am, I don't knock it out of the park in any one of those categories. I mean, there are 10-year-olds in my hometown of Boulder, Colorado, who climb circles around me (though if there were more overhanging offwidths and RP-protected leg-breaker runouts in the gym, it'd be a different story). I work all the angles to keep this weird, amorphous thing called a climbing career going, but at the foundation is a simple, deep love for rock climbing. That passion has fueled big first ascents in Yosemite and expeditions to places like Alaska and Pakistan, and all the stories and media I come back with. It also fueled my past six months, without question the busiest I've ever had. It may have taken a year or so off my life, but it also enabled me to live another year as a pro climber. The following is a taste of what it was like.
I'll start with the 45 desert towers and 800 miles of biking I did with Honnold (it's impossible not to mention him), during which I also directed a small film crew. I barely survived Honnold's robotic ability to climb without rest, which flew by in a blur of choss, wind, sand, and gnar. Then I went home to edit the film ("Sufferfest 2") with my buddy Austin Siadak. We spent weeks locked in my basement putting hundreds of hours of footage into a cohesive story. During that month, I also went to Yosemite for a video shoot and Austin, Texas, and Minneapolis for speaking engagements. As you're beginning to see, being a professional climber isn't just about climbing.
Somewhere near the end of the edit for "Sufferfest 2," I felt the tortured artist's weight of the world crushing down on my shoulders. This movie was my baby, but was it even any good? What if the last few months of my life had been consumed in the creation of a shitty film that people hated? With existential dread, we exported the final version and submitted it to the Banff Mountain Film Festival, the largest adventure film fest in the world. And waited. I'd spent the last month staying fit by training in the gym, and now I threw my angst out onto real rock, repeating a couple of dangerous R/X routes, which had the remarkably therapeutic effect of reminding me that I did, in fact, very much value and love being alive! As much as I love filmmaking, I love climbing even more for this natural healing.
Later, I heard through the grapevine that "Sufferfest 2" might not make Banff, and I contemplated dropping all of my sponsors and moving into a van down by the river where all the pressures and oddities of my bizarre way of life would fade slowly away. Of course, I quickly realized that I'm married with a mortgage and a very cute dog to feed and that I thrive on the bizarreness and uncertainty of my esoteric "job." It's worth mentioning here that I am blessed to have a woman who supports my wild ways and doesn't mind spending only half the year with me. Five dark days later (in which I also had video shoots in Moab and NYC), I found out that "Sufferfest 2" was going to get played at Banff. Life is a roller coaster. And with that, I took off for Australia to speak at the Australian Climbing Festival. I had also scheduled a couple weeks to climb at Arapiles with fellow professional climber Hazel Findlay, one badass, bold trad climber and a wonderfully down-to-earth, real-hearted person.
Climbing with Hazel gave me a peek into her version of what it is to be a pro climber, which is all about climbing, not posing. She got mad at me when I wanted to fly my drone around her head and get top-down video of her cranking the gnar. For Hazel, walking back and forth on a ridge in the wind for a photographer to get the perfect shot of the latest, greatest product is her worst nightmare, and even having to re-climb a section of rock for video was a bit of an annoyance. I actually appreciated moments like this because it made me feel a little more like a normal person who is working for their money. Hazel and I climbed so many good routes that I had blisters on my fingers. Then we headed up to Sydney, where we met up with another British climber,Andy Kirkpatrick, who gives the funniest slideshow presentation I've ever seen. For him, part of being a pro is tackling more than a hundred speaking engagements a year!
I then rushed from Australia to Banff where "Sufferfest 2" was premiering. During a layover, I got an absolutely bizarre phone call from one of my sponsors, Clif Bar, who informed me that, effective immediately, anyone who free solos, BASE jumps, or slacklines was off the team. While I knew that this was most likely an anomaly in our community, it definitely had me wondering how solid the professional ground that I was standing on was. I got calls from The New York Times and Men's Journal asking for comments. Maybe being too extreme for Clif Bar was actually good for my climbing career?
I arrived in Banff questioning my existence as usual, but excited to see my work screened in front of more than a thousand people. With a highly scientific device called a "clap-o-meter," my film was deemed to have received the biggest and loudest applause, winning the People's Choice Award that evening. My first award as a filmmaker! I took my hardware back to Boulder for a short respite before another speaking engagement in Toronto, where one too many whiskeys enabled me to give the loosest (and probably best) slideshow I've ever done.
Some folks think I'm living the dream, but making your living off something as nebulous as professional climbing is stressful. A blown tendon or a couple seasons without a breakout ascent can and has ended careers. For myself, I've tried to let my passion for climbing and my love for entertaining and telling tall tales (which in the end have more longevity than I ever will) be my guide, but I'm still in a constant state of hustle, trying to keep the sponsors stoked, trying to get after my own climbing dreams, and all the time knowing that nothing is certain in this lifestyle. There will be times when you question whether it's worth the insecurity and trouble, but if you work hard and put your heart and soul into your work, you just might inspire and entertain some people. And the whirlwind of my weird profession goes on, hopefully for many years to come.
As I write this, I'm on a plane to Los Angeles to film a pilot for a television series. When that's done, I'll be off to Raleigh, North Carolina; Washington, D.C.; and New York City for speaking engagements. These days when someone asks me, "What do you do?" I give him or her the most honest answer to this complicated question that I can: "Just living the dream, you know. Doing what it takes to get by."
Cedar Wright is a contributing editor for Climbing. His expense accounts are lavish, so next time you see him, beers are on him.