Zodiac: David Allfrey Recounts His Aid Solo Speed Record on El Cap
Heading out the door? Read this article on the new Outside+ app available now on iOS devices for members! Download the app.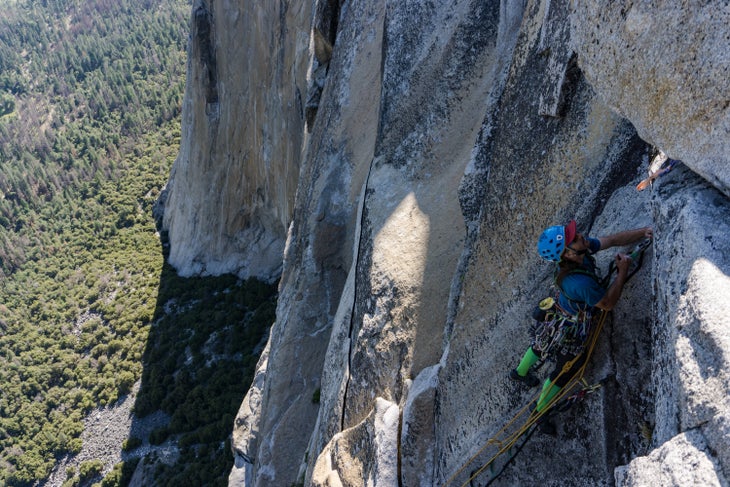 I dangled in space 40 feet away from the granite wall, gently spinning. The talus field on the southeast side of Yosemite's El Capitan, where I had started climbing six hours ago, swam 1,200 feet below me. My shoe string lead line hung out from the wall, tied at the anchor 150 feet above. I pulled myself into the anchor below, then jumared back up to clean the pitch I had just soloed.
Aid soloing Zodiac (VI 5.9 A3) on El Capitan had been my goal for nearly 10 years. In 2009, I attempted the route alone except for my heavy haul bags. As I hung from the pitch-one anchors to set up the haul, a black bear scrambled over to the base. He filleted my haul bag like a salmon, grabbing five days' worth of food and taking off. I rappelled to the ground and recovered most of my supplies in a fit of rage and rock throwing. Several hours later as the skies blackened, I returned to the ground for fear of rain. In early June of 2018, I returned to the classic aid line to attempt to solo it again.
I walked nervously to the base as the sun rose. My phone blasted Kaleo's "Way Down We Go," distracting me as I hiked. Within 15 minutes of arriving, I was at the base of the pitch one direct start, ready to climb. I fixed my rope to the first bolt, and with feet planted firmly on the ground I checked the time. At 6:04 a.m. I blasted up the wall.
The nervous energy floated away. My heartbeat steadied, I moved carefully. I clipped a fixed copper head, bounced on it, and moved up, finding a rhythm. Copper heads, rivets, and hooks blended together. I reached the anchor 150 feet later, clipped two lockers, tied one knot, double checked my system, and zipped back down the rope to collect my gear, clean the previous anchor, and then redline myself while jumaring up to clean the pitch.
Two years prior I had been in the same spot, climbing Zodiac with Alex Honnold on the sixth day of our "7 in 7" mission, our seven day mission to climb seven El Cap routes. Despite having climbed Zodiac before—and El Cap 50 times on 30 different routes—I had never soloed the formation. This time, like many times before, I left behind the haul bags and bivouac gear, opting to take a 100-meter 9.1mm Maxim rope, one gallon of water, and a few thousand calories to see me through a single day on the wall.
Speed climbing on El Cap started in 1978 with the first one day ascent of the Nose by Jim Bridwell, John Long, and Billy Westbay. Since then this subset of big wall climbing has spread to nearly 60 routes. Through the '90s and early turn of the century, when big wall climbing and aid climbing was in vogue, a group of talented, fit climbers including Ammon McNeely, Brian McCray, Miles Smart, and Timmy O'Neil set out to see how fast popular routes on El Cap could be climbed. In 2001, McNeely and McCray set a high bar for climbing hard, dangerous aid lines efficiently when they climbed Plastic Surgery Disaster (VI 5.10 A5) on El Cap's southeast face in 21:37. Today, McNeely holds 14 first one-day ascents, pioneering a movement of leaving the bivy gear behind.
For me, single push efforts on El Capitan began in 2009 with my third and fourth routes on the formation. Long, grueling efforts on Lurking Fear and Lost in America, 17 hours and 32 hours respectively, refined my systems for faster ascents. In 2011 I set my first notable speed record on El Cap, a 19-ish hour ascent of Tribal Rite (VI 5.8 A3+) followed shortly after by an in-a-day ascent of Scorched Earth (VI 5.7 A4) with Ammon McNeely and Skiy Detray. Since then, I have often left my haul bags behind to push routes, accomplishing nearly 15 different fast times, and with Cheyne Lempe, becoming the third party to enchain El Capitan, Half Dome and Mount Watkins in a day.
Soloing Zodiac in a single day has long been a benchmark accomplishment for big wall climbers. In 1972 Charlie Porter soloed the route for its first ascent, naming the route after the famous Zodiac killer, who seemed to find another victim every time Porter returned to the ground. While the route has significance for soloist, it's also been a developing ground for new speed climbing techniques. In 1999, Russel Mitrovich climbed the route in a mere 12 hours, using three daisy chains like tentacles. This system allowed him to climb without a rope, having three pieces of gear connected to daisy chains, leap frogging them as he went.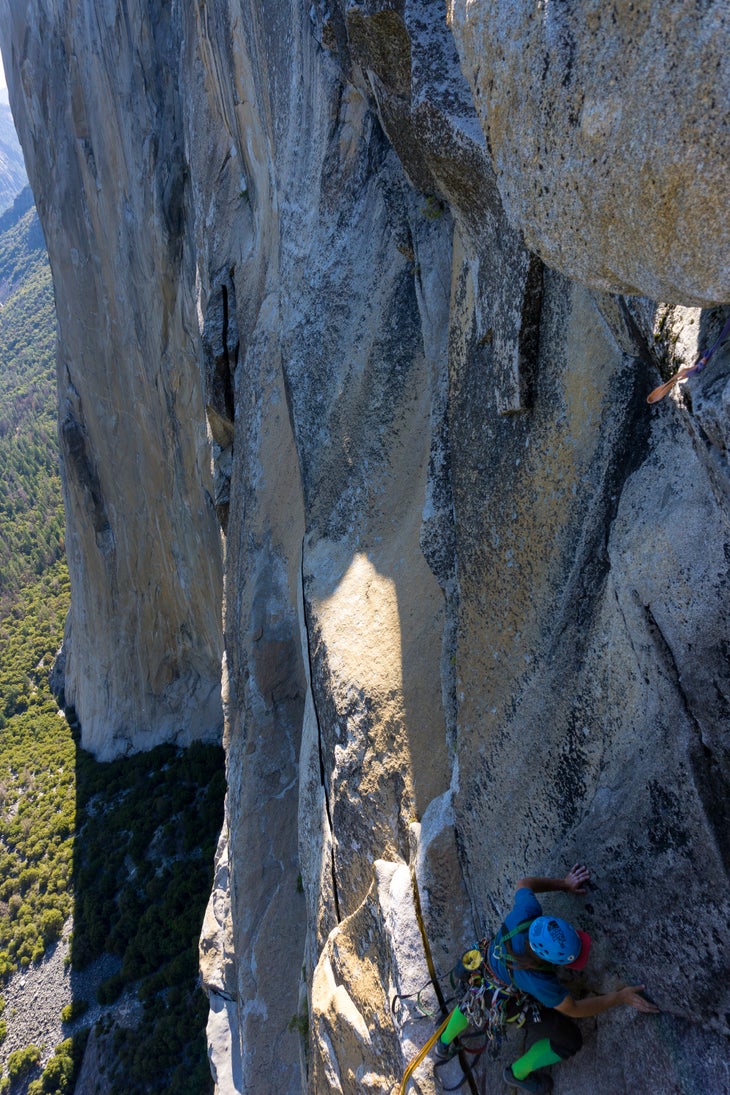 "After pitch 2 or 3 I was feeling like I was moving too slow and felt comfortable enough using only two daisy chains. This obviously only had me on a single piece as I moved up a placement," said Mitrovich. "When things became too dicey, like on the A3 Black Tower pitch, [which required] beaking and copper heading, I would go into the three daisy mode." Except for ten feet of climbing at the White Circle, Mitrovich climbed the route with an 80 foot rope attached to his back, unused, and clocked in around 12 hours. While many considered Mitrovich's ascent to be a galling accomplishment, one far too risky to repeat, others utilized his tactics. Later that year, Dean Potter used Mitrovich's tentacle-style and lots of free soloing to speed-solo the Nose.
For me, I wanted a safer way to climb quickly, relying more on technical skills, quick cam placements, and physical fitness to move quickly all day. The 100-meter rope allowed for rope tricks as well. On four of the 16 pitches I looped the rope through the anchor, belayed myself on one side, with the other clipped to my rear. Leaving behind a few biners, I was able to clip my lead line in and protect myself. Once at the anchor above I untied from the lead line, pulled the rope at my waist, bringing my rope and small day bag up to me and pulling the lead line through the anchor below like you would when rappelling. This freed me from the need to rappel back down and clean the pitch. In total I left six carabiners on the route on some of the many pieces of fixed gear.
Now considered one of the easier routes on El Capitan, Zodiac was among the steepest walls in the world at the time of its first ascent. It was only with hundreds of repeats and fixed pitons that it gained a reputation as an "easy" route. In 2002 Nick Fowler climbed the route in 11 hours and 18 minutes when it held an extreme amount of fixed gear, marring the time with controversy. In June of 2004, Alex and Thomas Huber climbed the route in a mere 1:51 in a style that many Yosemite climbers likened to a large via ferrata. Their rack consisted of a single set of cams, from fingers to hands, and 25 draws. In August of 2004 Brian Law and Ivo Ninov, upset by the condition of the route, removed a reported 200 fixed pieces from the wall. Since then, the fixed gear comes and goes, where one section may have a pin or two, another may be clean, and it is always in flux.
I climbed into a meditative state, channelling my ADHD to hyper-focus on the task at hand, unaware of the time. I reached the anchors, checked my rappel device, examined the anchor, tied knots, stuffed bars into my mouth, opened my Grigri, and ripped down the rope. Once the pitch was clean and I was back at my anchor, it would take 10 minutes to flake the ropes then I'd start the next pitch.
"Ough! Ough!" I heard a monkey call from the summit, a couple of pitches away. I leaned out from pushing two  #5 Camalots up a wide crack to see Skiy Detray, my former YOSAR teammate, leaning over the lip of El Cap and cheering me on. I regained my focus and charged upward, hooking, traversing, and then manteling onto the top.
I clipped the anchor on the summit. I gave Skiy a quick smile and rappelled back down to my anchor. I cleaned the gear, slapped my jumars on, and pushed my heart rate to El Cap proportions. I flopped over the top, collapsing on the summit, 10 hours, 52 minutes and 48 seconds after leaving the ground.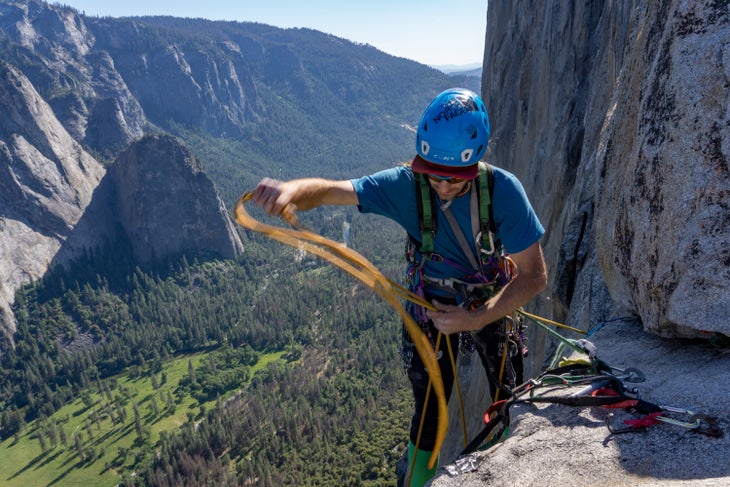 "Why can't you just go climbing?" I often hear in response my speed ascents. Many climbers believe that moving quickly and efficiently is not synonymous with a regular day out. They fail to see that most speed climbing is more akin to a snail race. Most speed ascents aren't 1 hour 58 minutes. They are 10 hours, 15 hours, 20 hours, or more. Speed climbing isn't about moving ballistically fast in a frantic flurry or being sketchy and risking it all. Speed climbing's true focus is on mastering big wall skills, having rope systems dialed and gear placements perfected, and then having the physical and mental fitness to push on without cracking. But most importantly for me, it is about having fun in the vertical, climbing huge walls, and challenging myself to be the best climber I can be.
I should have been tired as I descended, instead I felt energized. I had waited nine years to solo El Capitan, and I felt relieved to have accomplished my goal. I followed the familiar trail across Horsetall Falls and towards the East Ledges, following the path I'd taken 50 times before, passing the dead branches and talus, and walking along the edge of El Cap automatically. My phone vibrated with a text message about the death of two El Cap veterans that morning, two speed climbers on the Salathé. Excited and drained, I failed to process the information. It would be several days before I realized what happened to them. I pulled on my harness and descended the East Ledges rappels. By six o'clock, I was sitting in my van, reflecting on the blur of climbing and rappelling. I was glad it was over and wondered if I would do it again.