2016 Golden Pitons: Lifetime Achievement
Conrad Anker, Bozeman, Montana
Heading out the door? Read this article on the new Outside+ app available now on iOS devices for members! Download the app.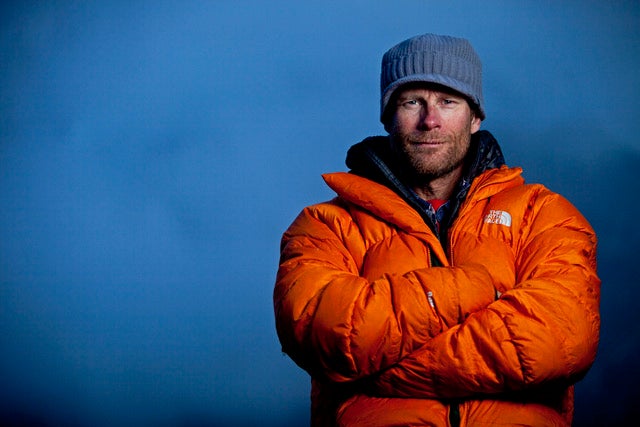 While the general public first became acquainted with Conrad Anker through his climb of the Shark's Fin in the film Meru, Anker has been a force in alpine climbing for over two decades, with some of his recent climbs being among his most impressive.
Anker's groundbreaking career runs back into the late 1980s, with ascents in Alaska. Though true alpine routes have been his forte, his résumé also boasts big wall first ascents on El Capitan and first free ascents in Zion National Park. With expeditions from Greenland to the Himalaya to Antarctica, Anker is not just one of the most experienced, but also one of the most well-traveled alpinists alive today.
After cutting his teeth in North America, Anker ventured south to Patagonia and beyond. His most prolific year was perhaps 1997. Alone, he completed the first ascent of The Northwest Face of Peak Loretan in the Ellsworth Mountains of Antarctica, a 5.8, 2,100-meter route. Later that year, he  made the first ascent of Rakekniven Peak in Queen Maud Land, Antarctica with Jon Krakauer and Alex Lowe, before going on to claim the first ascent of Continental Drift, a 5.9 A4 route on El Capitan. While any one of those climbs would be a notable achievement on its own, in the same year he also ticked the first ascent of Tsering Mosong, a 26-pitch route in Pakistan's Karakorum range that tops out at over 23,000 feet. "Tsering Mosong" is Balti (a Tibetic language) for "long life," a phrase that Anker has lived out in the mountains as well as at his home in Bozeman, Montana.
Any account of Anker's achievements is bound to fall short of his ticklist, but his feats on mountains are just one piece of his storied life. After surviving an avalanche on Tibet's Shishapangma in 1999 that killed two of his partners, Alex Lowe and David Bridges, Anker took care of Lowe's wife and three children, going on to marry Jenni Lowe in 2001. Since then, Anker has been a family man, balancing his time in the mountains with his home life in Montana.
Lowe and Bridges' bodies were found in May, 2016 by Ueli Steck and David Goettler during an attempt on a new route up Shishapangma's South Face. Sixteen years later, Anker was finally able to bring closure to Lowe's final expedition. Accompanied by his wife and Lowe's three children, Anker carried Lowe's body down from the glacier.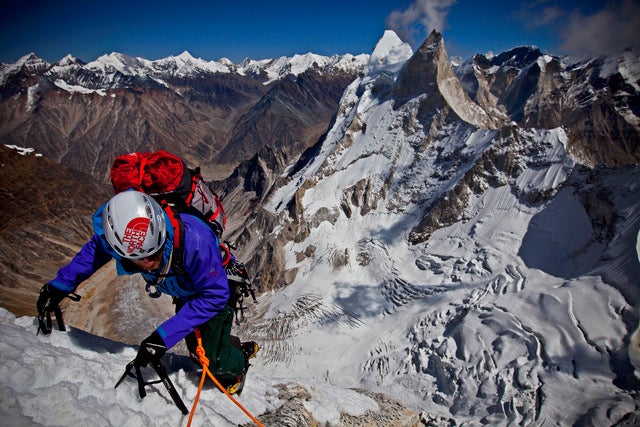 First ascents are not all Anker has given back to the mountaineering community. In 2003, he founded the Khumbu Climbing School outside Namche Bazaar, in the Everest region of the Himalayas. Each February, courses ranging from English to wilderness first aid to advanced ice climbing to rescue techniques are taught to local Sherpas, aiming to reduce the staggering mortality rates in one of the most dangerous occupations in the world.
In recent years, two of Anker's greatest achievements have been the Shark's Fin on Meru, and an ascent of Mount Everest in 2012, his third. In 2011, with partners Jimmy Chin and Renan Ozturk, Anker made the first ascent of the Shark's Fin on Meru in a 12-day push—we were impressed enough in 2012 that we awarded the climb a Golden Piton.
Shortly after climbing Meru, and on the brink of turning 50, Anker made his third ascent of Mt. Everest—his first without supplemental oxygen. As part of the Everest Education Expedition, Anker was tested for the effects of high-altitude climbing on the human body by members of the Mayo Clinic throughout his ascent.
"They did all these tests on me, and they said I tested like a person half my age," said Anker in an interview with National Geographic.
Things couldn't have looked better for Anker until he suffered a heart attack at 20,000 feet on Lunag-Ri, an unclimbed peak in Nepal, in November. While following a pitch, Anker felt the sudden onset of pain and light headedness. Upon reaching the belay, he told partner David Lama that they'd have to go down. Despite knowing he had likely suffered a heart attack, Anker had to be talked into a helicopter ride to the nearest hospital in Kathmandu.
Though he might be looking to slow down now, we're not sure Anker's done just yet. After an angioplasty procedure in Nepal, and a return flight to the U.S., he was tested again by doctors at the Mayo Clinic.
"I did a stress test, and even after the heart attack they told me I'm still healthier than most men my age," he told National Geographic.   
See the rest of the 2016 Golden Piton winners:
Alpine: (coming soon)

Boldest Move: (coming soon)
Competition: (coming soon)