2016 Golden Pitons: Rusty Piton—Chipping
Little Cottonwood Canyon, Utah, and Red Rock, Nevada
Heading out the door? Read this article on the new Outside+ app available now on iOS devices for members! Download the app.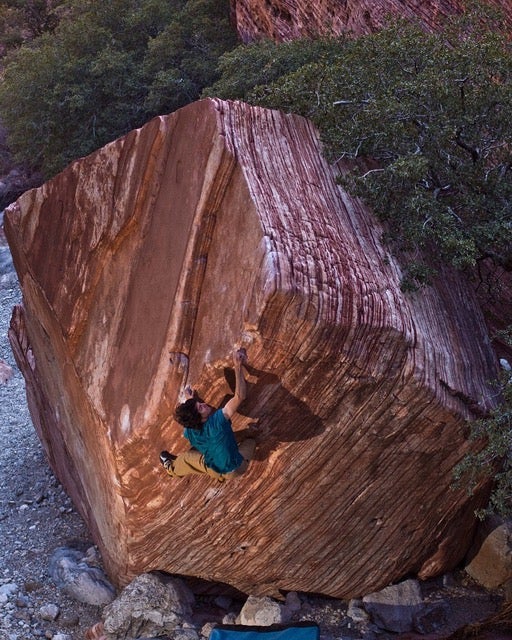 The Rusty Piton is the award we'd rather not give out. Unfortunately, 2016 saw multiple acts of vandalism to boulder problems, intentional alterations to existing climbs. Little Cottonwood Canyon and Red Rock both fell victim to the egregious acts.
In late October, around 20 boulder problems in Little Cottonwood Canyon, outside Salt Lake City, had holds at or below eye level removed, damaged, or otherwise altered in a single malicious event.
"I want to clarify: This was absolutely not chipping. This person was not trying to make the climbs easier or harder. It was just absolute, violent, destructive vandalism," said local Mike Beck in a Salt Lake Climber's Alliance (SLCA) blog post.
Though the community and SLCA have spent thousands of dollars to remedy graffiti and other forms of vandalism in the area, this act targets climbers and is an issue that money can't fix. The list of altered problems includes classic climbs ranging from V2 to V11, many of them popular projects for locals. All of the problems remain climbable. Some are now easier. 
While Salt Lake City climbers struggle to understand why Little Cottonwood Canyon was assaulted, the motives for chipping in Las Vegas last year were clear. Meadowlark Lemon (V14) had its crux hold altered to make the problem easier.
Paul Robinson completed the first ascent of Meadowlark in 2012. "Five stars is an understatement for this incredible boulder," he wrote on 27crags.com. Since then it's gained a reputation as one of the most aesthetic lines at the grade, and helped fuel the development of hard boulders in Red Rock's many canyons.
"It's for sure more of a loss for the community. I don't know anyone who had anything bad to say about that boulder. It is perfect and it is so sad to now see it ruined for everyone else in the future," said Robinson.
The alteration was first discovered by Ethan Pringle while he was brushing holds to show the route to friends.
"The crux left hand sloper, the hold that makes the crux move so difficult, had been manipulated, enhanced, manufactured, into a little incut edge," Pringle said on Instagram. "Surprise turned quickly into sadness, sadness turned into frustration and frustration into anger."
No one has taken responsibility for either act of vandalism, but the community's response to both has been unanimous: It's unacceptable to alter the rock.
Paul Robinson summed up the sentiment: "I was amazed that someone would have chipped this boulder. If you are climbing at that grade there is no excuse whatsoever."
See the rest of the 2016 Golden Piton winners:
Alpine: (coming soon)

Boldest Move: (coming soon)
Competition: (coming soon)